Homicides have declined in Guanajuato since the capture of crime boss José Antonio "El Marro" Yépez Ortiz earlier this month but the state nevertheless remains the most violent in the country.
Between August 2 – the date the Santa Rosa de Lima Cartel (CSRL) leader was taken into custody – and August 14, there were 125 homicides in the Bajío region state, according to the federal government's daily statistics.
The figure represents a 26.5% reduction compared to the preceding 13-day period – July 20 to August 1 – during which 170 people were murdered.
While the decline in homicides is welcome news, violence remains more prevalent in Guanajuato than any other state in the country.
The number of murders in Guanajuato between August 2 and 14 was 26% higher than in México state, which recorded 99 homicides to rank as the second most violent state.
Ranking third to fifth in the same period were Michoacán, Baja California and Chihuahua, where there were 81, 77 and 69 homicides, respectively.
Guanajuato, once one of Mexico's most peaceful states, has been plagued by violence in recent years as El Marro's fuel theft, drug trafficking and extortion gang engaged in a vicious turf war with the Jalisco New Generation Cartel (CJNG), led by Nemesio "El Mencho" Oseguera Cervantes.
Both President López Obrador and Security Minister Alfonso Durazo have noted that homicides declined in Guanajuato after the capture of Yépez, while Guanajuato Governor Diego Sinhué Rodríguez Vallejo said his arrest was "a big step toward recovering peace" in the state.
But security analyst Alejandro Hope told the newspaper El Universal that he didn't expect a reduction in violence in the short term.
"It's possible that Yépez's arrest and the dismantling of a specific criminal network will eventually reduce the number of homicides in some Guanajuato municipalities [but] the opposite scenario could arise as well: less order in criminal markets and more lethal violence," he said.
Another security analyst, David Saucedo Torres, warned earlier this month that the capture of El Marro wouldn't put an end to the violence in Guanajuato, noting that the turf war between the CSRL and the CJNG is not over and that the latter is also engaged in disputes with other crime groups that operate in the state.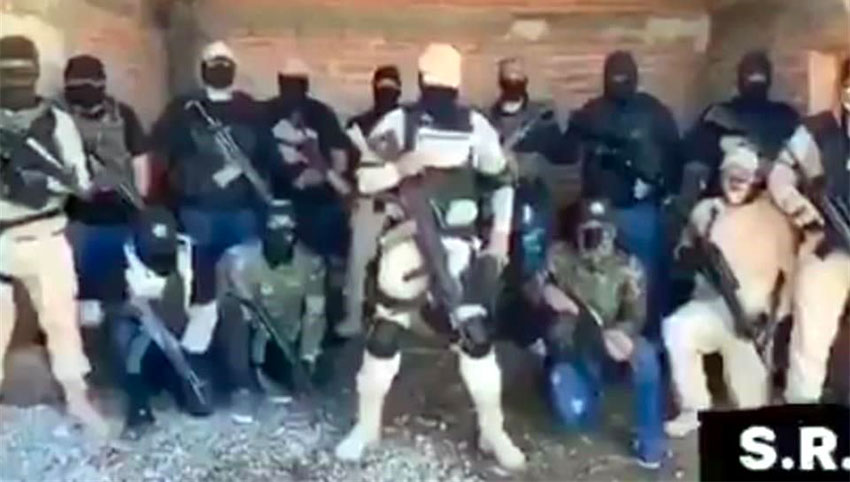 However, the CJNG itself appears confident that peace can be restored as a result of the arrest of Yépez.
In a video posted online a week after the crime boss was taken into custody, a presumed leader of the Jalisco cartel pledged to bring peace to the state.
Surrounded by some 20 heavily-armed men dressed in military attire, a masked cartel member made a commitment to the people and authorities of Guanajuato "to keep the state calm and in peace."
"We're pleased to know of the arrest of José Antonio Yépez, alias El Marro, a killer of innocent people. … The war was against Marro, whose days were numbered," the presumed CJNG leader read from a prepared statement.
"You can live calmly and have the security that we will maintain peace and tranquility because as a cartel we don't dedicate ourselves to kidnapping or extortion," he said.
"Businesspeople of Guanajuato, we will not make you run – have the peace of mind that you can stay in this beautiful state and those who left out of fear can return."
The suspected cartel leader also said there won't be reprisal against Yépez's family members and followers as long as they stop carrying out criminal activities.
For its part, the CSRL posted its own video to social media over the weekend to warn its arch rival that it won't allow it to operate unopposed in Guanajuato.
"Guanajuato continues to belong to the Santa Rosa de Lima Cartel. All of our cells, such as that you see here, continue to work and will continue to work in the entire state," said a masked and armed man backed up by 13 others.
"We will not allow the establishment of the Jalisco New Generation Cartel in any municipality of the state. … Of all the cartels of Mexico, you are the worst and you're coming to … exploit the people of Guanajuato. But as in all these years of fighting, we will remain strong and not allow your entry into the state."
Source: El Universal (sp), EFE (sp), Milenio (sp), Reforma (sp)