Mexico's installed capacity of wind farms declined in 2022 due to government policies, according to representatives of the wind energy industry.
Overall, capacity grew by just  2.2% last year, executives said, a rate well below the 7.1% growth registered in 2021 and the average annual rate of 24.7% percent recorded in the last 12 years. The installed capacity for 2022 was 7,312 megawatts (MW), according to the Mexican Wind Energy Association (Amdee), a trade organization with 90 private business members. 
Industry experts say the slowdown is in response to regulatory changes that undermine private clean energy producers in favor of Mexico's two state-owned energy companies: the Federal Electricity Commission (CFE) and Pemex, which generate the bulk of their revenue from fossil fuels. In 2021, CFE relied on non-renewable sources to generate two-thirds of its electricity, and data from 2022 indicate the state-owned company increased use of coal by 55% and showed a slight decline in use of renewable resources.
According to El Economista newspaper, a total of 1,900 MW of energy capacity from combined wind and solar plants is "frozen" because of pending permits. 
Officials have responded to criticism by citing the reliability risks that renewable technologies represent for the electrical system; when networks get saturated or there's intermittency due to lack of sun or wind, the CFE needs to use its conventional fossil fuel-powered plants as a back-up. 
In 2018, Mexico was expected to reach 16,000 MW in installed wind capacity by 2024, according to the Global Wind Energy Council. However, the Nuevo León Energy Cluster has reported that due to Mexico's government shift towards a greater use of fossil fuels and hydraulic energy, the projection has been cut to only 9,000 MW by 2024.
Economy Minister Raquel Buenrostro announced in December 2022 the possible installation of 10 industrial parks in the Isthmus of Tehuantepec Interoceanic Corridor project in Oaxaca. Four of them, she said, would be wind energy projects.   
In an interview with Bloomberg Línea, the president of Amdee, Leopoldo Rodríguez, said that the private sector is willing to invest in the construction of transmission lines in southern Mexico, particularly in the Isthmus of Tehuantepec where there is greater wind potential, but where energy transmission networks are at their maximum capacity.
Although López Obrador's government canceled the tender for a transmission line from Oaxaca to the Valley of Mexico due to high costs, Bloomberg Línea reported the administration has softened its stance, and intends to build new transmission lines to export electricity to the United States as part of the Sonora Plan.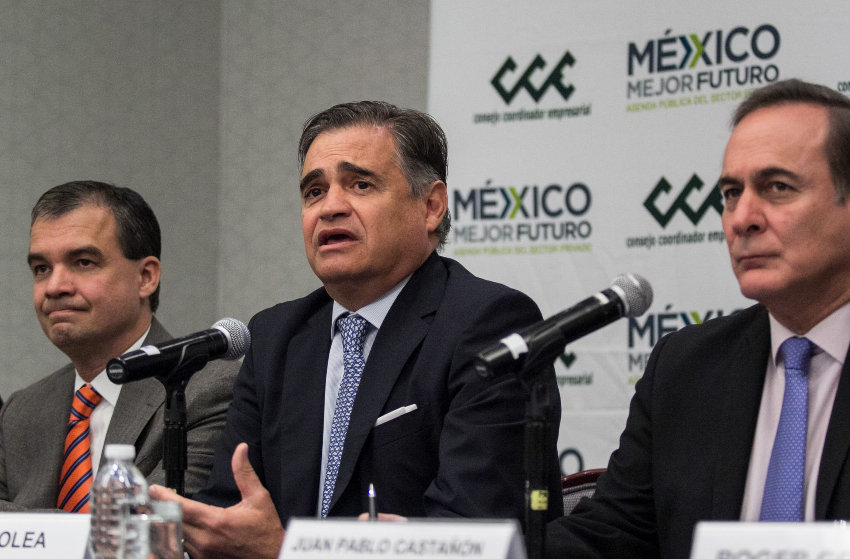 According to Rodríguez, higher transmission costs can be offset with cheap renewable energy from new projects. Roberto Mercado, commercial director of Epscon, an energy consultancy firm, told Reforma newspaper that AMLO's administration has prioritized state giants CFE and Pemex at the expense of clean energy. 
Such accusations echo the dispute settlement consultations requested by the United States and Canada under the United States-Mexico-Canada Agreement (USMCA) in July 2022.
According to Reuters, the trade conflict has damaged investor confidence in Mexico. Alberto De la Fuente, president of the Executive Council of Global Companies (ECGC) said during a climate transition panel last year that "if a company sees that in Mexico it can't meet its clean energy goals, it's simply going to leave." 
On Friday, Reforma reported that Germany's Ambassador in Mexico, Wolfgang Dold, warned that German companies require green energy alternatives, especially because requirements  by the U.S. market must be met by 2030.
Mexico is also supposed to meet international commitments by the same year. Its goals include a 35% reduction in greenhouse gas emissions and increased generation of electricity from clean energy sources.
Marcelo Ebrard announced at the COP27 climate change conference in November last year Mexico's ambitious targets and U.S. commitment to invest in clean energy in the country. 
According to De la Fuente, since the government lacks the infrastructure and funds to meet renewable energy goals, the investment must come from private firms. 
With reports from Reuters, El Economista, Bloomberg Línea, Reforma