The federal government has determined that the average salary of police officers in Mexico should be 13,639 pesos (US $680) per month.
The National Public Security System (SNSP) and the National Minimum Wage Commission (Conasami) completed a study that found that state and municipal police as well as prison guards need to earn that amount, on average, to be able to satisfy their needs and those of their family with regard to diet, footwear, housing, health, education and recreation.
The study, whose findings were published in a report entitled A Living Wage for Police in Mexico, took a range of factors into account including officers' age, gender, marital status, education level and government welfare support they receive as well as prices of essential goods and services in each of the country's 32 states.
The SNSP and Conasami concluded that police in Veracruz can cover their expenses with the least amount of money while those in Quintana Roo need the highest.
"A living wage that will allow families of police to cover their most basic needs ranges between 8,651 pesos (Veracruz) and 18,024 (Quintana Roo) with a national average of 13,639," the report said.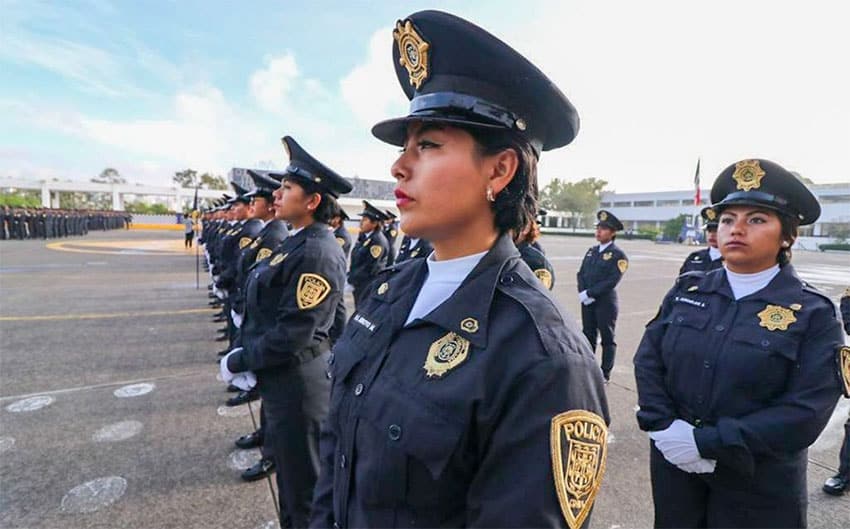 "The difference is due to the composition of [police] families in each state," it added.
The study found that 14 states currently pay police salaries that are higher than the amount determined to be a living wage in each entity while the other 18 do not.
Those in the former category are San Luis Potosí, Guanajuato, Chihuahua, Coahuila, Jalisco, Baja California, Querétaro, Zacatecas, Veracruz, Sinaloa, Durango, Yucatán, Nuevo León and Hidalgo.
Police in San Luis Potosí earn the highest wages in the country: officer receives a net salary of 21,091 pesos (US $1,053) per month on average. That's almost 90% higher than the amount determined to be a living wage in that state.
Across Mexico, police are currently paid 13,283 pesos per month on average, 356 pesos below the national living wage threshold, the report said. Police in Tamaulipas, Quintana Roo and Aguascalientes earn more than that amount on average but their salaries are lower than the living wages in those states as determined by the SNSP and Conasami.
Police in Nuevo León and Hidalgo earn less on average than the national living wage but their salaries exceed the living wages determined for those two states.
Mexico City is one of the 18 states where police earn less than a living wage. Officers in the capital earn 11,705 pesos per month on average but a living wage was determined to be 21% higher at 14,221 pesos.
Mexico's worst paid police are those in Chiapas, where the average monthly salary is just 6,357 pesos ($318). However, a living wage in the southern state is 64% higher at 10,413 pesos, according to the report.
Police in Tabasco, the second worst paid in the country, are even worse off. Their average monthly salary is 6,415 pesos but the state's living wage is 116% higher at 13,871 pesos.
Low wages have been cited as a major reason for high levels of collusion between criminal organizations and police forces, especially those at the municipal level. Entire municipal police forces have been disarmed on numerous occasions due to suspected or proven links to organized crime. Among the municipalities where that has occurred are Acapulco, Guerrero, and Tlaquepaque, Jalisco.
With reports from Milenio