Predicted bumper sales at Mexico's supermarkets and department stores between June and August could make this summer their best in 10 years, according to market analysts.
Sales will increase between 5% and 7% compared to the same period last year, analysts anticipate, with the World Cup in Russia and this Sunday's elections expected to drive the surge in household expenditures.
"We expect that consumption will benefit from higher [pre-]election spending in the coming days, in addition to the World Cup, when there is significant demand for televisions as well as snacks and drinks," said Valentín Mendoza, an analyst at the brokerage division of Mexican bank Banorte.
Another factor is the historically high level of remittances which have increased in value due to a weaker peso.
Even those without money in the pocket from abroad or elsewhere will spend more, according to a Tec. de Monterrey professor.
"Despite the increase in interest rates, at the end of the day Mexicans will consume more this summer and then they'll worry about [paying back] the credit later . . ." Francisco Javier Orozco said.
In attempts to increase their share of the expected windfall profits, all of the nation's large retailers have already started rolling out aggressive marketing strategies that include offering discounts on key products to get customers through their doors.
For Fathers' Day, which was celebrated on June 17, supermarket chains Soriana and Chedraui went head to head on alcohol promotions.
The former offered three for the price of two deals on wine and liquor while the latter dropped their prices on all stock in the same categories by 30%.
All of the Walmart-owned chain stores have also started their summer promotional campaigns.
Its flagship store of the same name has started its "Rebajas para todos" (Discounts for everyone) campaign with former soccer star Jorge Campos as its face.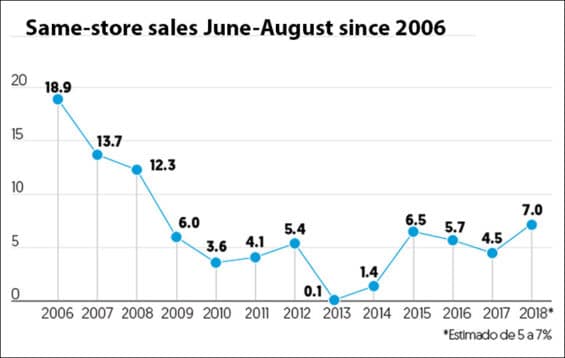 The company's membership-only retail warehouse Sam's Club is offering interest-free purchases and other bonuses, while its premium supermarket chain Superama is offering a variety of three for two deals.
Walmart's discount chain Bodega Aurrerá is celebrating 60 years in business with a campaign entitled "60 años creciendo contigo" (60 years growing with you) and is offering reduced prices across its range.
Chedraui, Soriana and Comercial Mexicana (La Comer) are also offering a range of promotions, deals and discounts.
Not to be outdone, the department stores Liverpool, Palacio de Hierro and Sears are also intent on grabbing their slice of the sales action and have started their summer sales.
Liverpool began its "Gran Barata de Verano" (Great summer sale) on June 20, with discounts of up to 40% on a range of clothing and accessories.
The sale, which will conclude on July 31, also gives customers with a Liverpool card the option of buying now but not paying until October.
Palacio de Hierro will have discounts of up to 60% until July 12 and "double points" promotions for its cardholders while Sears will offer discounts of up to 50% until July 2 as part of its "WOW!" promotion.
Annual average sales growth for supermarkets and department stores in the three-month summer period has ranged between 0.1% and 6.5% over the past 10 years.
In 2008, however, sales spiked by 12.3% compared to the year before and in 2007 and 2006, growth was even stronger at 13.7% and 18.9% respectively.
An average spend at a Mexican supermarket is 1,550 pesos (US$78) made up of 95 different items, according to consumer knowledge company Kantar Worldpanel.
Source: El Financiero (sp)