One municipality in Puebla has lived through the Covid-19 pandemic completely unscathed. Chigmecatitlán is the only one in the state that hasn't recorded a single case or death among any of its 1,200 inhabitants.
The community, 95 kilometers south of the state capital, was identified by the government in May last year as one of its "Municipalities of Hope" after it had recorded no cases. Fortunately for the residents, who live mainly on the production of handcrafts made from palm leaves and raffia, the absence of the virus has continued.
According to data published by the website Alcaldes de México in July, the only other states with municipalities that have avoided Covid-19 infections altogether are Chiapas, which has four, and Oaxaca, which has 74.
María Cleofas Flores Acevedo of the Chigmecatitlán municipal office said the community had remained cautious despite its success in avoiding contraction. "Thank God, so far nothing has been reported, and hopefully we can continue like this. We are trying to maintain hygiene measures and healthy distance even though activities have already been reopened," she said.
Flores added that all types of mass gatherings were canceled when the pandemic arrived, including Easter, the local fair for the patron saint on December 8 and the nativity play on December 28.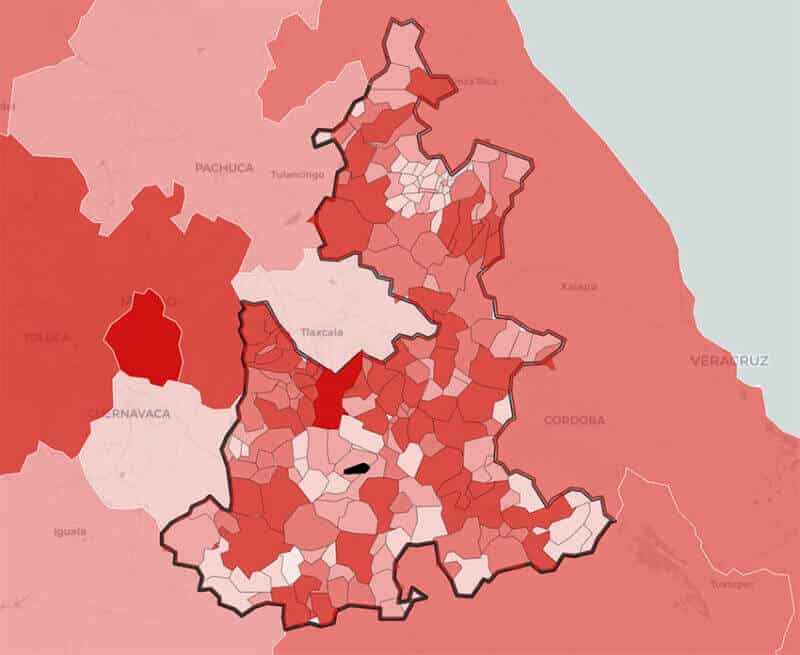 In her role she has been privy to all deaths in the community, and their causes. Flores confirmed that so far this year there had been 13 deaths and 28 in 2020, the vast majority of which were elderly people who died of natural causes.
She added that the community was still awaiting instructions from the Education Ministry (SEP) to reopen schools.
According to the latest data from national science agency Conacyt Puebla has recorded 94,890 cases of Covid-19, making it 27th among Mexico's states in terms of infections per 100,000 inhabitants. There have been 12,620 deaths from the disease since the start of the pandemic, putting it in 14th place for deaths per 100,000 people.
With reports from El Universal