There are more than 10,000 migrants in a makeshift camp beneath a bridge that connects Ciudad Acuña, Coahuila, to Del Rio, Texas, the mayor of the latter city said Thursday.
Bruno Lozano said 10,503 migrants were camping under the Del Rio International Bridge on the U.S. side early Thursday evening, an increase of more than 2,300 compared to Thursday morning. The size of the camp, whose conditions have been described as squalid, has grown rapidly in recent days: migrant numbers were in the hundreds, rather than the thousands, earlier in the week.  
Most of the migrants are Haitians, who have arrived in Mexico in large numbers this year, but Cubans, Venezuelans and Nicaraguans are also among the occupants.
They crossed into the United States to seek asylum but face lengthy waits for their claims to be processed, and could be returned to Mexico in the interim, although they will likely be transferred to U.S. migrant facilities first.
About 20 migrants told the news agency Reuters that there has been scant food and water in the camp, where daytime temperatures are currently hovering around 40 C and there is little shade. Reuters said it witnessed hundreds of migrants wading across the ankle-deep Rio Grande to re-enter Mexico to purchase essentials they aren't receiving on the United States side of the border.
Ernesto, a 31-year-old Haitian, said he and his three-year-old daughter hadn't received any meals in the camp since arriving there on Monday morning. He made his fourth trip back to Mexico on Thursday to buy food and water but told Reuters that his money is now running out.
The Haitian said immigration agents have generally not bothered him during his shopping trips to Mexico, a stark contrast to the heavy-handed tactics they have recently used to detain migrants in the south of the country.
Other migrants showed Reuters numbered tickets they received from the United States Border Patrol (USBP) after crossing Mexico's northern border. Several said they had been told by other migrants that they could be stuck at the camp for up to five days.
Jeff Jeune, a 27-year-old Haitian reselling bottles of water to make a bit of money, said he and his young family had been sleeping on the ground and were exhausted and hungry. He said he was worried his children could fall ill in the camp. 
"My 10-year-old asks: 'When are we leaving?' He's always asking that," he said.   
The Border Patrol said in a statement that it was deploying more personnel to Del Rio to facilitate "a safe, humane and orderly process" for migrants, who have swarmed to the Mexico-United States border since U.S. President Joe Biden took office in January.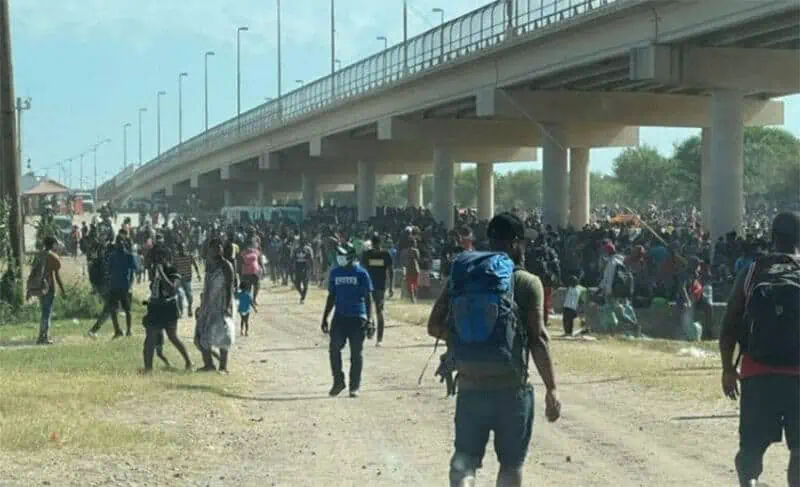 It also said that migrants have been given drinking water and towels and that portable toilets were available.
"To prevent injuries from heat-related illness, the shaded area underneath Del Rio International Bridge is serving as a temporary staging site while migrants wait to be taken into USBP custody," it added.
Some residents of Del Rio, located in a county won by former U.S. president Donald Trump at last year's election, said the federal government appeared to have abandoned its border security obligations. 
"Are they doing anything to stop them coming?" one woman asked Reuters while looking down at the camp from the bridge.
The answer to that question in Mexico is yes, as the National Guard and immigration agents has detained hundreds of migrants traveling in at least four caravans that left Tapachula, Chiapas, in late August and early September.
Some have been sent back to Guatemala, yet more than 2,000 kilometers to the north, migrants are still streaming into Ciudad Acuña. 
El Siglo de Torreón reported that hundreds of migrants, some with babies and/or small children, are arriving in buses on a daily basis. Almost immediately after arriving in the northern border city, they cross the Rio Grande to seek asylum in the United States, the newspaper said.  
Some migrants told Reuters they chose to cross into the U.S. from Ciudad Acuña because the river is shallow and there is less cartel activity than some other border areas. Mexican officials and migrants believe that more asylum seekers will make their way to the U.S. via the border city in the coming days.
There are also large migrant camps in Reynosa, Tamaulipas, and Tijuana, Baja California, that U.S. authorities have urged Mexico to clear.
During the Trump and Biden administrations, migrants who have reached the United States have routinely been expelled to Mexico under a health order put in place at the beginning of the coronavirus pandemic. But a U.S. district judge ruled Thursday that the order is unlawful because expelling asylum seekers denies them "the opportunity to seek humanitarian benefits" they are entitled to under immigration law.
Handed down by Judge Emmet Sullivan, the ruling takes effect in 14 days. However, it applies only to families and not single adults, who represent a sizable portion of migrants recently detained by the USBP.
With reports from El Siglo de Torréon and Reuters