Maybe the Tigres professional soccer team that plays in Monterrey should change its name to the Osos Negros.
After all, interactions with black bears in the capital and other cities throughout the northern state of Nuevo León have become so frequent in recent years that one newspaper declared, "the inhabitants of the region consider it part of their identity and regionalism."
Sí, otra vez un #oso sorprende a humanos en #NuevoLeón. Fue en el Parque Ecológico Chipinque, localizado en San Pedro Garza García.

Una mamá y su hijo intentan mantener la calma mientras un oso negro subió a su mesa para comerse sus tacos y enchiladas. pic.twitter.com/wJsud7h7yT

— N+Media (@nmasmedia) September 26, 2023
Videos of the sightings often end up on social media, such as the most recent encounter: a black bear cub atop a wooden picnic table, scarfing down tacos and enchiladas from disposable white plates.
During a 90-second video clip, a woman and child remain seated in silence on the picnic table bench while the bear — less than a foot away from them at times, and seemingly sniffing the child — can be heard chewing and swallowing.
The incident occurred at Chipinque Ecological Reserve, near the San Pedro Garza García municipality of Monterrey, and the video went viral, with viewers wondering if the woman was petrified, cool as a cucumber or too afraid to run. 
The family was reportedly enjoying their meal near a playground in the nature reserve, about 2 km outside the city, when the animal appeared and jumped on the table.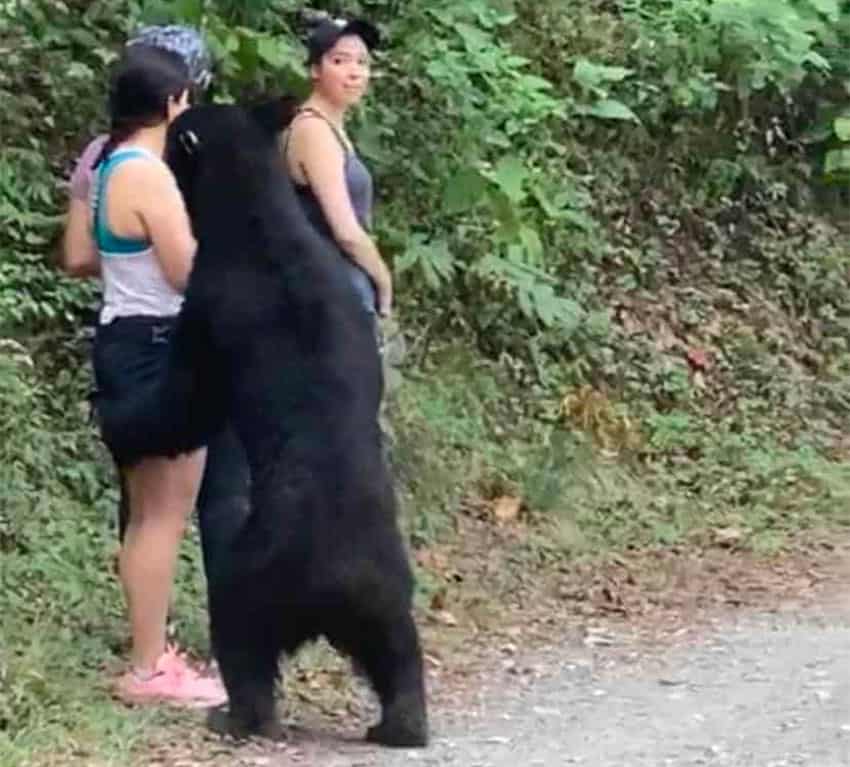 Reports put the bear at more than 3 feet tall, and it apparently was hungry, finishing all the food from all three plates.
The incident occurred less than a week after the headline "They are looking for a bear that was seen wandering the streets of Monterrey" appeared in a newspaper.
Citing urban expansion and the search for food and water as the main reasons why the bears have come down from the mountains, the report noted that the wandering bear was spotted near Plaza Mayor in the Satélite neighborhood. Emergency units were sent to search for it.
"It's two blocks from my house," said a man who recorded a video of the bear from his car.
Sightings of black bears in Nuevo León have become increasingly frequent in recent years. There have been intrusions into homes, schools and shopping malls, the report said. Earlier this year in Monterrey, one bear walked between cars that were in traffic on a busy street.
With reports from Infobae