Claiming that President López Obrador is trying to imprison him for the next 30 years, former presidential candidate Ricardo Anaya reiterated Monday that he would leave Mexico and continue his opposition to the federal government from abroad.
The former deputy and ex-National Action Party chief, who appears to be positioning himself for a second consecutive run at the presidency in 2024, claims he is a victim of political persecution but López Obrador rejected that accusation on Monday two days after denying any involvement in his case.
"I have nothing to do with the persecution Ricardo Anaya imagines [is occurring]. Revenge is not my strong suit. If the Attorney General's Office and the judicial power accuse him of corruption and he's innocent, he shouldn't shield himself or flee, he should defend himself with proof and with the strength of the truth. We're no longer in the times of before: there can be imprisoned politicians but not political prisoners," he wrote on Facebook on Saturday.
The president said Monday that charges against the 42-year-old politician stem from accusations by former Pemex CEO Emilio Lozoya that lawmakers such as Anaya took bribes in exchange for supporting the former government's 2013-14 energy reform.
In a video message posted to social media later on Monday, Anaya said he had received a subpoena to attend a virtual court hearing this Thursday.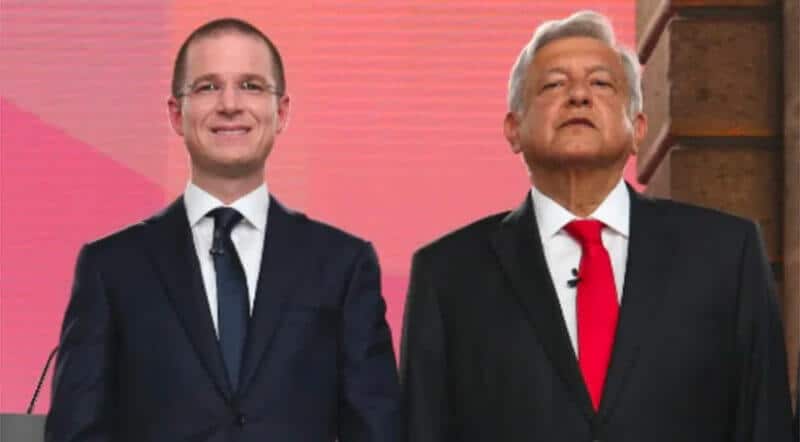 "… Do you know where the conclusion of the hearing would take place? In the Reclusorio Norte [prison in Mexico City]," he said.
"… Do you know how many years' imprisonment the crimes López Obrador's Attorney General's Office is accusing me of add up to? Thirty years' imprisonment. Just as well that there is no political persecution and that revenge is not your strong suit, Andrés Manuel. If that wasn't the case, just imagine …" Anaya said.
"López Obrador posted a message to his Facebook in which he basically asks me to present myself at a hearing at Reclusorio Norte. He says that I shouldn't worry if I'm innocent. Of course I'm innocent but of course I don't believe the most untruthful president in history. I know perfectly well that if I enter the prison, as López Obrador kindly proposes, they won't let me leave."
Anaya claimed that the president directly ordered the case against him, asserting that the charges are designed to silence him and put an end to his political career.
"… Once you're in prison, you lose your political rights; in other words I couldn't be a candidate in 2024 and obviously I wouldn't be able to record videos in which I denounce the ineptitude of his government. That's the underlying reason why they want to jail me," he said.
López Obrador negó quererme encarcelar, pero resulta que me acaba de llegar el citatorio para una audiencia en el reclusorio norte. Los delitos que me imputan "solo" suman 30 años de prisión. ¡Menos mal que su fuerte no es la venganza! Vamos para adelante, hasta donde tope. pic.twitter.com/VoIVueuQNE

— RicardoAnayaC (@RicardoAnayaC) August 23, 2021
"… If you're with López Obrador, you have protection," Anaya said, citing alleged corruption cases involving the president's brothers, Pío and Martín Jesús, officials involved in the construction of Line 12 of the Mexico City Metro (part of which collapsed in May), former cabinet minister Irma Sandoval and Federal Electricity Commission chief Manuel Bartlett.
"He even released Ovidio, the son of Chapo Guzmán," he said. "But if you're his adversary, they send you a subpoena in 24 hours and try to put you in jail for 30 years. What country are we turning into?"
Anaya – who said Saturday that he would leave Mexico – remarked that going into exile was a "a very painful decision" but his only option. He has previously lived for lengthy periods with his wife and children in Atlanta, Georgia – an arrangement that has attracted criticism, including from López Obrador who has described Anaya as "a little rich kid" with the nickname "Ricky Riquín."
"… In times of autocrats like López Obrador, exile is the only alternative in order to be able to continue fighting. … Allowing yourself to be jailed by an autocrat often means losing the battle. Let it be very clear, Andrés Manuel, I'm not hiding or fleeing, I'm showing my face and exiling myself from my country with a lot of pain in order to continue fighting," Anaya said.
"You're not going to get rid of me, and there are more and more of us who are not afraid of you and are ready to confront you wherever that may be. I'm convinced that we're going to succeed and that the best is yet to come."
Whether Anaya has already left Mexico or remains in his home state of Querétaro is unclear.
Meanwhile, there is speculation that Lozoya, who has been given protected witness status, may avoid prosecution on the corruption charges he faces in exchange for implicating opposition party politicians, including outspoken critics of the president, in wrongdoings he claims he was ordered to commit during the 2012-18 rule of ex-president Enrique Peña Nieto.
Mexico News Daily