Voters in México state and Coahuila will go to the polls on June 4 to elect new governors for six-year terms that will commence later this year.
Citizens in Coahuila will also elect representatives to the state's 25-seat unicameral Congress.
With election day fast approaching, Mexico News Daily has prepared a guide to the contests in both México state — Mexico's most populous state — and Coahuila, the country's third largest state by area.
Who is currently in power?
The governors of both México state and Coahuila are representatives of the Institutional Revolutionary Party, or PRI, which has been in power in the two states without interruption since the first half of the 20th century.
The México state governor is Alfredo del Mazo Maza, whose father and grandfather previously held the same position. The Coahuila governor is Miguel Riquelme Solís, a former mayor of Torreón.
The PRI has a majority in the Coahuila Congress, while no party has a majority on its own in the 75-seat México state legislature, whose elections were last held in 2021.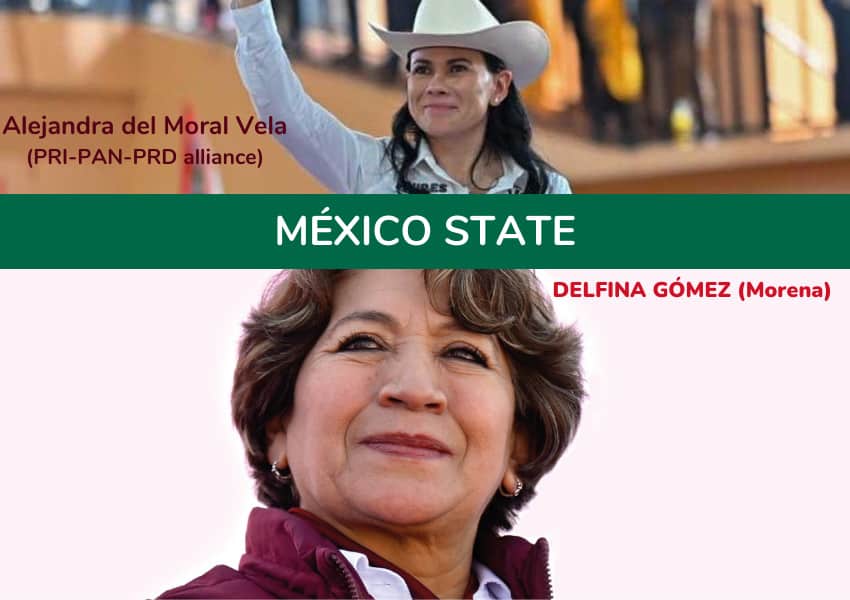 Who are the candidates?
A female governor will take office for the first time in México state in September as both candidates are women.
Alejandra del Moral Vela, a former mayor of Cuautitlán Izcalli who was social development minister in del Mazo's government until last October, will represent an alliance made up of the PRI, the National Action Party (PAN) and the Democratic Revolution Party (PRD).
The candidate for Morena (the party founded by President López Obrador) and its allies is Delfina Gómez Álvarez, who also contested the 2017 gubernatorial election in México state. Gómez was education minister in López Obrador's government between February 2021 and September 2022.
The Coahuila gubernatorial election is a four-way contest between former Saltillo mayor Manolo Jiménez Salinas, ex-senator Armando Guadiana Tijerina, former deputy security minister Ricardo Mejía Berdeja and ex-deputy Lenin Pérez Rivera.
Jiménez, who served as minister of inclusion and social development for one year in the current state government, will represent a PRI-PAN-PRD alliance, while Guadiana, a septuagenarian civil engineer, is the candidate for Morena.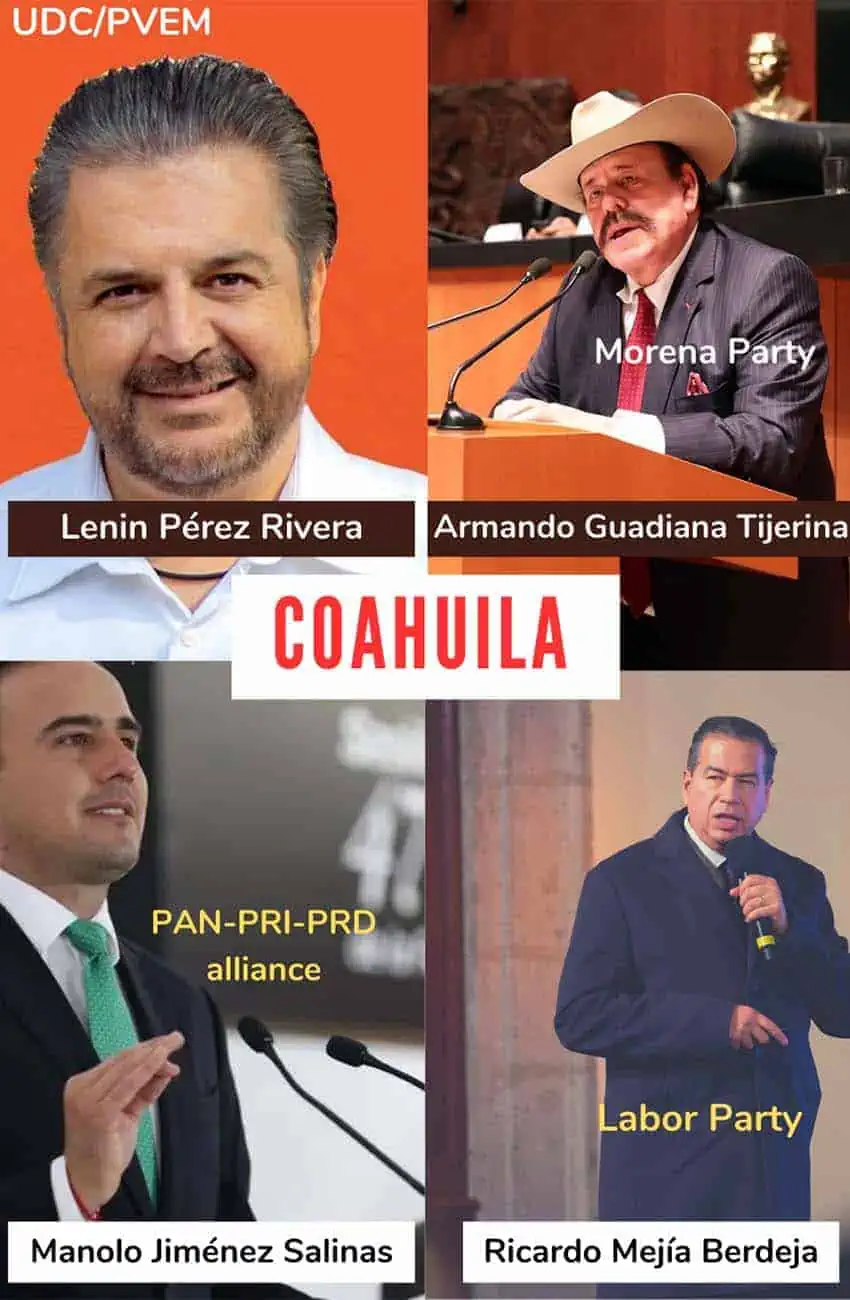 Mejía, a Torreón native who vied for Morena's candidacy, will represent the Labor Party, which is an ally of Morena at a federal level, while Pérez, a former mayor of Ciudad Acuña, is contesting the election on a ticket supported by a local party called Democratic Unity of Coahuila (UDC) as well as the Ecological Green Party of Mexico (PVEM).
What are the most important issues?
MÉXICO STATE
Del Moral and Gómez faced off in a first debate last month and will go head-to-head in a second debate this Thursday. The designated topics for the two debates are indicative of the issues that matter most to the approximately 12 million eligible voters in México state.
The topics considered at the April 20 debate were:
the fight against corruption
gender violence
public services
culture and recreation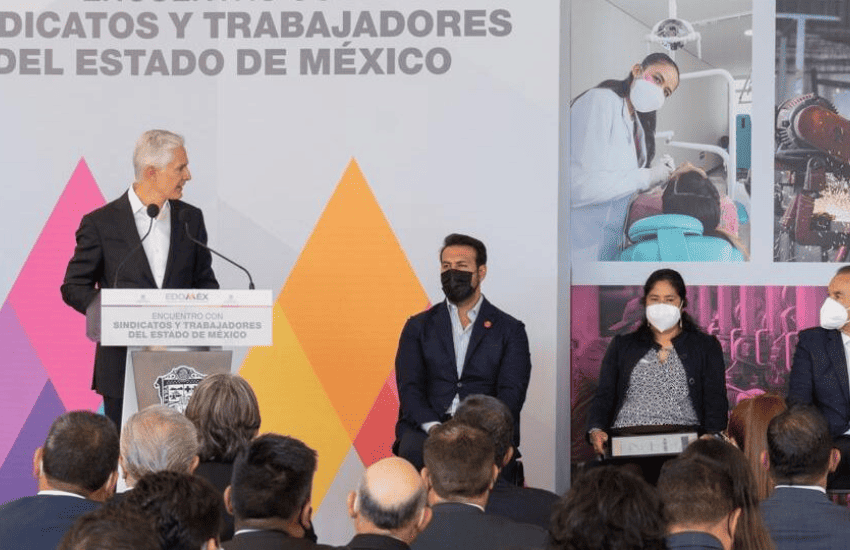 Those up for discussion at this week's showdown are:
security and justice
economy and employment
education
the environment and sustainable development
COAHUILA
The candidates for governor in Coahuila have already participated in two debates, one on April 16 and another on May 1.
Among the topics considered were:
education
water and sustainable development
the state's financial situation
health
governance and security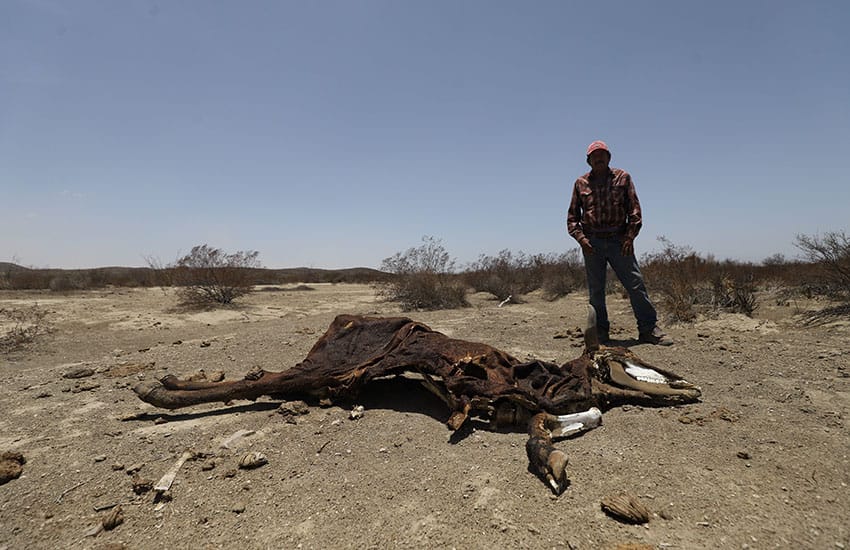 What are the candidates saying on social media?
Alejandra del Moral Vela (PRI-PAN-PRD alliance), Twitter, May 15:
"Mothers and fathers and our girls and boys deserve a government that understands their needs, that is sensitive to their problems and that seeks solutions. … I want to be your governor because I want to reconcile the government with society, doing everything necessary so that México state families do well."
Delfina Gómez Álvarez (Morena), Twitter, May 15:
"To the women of México state, I want to say that you're not alone. Each step that we take together will be a step toward equal rights. Our fight is to guarantee a world in which each woman is free to dream, act and live as she chooses. Together we are the engine of change!"
Manolo Jiménez Salinas (PRI-PAN-PRD alliance), Twitter, May 16:
"In Coahuila, we will promote more programs and social projects for vulnerable groups and for the countryside. My commitment is to work for a more inclusive state with a better quality of life for everyone."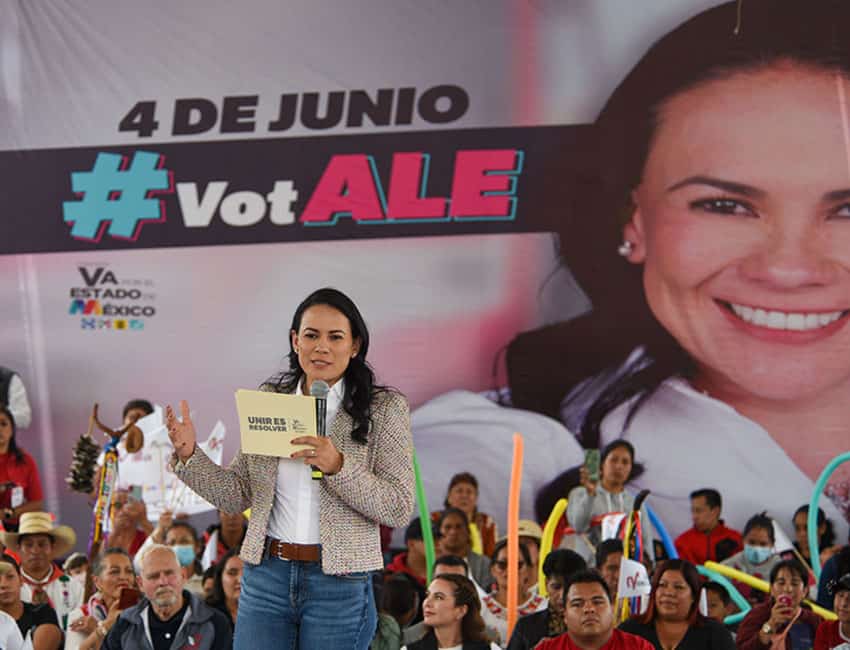 Armando Guadiana Tijerina (Morena), Twitter, May 15:
"The ONLY transformation project of 'you know who' [López Obrador] is in Morena. That's why this June 4 [we need a] massive vote for Morena!!
Ricardo Mejía Berdeja (Labor Party), Twitter, May 14:
"We're going all out against the corrupt. No half measures, no tepidness."
Lenin Pérez Rivera (PVEM-UDC), Twitter, May 12:
"During this campaign, we've carefully listened to you. That's why I reiterate: your dreams and hopes are possible if we get the PRI out of Coahuila! We're committed to working tirelessly for the wellbeing of all."
What have the polls found?
Morena's Delfina Gómez appears on track to seize the coveted prize that is the governorship of Mexico's most populous state. The newspaper El País analyzed the results of dozens of polls conducted in 2023 and reported Monday that Gómez has average support of 57.8%, compared to 41.8% support for del Moral.
The results of several polls conducted in May also indicate that the Morena candidate will prevail in México state on June 4.
In Coahuila, PRI-PAN-PRD candidate Manolo Jiménez Salinas is likely to win on the first Sunday in June, poll results indicate. Collated poll results published on the polls.mx website show that Jiménez has average support of 47%, 20 points clear of Morena's Guadiana.
Mejía is in third place with average support of 17%, while Pérez lags in fourth spot with just 7% of poll respondents nominating him as their preferred leader of Coahuila.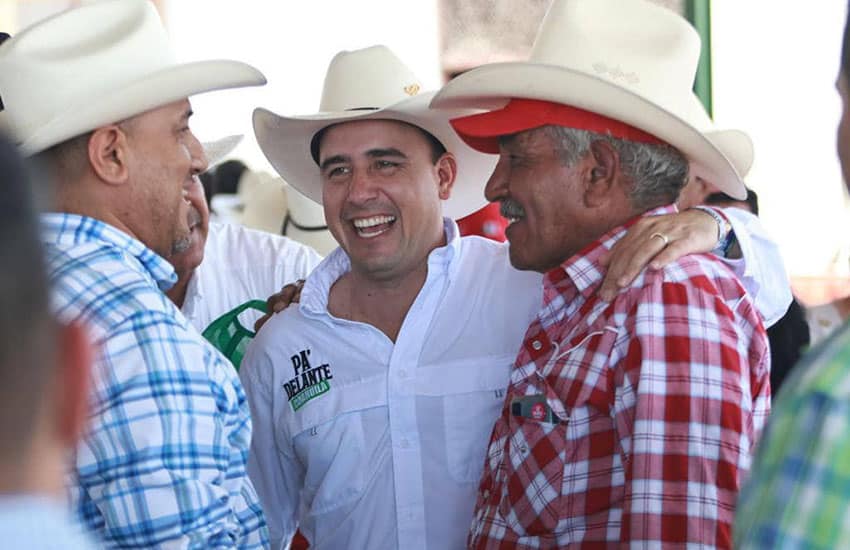 What's the bigger picture?
The elections in México state and Coahuila will take place less than a year before voters go to the polls to elect a new president and renew both houses of federal Congress. All political parties will thus be watching the contests very closely to glean any information that could help them electorally in 2024.
Neither Morena nor the opposition Va por México (PRI-PAN-PRD) bloc have chosen their presidential candidates for June 2, 2024, but they are expected to begin their respective selection processes shortly after the México state and Coahuila elections.
Mexico City Mayor Claudia Sheinbaum and Foreign Affairs Minister Marcelo Ebrard are the leading Morena hopefuls, while Va por México is expected to have a wide field of potential candidates from which to choose.
Among the possible opposition candidates are Senator Lilly Téllez, Yucatán Governor Mauricio Vila, former tourism minister Enrique de la Madrid and former Mexico City mayor and current Senator Miguel Ángel Mancera.
Mexico News Daily