Mexico and South Korea have committed to strengthening their relationship five months after their negotiations to reach a free trade agreement (FTA) were put on ice.
Foreign Affairs Minister Marcelo Ebrard met with his South Korean counterpart Park Jin in Mexico City on Tuesday, and the two officials reaffirmed their commitment to strengthening the 18-year-old broad-based Strategic Partnership for Mutual Prosperity, according to a statement released by Mexico's Ministry of Foreign Affairs (SRE).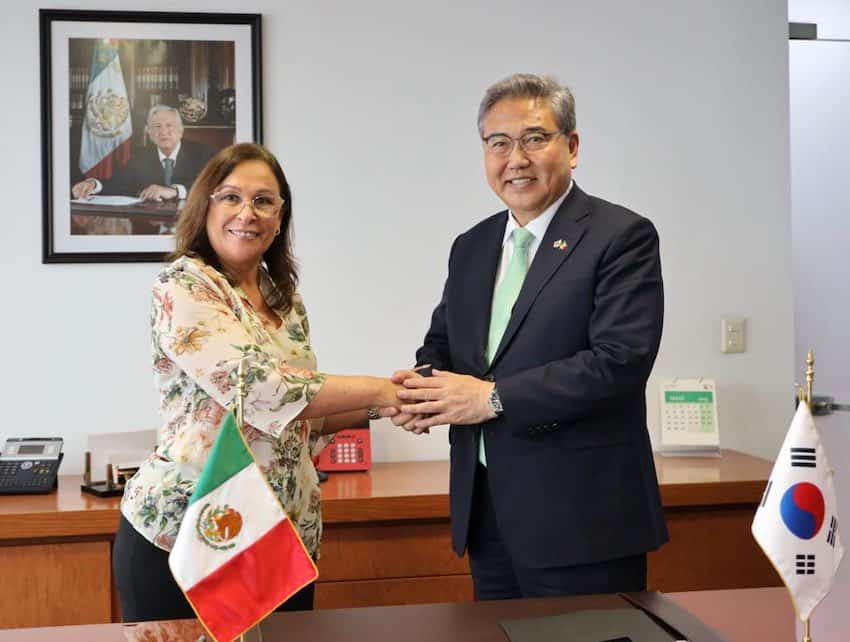 The aim of that commitment, the SRE said, is to ensure that the bilateral relationship — which formally began 61 years ago — "reaches its full potential in all areas."
Citing the South Korean Foreign Ministry, the Seoul-based Yonhap News Agency reported that Park, in his meeting with Ebrard, "stressed the importance of forging an FTA to promote strategic cooperative ties between the countries."
The Korean foreign minister "requested Ebrard's support to resume related discussions," the news agency said.
Ebrard said late last year that Mexico had decided to put negotiations with South Korea on hold as it worked out what it wanted to gain from an FTA with the East Asian nation.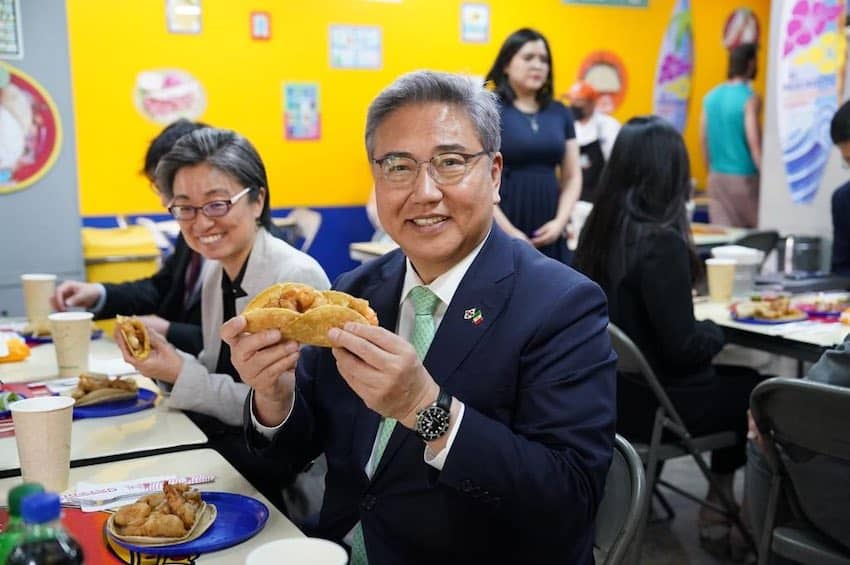 The foreign minister traveled to South Korea last July, and he and Park committed at the time to work toward a bilateral free trade agreement.
On Tuesday, the two men "highlighted the importance of the growth in bilateral trade and investment," according to the SRE, and noted that Korean companies are participating in important infrastructure projects in Mexico.
Samsung, South Korea's largest company, is contributing to the construction of the new Pemex refinery on the Tabasco coast.
Ebrard and Park also agreed to deepen technical-scientific and educational-cultural cooperation and to collaborate on health and aerospace matters, the SRE said.
In addition, the two foreign ministers agreed to "intensify their work" in multilateral forums in which both Mexico and South Korea participate, including the G20 and the MIKTA alliance, which also includes Indonesia, Turkey and Australia.
The aim, the SRE said, is to "capitalize on the broad areas of agreement between both countries."
The Foreign Affairs Ministry noted that South Korea is Mexico's third largest trading partner in the world (after the United States and China), with bilateral trade of US $27.7 billion in 2022.
Among Mexico's exports to South Korea are crude oil and a range of food and beverage products including pork, avocados and tequila. South Korean imports include electronics and cars.
The SRE also noted that South Korea is the 13th largest source of foreign direct investment in Mexico, and reported that there are 2,059 Korean companies that operate here.
Park also attended meetings with Economy Minister Raquel Buenrostro and Energy Minister Rocío Nahle in Mexico City on Tuesday. On Twitter, the foreign minister declared his love for tacos with salsa roja, posting a photo of himself at a restaurant in the capital that specializes in fish tacos.
With reports from El Economista and Yonhap News Agency