After weeks of tensions over the polling process and gender parity requirements, Mexico's ruling Morena party has announced its candidates for the nine governorships in contention in the 2024 elections.
Results of the internal party polls were expected to be announced on Oct. 30 but were delayed until Nov. 10, during tense internal negotiations. New gender parity requirements approved by the National Electoral Institute (INE) in October require five out of nine of the candidates to be women, meaning several men who won the polls in their respective states had to be displaced by female candidates.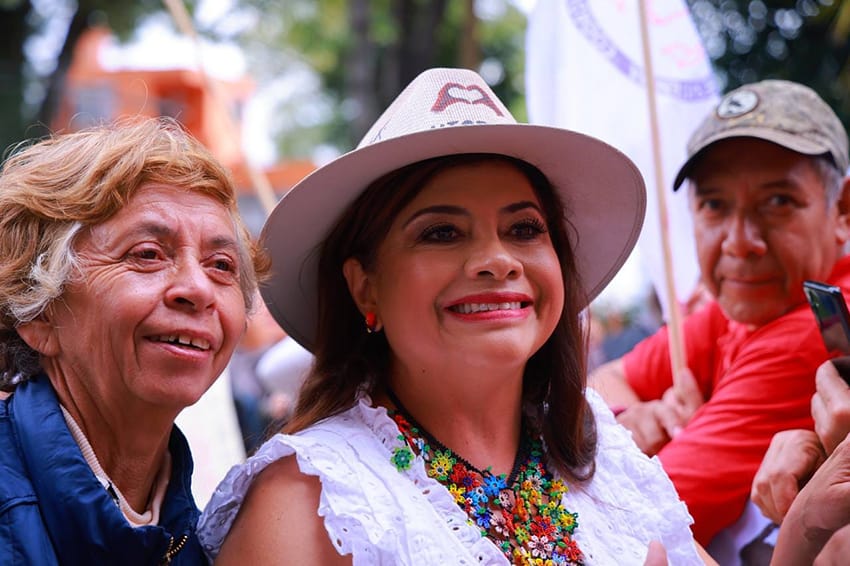 The most high-profile upset was in Mexico City, where the former mayor of Iztapalapa, Clara Brugada, was eventually selected as the candidate, despite trailing 14 points behind Omar García Harfuch, the capital's former security minister.
Harfuch achieved 40.5% in poll support compared to Brugada's 26.7%, with respondents scoring him higher on voting intentions, honesty, knowledge of the city, closeness to the people and identification with the party's values. But despite waging a fiercely-fought campaign, Harfuch's team have stated that he will respect the party's eventual decision and support Brugada, who has also served as a congresswoman and senator.
It is expected that if Morena's presidential candidate — Mexico City's former head of government, Claudia Sheinbaum — wins the election, Harfuch will be given a leading security role in her cabinet.
The gender parity rules meant that women were also prioritized over higher-scoring men as gubernatorial candidates in the states of Guanajuato and Jalisco. In an effort to preserve unity, these men will be guaranteed a seat in Congress, according to an agreement released by the Morena leadership on Thursday.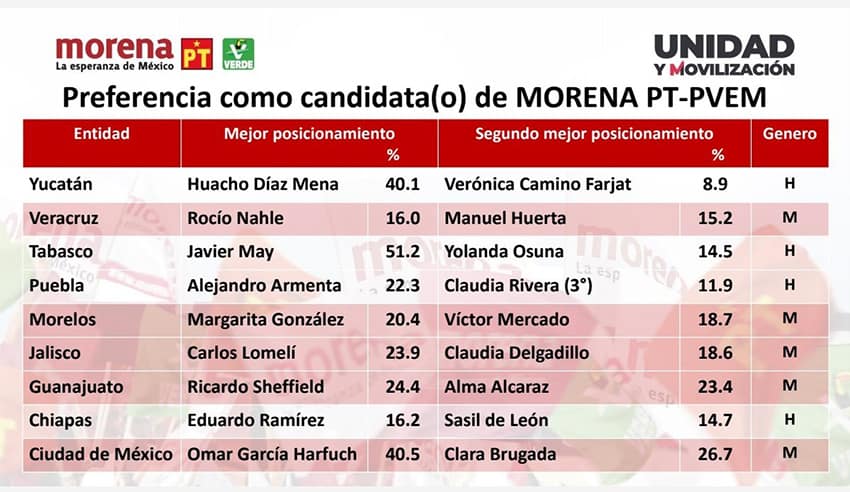 Female candidates won the polling in Veracruz and Morelos, and were thus automatically selected as candidates.
The final list of Morena's candidates for the eight contested governorships is as follows:
Chiapas: Eduardo Ramírez, current coordinator of the Morena caucus in the Senate, and formerly a local and federal deputy and mayor of Comitán

Guanajuato: Alma Alcaraz, a Morena deputy and former local party leader

Jalisco: Claudia Delgadillo, a federal deputy for the Green Party (PVEM), a Morena ally. She has also been a local deputy and councilwoman in Jalisco's capital, Guadalajara.

Morelos: Margarita González, former general director of the National Lottery

Puebla: Alejandro Armenta, former president of the Senate

Tabasco: Javier May, former Welfare Minister and head of the National Fund for Tourism Promotion (Fonatur)

Veracruz: Rocío Nahle, former Energy Minister

Yucatán: Joaquín Díaz Mena, a former federal and local deputy for the opposition National Action Party (PAN)
Mexico's other political parties have yet to finalize their internal selection processes for the contested governorships. Morena and its allies currently govern in 23 of the country's 32 states, and are hoping to expand that number.
Pre-campaigns for the 2024 elections open this month, with specific dates dependent on the state. The pre-campaign period in Mexico City officially started on Nov. 5 — before any of Mexico's political parties had announced a candidate.