How do you invest in a home or vacation home on the beach?  Whether you're thinking about buying real estate in Mérida or on the Gulf coast, there is something for everyone when buying beach property. Right now, beach homes in Mexico are hot to trot as people are seeking a more relaxed and sunny lifestyle in a more peaceful part of the world. 
How do I invest in beach property in the Yucatan?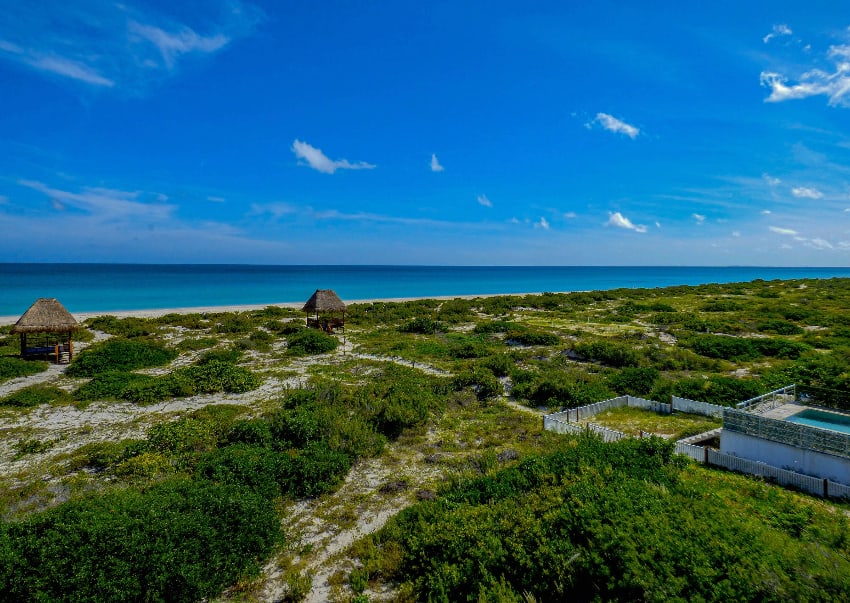 "There's a big billboard on the beach highway near Mérida that says, 'Five years ago was always the best time to invest!' and I think that's so pertinent right now", says Mitchell Keenan at Mexico International Real Estate, who's witnessed the real estate landscape explode in his 30 years of working within the industry. With a stunning natural environment, the highest safety record in the country, a vibrant cultural scene, and the new Maya train (Tren Maya), business investment is pouring into the region. "There is also warm weather and sunshine year round," Mitchell tells MND. 
Where can I buy beach property in Mexico? 
"People might be looking at several coastal spots," Mitchell continues. Puerto Vallarta, Acapulco, or Mazatlán, for instance, offer more nightlife and a big restaurant and social scene. And the Caribbean coast is great for people who love to snorkel or dive. Mitchell is seeing many people choosing to buy on the Gulf coast near Mérida, which offers a more reasonably priced beach community. Buyers are happy to make the 3-4 hour trip to Cozumel or Cancun for scuba diving but benefit from living near Mérida. "Mérida has always had that undiscovered feel to it and still, to a large degree, does," Mitchell says, 
What to look for in a real estate agent when buying beach property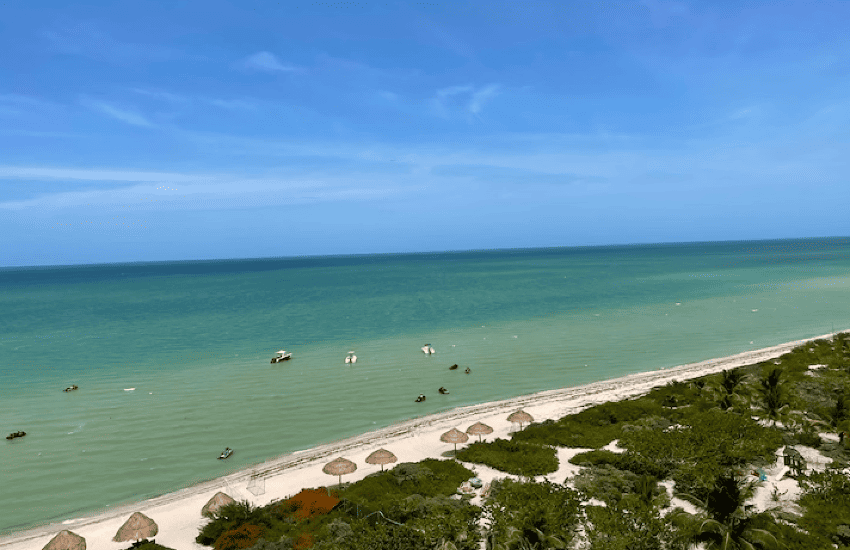 It makes sense to find a real estate agent who is seasoned, understands the area, is busy, invested in their career, has the licensing and has taken some additional courses. And of course, can provide references. "It's really important to be well connected," Mitch tells us, "Especially when you invest in property in another country."  
 How do I buy beach property in Mexico?
Find a good attorney/notario.
It's the buyer's choice, as they pay all the closing costs and the seller pays the taxes. Recommendations from a good real estate agent will help you avoid headaches. They should be able to provide you with all the necessary contacts – attorney, notario, architect, contractor, etc. Most competent agents are bi or multi-lingual and have many contacts in their area of influence. 
You'll need a fideicomiso. What is that? 
All the beaches in Mexico are in the restricted zone. To hold title to beach property, you will most likely want to utilize a fideicomiso. The best translation of fideicomiso to English is "fiduciary bank trust." It's a document that provides you with the vehicle to hold the title to the property with the bank.  Both the foreign owner and the bank are named in the documents with the bank owing a fiduciary responsibility to the foreign owner. 
How do you get that bank trust, and how much does it cost? 
Your attorney will apply for the permit from Mexico City.  The fideicomiso including the permits run around 3,000 USD. Only foreigners need this fideicomiso, not nationals. Annual payment on a fideicomiso will run approximately 500-700 USD a year based upon the value of the property.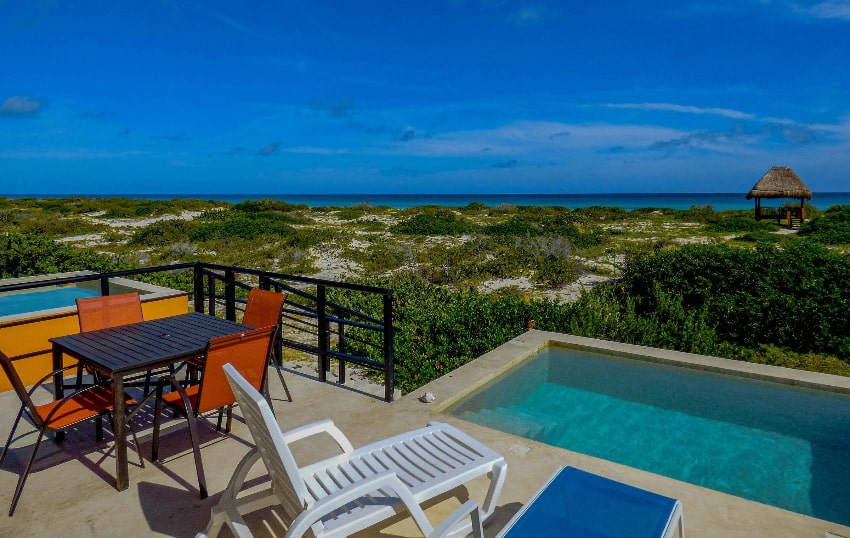 How long does it take to acquire? And for how long is it valid?
You can plan for around 8-12 weeks for your attorney to have the authorized document. It's a 50-year document and it is renewable every 50 years in perpetuity.  Additionally, you are required to name an heir(s) in the fideicomiso. In the case of your demise, the rights to the fideicomiso are inherited by your heir(s). They can further hold the fideicomiso en perpetuity.
What are the benefits of a fideicomiso? 
You will acquire a further level of protection to hold a regular title because it's tied to the bank. The bank has a fiduciary responsibility to represent the rights of the owner (holder of the fideicomiso).  You also can avoid a large capital gains tax when you sell.
Tax benefits from holding real estate in a fideicomiso? 
By holding title with the fideicomiso, the holder is benefited by being able to avoid part if not all of the 31% capital gains tax (ISR in Mexico). Additionally, you'll need your resident visa, your Mexican tax ID number, a CFE bill or bank statement that reflects your name, the address of the property and your tax ID #.
What beachfront properties can I buy?
In addition to buying an existing home, you may also wish to invest in raw beach and build your own home. It usually takes between 12 – 18 months to build, depending on the weather and the availability of construction materials. A 1,800 square meter lot currently on the market could run you around US $240,000 near Mérida. Or buy an existing home, save time, and make it your own. Remodeling costs are reasonable.
What will affect the value of beach property? 
Beach front with uninterrupted views and access to the ocean, is the most important determinant to market value on the beach. Location, mature trees and landscaping, sand dunes and neighboring properties will also increase value.  Access to the property – how far it is from the airport, and how are the roads?  For the most part, beachfront homes near Mérida are accessible by paved roads. Location in terms of local services, clinics, schools, and shopping. There are beach properties over 90 minutes from Mérida, and values tend to trend downward the further away from Mérida.
How safe is beach living? 
You have to research your chosen area, but if you're on the Mérida coast, safety is part of Yucatan culture. The 'police force army' in Yucatan is an enormous, friendly force. They're as likely to help you change a tire than write you a speeding ticket. 
What can you expect from beach culture in Mexico?
The small towns are tight-knit fishing and family communities. Foreigners will often support schools, orphanages, or trash programs and are respected in the local communities for their contributions.  
What about property tax? 
It's a deal closer. For a US $500,000 home, you're looking at the grand sum of US $200 a year or less. Property taxes are very inexpensive! 
What else to consider when looking for beach property?   
Having a medical clinic nearby is a plus. Most of the pueblos have clinics. Shopping is always important.  Nice to stay within 20 minutes of decent markets, shops and gas stations.
If you're buying a vacation home for part-time Airbnb or rentals, like 70% of our clients, you'll need a good choice of property managers, "of which there are some good ones available," Mitchell tells us.   
What are the predictions for beach living over the next 5 years? 
Mitchell tells MND, "The beach growth has truly exploded.  Many new high-rises, condos and multiunit communities are being built. I'm conservative about making predictions but all things remaining equal, I see good growth of value."
The Governor of Yucatán recently attended President López Obrador's morning press conference in his new role as Head of the Governor's Association in Mexico and discussed the Maya Train and the region's rapid economic growth. Why wait to retire to invest in beach property in Mexico?!  Instead of buying a 2 million dollar condo in Florida, it's possible to choose the good life – relaxed, easy, safe, affordable, and happy – on the coast of Mexico.  Mitchell concludes, "We live in crazy, unpredictable times. Just go for it!"  
This article is sponsored by Mexico International Real Estate. Mexico International is the Yucatán Peninsula's number-one real estate agency.