Mexican home decor is alive with dazzling colors, patterns and textures, rich with a history of unique artisanal materials, textiles and techniques. It's an irresistible eclectic look born out of a blending of wildly diverse cultures: the native Aztec and Maya tribes, the Spanish missionaries and conquistadores, plus some Native American and Southwest influences. No wonder Andre Breton said, "Mexico is the most surrealist country in the world!" 
We compiled a guide to the essential traditional and authentic Mexican accents for your home – with a few insider tips to home styling so you can evoke some of Mexico's vivid and soulful style wherever you are. 
Where do I go in Mexico for the colorful handicrafts and art? 
Stroll around any city – Mexico City, Guadalajara, Monterrey, Puebla, Oaxaca, Mérida, San Miguel de Allende, and all the smaller towns in between –   and go in search of the artisanal markets (mercado artesanal).  You'll find pretty much all of our list below.  You will also find design stores, specialized boutiques, and pop-up stores with one-of-a-kind products, often created with high-quality materials and an exotic local touch. 
Anna Karp, a co-founder of the renovation site Bolster, feels, "Appropriating a 'look' without looking into the substance that created such a look is a true loss."  She encourages approaching decorating by adopting an appreciative mindset of the decor's heritage instead of simply mimicking a style.
Tiles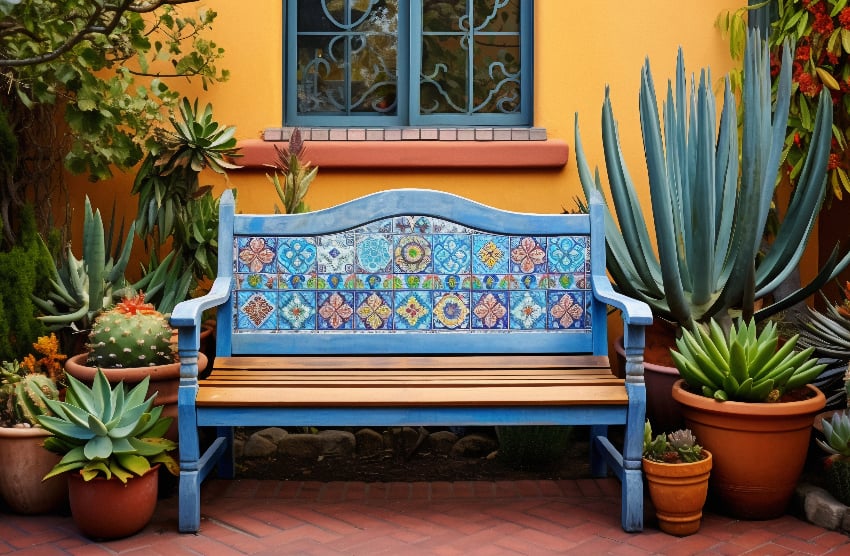 Some Mexican tiles might be the closest way of adding a splash of Mexican style and color to your home while adding life to walls and floors!
The Talavera tiles are trendy, famous and traditionally hand-painted. These tile inlays decorate kitchens, bathrooms, fireplaces, walls and floors. They were initially designed for homes where hot weather omitted the need for area rugs and are both functional and beautiful.
Pottery
Authentic Talavera pottery originates from Puebla and was originally brought to Mexico by Spanish settlers. The white and blue ceramic pieces at any market and ceramic store are a big part of Mexican identity. Mexico's culture, flora and fauna influence the designs. Talavera pottery can include tiles, dishware, platters and trays, serving pieces, wall art, and other decorative accents.
How do I say pottery in Spanish? Cerámica! 
Terra cotta
Terra cotta finishes add an authentic Mexican feel to any room in your home, inside or out.  You can use it in planters, pots, floor tiles, or wall accents. You'll find these in the shapes of squares, diamonds and hexagons, and you might try combining them in interesting patterns. 
Mirrors 
Jazz up the simplest of rooms with the rustic and ornate tin mirrors crafted by hand in Mexico, using traditional and modern artistry.  The wonderful tin heart designs – the Sacred Heart is one of the most common motifs in religious folk art created in Mexico –  or the combination of tin and colorful ceramic as a border are a staple of any Mexican home. 
How do I say mirror in Spanish? Espejo.
Wall art and artwork 
How about playing with displaying traditional Mexican arts, crafts, clothing, textiles and other ornaments?  Beauty from all over the country can be found in most markets and design stores. 
Classic wall hangings made of tin or copper 

Artwork like

papel amate

, originally from Guerrero and Puebla. They make a truly original gift – to yourself or your loved ones!

Embroidery and hand-made weaving. Mexico's textiles infuse color as well as pattern. Oaxaca holds various woven beauties from tribes like the Mixtec and Nahua.
Clothing as artwork! 
The traditional garments of Oaxaca or Chiapas are outstanding pieces of art. You can repurpose them as decorative elements by draping them over a chair, hanging them on a wall, or – repurposing a dressmaker's mannequin to fill a corner of your room with a whiff of exoticism!  Find clothing at markets or traditional design stores. 
Mexican light fixtures
Some famous favorites are the tin fabricated hanging star light, lantern, or standing obelisk, whose perforations allow for a dreamy night glow. Choose frosted or colored glass to play with mood through color. You can also find geometric African-style pendants fusing metal, glass and ceramic wall sconces. 
Blankets and cushions
The typical striped blankets are sarapes – beautiful throws or cushion covers that will liven up the beigist of rooms, couches, or beds with a bold splash of color. Sarape de Saltillo is the original name of these blankets, made of wool with a beautiful knit.  
A unique and colorful hand-embroidered cushion cover from Mexico is perfect for brightening any room with little effort! The designs draw on a wealth of Mexican nature symbology and display the lineage of traditional handicrafts passed down over generations. 
Rugs
The striking, geometric symbols woven into Oaxacan rugs are beyond decorative, although they look fabulous! They represent aspects of the Zapotec culture, with its deep connection to nature, and share many similarities with ancient Incan and Maya symbols. 
How do I say rug in Spanish? Tapete. 
Copper pots and clay pots 
Have you ever wondered why in traditional Mexican restaurants they still cook with clay and copper pots? Because it tastes so much better! Copper is also a great heat conductor; it looks lovely in any kitchen decoration. But go bold and use copper and clay pots creatively – they make fantastic plant holders or accents in any room or outdoor patio.  
Brightly painted wooden artwork
You can discover a wide variety of Mexican folk art – hand-painted bowls, crosses and plates.  This craft has a long and rich history stretching back 3,000 years when the Olmec, Maya, Teotihuacán, Toltec, and Aztecs ruled over the lands of Mexico. Indigenous groups fabricated objects for daily use as well as ceremonial occasions. 
Carved gourds
A unique form of Mexican folk art made from the calabash fruit, which grows in the coastal areas of Guerrero and Oaxaca. Another pre-colonial craft, lacquerware, displays a fine decorative glossy coating applied to various wooden objects, from trays and boxes to bowls and animal figurines. 
Ironworks
Find some handcrafted wrought iron pieces – still important in San Miguel de Allende, Leon, Guanajuato, Guadalajara, Jalisco, Morelia, Michoacán, Mexico City, and Puebla. You can find lamps and even chimney tools and use them as decorative pieces for the home. San Cristobal de las Casas is known for its intricate crosses made of wrought iron and are popular with Mexicans as symbols of divine protection – and placed on mantels or bookshelves, they can add a mythical, mystical touch. 
Huichol art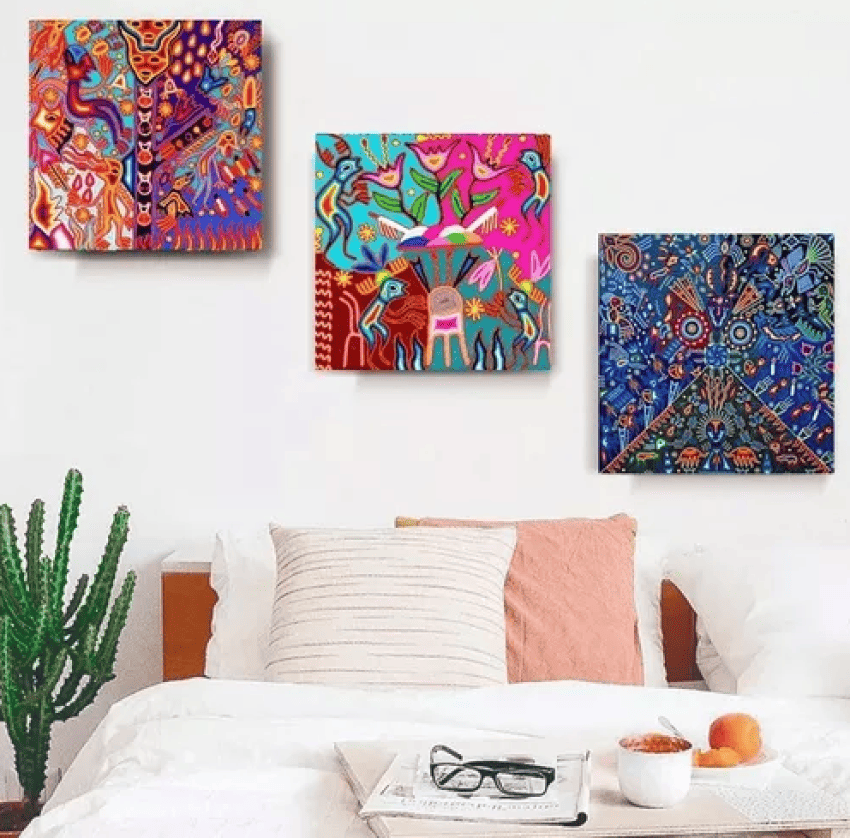 These pieces, found in local craft fairs, specialized Huichol stores, and artisanal markets, are said to be inspired by the hallucinations provoked by the ceremonial use of peyote.  Colorful, abstract, geometric and unique.  One piece in a room will stand out magnificently!  
Alebrijes
Hand carved out of copal wood, the Alebrijes are beautiful fantasy hybrid animals and the most recognizable Mexican folk art.  They're not religious figures but originate from the feverish dreams of Pedro Linares López. Each artist brings their vision to the creation – it might look like a dragon, with maybe a bit of horse and the addition of a fishtail or wings! 
Colorful Skulls and Skeletons
You might come across some Day of the Dead (Día de Muertos) traditional art in Mexican interior design! The Mexicans celebrate their ancestors with skulls and skeletons with ornate decorations. The shape and colors on the skull also bear meaning, such as hope and purity.
Paper Flowers
These flowers, of all shapes, sizes and colors – on wire stems or string garlands – are beautiful to put in vases, string up on terraces, or any room.  I know people from the UK and New York who go home with suitcases of them for friends and relatives.
Baskets
Basket weaving is one of Mexico's oldest traditions and palm weaving has been practiced here for thousands of years! Traditional products such as petates (mats) and tenates (boxes with lids) are still sold by indigenous artisans in Mexican markets today.
Hats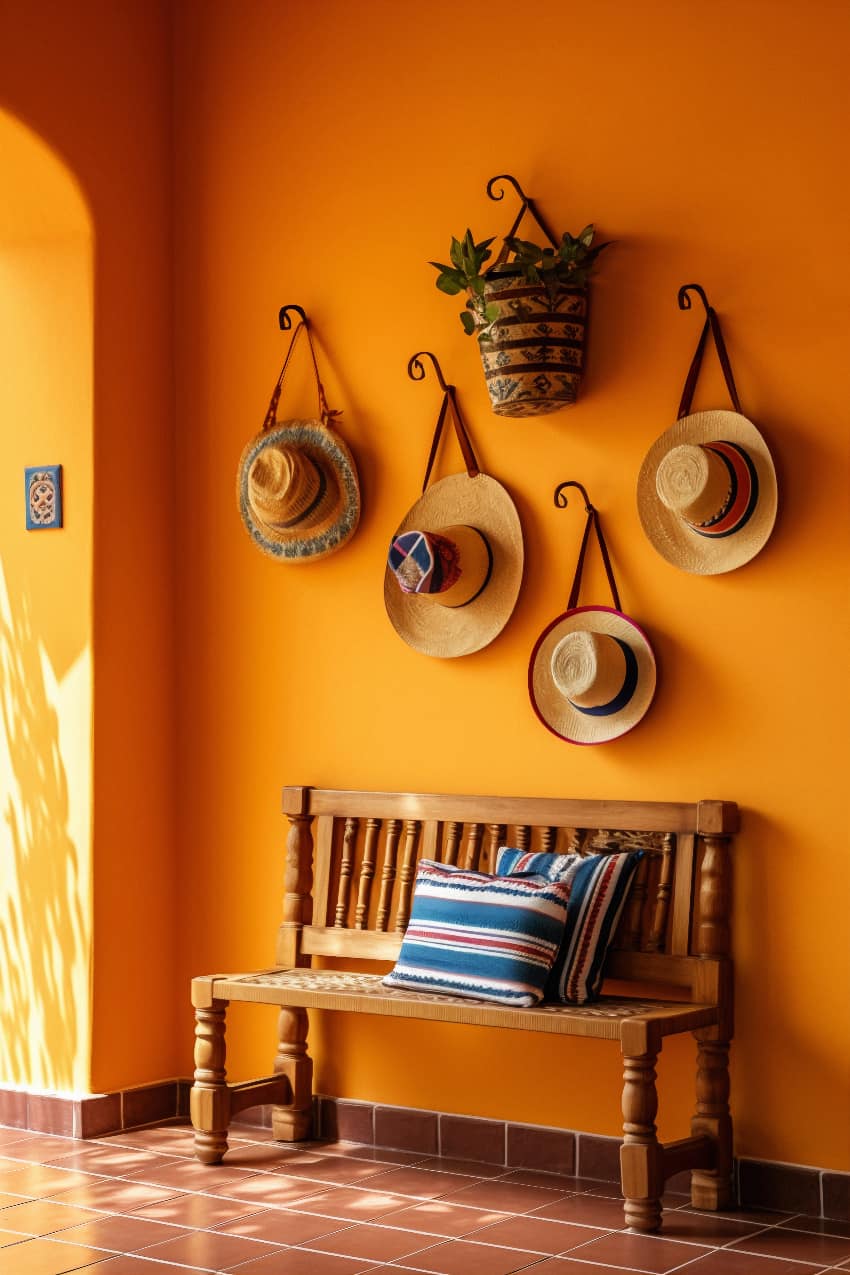 You can't be without a sombrero somewhere on your wall, window ledge, or hooks!  The sombrero marks the image of Mexicans for the rest of the world, from the mariachi musicians to Emiliano Zapata! Pick up all shapes, sizes and colors at the markets and – distribute creatively in your home! 
Cactus 
Create some desert chic accents! Due to the arid landscapes throughout Mexico, succulents and cactus plants thrive and are a perfect accent – from the spiky and bulbous to the long and fleshy, from the tiny to the grand – for any interior or exterior space.  
No wonder Mexican home decor is trending! You can't fail to spice up a colorless space or a meh mood with these splashes of style and pizzazz from Mexican crafts and textiles. Just stroll through the Mexican streets and ask for the nearest artisanal market or design stores. And don't forget to notice certain open-door Mexican homes, inviting you to find some of these treasures at a snip if you're lucky! Mexico is great for street shopping and self-directed home sales! Above all, have some fun and soak up the wild and wonderful world of Mexican craftsmanship to accent your home.
Henrietta Weekes is a writer, editor, actor and narrator. She divides her time between San Miguel de Allende, New York and Oxford, UK.