You're finally in Mexico, and it's time to start making your new place your own. Now, what were those measurements for the living room curtains you'll need again? And how exactly do they need to be installed? 
Honestly, it's best not to guess.
If you've spent much time in Mexico, you've probably noticed something about the uniqueness of dwellings down here: when it comes to "standard" sizes for pretty much anything construction-wise, there is no rule of thumb. That goes for doors, windows, and (both comically and dangerously) staircases. 
Another change to the equation? Concrete walls. Trust me, everything you think you know about hanging stuff up will come crumbling – literally – down (the first time you drive a nail into one, you'll see what I mean.) Many homes often typically have less storage space than you might be used to up north, so if you're handy, this is your chance to show off your skills!
This might be exciting news for DIY-ers (DIY: do-it-yourself): quite a few things will need to be customized by necessity. 
For the rest, take heart: a well-stocked tool chest will help you stay prepared for the minor issues that come up. So, without further ado…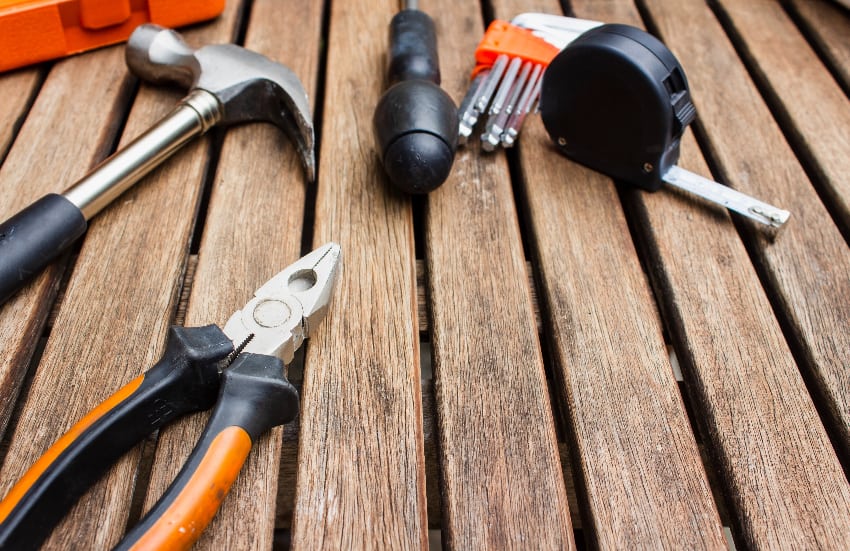 Measuring tape
In Spanish: "cinta para medir" and sometimes simply "metro". A good measuring tape (a long one, that kind that winds up in a plastic-protected spool) is, in my opinion, the most essential tool to keep around. Without the measuring tape, you should do nothing.

You'll need it for measuring pretty much anything: the space you have for the furniture you want to put in your home (and the furniture itself before you buy it), the length and width of curtains you may need, the amount of length you must have for extension cords, where you want to center pictures on the wall…you name it!
Related bonus tools: a level ("nivel") to make sure things are getting hung evenly (you may very well discover while using one that the house itself is not level) and a carpenter's pencil ("lápiz de carpintero") for lightly marking the walls where things will be hung.
Hammer and (concrete) nails
In Spanish: "martillo" and "clavos para concreto". After the measuring tape, my hammer is my most-used tool. I love decorating, and wind up hanging quite a few things on my walls, even if I only rent a place for a year or two.
One thing to be aware of when hanging things up is that the walls of most Mexican constructions are made of concrete blocks. If you've previously lived in North(er) America, you're likely used to the kind of construction that accommodates central climate control: a skeleton of wooden studs covered in insulation and dry-wall. Sticking a nail into those types of walls is easy.

You'll need a little muscle to really drive nails through these concrete walls, though, and they can behave pretty dramatically: depending on the area's humidity, it's not at all unusual for some of the concrete on the surface of the wall around the nail to simply fall off while you're hammering.

Related bonus tools: A spatula (it's the same word in Spanish!) and "resanador" – basically a filling paste to patch up little holes that nails leave in the wall. The spatula evens it out after filling, and once it dries, it can be painted over.
Drill
In Spanish: "taladro". For aesthetics (like curtain rods), storage installations (hello, extra shelving!) and safety if you've got little ones running around – you don't want a kid pulling a TV or bookshelf on top of themselves – all kinds of things need to be anchored to the wall. And with all this concrete, that's not going to happen without a drill – and preferably a high-powered one.

Related bonus tools: drill bits ("brocas"). Depending on the size of the anchors and screws you use – many things, like TVs that come with wall mounts, come with their own screws and anchors – you may need to choose a specific size drill bit to make sure that it's the same size as the anchor.

Screwdriver
In Spanish: "destornillador". Once you've got the holes where they go – thanks, taladro! – you'll need to get the hardware in there. I cannot recommend enough a good quality screwdriver that comes with different bits that can be changed out and that aren't easily stripped. You'll also want one with a mechanical function that allows you to choose the side to rotate so that you don't have to take the screwdriver out of the screw with each turn. Like the above, it's going to take some muscle.

Bonus: screws ("tornillos") and anchors ("taquetes"). To ensure the safest grip, it's always best to use anchors and screws for anything heavy that needs to be mounted to the wall.
Happy tool hunting! 
Sarah DeVries is a writer and translator based in Xalapa, Veracruz. She can be reached through her website, sarahedevries.substack.com.