Holbox Island, located to the north of the Yucatán Peninsula in the Yum Balam nature reserve, is sure to charm with its beautiful beaches, seaside activities and biodiversity. 
While its name might make it sound like it belongs somewhere in England, the word holbox (pronounced "ol-bosh") is Mayan for "black hole," probably a reference to the dark coloring of the lagoon water here.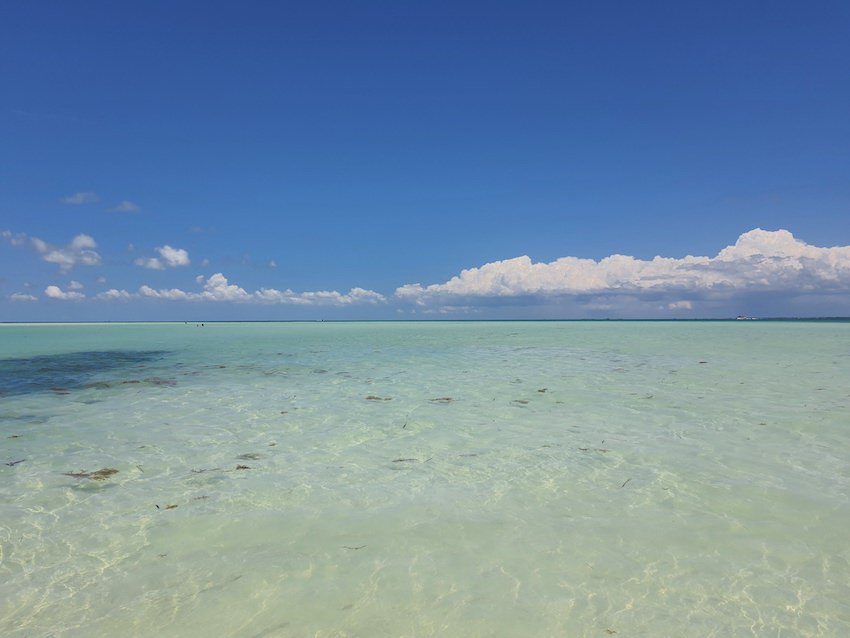 You can easily take a ferry to Holbox from the town of Chiquilá, about a two-hour drive from Cancún. Visitors can also explore several spots around Holbox like Bird Island (Isla Pájaros), Passion Island (Isla Pasión) and the Yalahau freshwater pool. Look for "three islands" tours from Holbox that typically go to these places.
Bird Island is about a 30-minute boat ride from Holbox into the Yalahau Lagoon, the body of water that separates Holbox from the mainland. As the name suggests, you can observe many bird species there, including pelicans, frigate birds and ducks. From April to October is a good time to visit Bird island, when you typically see flamingos. 
While visitors are not permitted to go ashore due to its protected status, the nearby lookout points offer magnificent views over the island and the lagoon, with many photography opportunities. Take a pair of binoculars if you want to observe birds closely.
If you have some time to linger, take a dip in the Yalahau cenote, a stunning natural pool among mangroves. You will not tire of swimming in its cool and clear water.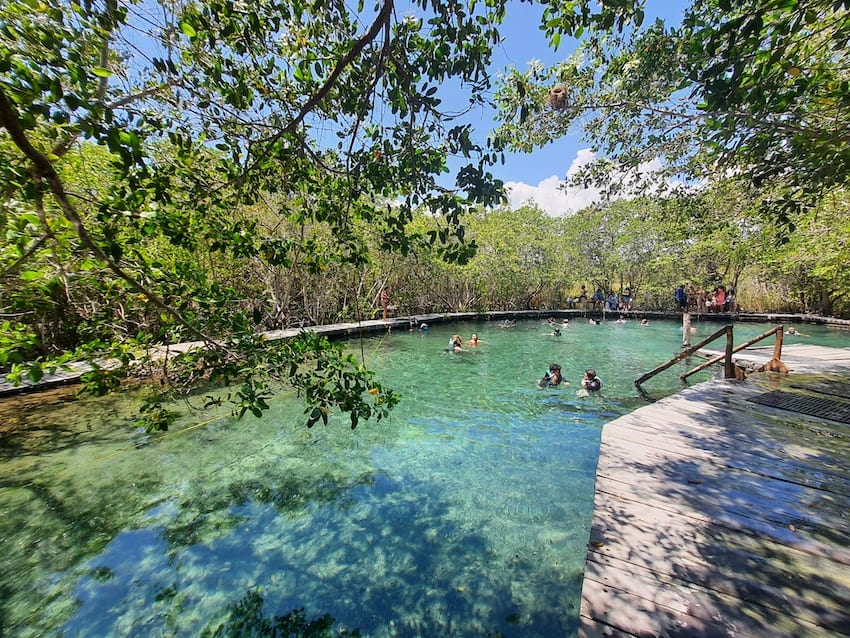 The inhabitants of Holbox are believed to have used this natural pool for their freshwater needs since ancient times. According to folklore, an ancient Maya king had made this spring into a private pool for his wives and beautified its surroundings with gardens and other decorations. Another tale says that the water of the Yalahau cenote revitalizes visitors, making them feel younger. It's therefore also known as a fountain of youth. 
This area was once a sanctuary for pirates. According to one legend, the pirate Francisco de Molas, who lived there, had buried a treasure in the area with the help of an aide who was beheaded soon afterward. The aide's head was supposedly buried with the treasure, and it is said that at night, the head appears where the fortune is buried.
After enjoying this natural pool, visit the observation deck for glorious views across the area — but take good care when climbing the wooden stairs. There are also various rest areas on site. Though we didn't see any during our trip, you can sometimes spot crocodiles in the lagoon.
The final stop on our tour was Passion Island. With picturesque surroundings, shallow water and white sand, this island and its surroundings are breathtaking. It is a great spot to swim or just take in the tranquil atmosphere. The water is so shallow that you can easily wade about. Don't forget to visit the lookout point for spectacular views.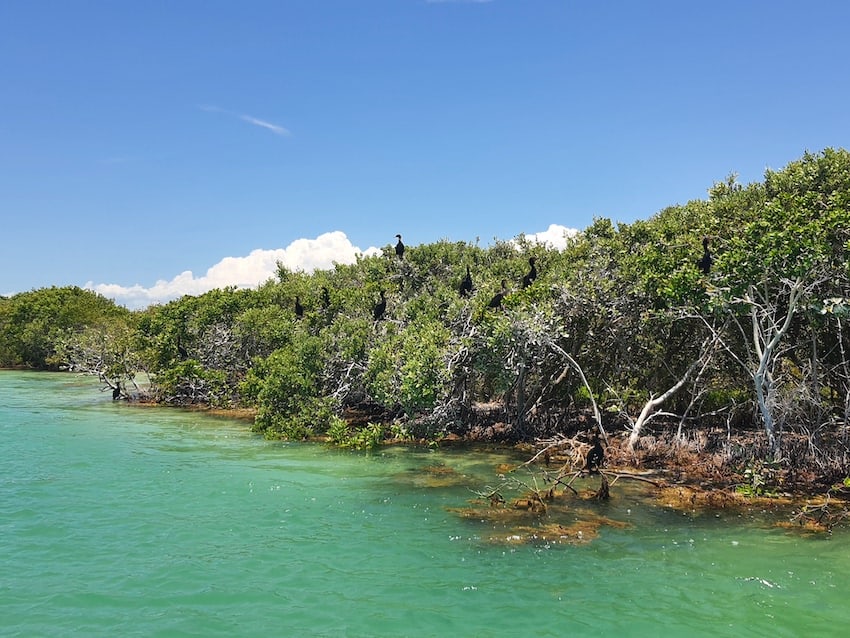 Unlike Bird Island, visitors are usually allowed ashore onto Passion Island. This island is said to attract turtles during the breeding season, which starts in May and lasts until September. 
Some tours may also stop at Punta Mosquito, a magnificent sandbank by Holbox Island. If you can't find a tour that stops there, consider visiting it on your own; it's worth it. You can rent bicycles or golf carts in Holbox to conveniently get around the island. About two and a half kilometers from the ferry dock toward the north of the island is the access point to a beach close to Punta Mosquito. You'll need to park your bicycles or golf carts there and proceed by foot, as this is a protected area. From this beach, we waded through the water to the sandbank when the tide was low in the morning. You can also see different bird species at Punta Mosquito and perhaps even flamingoes from April to October. 
While some visitors make day trips to Holbox, staying a few days on the island gives you time to indulge in different activities and have a relaxing break. Depending on your activities of interest, there are several different tours you can take that leave from Holbox, so you're not limited. If you're looking for a nighttime outing, check out the bioluminescence at certain beaches.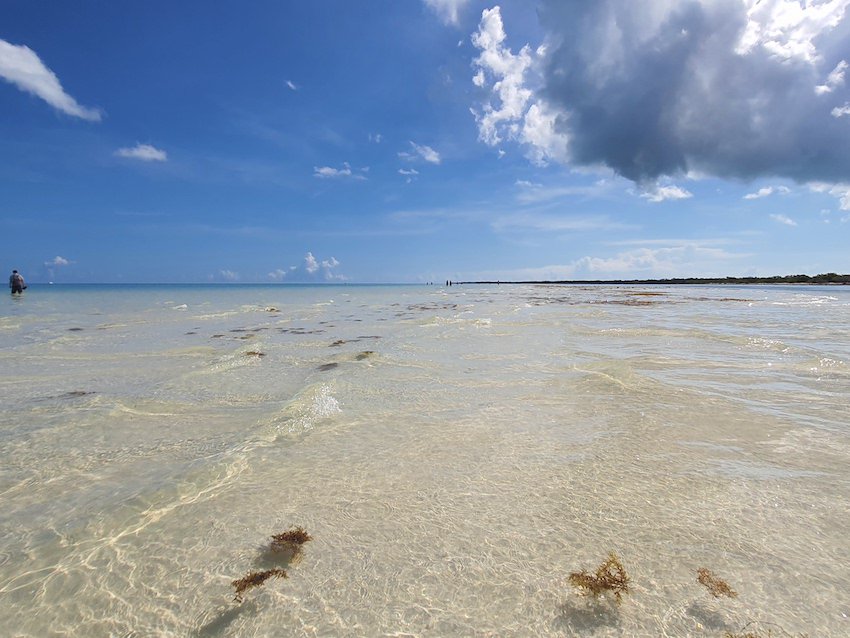 This natural — but oh so magical — display of light is due to certain bioluminescent marine organisms; it looks like tiny stars have fallen onto the sea. 
And one last thing: remember to avoid disturbing the flora and fauna around you while enjoying everything Holbox Island offers, so it'll all be there next time you — or someone else — goes back.
Thilini Wijesinhe, a financial professional turned writer and entrepreneur, moved to Mexico in 2019 from Australia. She writes from Mérida, Yucatán. Her website can be found at https://thilini.me/