Zacatlán de las Manzanas, Puebla, is, as its full name suggests, is known for its apples. The pueblo's located just over two hours almost directly north of Puebla city, in a region known for abundant rainfall — good for growing apples. 
Eighteen different varieties of apples grow in the orchards surrounding Zacatlán, so it's perhaps not a surprise that Zacatlán is famous in Mexico for its apple wine. 
It started with one man, Spaniard Melchor Cabrera, who arrived in the pueblo in 1777 and soon afterward began planting apple orchards. 
"They knew how to make wine in Spain since forever," said Germán Morales Viveros, a descendant of Cabrera's and the eighth generation of his family to run La Primavera Vinos y Licores, which opened in 1920 and is the oldest operating wine and liquor producer in Zacatlán.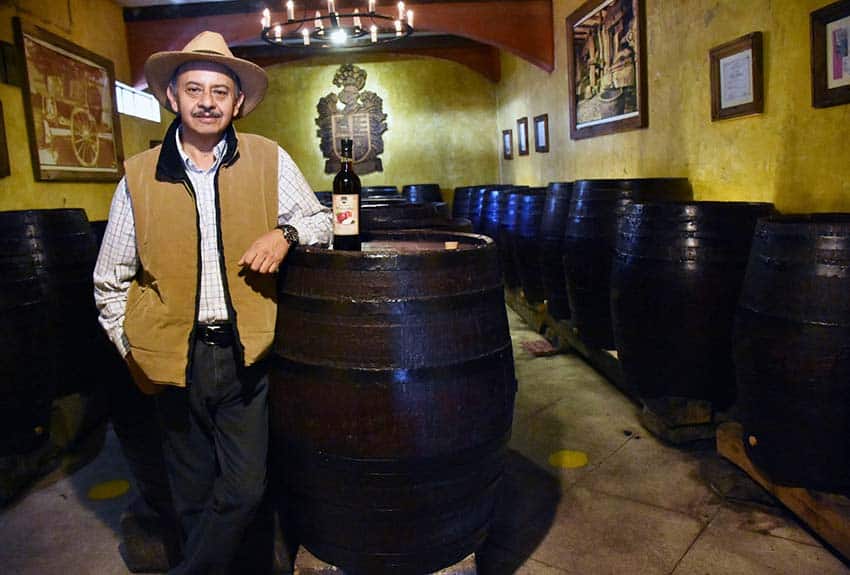 Apple harvest in Zacatlán typically starts in mid-July and goes until the beginning of August.
"This year, the harvest was delayed a lot because the climate has changed," Morales said. "It has not been as cold as before, and this affects the growth and maturation of the fruit." 
Morales makes the apple wine in a small building that also houses the Museo del Vino (Wine Museum), located at  Corregidora 11, a short distance from Zacatlán's Zócalo. La Primavera uses 25 tonnes of apples each year to make its wine. 
"We use Red Delicious, Gala, Perón or Golden Delicious," Morales said. "There are acidic and sweet apples, and we mix them to give the wine a special flavor."
The apples are first ground up and pressed to extract the juice, which is then placed in white oak barrels, where it's left to ferment for one to two weeks. 
"The fermentation is all-natural," said Morales. "We do not use chemicals. We seal the barrels well so no air gets in and so the juice does not turn to vinegar." 
After fermentation is complete, the liquid is siphoned off, leaving the sediment behind, and put in another barrel to age further. 
After two years, the wine — which comes out red and slightly sweet — is finally ready. 
I'm no wine connoisseur, so I can't say that the wine had hints of eucalyptus or cut grass, with undertones of old leather (actual terms used to describe wine). Unsurprisingly, it did taste like apples, and I liked it more than I like sidra, a hard cider immensely popular in Mexico but which I find too sweet. 
Morales learned the craft by working alongside his father, who passed along secrets for making the wine in the family for over 200 years. 
"I learned the whole process — from using the grinder and the press to knowing when the wine is ready. It is necessary to taste the wine because [each time] it is never going to be the same. [That's] because it's artisanal. We make adjustments so that there are not many differences [in taste]."
Morales has seen many changes over the years: 
"I remember when I was a child, there was an apple that ripened in the middle of June, and now it does not exist," he said.
And although Zacatlán wines continue to be popular, Morales expressed concern about the industry's future.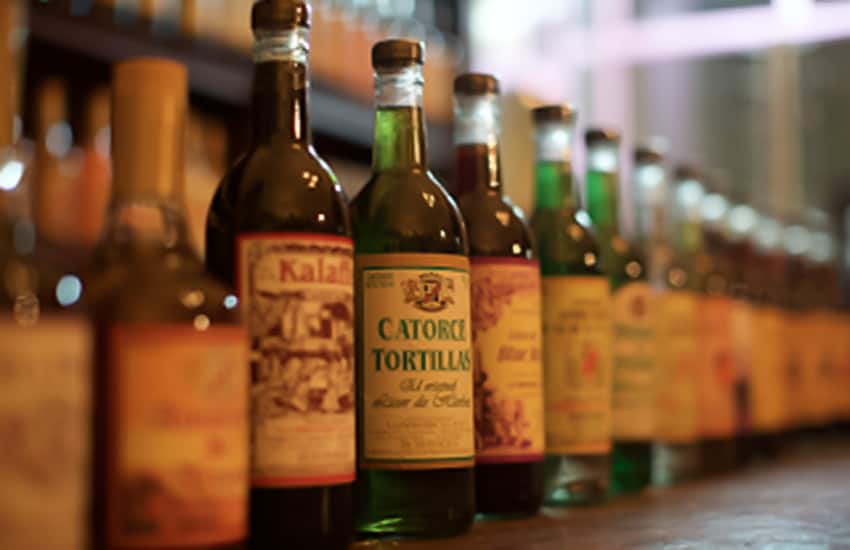 "Many orchards have been lost because they have not been replanted," he explained. "Young people do not want to work in the fields. There are other opportunities for them. They go to the city to study, to have other careers. They say, 'I do not want to dirty my hands in the orchard. It is better to be a teacher.'
"Working the fields is very hard, a lot of work. It means getting up early, getting your boots and clothes dirty." 
Nevertheless, Morales believes his daughter, Daniela, will continue with the business. "I am 70% sure she will. If not, some other relative will."
The other part of Morales' business is making licores (liquors) from five other fruits, including blackberry and peach. There's one made with coffee (my favorite) and two cremas (cream liquors).
"Cremas are made because people demand it," said Morales. "But it's not very profitable for us."
The Museo del Vino opened in 2016. Tours cost a mere 20 pesos. There are photographs and antique wine-making machines on display, but it's also where the wines are still made. After the tour, it's possible to taste (and purchase) the wines and licores.
Zacatlán, a Pueblo Mágico (Magical Town), also has plenty to do not related to wine. In town, there's the Clock Museum, a lovely Zócalo (main square) featuring a floral clock and a colonial-era Franciscan monastery that was built in 1562 and now houses the municipal cultural center and a library.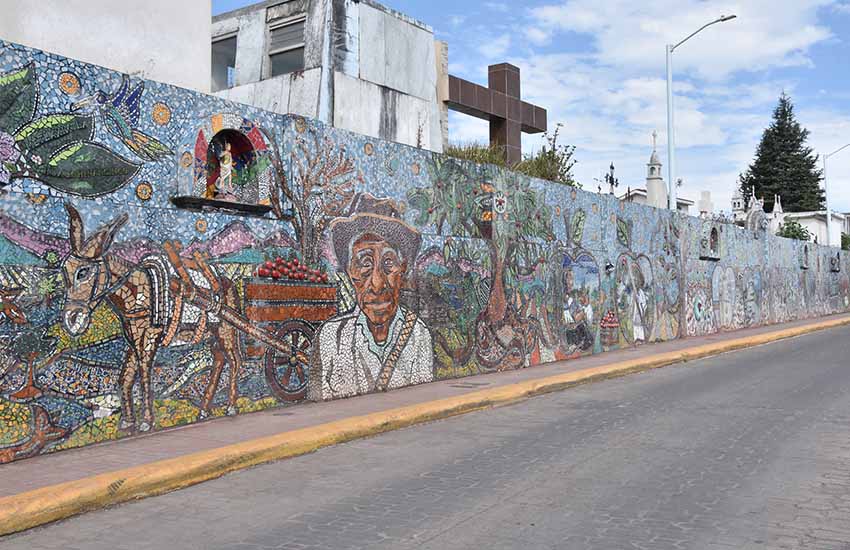 A short walk from the Zócalo is an overlook offering some beautiful views of the valley below. Across from the overlook, and along several nearby streets, are walls covered with murals, by artists commissioned by the municipality.
And not far away from town, you can also check out Cascadas Tulimán (Tulimán Falls), an ecotourism site in Potrero De Quetzalapa, a town in the Zacatlán municipality. Here you can can traverse a suspension bridge, do zip-lining or just walk around and see the gorgeous waterfalls. 
Also nearby is Chignahuapan, one of Mexico's "Christmas towns" famous for its Christmas ornament artisan factories. It's also known for its thermal baths.
Worth visiting year-round but especially now, the town's factories make beautiful Christmas ornaments that are created from hand-blown glass and painted individually. You can buy them downtown at this time of year or take a tour of one of the factories like the Castillo de la Esfera, and buy them there. Then relax from all the walking around with a massage, sauna or a nice soak at one of Chignahuapan's many thermal waters resorts, where you can pay a day rate to pamper yourself. 
In all these places, of course, there are also plenty of restaurants and coffee shops to linger at in between the sightseeing. 
Joseph Sorrentino, a writer, photographer and author of the book San Gregorio Atlapulco: Cosmovisiones and of Stinky Island Tales: Some Stories from an Italian-American Childhood, is a regular contributor to Mexico News Daily. More examples of his photographs and links to other articles may be found at www.sorrentinophotography.com He currently lives in Chipilo, Puebla.