Commuters to and from Felipe Angeles International Airport (AIFA) have more roadway options with the opening of a main access road to the Mexico City metropolitan area's newest airport. 
The Ministry of Infrastructure, Communications and Transportation (SICT) reported that the 14.1-km road, which connects the area known as the "Iron Bridge" in Ecatepec, México state, with AIFA, opened Saturday. 
The roadway was actually inaugurated Thursday, with President Lopez Obrador in attendance, but closed immediately after the dignitaries left the area in order to clear out heavy machinery and clean the roadway, allowing for free transit, according to a SICT social media post.
The highway can handle 40,000 cars per day, a number that will be reached when and if the airport reaches its maximum demand levels.
The project caused the displacement of 262 houses in the way of the road.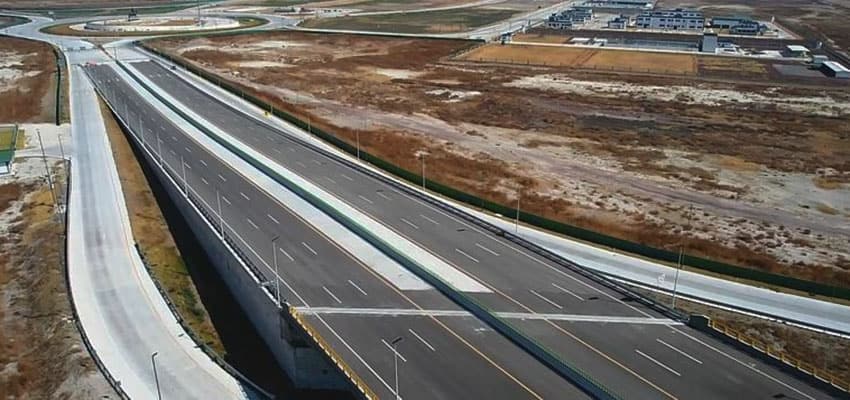 One of the main criticisms of AIFA is the time it takes to get there. Owing to its location in Santa Lucía, between the municipalities of Tecamac and Zumpango in México state, access to the airport has proven to be complicated since it opened in March. 
According to users, an average trip from Mexico City to AIFA can take around 1.5 hours. 
To ease access, López Obrador's government built a main road in addition to renovating other freeways and expanding public transport service.
"The Tonanitla road is the access that goes directly to the Felipe Ángeles Airport. It is a toll-free highway with a length of 14 kilometers. In 9 minutes, you will go from the iron bridge to the airport," the SICT explained. 
The road also has two intermediary additions located at the Jaltenco-Héroes de Tecámac junction at Kilometer 5, and at the Tonanitla-Ojo de Agua junction at Km 9.6.
The under-construction Circuito-Gran Canal Vehicular Bridge, another project that's supposed reduce travel time to AIFA by connecting two main arteries toward the airport, is also nearly finished. It starts on the Circuito Interior Mexiquense roadway at Calle Cerámica and will divert motorists to Avenida Gran Canal. From there, traffic will divert to the Siervo de la Nación Urban Highway to reach the new AIFA access road in Ecatepec.
According to Mexico City Mayor Claudia Sheinbaum, the bridge will be ready before the end of the month and will save travelers 25 minutes in heading to AIFA. 
As for public transport, the Mexibús Line 1 is currently the only way to get to AIFA. The transportation system built an extension in March 2022 to serve airport users, and two more stations will be built along Line 1 to connect passengers with AIFA: the Quetzalcóatl and Rancho La Luz stations.
Private bus companies ADO and ETN also offer limited service to AIFA a few times a day from the city's Central Norte and Central Sur stations. ADO also offers a route to AIFA from Mexico City's TAPO terminal and from Benito Juárez International Airport (AICM)'s Terminal 1, and ETN offers a route from Querétaro city's main bus terminal.
A commuter train that will run a 43-kilometer route between Buenavista Station and AIFA is also in progress. SICT recently reported the project to be 39% complete. 
When it is finished, SICT officials say, AIFA will be the first airport in Latin America to have a train terminal located inside. It is slated to open by December. 
AIFA, one of López Obrador's flagship projects, started operations in March 2022. His government has carried out 20 road projects meant to reduce the transit time from Mexico City to the new airport. 
 With reports from Travesías Digital, Milenio, and El Financiero