In the 1960's, a group of cave explorers from Austin, Texas, got the idea that the state of Oaxaca was the right place to search for that really deep cave they had long dreamed of finding. 
They had been studying the mountainous areas of Mexico for some time, looking for just the right combination of factors: thick limestone, lots of annual rainfall and a lack of surface streams, which would indicate subterranean drainage.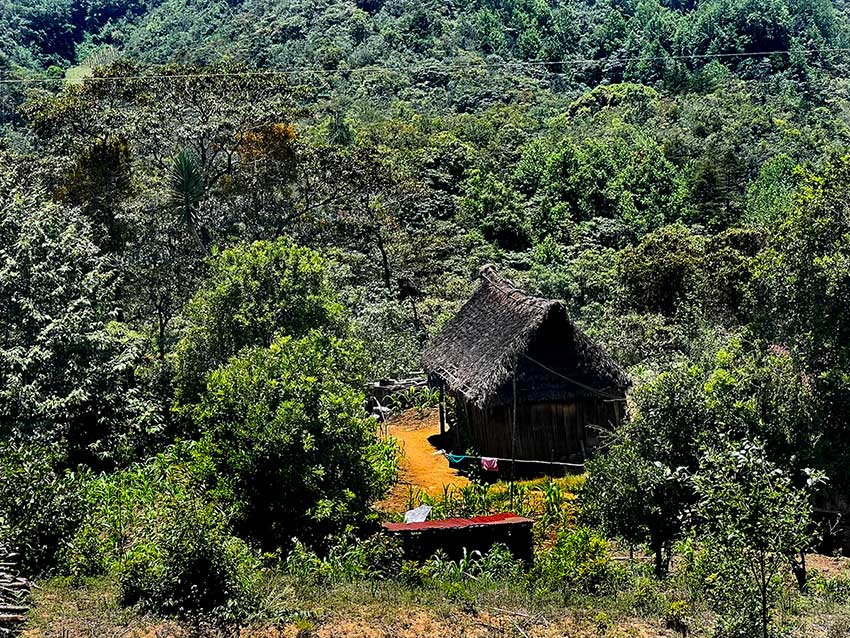 Once they pinpointed Oaxaca's Huautla area, which sees 100 inches of rainfall every year, they acquired stereo aerial photos and spotted large cave entrances with visible streams flowing into them. They also noted that there was a newly constructed road into the area.
The stage was set for a major discovery.
Starting in 1965, they were soon exploring three beautiful and challenging caves near Huautla: Sótano de San Agustin, La Grieta and Nita Nanta. In time It became clear that these and other caves they kept finding were interconnected, all part of one big cave system, which eventually became known as Sistema Huautla.
More and more cavers from the United States, Mexico and around the world were attracted to Huautla, and in 2013 an international team of cave divers rappelled down chasms as tall as skyscrapers to reach a depth of 1,554 meters, making Huautla the deepest cave not only in the Americas but in the entire western hemisphere.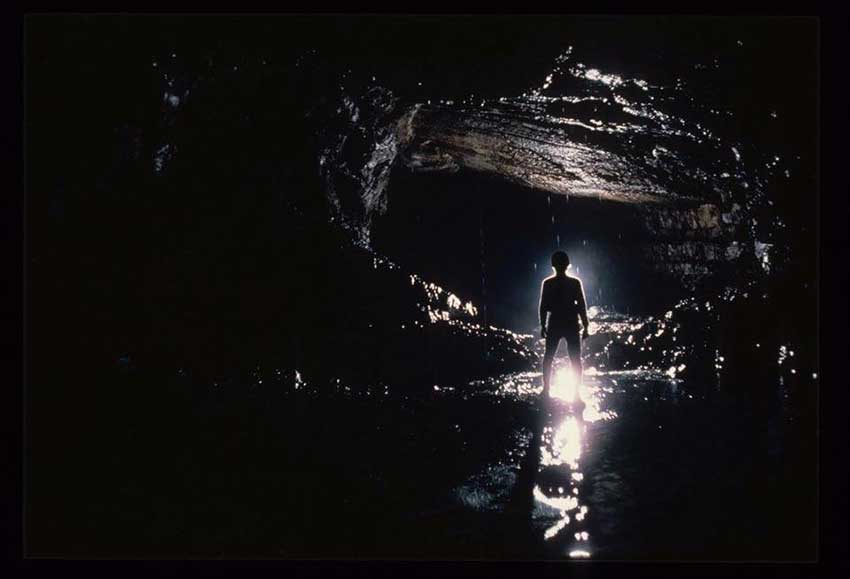 In 2022, new explorations in Huautla recorded the total length of the system to 100.7 km of passages. To get a little (nine-minute-long) taste of what it's like to move through America's deepest cave, watch this English-language YouTube video showing some of the most breathtaking areas of Huautla.
Also at the end of 2022, Bill Steele, who has been organizing expeditions to Huautla since 2014 — and has a cave tarantula from the area discovered in 2018 named after him — put together a comprehensive report on the discoveries made by scientists over the years from deep inside the labyrinth of pits and passages beneath the little town of Huautla. 
And some of the discoveries are surprising…
"In 2014," says Steele, two of us expedition leaders rappelled into a 160-foot-deep entrance pit to recheck the cave for undiscovered additional passages. We found one. Following airflow, we reached a room with large bones. Knowing they weren't cow or horse bones, photos were taken of them with scale. Back in Texas I tracked down the name and contact information of a prominent Pleistocene paleontologist with INAH in Mexico City."
The paleontologist, Dr. Joaquin Arroyo-Cabrales, asked Steele if he could send a graduate student to see the cave.
"The next year," says ¨Steele, "The student — now Dr. Ivan Alarcón, an INAH paleontologist — made an incredible find. His trained eye paid off. While we were showing him the obvious large bones in this chamber of the cave … he saw the top portion of a large skull barely protruding out of the dirt on the floor. 
"He began digging the soft dirt with his bare fingers. Once he saw what it was, he said, 'I want to live here!'"
Dr. Alarcón had discovered the only skull that has ever been found belonging to a Pleistocene ground sloth.
Meizonyx salvadorensis, extinct for 13,000 years, had only been previously identified via a mandible found in El Salvador 40 years before.
"The rest of its skeleton," says Steele, "is still in the cave, and there are plans to retrieve it on an upcoming expedition. There are many other extinct animals to be studied in this treasure trove of ancient bones, and we are consulting with and supporting the right collaborators."
Another animal that entered a Huautla cave and never exited includes Odocoileus lucasi, the American mountain deer, which was adapted to steep slopes and cliffs. The remains of several of these deer, extinct for over 11,000 years, are described by cavers Roy Jameson and Frank Binney:
"Cueva de los Pájaros," they say, "was probably a natural shelter for the American mountain deer. In any case, it was certainly a death trap. At least four individuals jumped, fell or perhaps were driven by predators down the entrance pitch of 40 feet.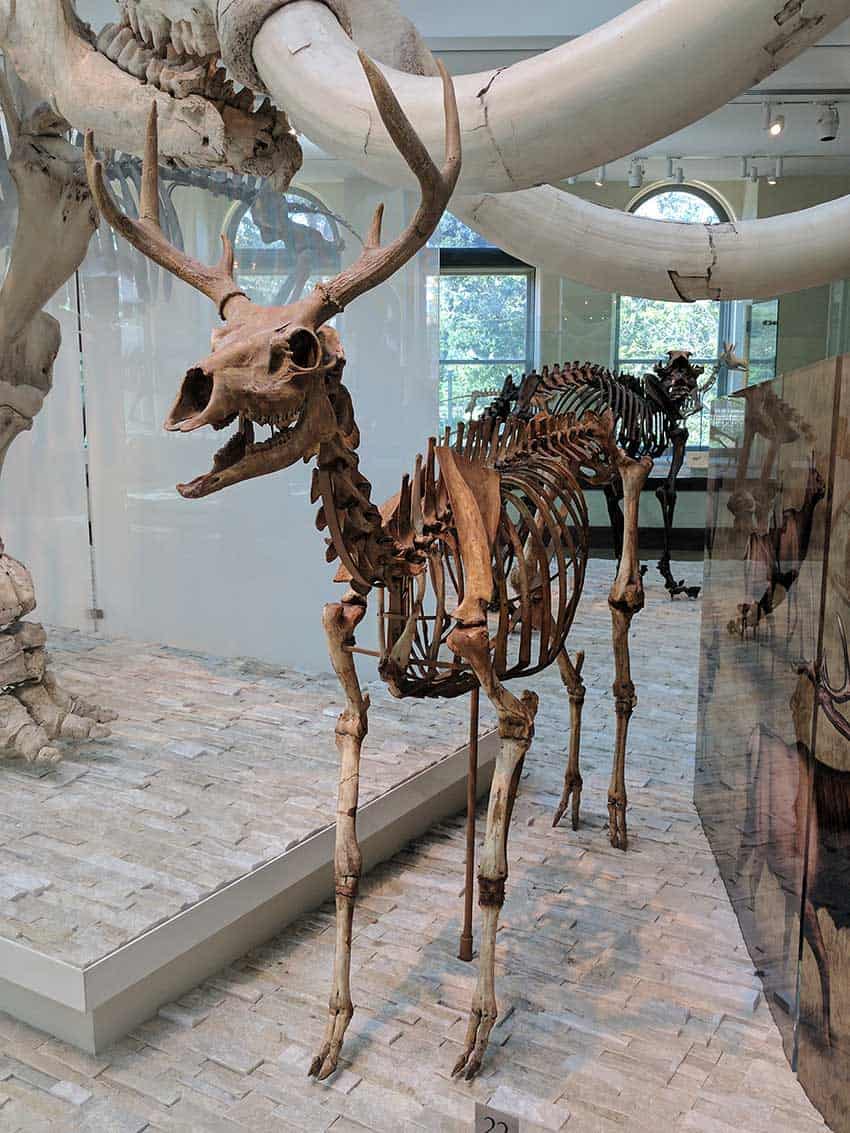 "Two steep mud banks contain skid marks terminating in tracks. One fully articulated and several partly articulated skeletons of the mountain deer are present, along with scattered bones of at least one other individual. So, they had tumbled down into this final chamber and were not able to get out."
Participants in the Huatla System Speleology Project (PESH) have long wondered just how old the caves are that they are exploring. Fortunately, a technique exists for measuring the decay of uranium-234 into thorium-230, and this has proven highly successful with cave stalagmites. 
When Steele contacted Dr. Matthew Lachniet, a top researcher in the field of paleoclimatology, Lachniet told him that there is no existing paleoclimate data for the part of southern Mexico where Huautla is located. 
"Dr. Lachniet," recalls Steele, "asked that we bring out a sample stalagmite from deep in the cave system for him to analyze, to determine the quality of the uranium isotope content. One of our teams during the 2018 expedition climbed up ropes from deep in the cave system carrying a 16-inch-long stalagmite."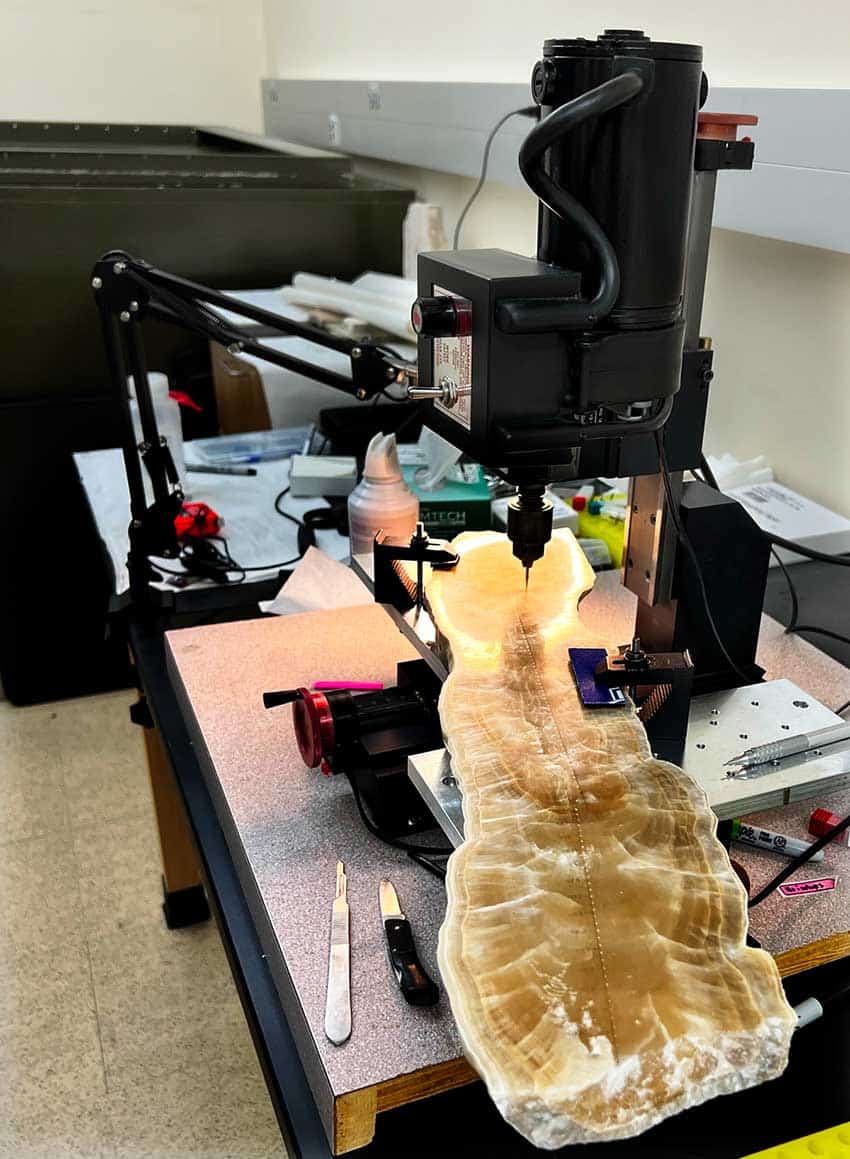 The scientist found the quality of the sample "really fantastic," says Steele, so, in 2022, an even better stalagmite sample was brought out. This one had a tip that was 114,000 years old and a base that was 342,000 years old.
Layers in between, like tree rings, told the story of the climate in this part of Mexico, of monsoons and glacials.
"I've rarely seen tropical stalagmites this good," wrote Lachniet. "The dating is exceptional in this cave. It could be the Rosetta Stone for Mexico's paleoclimate!" 
"Dr. Lachniet," adds Steele, "intends to join our next expedition."
The writer has lived near Guadalajara, Jalisco, since 1985. His most recent book is Outdoors in Western Mexico, Volume Three. More of his writing can be found on his blog.