Archaeologists working alongside the construction of the Maya Train Hotel near the ancient city of Palenque have come upon the hotel's "first, ancestral guest" — according to a playful description in a release from the National Institute of Anthropology and History (INAH).
What they uncovered were the skeletal remains of a human body with lavish adornments in a grave that could be over 1,000 years old, INAH said on Monday. The discovery was made on Sept. 11 during archaeological work being carried out in tandem with the multibillion-dollar Maya Train project in southern Mexico.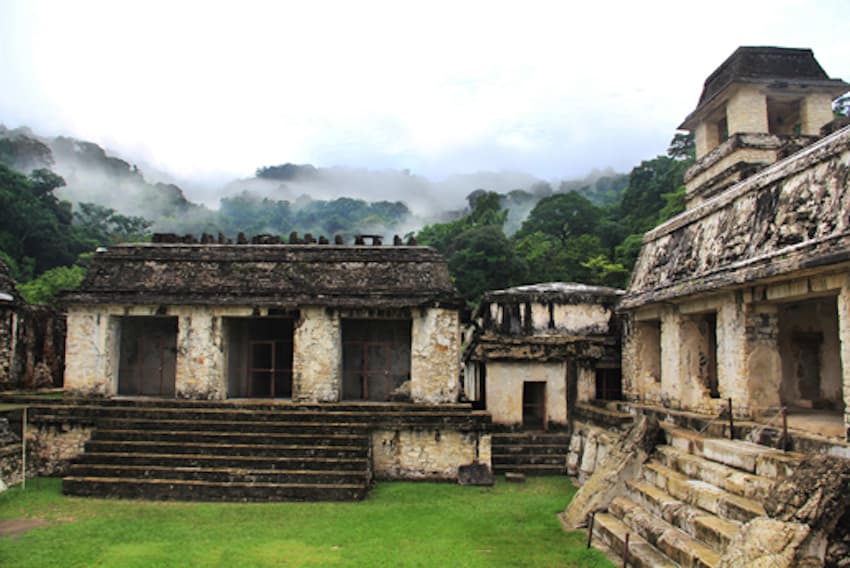 The train's route of 1,554 kilometers (965 miles) through the states of Tabasco, Chiapas, Campeche, Yucatán and Quintana Roo will include six new hotels, including the one where the discovery was made in Palenque, Chiapas.
It is located just 2 kilometers from the center of one of the ancient Maya civilization's largest and most sophisticated metropolises, Palenque, home to towering temples and a sprawling palace compound. Also known by the Maya as Lakamha', the city-state thrived from around 300 to 900 A.D.
INAH officials said the human remains, found in a large stone box sealed with limestone slabs, were of a person of importance who lived outside of the ancient city's center. Alongside the bones was a funerary collection comprising three ceramic vessels, a pair of Maya ear flares and two greenstone beads. 
The individual was buried face up with his head facing north, INAH director Diego Prieto Hernández reported, noting that further tests will attempt to determine when the individual died and other characteristics. The tomb was reported to be 4 meters (13 feet) beneath the top of a Maya structure.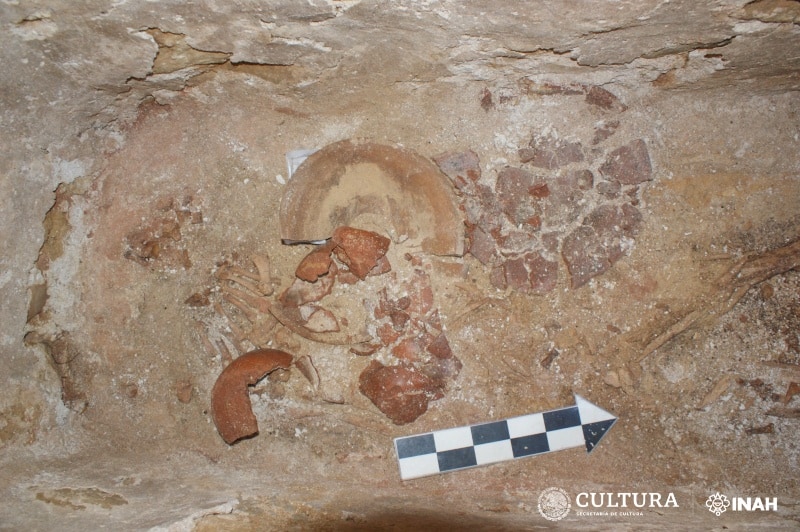 Prieto Hernández revealed the findings during President López Obrador's Monday morning press conference. He also said archaeologists and conservationists are finalizing their actions in the area.
The discovery was made along Section 1 of the Maya Train, which as of Monday has registered the following findings: 2,698 structures, 248 pieces of furniture, 284,900 ceramic pieces, 177 human burials and 55 natural features associated with the presence of pre-Columbian Maya groups.
The Maya Train is scheduled for a preliminary inauguration in December., although the federal government reportedly will invest 120 billion pesos (US $6.9 billion) more to complete the project and its complementary works in 2024. This brings the estimated total cost of the project to 480 billion pesos (US $27.7 billion).
With reports from Infobae, Reuters, INAH and Dinero en Imagen