Amidst the damage, the 2022 Mexico City earthquake unearthed a remarkable relic of the city's past: a giant Mexica snake head, now being restored in its original colors by specialists at the National Institute of Archaeology and History (INAH).
The 500-year-old stone carving was found buried 4.5 meters under a building in the Historic Center, in the ruins of the Mexica (also known as Aztec) capital of Tenochtitlán, after the 7.6-magnitude quake disturbed the ground above it. It measures 1.8 meters long, 1 meter high and 85 centimeters wide, with an estimated weight of 1.2 tonnes.
During restoration work, researchers were struck by the colored pigments still covering 80% of the sculpture's surface, which make it the best-preserved piece of pre-Hispanic color work found on a carving to date.
"The same mixtures of mud and water that covered it for more than half a millennium, also allowed its stucco to be preserved along with traces of ochre, red, blue, black and white," the INAH explained in a statement.
The restoration has focused on allowing the sculpture to lose its humidity gradually, as rapid drying could damage the delicate colors. For this reason, the snake head is being kept in a sealed humidity chamber, where its dampness can be constantly regulated.
Thanks to these interventions, "it has been possible to stabilize the colors for preservation in almost all the sculpture, which is extremely important, because the colors have helped us to conceive pre-Hispanic art from another perspective," INAH archaeologist Erika Robles Cortés told Live Science.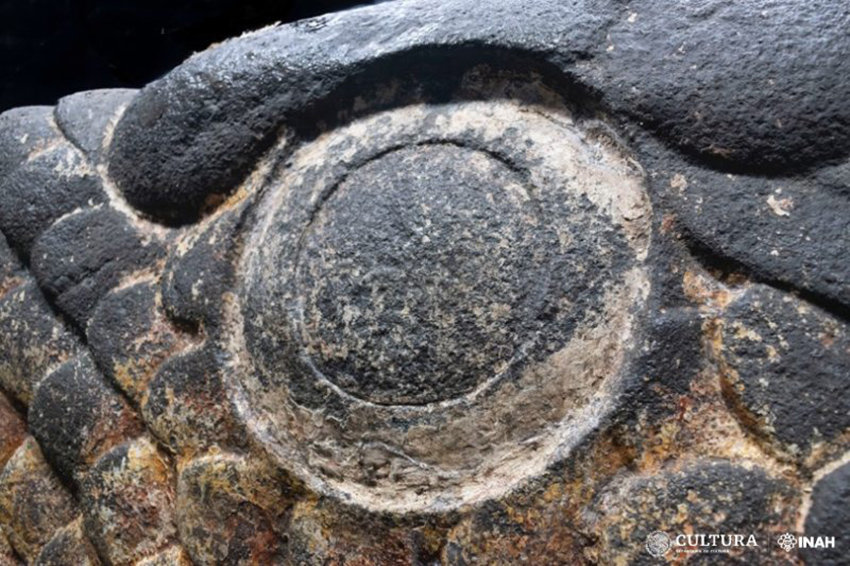 Meanwhile, a team led by archaeologist Moramay Estrada Vásquez is studying the sculpture to establish its exact age and symbolism.
"It is possible that it dates from the last stage of the city, that is, it may date from the reign of Ahuízotl or the reign of Moctezuma," Patricia Ledesma Bouchan, director of the Templo Mayor Museum in the Historic Center, told El Universal.
She added that numerous other snake heads have been discovered in the area, reflecting the importance of serpents in Mexica iconography. The Mexica deity Quetzalcoatl is frequently depicted as a snake, although researchers have not yet confirmed that this sculpture represents him.
For now, the sculpture is still closed to the public, as any variation in its microclimate could damage it. But discussions are underway about how best to exhibit it after the stabilization process is complete, possibly as early as next year.
"We are still defining the right place for its exhibition; we must wait to see how the piece reacts and if it will require long-term treatment," Ledesma said. "In 2024, we may already be able to see it."
With reports from Live Science and El Universal