If you live in Mexico City, San Miguel de Allende or Mazatlán you have a theater named after Ángela Peralta.  If you live in other major cities in Mexico you may have a street or avenue named after Peralta — likely in front of a theater or center for fine arts.  In July of 2021, on her 175th birthday, Google commemorated her life with a Google Doodle.
But who was she?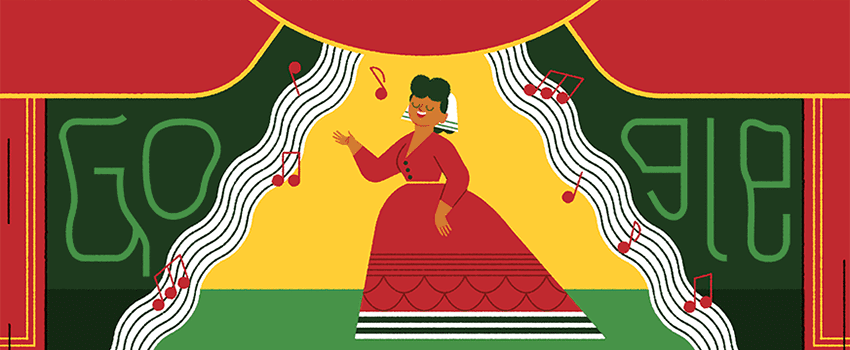 Ángela Peralta — whose real name was María de los Ángeles Manuela Tranquilina Cirila Efrena Peralta y Castera — was born in the Los Vizcaínas neighborhood of Mexico City in 1845.  She broke down barriers in socially rigid 19th-century Mexico to become an internationally-renowned opera singer.  Her career was short-lived — she died at 38 — but it was intense and tumultuous.
She was of humble origin and indigenous ancestry, but her operatic talent was discovered at a very young age. As a result, she received a good education and a music tutor — education and training that at the time was typically reserved for the daughters of the elite.  
At just eight years old, she sang the cavatina (a short operatic aria) of Italian composer Gaetano Donizetti's "Belisario" at a musical gathering, stunning the audience with her extraordinary talent.  
The child prodigy caught the attention of the maestro Agustín Balderas — who became her singing teacher— and entered the National Conservatory of Music for training.
In 1860, Balderas boldly staged an opera performed for the first time by a fully Mexican ensemble at the Teatro Nacional, Mexico's premier opera house in Mexico City.  Balderas cast 15-year-old Peralta in the leading role of Leonara in Giuseppe Verdi's "El Trovador."  
Peralta's debut was enthusiastically received by the audience and marked the beginning of her 23-year long career.
A year later, sponsored by wealthy benefactor Santiago de la Vega, Peralta traveled with her father to Italy — the home of opera — to continue her musical training. In 1862, at only 17, Peralta became the first Mexican to sing at the La Scala opera house in Milan. Her performance in Donizetti's tragic opera "Lucia di Lammermoor" was so impressive that she received 23 standing ovations.
After her successful debut in Milan, Peralta began touring Italy and the rest of Europe singing at some of the most prestigious opera houses in the world: Rome, Turin, Florence, Genoa, Naples, Barcelona, Lisbon, Madrid, St. Petersburg and Cairo.  
Peralta was not an attractive woman, but the expressive timbre of her voice and high pitch range garnered her fans and admirers everywhere she performed.
In Italy, she became known as angelica di voce e di nome — "angelic by voice and by name."  To the rest of the world, she was known as the "Mexican Nightingale."  She sang for the elite of Europe, kings and Pope Pius IX.
After three years of touring, she was asked to return to Mexico by the French-backed government in Mexico of Emperor Maximilian I and his wife Carlota (Charlotte of Belgium) to sing at the National Imperial Theatre.  At that time, the royal couple honored Peralta with the title of "Chamber Singer of the Empire."
After her performance in Mexico, she returned to Europe — stopping along the way to perform in Havana, Cuba, and New York City — and proceeded to Madrid, where she married her cousin, Eugenio Castera.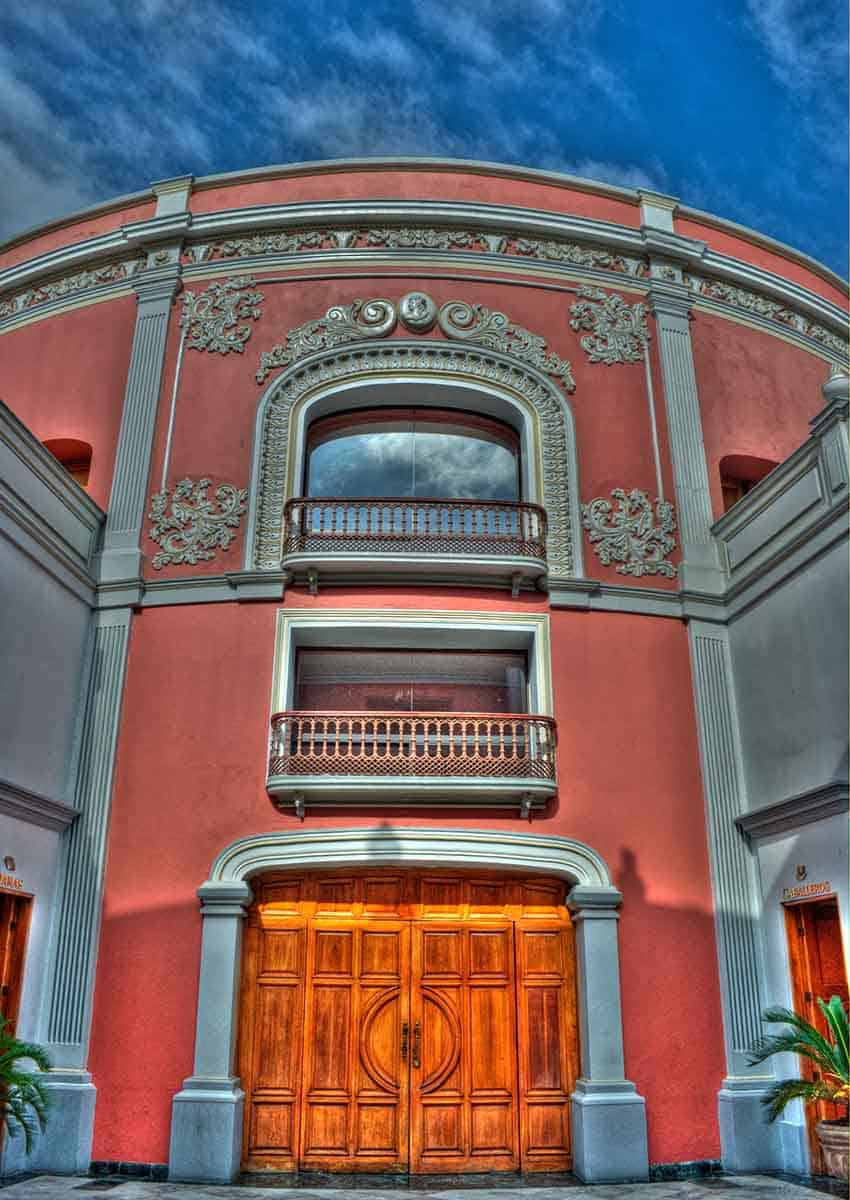 Marrying her cousin was frowned upon by European society and most likely began her fall from grace.
Peralta was not only an acclaimed opera singer but also a composer, harpist and accomplished pianist.  After her wedding to Castera, she took time off from touring and spent three years composing songs and piano pieces — eventually founding her own touring opera company.
But Peralta's husband was battling mental illness, and it led to an unhappy marriage.  In 1876, she had him confined to a mental hospital in Paris, where he died.  After his death she returned to Mexico to resume her operatic singing career.
While in Mexico, she began a love affair with her manager, Julián Montiel y Duarte, a well-known entrepreneur and lawyer.  Meanwhile, her mastery of the Italian lyrical operatic style known as bel canto was enchanting audiences, and she regained her reputation as an opera singer.  
Her affair with Montiel y Duarte, however, created a scandal among the social and religious elite of Mexico City, who began boycotting her performances. The elite was so incensed over her affair that they hired hecklers to disrupt her shows, making it impossible for her to continue performing.
Undaunted — Peralta was now a businesswoman with her own touring opera company — she put together a tour of major cities in northern Mexico, where she and her company would perform. In 1883, they left on tour, and she vowed publicly never to perform in Mexico City again — a vow she kept for the rest of her short life afterward.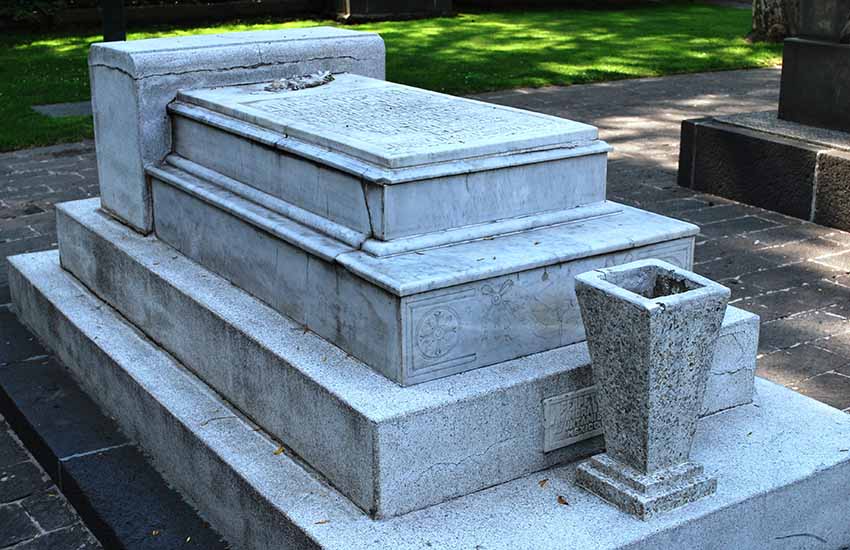 At the port of Mazatlán, she and her opera company were greeted by enthusiastic crowds of her adoring fans, who  showered her with flower bouquets and admiration.  Her elation at the welcoming reception, however, was short-lived.  
She and 76 of the 80 members of her troupe had contracted yellow fever — an epidemic ravaging the city of Mazatlán at the time.  She took to her bed at the Hotel Iturbide, next to the Rubio Theater in the historic center, where she was scheduled to perform. 
Three days later, at the age of 38, Peralta  and nearly all of her touring opera company died from yellow fever.  On her deathbed, she married Montiel y Duarte, so ill that she could only nod her agreement to the vows.
In 1943, the Rubio Theater in Mazatlán was renamed the Teatro Ángela Peralta in her honor.  The Hotel Iturbide where she died is now a fine arts school.
Although her personal life was turbulent, Peralta was a prolific performer who attained international acclaim — and became the most acclaimed soprano in the history of opera.  
She sang her signature role of Lucia in "Lucia di Lammermoor" 166 times and the role of Amina in Vincenzo Bellini's "La Sonnambula" 122 times.  At a young age, she overcame the prejudices of the upper class, who viewed opera as an exclusive activity reserved for the wealthy and well-bred. She opened the door for many women who followed in her footsteps.
In death, Peralta once more regained her reputation and respect. In 1937 — more than 50 years after her death — she was disinterred and moved from Mazatlán to the Rotonda de los Hombres Ilustres (Rotunda of Illustrious Men) in the Panteón de Dolores cemetery in Mexico City, where her body rests today among other Mexican notables like Diego Rivera, composer Juventino Rosas, poet, author and early Latin American feminist Sor Juana Inés de la Cruz.
Sheryl Losser is a former public relations executive and professional researcher.  She spent 45 years in national politics in the United States. She moved to Mazatlán in 2021 and works part-time doing freelance research and writing.