Guacamole is one of Mexico's staple dishes and one of the simplest ones to prepare. To make a guacamole burst with flavor, texture, and aroma, you need more than just traditional chopping and fresh ingredients – you need a molcajete, the Mexican mortar and pestle made of volcanic rock.
In this article, you will learn how to buy a molcajete, how to cure it and how to use it to prepare the best guacamole, salsas and beyond.
Used by Mesoamerican civilizations to crush and combine ingredients like spices, chiles and herbs, the molcajete continues to be used for the same purposes and is often even preferred over modern appliances like blenders and food processors.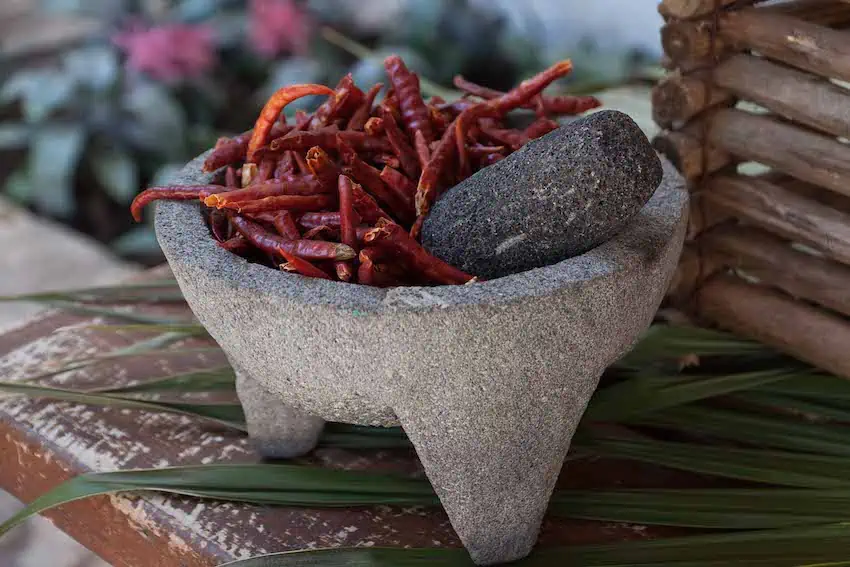 Why? The volcanic rock is said to give the food a unique mineral flavor impossible to achieve with modern cookware. If you've ever eaten salsa or guacamole straight out of a molcajete, you know what I'm talking about. 
But beware: to achieve these flavors without risking your health (at the end of the day you're eating out of a raw rock), you need to know how to buy, use and care for a molcajete. 
Volcanic rock or cement? How to pick a molcajete
Volcanic basalt is traditionally the sole material of the molcajete and its tejolote, or pestle. Due to the molcajete's growing popularity, identical replicas are now made of cement (mainly in China) to meet demand, fooling the unwary consumer.
To tell the difference, check the molcajete's color: cement molcajetes tend to have a more grayish color than stone ones, which are darker.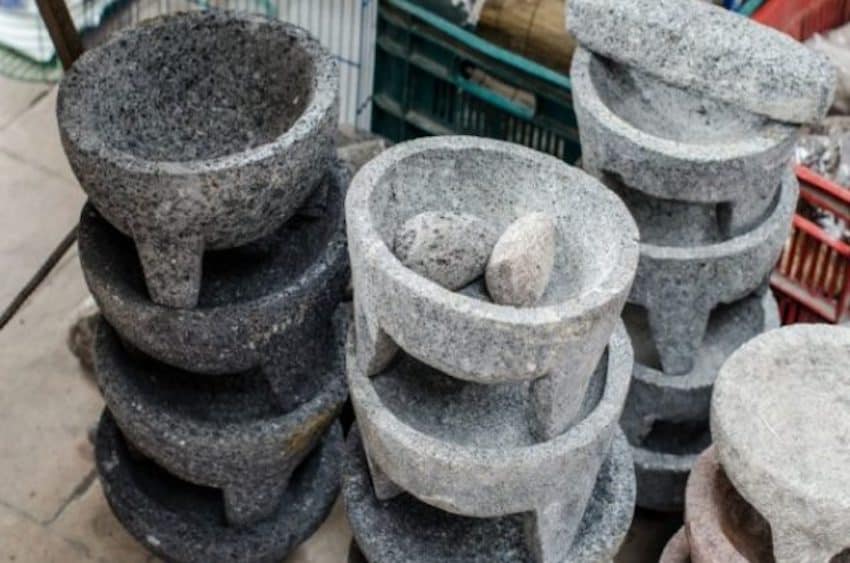 Cement molcajetes are also lighter in weight. A standard-sized molcajete (20–25 cm in diameter) made of volcanic rock weighs between 3.5 to 4 kg, while a cement molcajete of the same size weighs slightly less. 
But the most obvious difference is the texture, as stone molcajetes have a rougher and more porous surface than those made of cement. 
Although modern manufacturing can achieve a finer texture by polishing the rock, a stone molcajete will still feel rough to the touch. And when it hasn't been cured yet, will small fragments of stone will crumble off when the surface is scraped. (What's curing? Read on to find out.)
This leads us to the next question.
Where should I buy a molcajete?  
When purchasing a molcajete, make sure to buy from local and artisanal producers instead of supermarkets, particularly the big chain stores, as these tend to sell cement molcajetes rather than authentic stone ones. 
You can find artisanal shops that sell authentic molcajetes anywhere in Mexico.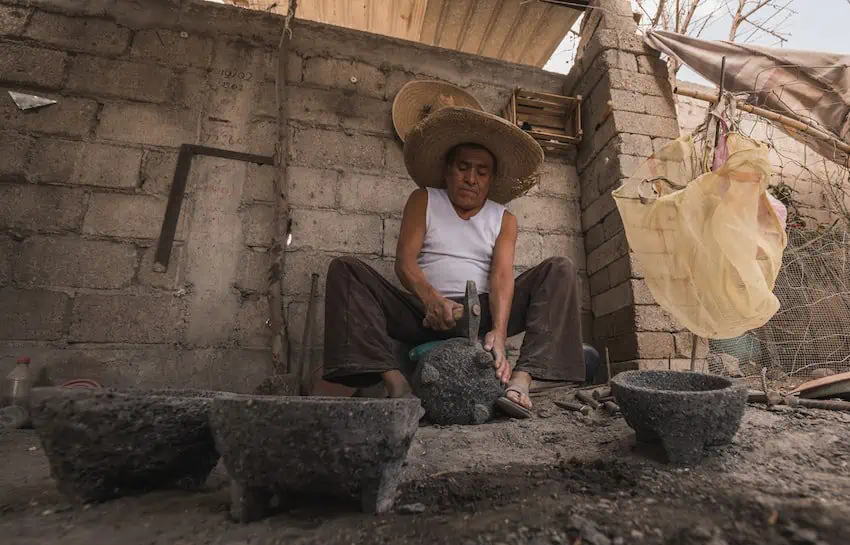 Molcajetes made in Guanajuato are especially sought after. In fact, Forbes recently reported that the price of a molcajete made in Guanajuato can cost anywhere from US $150 to US $300 in places like the United States, Saudi Arabia and Hong Kong. 
If you're reading this article as an expat in Mexico, lucky you! You get to buy an authentic molcajete in the country for a fraction of that price. But a word of friendly advice: if you're a foreigner buying directly from artisanal producers in Mexico, don't bargain with them; they put a lot of effort and passion into making these traditional pieces.  
How to cure my molcajete?
Before using a molcajete for the first time, you'll need to scrub the debris and sediment that will be inside it. This process is referred to as"curing" the molcajete. 
For many, this is the most daunting process. However, this step is essential to ensuring that the food prepared in the molcajete is safe for your health. The process, however, is easier than what you might think, although a bit time-consuming.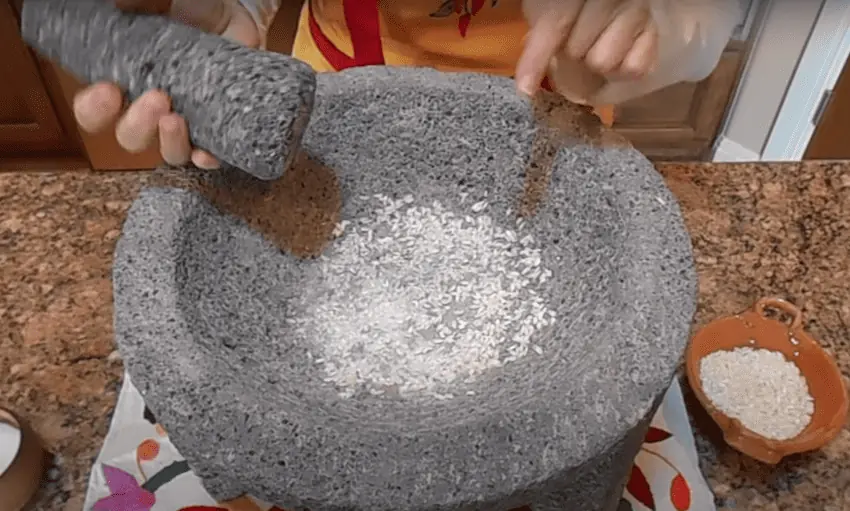 To start, pour coarse rock salt or white rice — some people mix these ingredients together, but that's optional — inside the molcajete and grind it with the pestle. As you press down, twist the tejolote to pulverize the ingredients.
When the salt or rice turns gray, remove and add more until it no longer changes color. Afterward, simply rinse the excess powder and listo! The molcajete is ready to use. 
How to care for my molcajete?
The best way to take care of your molcajete is to avoid using soap on it. While you can use a little amount, it's best to thoroughly rinse it with tap water, as the pores of the molcajete can accumulate small particles of soap and transfer that taste to your food. 
A molcajete is like a cast-iron pan: the flavor of the ingredients you prepare in it becomes infused into its surface and carries over to each recipe. The older the molcajete, the better your food will taste!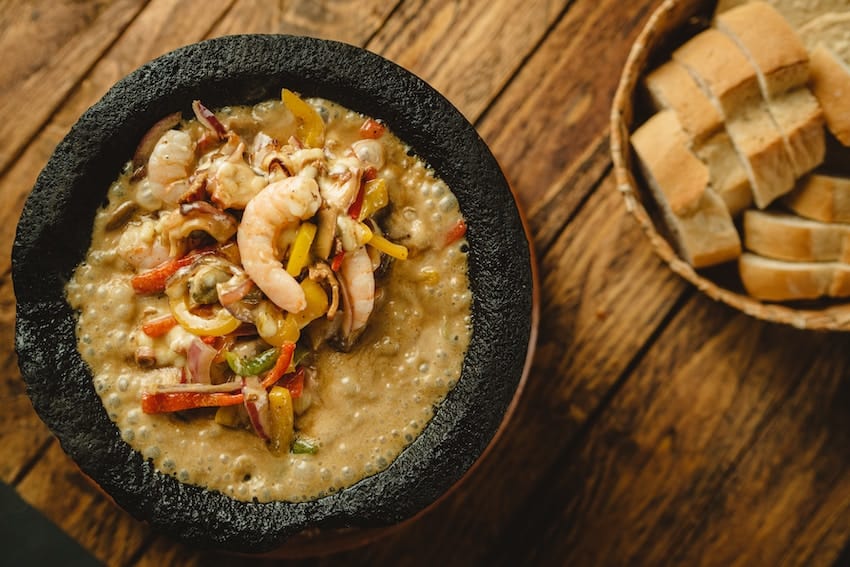 What can I prepare in a molcajete?
Of course, the first thing that comes to mind are salsas and guacamole. But you can also use your molcajete as a grinder to pulverize dry chili peppers or herbs. While the process might be longer than using an electric appliance, the taste will make the time and effort worth it. 
To prepare the best guacamole, pound in your molcajete avocado, chopped tomato (the less, the better, as it makes the guacamole soggy), onion, cilantro, chile jalapeño (if you like it spicy), and lime and salt to taste.
For your typical green or red tomato salsa, try roasting all the ingredients first: onion, tomatoes, garlic and chili. The softened vegetables will make the grinding process in the molcajete easier while enhancing the flavor of the salsa. Don't forget to add salt to boost the flavor!
When you're done, use your molcajete as a serving platter for martajada (meaning "made in the molcajete") salsas to give your table a Mexican touch.
¡Buen provecho!
Gabriela Solis