In Mexican cuisine, rich, velvety "crema" is the finishing touch for a smorgasbord of dishes. Most often it's used to tone down spicy foods, and you'll find it drizzled on tacos and fajitas, dolloped on papas locas and enchiladas. Small bowls of finger-licking good crema are frequently part of a salsa bar, right there with the guacamole and sliced radishes. But crema's real glory is as a creamy and slightly tangy addition to soups, stews, and other recipes where you might not know it's there.
It's taken me years to understand how Mexican crema is different than the sour cream I was used to. And while it's true that in many ways they're interchangeable, there are a few significant differences worth knowing.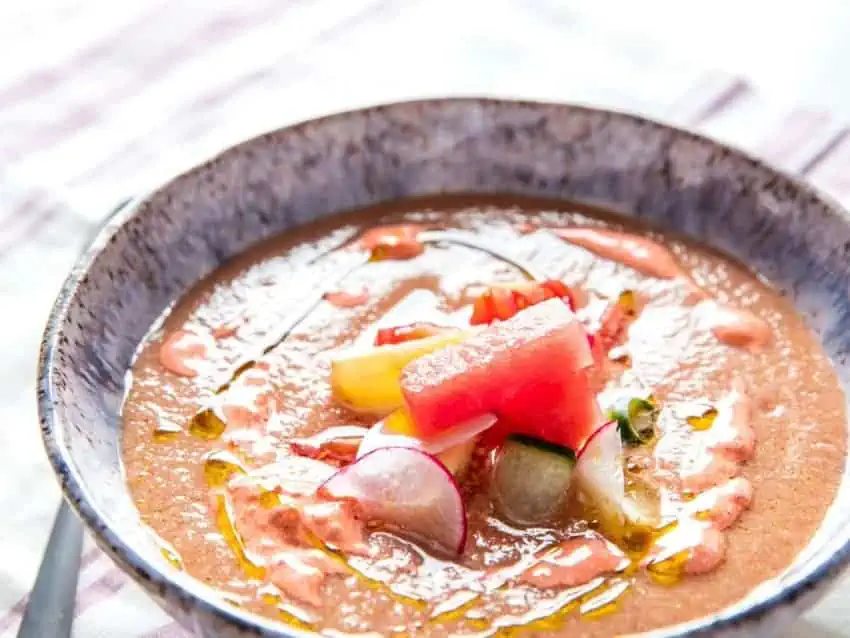 Is Mexican crema the same as sour cream, yogurt, or crème fraiche? 
The short answer is no. Each is made with a slightly different process and ingredients, resulting in distinct flavors, textures and that all-important mouth feel. With a fat content of 30%, Mexican crema is richer than yogurt but thinner than sour cream, with a light, tangy, almost sweet taste. In a word, it's delicious.
The French crème fraiche is cultured cream from a specific bacterial culture with a very high (and delicious) fat content. Yogurt, made with either full-, low-, or nonfat milk is also cultured with specific live probiotic-rich cultures, although some commercial brands use thickeners to emulate an actual cultured product. (So-called "Greek" yogurt is simply regular yogurt with most of the watery whey strained out.)
Mexican crema is also a cultured product but made with a mix of heavy cream and buttermilk or cultured sour cream, a little salt, and lime or lemon juice to turn it. The best brands will have no other ingredients and won't be ultra-pasteurized, a process that kills the live cultures that give crema its distinctive flavor and texture. They may cost a little more but are well worth the few extra pesos! The same holds true for sour cream, so be sure to read the labels. 
How do I use crema? 
The sky's the limit! Crema is the perfect topping for chilaquiles, quesadillas, tacos, and enchiladas and is a cooling addition to spicy soups or nachos. Use it just about anywhere you would use sour cream, like on baked potatoes or in creamy salad dressings or dips. It works as a substitute for sour cream in baking, too. Crema is also the essential ingredient in the Mexican classic, "pastel de atún" or tuna cake.
One of the best things about Mexican crema is that it doesn't curdle when heated (gently), making it ideal for thickening soups or adding to hot dishes. Its rich, delicate flavor tones down hot spicy foods and is a welcome accompaniment to many classic Mexican dishes.
One caveat: Mexican crema will not whip like heavy cream. That said, can you put a spoonful on a piece of warm apple pie or on top of roast sweet potato or plantain? Absolutely!
Watermelon Gazpacho with Chili Crema
6 cups watermelon, diced

2-3 tomatoes, diced

1 cucumber, diced

½ red onion, diced

½ cup toasted slivered almonds 

1 Tbsp. salt

1½ tsp. black pepper

2 Tbsp. rice wine vinegar 

¼ cup olive oil 

1/3 cup

crema

 

1 Tbsp. chopped jalapeno peppers, or to taste

2-4 Tbsp. chopped fresh cilantro, mint, or parsley, or a combination

Garnish: Additional diced vegetables and herbs

In a large bowl, toss watermelon, tomatoes, cucumber, red onion, almonds, salt, and pepper. Set aside to marinate 1 hour.
In a blender, working in batches, purée vegetables and their liquid until smooth and creamy. Transfer soup to a large bowl. Whisk in 2 Tbsp. fresh herbs, vinegar and oil. Adjust salt and pepper to taste.
Cover soup and chill in refrigerator for two hours or up to 3 days. When ready to serve, adjust salt and pepper again. Combine crema and chopped chilies in a small bowl. Ladle chilled soup into bowls and garnish with crema mixture, remaining fresh herbs and diced vegetables.
Potato and Jicama Salad
½ cup mayonnaise

¼ cup.

crema

1 Tbsp. lemon or lime juice

½ tsp. salt

¼t sp. ground black pepper

1¼ lb. potatoes, peeled, cut into ¾ -inch chunks

1 cup jicama, peeled, diced 

1 green bell pepper, chopped

1 jalapeno pepper, minced

Garnish: Chopped fresh cilantro or parsley
Boil potatoes until tender-firm; drain and cool. In a large bowl, combine mayonnaise, crema, lemon/lime juice, salt and pepper. Stir in remaining ingredients, then fold in potatoes. Garnish with fresh herbs if desired. 
Tater Tot Nachos
4 cups tater tots

½ cup shredded Manchego, Chihuahua or other melting cheese

½ cup shredded cooked chicken 

½ cup salsa of choice

2 Tbsp. canned chopped jalapenos

2-4 Tbsp.

crema

Chopped fresh cilantro
Cook tater tots as directed on package. Preheat oven to 350F/177C. Spray a baking sheet lightly with oil. Pile cooked tater tots in the center of baking sheet, top with cheese and chicken. Place into oven until cheese melts. Remove and top as desired.
Janet Blaser is the author of the best-selling book, Why We Left: An Anthology of American Women Expats, featured on CNBC and MarketWatch. She has lived in Mexico since 2006. You can find her on Facebook.