The first thing you need to know about this starchy cousin to the banana is that it's completely different from the yellow fruit favored by monkeys. Plantains, in Mexico, also called "maduros" or "plátano macho", have a much higher starch content and need to be cooked before eating to bring out their natural sweetness. Once cooked, the texture and mouthfeel are like a slightly sticky potato but uniquely and irresistibly sweet. 
I was in Jamaica the first time I had plantains cooked in a spicy beef stew with peppers, onion, and tomatoes. I'd assumed the chunks were potatoes and couldn't figure out what they were. My host explained they were green plantains, used instead of potatoes, which don't grow in the island's hot tropical climate.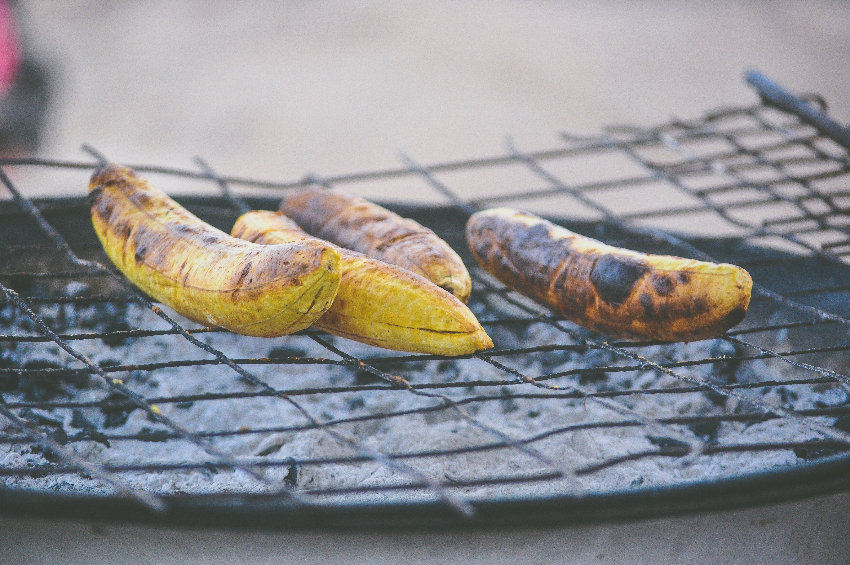 Although plantains look similar to bananas, the skin is thicker and almost hard, with distinct ridges running lengthwise down the sides. Unripe plantains are bright green; they slowly turn yellow and then go completely black. Most likely you've seen them in stores and markets in all of these stages. As they ripen, the starches in plantains turn to sugars, and when cooked or fried, those sugars caramelize and become even sweeter. The texture changes too, and depending on how they're cooked, plantains can be melt-in-your-mouth soft, delightfully crispy-crunchy, or a lovely tender-firm consistency. 
Plantains are not at their best if eaten raw, although some claim raw plantains have anti-inflammatory benefits, plus lots of fiber and potassium. I'd say look for those things elsewhere: raw plantains aren't palatable at all. They won't kill you, but you won't enjoy the experience either.
If you like to cook, I encourage you to play around with plantains. Once you get the hang of it, they won't seem so intimidating. Know that, unlike a regular banana, the hard peel is not easy to remove. Cut off the top and bottom ends with a sharp knife, then score one section from tip to tip and pry it back carefully with the knife. Once you have one section off, the rest should come easier, and you can just use your fingers. Peeling gets a little easier when they're riper, but you'll still need to start with a knife. Inside, ripe plantains will be sticky and soft; when sautéed or fried, they will have pudding-soft insides and caramelized edges.
One of my favorite ways to eat plantains is grilled in brochetas (what we'd call shish kebabs), with bell peppers, tomatoes, and chunks of fish or shrimp. Packaged plantain chips are great to have in the kitchen and can be crushed and used for breading fish or poultry. And fried plantains at any stage of ripeness provide a delicious snack or side dish. 
An easy, effortless way to enjoy plantains without the bother of cooking them yourself is to buy them already baked from a "camotero"—a street vendor selling roasted sweet potatoes and platanos machos, or plantains. Listen for the whistle of the rolling steam oven in the early evening and ask for an order of "platanos natural" or "sencillo." That way they won't be smothered in sweetened condensed milk, and you can do what you like with them.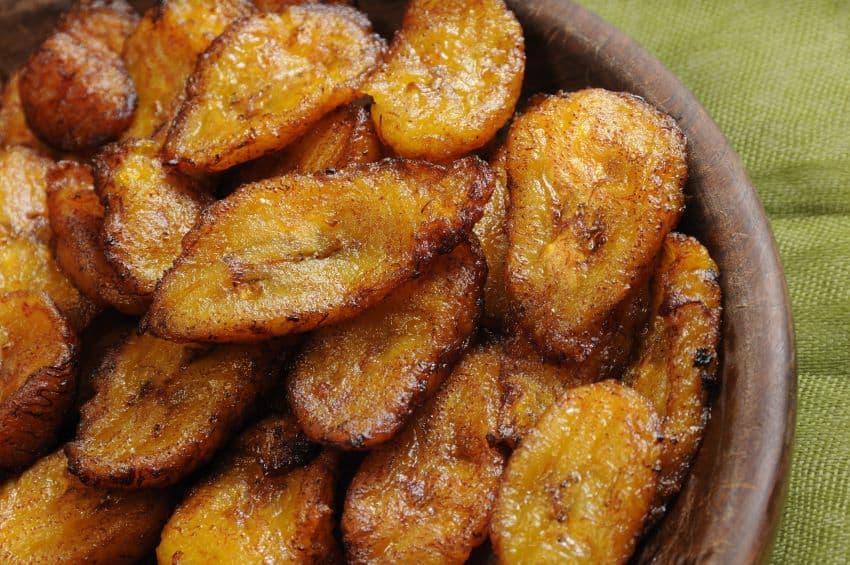 Maduros en Gloria (Sweet Plantain Casserole)
8 oz. 

cotija

 cheese, crumbled

1/3 cup sugar

1 tsp. cinnamon

2 cups

crema

(creme fraiche)

1 Tbsp. cornstarch

5 large ripe sweet plantains 

1 cup vegetable oil

Salt
Preheat oven to 375F (190C). In a bowl, mix cheese, sugar, and cinnamon; set aside. In another bowl, combine 2 Tbsp. crema and the cornstarch. Stir until cornstarch dissolves, then stir in remaining crema and set aside.
Cut off the ends of the plantains. Remove peels. Score lengthwise, then slice diagonally into ½ -inch thick slices.
Heat oil in a large skillet over medium heat until shimmering. Fry plantain slices in a single layer; cook until softened and deep brown, turning with a spatula, about 3 minutes per side. Transfer to a large paper towel-lined plate and season with salt. 
Spread ½ cup crema in an 8×8-inch baking dish. Next, arrange 1/3 of plantains in a single layer, then sprinkle with ¼ of the cheese. Repeat with remaining crema, cheese, and plantains, finishing with cheese. Bake until bubbling and browned on top, about 20 minutes. Cool on a rack for about 10 minutes before serving.
Tostones
A popular side dish throughout Latin America and the Caribbean.
2 green (unripe) plantains 

Vegetable or canola oil for frying

Salt to taste
Trim off the ends of the plantains and use a knife to cut a slit along the length of the plantain to easily remove the peel, carefully avoiding cutting into the flesh. If the peel is too firm, use a spoon to lift the edges. Slice plantain crosswise into 1-inch rounds, about 8 pieces per plantain.
In a large skillet, heat about ⅛-inch vegetable oil over medium. When hot, add the plantains. Fry until beginning to turn golden, about 1 minute per side.
Quickly transfer plantains to a cutting board. Working with one piece at a time, use a large flat-bottomed cup to gently press each plantain to about ½-inch thick. Keep it as centered as possible to flatten plantains evenly. Return flattened plantains to hot oil and pan-fry until golden brown, 1-2 minutes per side. Transfer to a paper towel-lined plate to drain. While hot, season with salt to taste. Serve immediately.
Sweet Plantain Fries
These are made with very ripe plantains and are quite different than the tostones above.
2-4 very ripe, blackened plantains 

Vegetable or canola oil for frying

Salt
Cut off the ends of plantains, then cut a slit along the length of the plantains, avoiding cutting into the flesh. Remove and discard peels. Slice plantains in half crosswise, then quarter each piece lengthwise into 4 wedges. (Each piece should be about the size of a chunky fry.)
In a Dutch oven or deep cast-iron skillet, heat about 1½ inches of oil over medium. When oil shimmers, fry plantains in batches until golden brown, flipping carefully with a slotted spoon, about 3-6 minutes. Plantains should be caramelized and slightly crisp at the edges but still tender in the middle. Transfer to a paper towel-lined plate to drain. Season with salt. Serve immediately.
Janet Blaser is the author of the best-selling book, Why We Left: An Anthology of American Women Expats, featured on CNBC and MarketWatch. She has lived in Mexico since 2006. You can find her on Facebook.