My childhood was imbued with my father's Italian heritage and my Nonna's insistence on teaching my mother how to cook the classic Napolitano dishes he grew up with. That in turn led to my lifelong love affair with cucina Italiana: fresh, ripe tomatoes, fragrant basil, the spicy bite of oregano and olive oil and some good parmesano. 
This has been a mixed blessing throughout my life: on the one hand, I love Italian food, but on the other hand, it means something very specific to me that's hard for others to replicate or equal. That pizza/pasta/Bolognese sauce you think is "great?" Hmmm. I may beg to differ.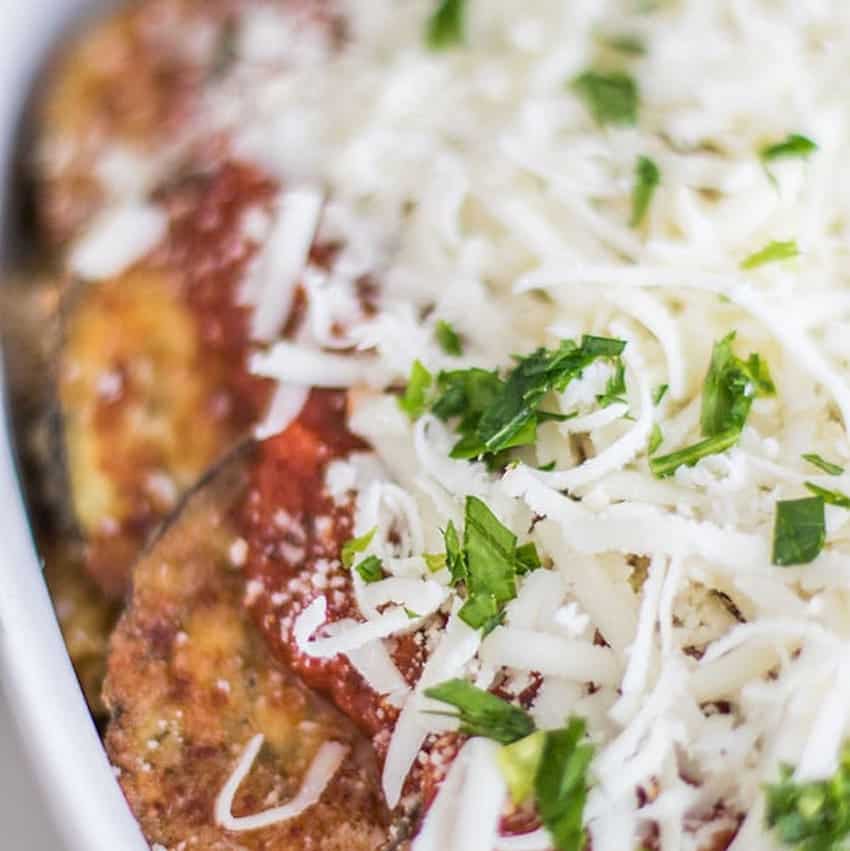 At least once a week, I have to have something Italian, whether it's a margherita pizza, a leftover spaghetti omelet (yes, that's a thing) or just plain capellini with marinara sauce. It's my comfort food, my foundation, a meal that makes me feel like, well, me. A day at home with sauce simmering on the stove makes me feel like everything's OK. It's like a big hug that touches my soul.
Comfort food, of course, means different things to different people. And don't get me wrong: I love Mexican food too. And Greek food, and Japanese and Thai and Vietnamese and many other kinds of comida. But Italian food is "it" for me. 
This recipe, adapted from the New York Times Cooking section, piqued my interest as soon as I saw it. It has all the flavors and textures of classic Eggplant Parmesan without the time-consuming, multistep process usually involved with this dish. I read it through carefully, and as I imagined each step and the finished product, the little Italian core inside of me started buzzing. It sounded like the "real thing."
What makes it so wonderful is that you get eggplant the way you want it — with contrasting crunchy and melt-in-your-mouth textures — without all the fuss of breading and frying or baking.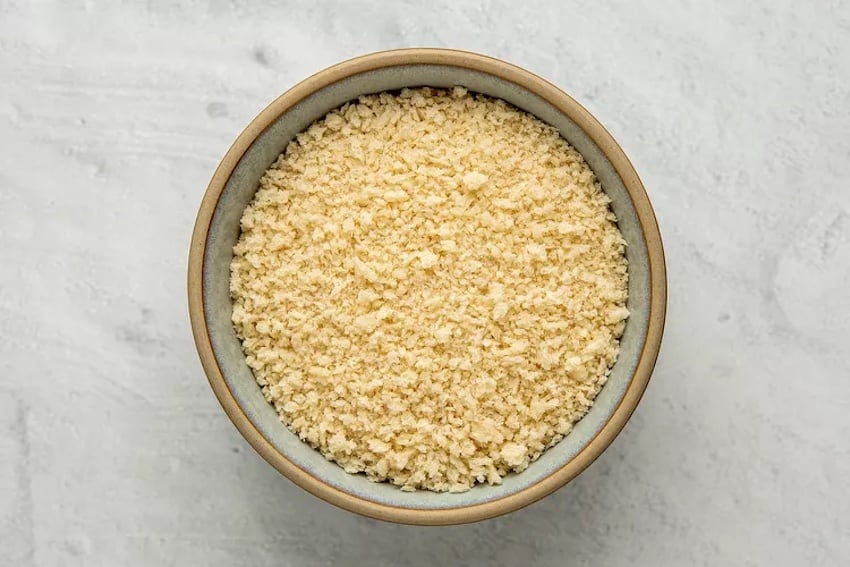 This is achieved with a simple but brilliant trick: panko bread crumbs sautéed in a bit of olive oil. Just before serving, the crispy panko is mixed with freshly grated Parmesan and sprinkled on top of the saucy eggplant and pasta. Voila! 
My mind is full of other uses for these decadently delicious crispy breadcrumbs: to replace croutons on a Caesar salad, on top of macaroni and cheese, scattered over beet carpaccio or maple-glazed salmon.  
One of the things that fascinated me was the idea of sautéeing a little tomato paste in olive oil to caramelize and deepen the tomato flavor. Also, measuring the herbs — I usually just "throw in some" oregano and use a "handful" of fresh basil leaves, with no regard for, or memory of, the amounts. 
Instead of winging it (ahem), follow the recipe below exactly and you can't go wrong. As far as the eggplant (berenjena if you're in a Mexican market) goes, pick ones that are shiny and firm to the touch. 
Whether you make this for guests or for yourself, you'll enjoy the leftovers as much as if not more than the original eating. It freezes perfectly and can then be zapped in the microwave or thawed and reheated on the stovetop in a pan. 
Should you already be making a run to the grocery store or mercado for eggplant? Umm, YES.
Eggplant Parmesan Pasta
If you must, you can halve this recipe, but you'll wish you hadn't.
½ cup extra-virgin olive oil

¾ cup panko breadcrumbs

Salt and freshly ground black pepper

½ cup finely chopped yellow onion 

3 medium garlic cloves, minced

1½ lbs. eggplant, peeled and cut into ½-inch cubes (about 8 cups)

2 Tbsp. tomato paste

1 (28-ounce) can whole tomatoes, crushed with your hands in a bowl

1 basil sprig, plus ⅓ cup coarsely chopped basil leaves

¼ tsp. dried oregano

¾ lb. short pasta, such as mezze rigatoni, fusilli or shells

2 Tbsp. freshly grated Parmigiano-Reggiano

Optional

: 8 oz. fresh mozzarella, thinly sliced and at room temperature
In a high-sided large (12-inch) skillet with a lid, heat 2 tablespoons of the oil on medium. Add panko, season with salt and pepper and cook, stirring constantly, until golden and crispy, about 2 minutes. 
Transfer to a plate lined with a paper towel and set aside. 
Wipe out the skillet, add 2 more tablespoons of the oil and heat on medium. Add the onion and cook, stirring until softened, about 2 minutes. Stir in the garlic and cook for 30 seconds. 
Add the eggplant and immediately drizzle in the remaining ¼ cup oil. Season with salt and pepper, and cook, stirring occasionally, until the eggplant softens, about 8 minutes.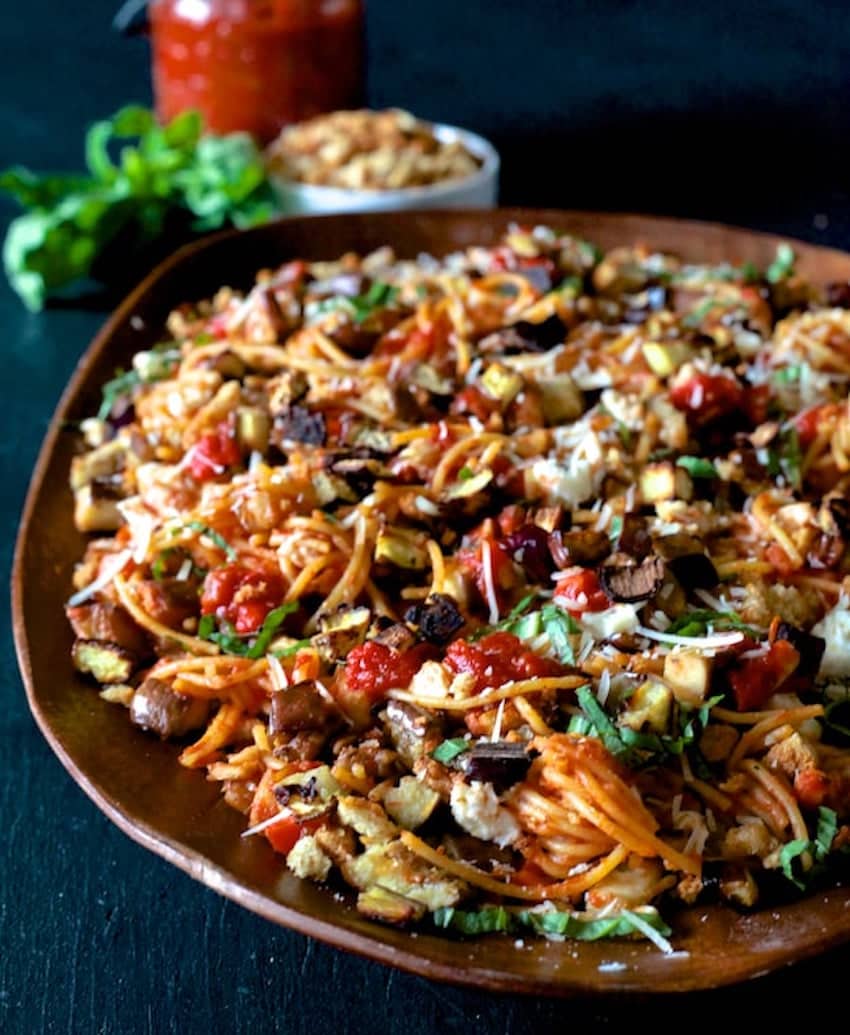 Add tomato paste and stir constantly for about 2 minutes until lightly brown and caramelized on the bottom of the skillet. Add the crushed tomatoes, basil, oregano and 1½ cups of water. Bring to a simmer over medium-high heat.
Cover skillet and reduce the heat to medium. Cook, stirring occasionally, and gently smush some of the eggplant until it's very tender and the sauce is thickened, about 15 minutes. Discard the basil sprig.
Bring a large pot of salted water to a boil and cook pasta according to package instructions until al dente. Reserve ½ cup of pasta water and drain.
To the large pasta cooking pot, add the cooked pasta, reserved pasta water and the eggplant sauce. Cook over medium heat, stirring, until sauce thickens a bit, for 2–3 minutes. Stir in ¼ cup of the chopped basil.
Add Parmesan to the sauteed panko and mix well. Divide the pasta in bowls, top each with mozzarella slices (if desired) and cheesy breadcrumbs, and garnish with the remaining chopped basil.
Janet Blaser is the author of the best-selling book, Why We Left: An Anthology of American Women Expats, featured on CNBC and MarketWatch. She has lived in Mexico since 2006. You can find her on Facebook.