My first experience with guanábana was while driving from Sinaloa to Nayarit, and somewhere south of San Blas at a small rickety stand on the side of the road, I sampled the fruit.
I can't say it was a pleasant experience; it looked quite strange — a big part of my attraction to it — and tasted, well, weird. Besides its green, spiky misshapen appearance, the white flesh inside was kind of slimy and sour. Not exactly delicious.
That was some years ago, and since guanábana (also aptly called soursop) is everywhere in the markets right now, I figured it was time to give it another try.
Well, gee. 
What I read online ("primarily sweet, a combination of apple, pineapple, and banana," and "an underlying thick, creamy texture reminiscent of banana") and what I experienced were very different things. 
To even get to the "flavor," you have to make your way through the skin, the texture, the seeds and, yes, the sliminess. As one friend said, "guácala!" (gross!)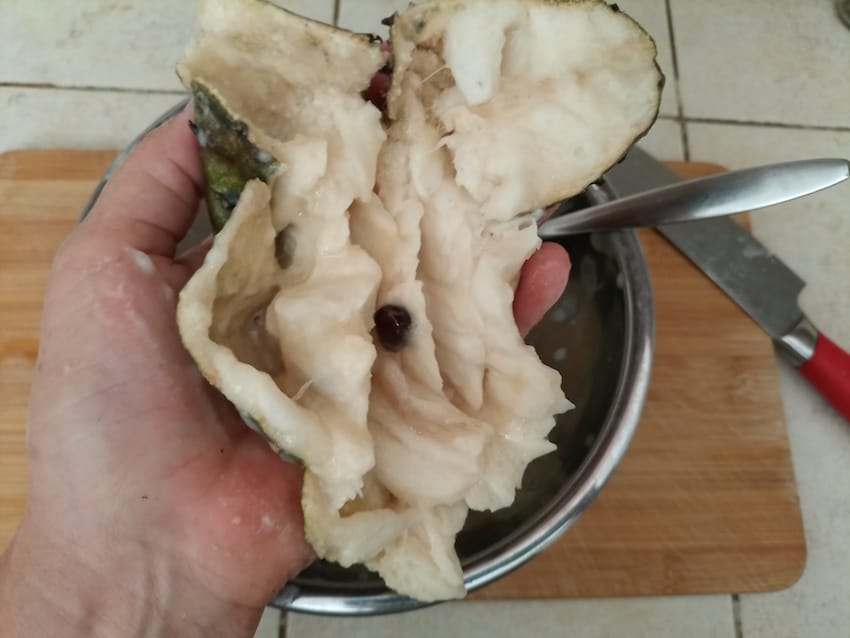 There's no way to really peel a guanábana; once cut, the best you can do is to somehow "scoop" out the flesh. Spoons didn't work for me, so I resorted to my fingers, which I must say was also gross. 
I found the creamy custardy pulp to be rather fibrous, like a slippery, raw fish, and the seeds — big, rounded and black, like really fat coffee beans — were encased in their own little pockets and were tricky to extract. 
There is also a center core, which no one mentioned and which I didn't think was supposed to be eaten. (I imagine this is why frozen guanábana pulp or premade drinks are so popular; there's a lot of prep required to get what you need.)
Once I ventured a taste, it tasted to my palate of lychee — softly sweet with citrus undertones. But so slimy! ¡Guácala!
In Mexico, South and Central America, India and the Caribbean, this tropical fruit is (somehow) regarded as a delicacy. Harvest season is eagerly awaited, and at those times, guanábana can be found in mercados, markets and backyards everywhere. 
Guanábana trees and orchards can be seen all over the states of Jalisco, Nayarit, Chiapas, Oaxaca and the Yucatán peninsula, with dozens of ungainly green, spiky fruits dangling among the branches. Guanábana are easy to grow, and the fruits vary from hand-sized to head-sized.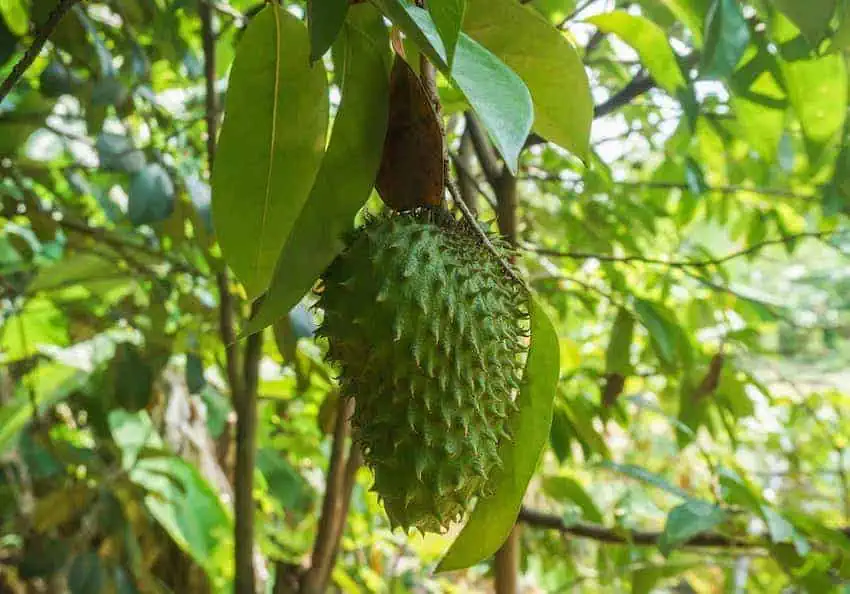 Because of their odd shapes and spiky skin, guanábana look like alien creatures who've invaded a tree. They're in the same family as North American paw-paw and cherimoya.
Sometimes you can find fresh guanábana in the "exotic" fruit section of grocery stores in the United States and Canada. More common, though, are products like guanábana nectar, guanábana-flavored yogurt or frozen guanábana pulp. 
When ripe, the fruit should give quite a bit and feel quite soft, much more so than a mango or peach. Store ripe ones in the fridge until you're ready to eat them; the skin may darken, but the flesh inside will be fine.
While there are some recipes that use guanábana, most people eat it raw or use the sweet, juicy flesh in smoothies, agua fresca, ice cream and sorbets and such. There are some cautions about eating the seeds, so be sure to carefully remove them first.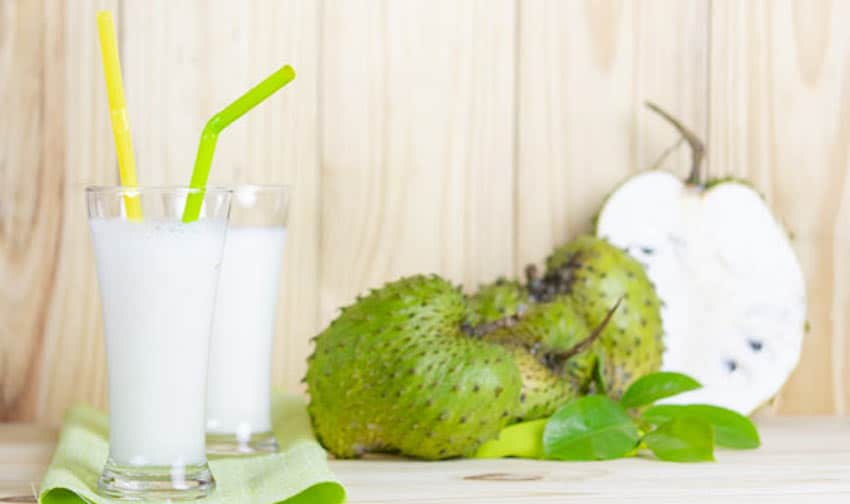 Guanábana and Strawberry Ice Pops
2 cups guanábana pulp

1 cup water

1 cup strawberries, stems removed

Sweetener as desired
Place the guanábana pulp, water and sweetener in a blender or food processor. Process until smooth. Cut strawberries into small pieces and mix gently into pulp. Pour into popsicle molds or small paper cups with sticks inserted in centers. Freeze at least four hours until firm. 
Guanábana Smoothie
2 cups guanábana pulp

1 cup diced fresh pineapple

1-2 cups diced fresh or unsweetened shredded coconut 

4 large kale or spinach leaves

1-inch piece fresh ginger, peeled

Optional

: ice cubes, up to 1 cup water or coconut milk/water
Put the guanábana pulp, coconut, cubed pineapple, leafy greens and peeled ginger into a blender. Process until well blended; strain if desired. For a thinner smoothie, add water or coconut milk/water until desired thickness. For a thicker smoothie, add 2-3 ice cubes and blend well.
Batido de Guanábana
Thick and creamy like a milkshake but made with sweetened condensed milk instead of ice cream. 
1 cup whole milk

3 tbsp. sweetened condensed milk

3 tbsp. sugar (to taste)

½ cup crushed ice

1 cup fresh ripe guanábana pulp
Process everything together in a blender until smooth. Serve immediately.
Sweet Fire Cocktail
Salt

1 oz. mezcal

¾ oz. blanc vermouth

¾ oz. fresh lime juice

½ oz. guanábana nectar, canned or fresh

Scant ½ oz. agave nectar or simple syrup
Dip the rim of a rocks glass. In a cocktail shaker three-quarters filled with ice, combine the mezcal, vermouth, lime juice, guanábana nectar and agave nectar. Shake hard until chilled, about 15 seconds. Strain into the prepared glass filled with ice.
Guanábana Ice Cream
You don't need an ice cream maker for this recipe.
2 cups heavy cream

1 (14-oz.) can sweetened condensed milk

1 Tbsp. fresh lime juice

1 tsp. vanilla extract

1 pinch salt

2 cups guanábana pulp, defrosted, if frozen
Beat heavy cream with a mixer on medium speed until stiff peaks form, about 3–10 minutes.
Meanwhile, pour the condensed milk in a large bowl; fold in the whipped cream, then fold in the lime juice, vanilla, salt and guanábana pulp until well blended. Do not overmix. 
Pour into a flat, freezer-safe container. Cover with plastic wrap and freeze at least six hours (preferably overnight) before serving.
Janet Blaser is the author of the best-selling book, Why We Left: An Anthology of American Women Expats, featured on CNBC and MarketWatch. She has lived in Mexico since 2006. You can find her on Facebook.