Sometimes it's the simplest things that not only taste the best but are really good for us. Fresh limes and lime juice are one of those things, and we're lucky in Mexico that they're plentiful and inexpensive. The little limones so common in the public markets and neighborhood stores are a variety of Key lime, full of valuable electrolytes like calcium, magnesium and potassium as well as Vitamin C and antioxidant flavonoids. 
You could say Key limes are international nomads: hailing from Southeast Asia, their cultivation spread throughout the Middle East to North Africa, Sicily, and the Iberian Peninsula. The species ended up in the Florida Keys thanks to early Spanish explorers, from there spreading to the Caribbean, Mexico and California.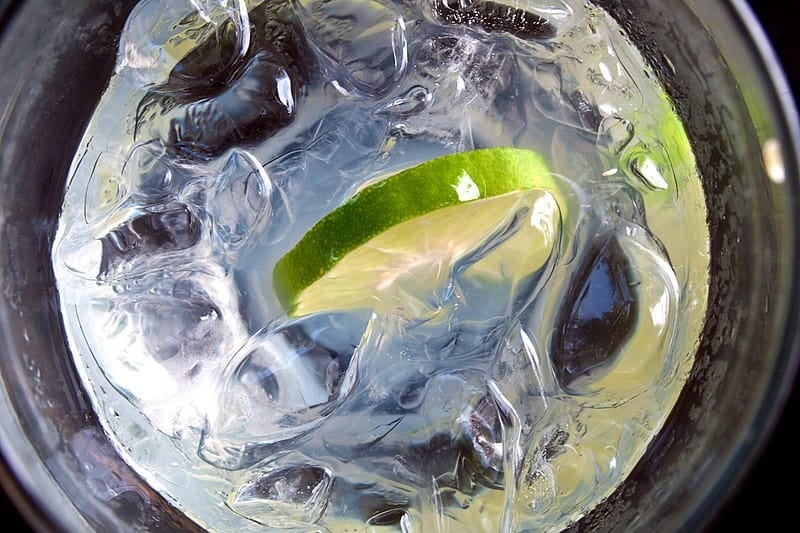 When a severe freeze destroyed Florida's lemon crop at the turn of the 20th century, growers turned to the prolific little limes, soon calling them "Key limes" since they were  grown in the Florida Keys. Since 2002, the Key lime and its culinary contributions have been celebrated with its own Key Lime Festival in Key West, Florida over the U.S. Independence Day weekend. 
Look for limes that are shiny, bright green and firm to the touch. They'll keep the longest stored in the refrigerator until you're ready to use them; I have an open-topped plastic box I keep full of limes at all times.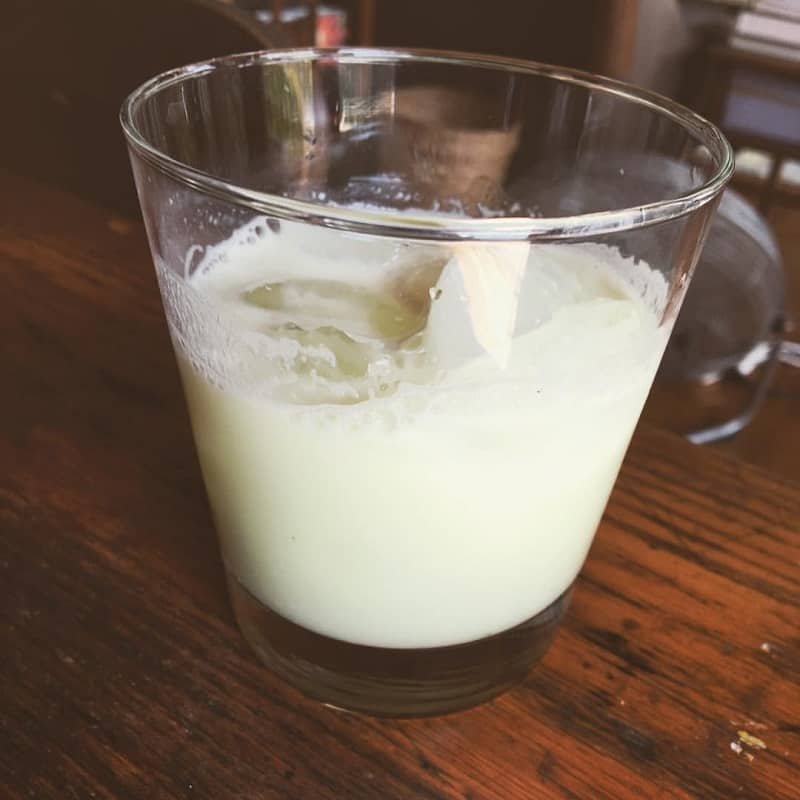 If it sometimes feels like juicing a bunch of limes is just too much to do, consider freezing the juice in ice cube trays and then putting the frozen cubes in a zipper-lock bag. That way you'll have fresh lime juice at almost a moment's notice.
Any of these lime drinks can be made into an "adult beverage" by adding a splash of rum, tequila, mezcal or vodka.
Brazilian Lemonade
4 big limes or 8-10 Key limes, scrubbed and washed

⅓ cup granulated sugar

Half of a 14-oz. can sweetened condensed milk

4 cups cold water

4 cups ice, plus more for serving
OR
100-gram can of sweetened condensed milk

3 small limes 

1 cup cold water 

2-3 ice cubes
Cut off and discard the tips of the limes, then cut the limes in quarters. Don't worry about the seeds.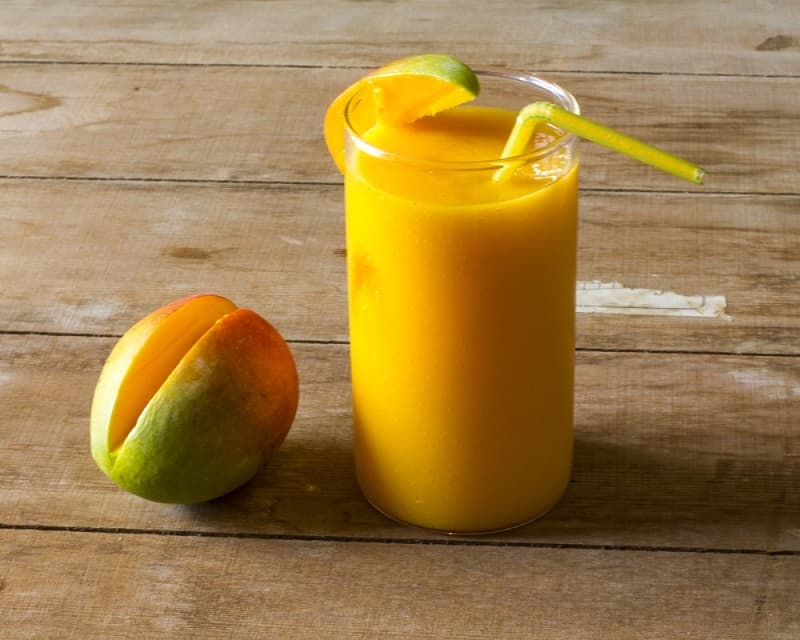 In a blender or food processor, pulse limes, sugar (if using), condensed milk, water and ice until the ingredients are just combined. You're looking to extract flavor from the limes, not pulverize them, which can make the drink too bitter. The limes should not disintegrate but still be in pieces.
Press the mixture through a fine-mesh strainer into a large pitcher or bowl with a spout. Use the back of a spoon to push out as much liquid as possible; discard the solids.
Divide in tall, ice-filled glasses, garnish with lime wedges and serve immediately.
Hibiscus-Mint Cooler with Pineapple Ice Cubes
Pineapple juice

6 cups boiling water

¼ cup fresh mint leaves
½ cup dried hibiscus flowers
¼ cup fresh lime juice
½ pound fresh strawberries, hulled
½ cup simple syrup*

Garnish

: strawberries, lime slices, mint leaves
*To make simple syrup: Boil equal amounts of water and sugar for about 5 minutes. Cool and use.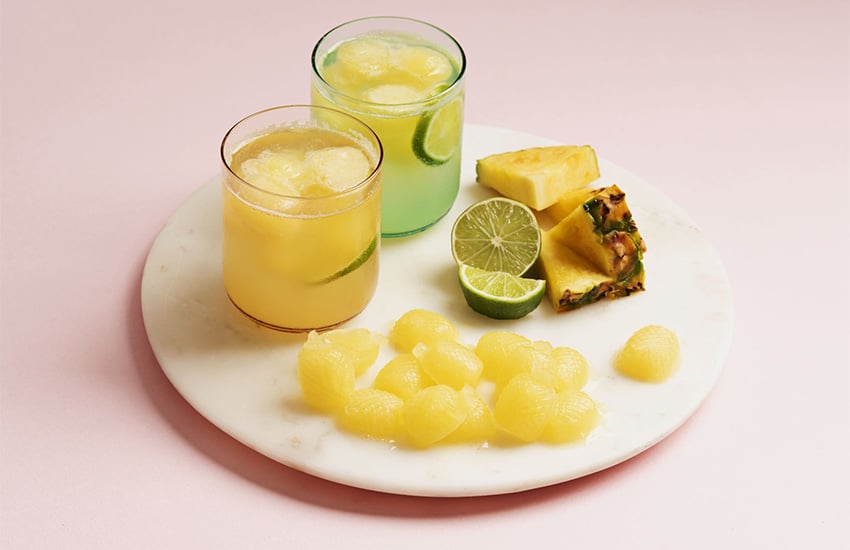 The night before serving, make pineapple ice cubes: Pour pineapple juice into an ice cube tray and freeze overnight.
Muddle mint leaves in a pitcher. Stir in hibiscus, boiling water and lime juice. Steep 15 minutes.
Purée strawberries in a blender. Add strawberry purée and simple syrup to the pitcher, stir and refrigerate. When ready to serve, put pineapple ice cubes in each glass and pour limeade over. Garnish with strawberries, lime slices and mint.
Jamaican Limeade
½ cup fresh lime juice 

1 cup packed grated

piloncillo

or brown sugar

4½ cups water
Mix lime juice and piloncillo or brown sugar in a small bowl and whisk until the sugar is dissolved. In a large pitcher, mix the lime juice and brown sugar mixture. Add the water to the pitcher and stir to combine. Serve over ice. 
Mango-Lime White Wine Slushy
2 cups frozen mango in chunks

2 cups chilled white wine
2 cups ice cubes
2-4 Tbsp. fresh lime juice
Combine all ingredients in a blender and process until smooth. Pour into chilled glasses, garnish with a thin slice of lime and serve. If you use fresh mango, it won't be a slushy but will taste delicious nonetheless.
Homemade Suero (electrolyte drink)
12 oz. cold, plain water

¾ – 1 tsp. salt
2 Tbsp. fresh lime juice
Pour everything into a tall glass and mix well. Add ice if desired and drink immediately. 
Citrus-Tea Cooler
1 lemon

4 limes
2 oranges
¾ cup sugar
4 bags black tea (Earl Grey, Lapsang Souchong, Darjeeling)
1 cup soda water
1 cup seltzer or tonic water
Citrus slices, for serving
The day before serving, peel lemons and oranges. Place the peels in a medium bowl or large jar and reserve fruit. Add the sugar and use a muddler or the end of a rolling pin to work it into the peels until they start to turn slightly translucent, about 2 minutes. Set aside at room temperature for at least 2 hours or overnight.
In a pitcher or large glass jar, place 3 tea bags. Pour in 3 cups of water, cover and refrigerate for 8–12 hours. Remove and discard the tea bags.
Bring the remaining water to a boil. Add the last tea bag; steep 5 minutes, then remove. 
Add brewed tea to the citrus-sugar mixture; stir to dissolve sugar. Push through a fine-mesh strainer, pressing on the solids. Cover and chill in the refrigerator for at least 1 hour.
When ready to serve, juice the reserved lemons, limes and oranges to make 1 cup of juice. Mix citrus juice, reserved citrus/sugar/tea mixture and cold-brewed tea. Gently stir in the soda water and seltzer or tonic water. 
Ladle into individual glasses garnished with citrus slices.
Janet Blaser is the author of the best-selling book, Why We Left: An Anthology of American Women Expats, featured on CNBC and MarketWatch. She has lived in Mexico since 2006. You can find her on Facebook.