On Thursday night, San Miguel de Allende overflowed with mixologists, restaurateurs, and cocktail lovers of all stripes for the second annual celebration of North America's 50 Best Bars awards. 
This year's high-energy and boozy celebration found Ms Franky Marshall, spirits educator and long-time presence on the New York cocktail scene, emceeing in her bright fuchsia bodice to a cheering crowd of cocktail enthusiasts from the U.S., Canada, Mexico, and the Caribbean.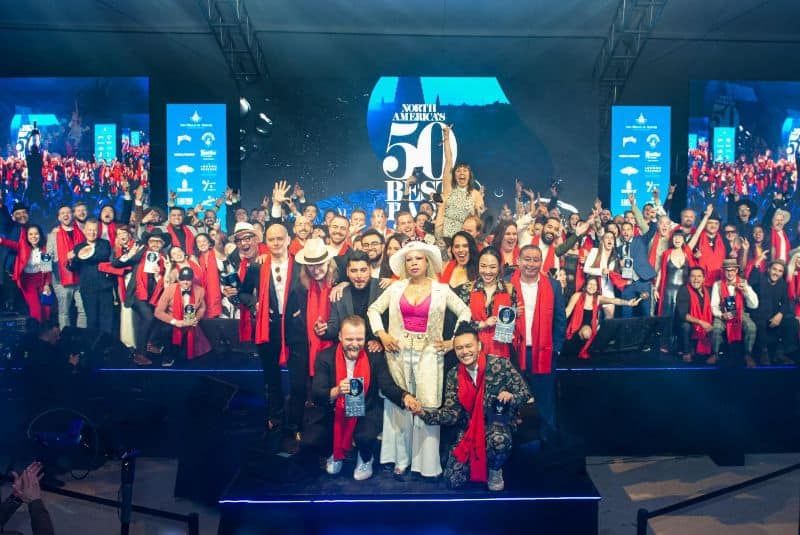 Inaugurated just two years ago, North America's 50 Best Bars is a branch of the larger 50 Best brand lists that started in 2002 with The World's 50 Best Restaurants, and has extended to include Best Restaurants in Latin America, The World's Best Bars, and others. 
Teams from all 50 of the bars nominated were present to hoot and holler for themselves and their peers in a rapid-fire countdown from 50 to one, held in the central patio of Hacienda Picachos, just outside the colonial city.
Chocolate martinis, fig coconut negronis, and dozens of other specialty drinks were proffered by the list's sponsors – Ketel One vodka, Roku gin, Remy Martin, and a half dozen other spirits companies, as well the event's main sponsor, Perrier. Festivities reached a fever pitch as the countdown got closer and closer to number one. 
Founded by UK company William Reed, the 50 Best brand and their lists have provided an international spotlight on the "best" dining and drinking establishments across the globe for the past two decades, and have often been a contributing factor in winners rocketing to culinary stardom.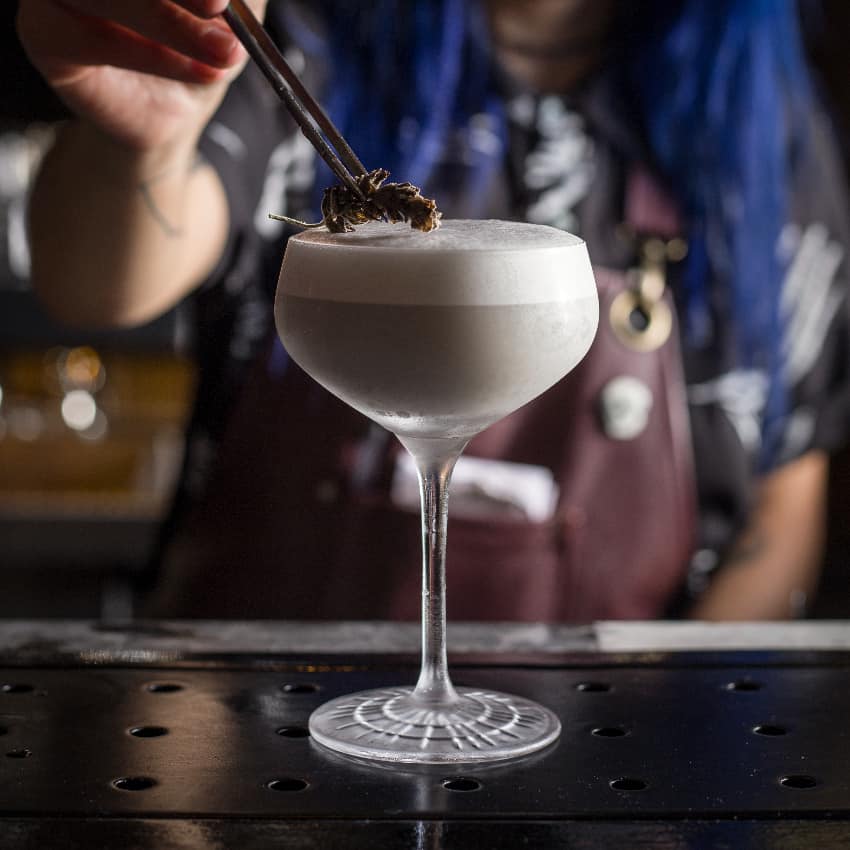 The lists both report and promote culinary and mixology trends, and earning a spot on one of them has become a coveted achievement in the industry.
This isn't to say that 50 Best hasn't had its fair share of criticism. Some have complained of the lists' lack of diversity, their Euro-centric focus, and the glaring absence of female representation.
50 Best has taken steps to combat these shortcomings and this year's winners crossed gender, racial, and national lines to create a potpourri of barmen and women on stage. 
The voting process has also been accused of perpetuating repeat winners because panel members can only vote on places they have been to, and they must vote on a certain amount of places outside of their own geographical region – so if 40 judges from the United States have only been to Limantour in Mexico City, guess who will be getting their vote?
Additionally, the awards almost exclusively promote high-end dining and drinking experiences.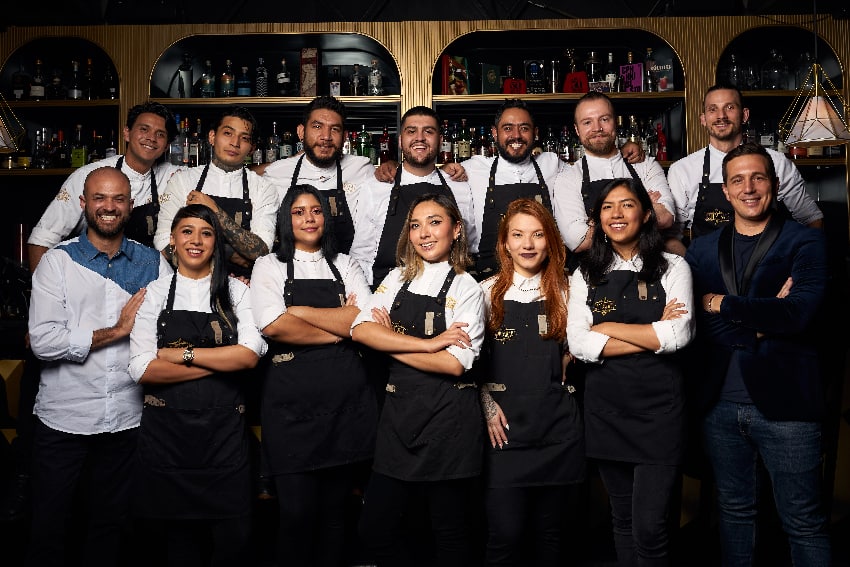 The positive argument that these awards represent a celebration of the passion, dedication, and effort of industry professionals was on full display Thursday night, with the nomination as one of North America's 50 Best Bars an obvious thrill for participants.
The founders of this year's number one – Double Chicken Please bar in New York City –  took the stage teary-eyed, profusely thanking their team and everyone who has supported their evolving project over the past few years.
Mexico had a good showing in this year's list, increasing the country's number of recipients from 11 in 2022 to 14. Mexico City's Handshake Speakeasy held steady in its second-best spot on the list and new bars Las Brujas, Rayo, and Tijuana's Aruba Day Trip all joined the slate of winners. 
The mere breadth of options for eating and drinking these days can make lists like 50 Best helpful for first time travelers to Mexico City or Montreal. And while most of the places on the list are pricey (relative to where you live of course), that doesn't negate the fact that the cocktails, ambience, and experience make a visit to them worthwhile.
Mexico City's Licorería Limantour for example is a raucous bar in the heart of Colonia Roma were you can get a great introduction to mezcal cocktails while at Guadalajara's boho-cool Gallo Altanero you'll find uncommon regional Mexican spirits and possibly your new best friend at the same time.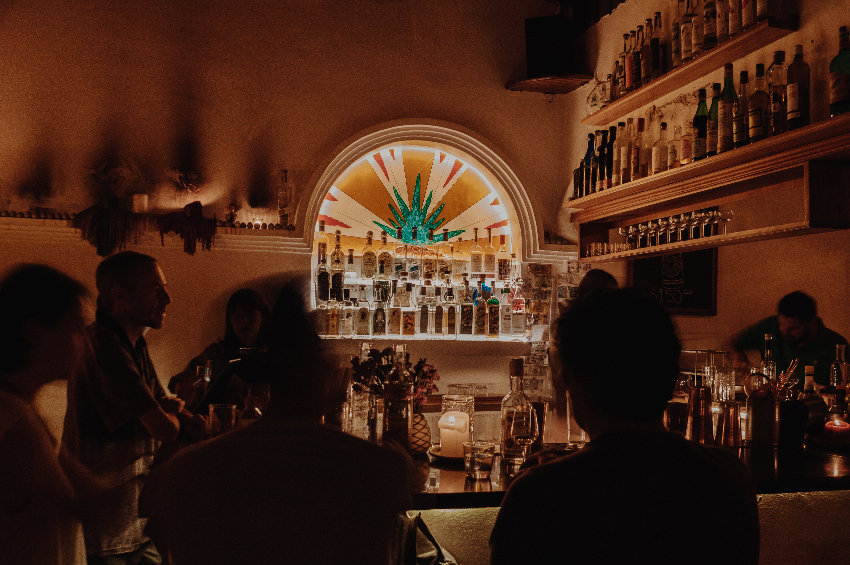 North America's 50 Best Bars also includes several individual awards. One of the most prized is the peer-reviewed Bartenders' Bartender award, snagged this year by Christine Wiseman from Miami's Bar Lab. The award for best cocktail menu went to Allegory in Washington D.C. for a list that incorporates literature, art and whimsy, and Best New Opening went to Mexico's own Rayo, which opened just over a year ago in Mexico City.
This year's Most Sustainable Bar award went to Denver's Yacht Club and the Art of Hospitality award was given to the Botanist bar from Vancouver. The Industry Icon award went to Julio Cabrera from La Trova bar in Miami, and Campari's One to Watch award was given to Manhatta bar from New York.
Overall Mexican bars ranked:
No. 2 (Handshake Speakeasy)

No. 4 (Limantour)

No. 11 (Zapote)

No. 16 (Baltra)

No. 17 (Rayo)

No. 20 (Hanky Panky)

No. 21 (El Gallo Altanero)

No. 22 (Sabina Sabe)

No. 23 (Arca)

No. 25 (Cafe de Nadie)

No. 26 (Kaito del Valle)

No. 31 (La Selva)

No. 40 (Aruba Day Trip)

No. 47 (Las Brujas)