If you still haven't heard about wine in Guanajuato, you aren't listening. Already home to so many great destinations – Guanajuato City, San Miguel de Allende, Mineral de Pozos – the state now boasts many excellent wineries. Guanajuato's long history of wine-making means even the Father of Independence, Miguel Hidalgo, had his own vineyard in Dolores in the 18th century. While most of the state's wineries were built at some point in the last 40 years, there is still lots of history and tradition along the Guanajuato wine route. If you want to go exploring and are at a loss for where to start, here's a quick list of some of the area's best small wineries with award-winning vintages. 
Cuna de Tierra
This is one of the area's oldest vineyards and most respected. The winemakers at Cuna de Tierra have provided so much support and have been so influential to other area vineyards you might call them the grandfathers of the region's wine. Dozens of awards later, Cuna de Tierra is nonetheless very down to earth and the staff and sommeliers are highly approachable, even for the uninitiated. 
Located on a gorgeous piece of land outside of Dolores Hidalgo, this vineyard has a great small plates restaurant, a tasting room, and property tours. In addition to their wine, they've won awards for the striking architecture of the vineyard, particularly the Torre de Tierra. Standing in the center of their rows of vines, designed by architects Ignacio Urquiza Seoane and Bernardo Quinzaños Oria.
Bodega San Jose Lavista
Producing award-winning bottles, Bodega San Jose Lavista sits just outside of San Miguel de Allende, on the edge of the city's dam. The vineyard's Merlot-Malbec Assemblage won a Grand Gold at the 2022 edition of the Concours Mondial de Bruxelles' México Selection, where they also racked up three other gold medals for their 2020 Malbec, 2020 Merlot, and 2019 Malbec.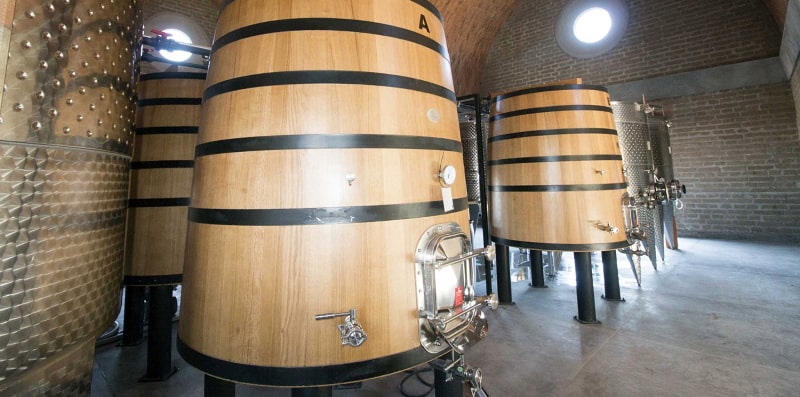 The property's grand hacienda is a new construction (2010) that uses traditional building methods and styles in its design, giving it a blend of old and new that many visitors find charming, if not sometimes a tad baroque. The 14 suites spread throughout the property are modern with vintage touches, and the vineyard is a trendy spot for weddings.
Viñedo Los Arcángeles
Owner Ulises Ruiz Mariño, a winemaker himself, is very obviously passionate about his trade. Stop to visit his vineyard outside of Dolores Hidalgo, and the former food engineer will go deep into his process and his philosophy of letting the grapes speak for themselves. Ruiz has won gold and silver medals for his wines at the México Selection Awards and a Grand Gold at the 2021 Concours Mondial de Bruxelles. 
The winery is bite-sized and lovely, with most of the drinking and dining al fresco at picnic tables under a breezy awning in the center of the property. Stay in one of their eight rustic cabins amid the vines for true immersion.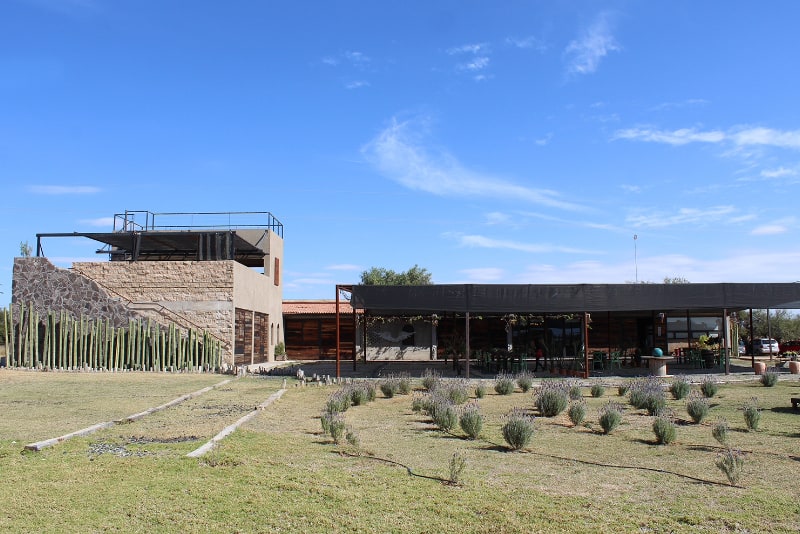 Tres Raíces
Since Tres Raíces opened in 2018, they have quickly won the respect of neighboring vineyards, local wine lovers and the world with their tobacco-laced Cabernets and juicySauvignon Blancs. Their Pinot Noir 2021 won a Grand Gold at the 2023 Concours Mondial de Bruxelles and their Tempranillo 2020 a silver in the same contest. 
Tres Raíces has one of the classiest wineries on this list, with a full-service luxury boutique hotel on the property, complete with a swimming pool and a selection of suites that feel more like tiny country homes than hotel rooms. With wine tastings, property tours and a meat-heavy menu that reflects the northern Mexico roots of the winery's owners, Tres Raíces is a delightful day trip from either San Miguel de Allende, Guanajuato City, or Dolores Hidalgo.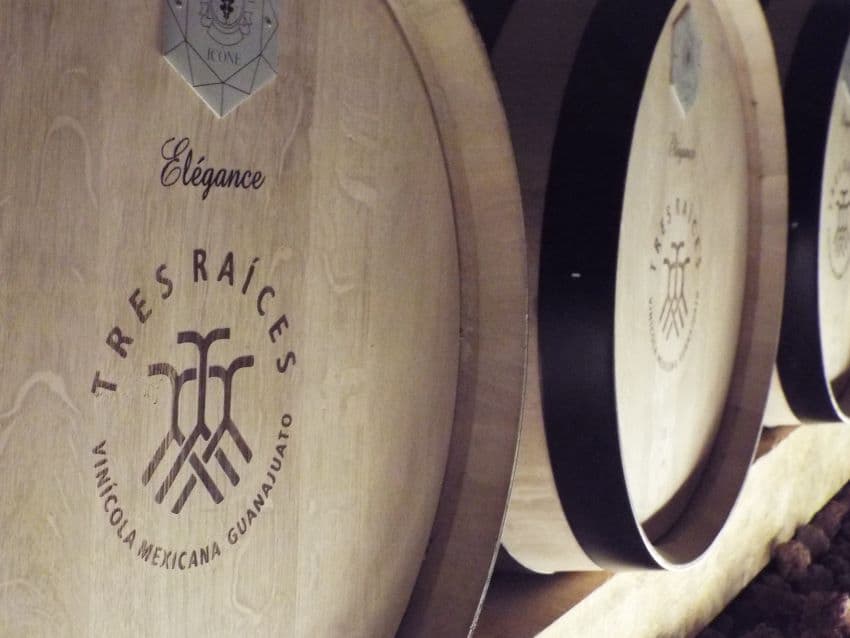 Viñedo San Miguel
This sprawling estate is a sister vineyard to the organic Villa Petriolo in Italy, operated by the same owners so that you can find wines from both vineyards in the wine shop on the property. Despite its youth, Viñedo San Miguel has won awards at the Decanter World Wine Awards, Concours Mondial de Bruxelles and the México Selection of the Concours Mondial.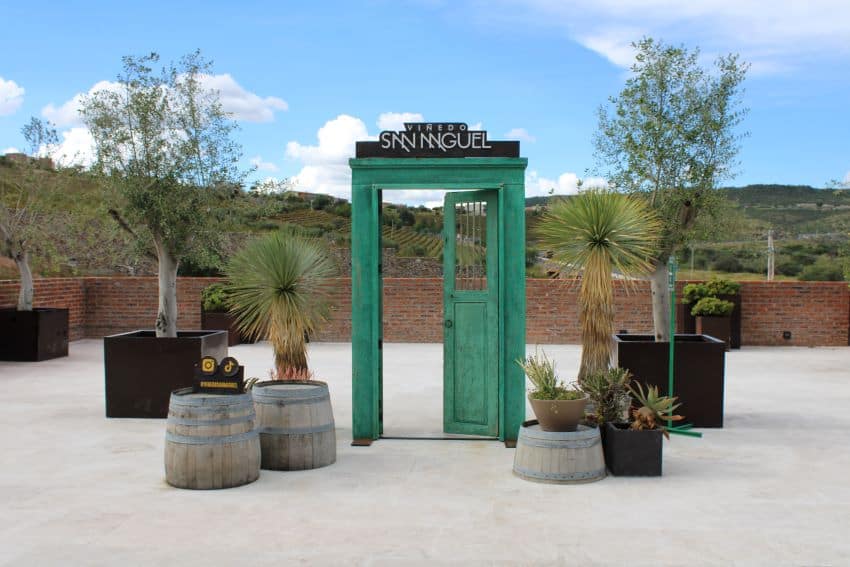 The winery has dramatic spaces, miles of vines, and a breezy and sophisticated terrace restaurant that provides visitors with 180-degree views of the surrounding landscape. Their kitchen, led by Chef David Quevedo, offers haute versions of traditional Mexican dishes with exactly the kind of wine pairing list you'd expect from an award-winning vineyard.  
La Santísima Trinidad

Fields of lavender and rows of grapes greet you as you enter this luxury real estate development and winery, meandering slowly along bucolic dirt roads less than half an hour from San Miguel de Allende. Another young winery making waves, Santísima Trinidad, won a Grand Gold in 2021 at the México Selection of the Concours Mondial de Bruxelles. The vineyard produces olive oil and lavender products in addition to wine, as well as having a countryside restaurant and tasting room, horseback riding, bike tours and a great boutique hotel for a stay on the property. 
Dos Buhos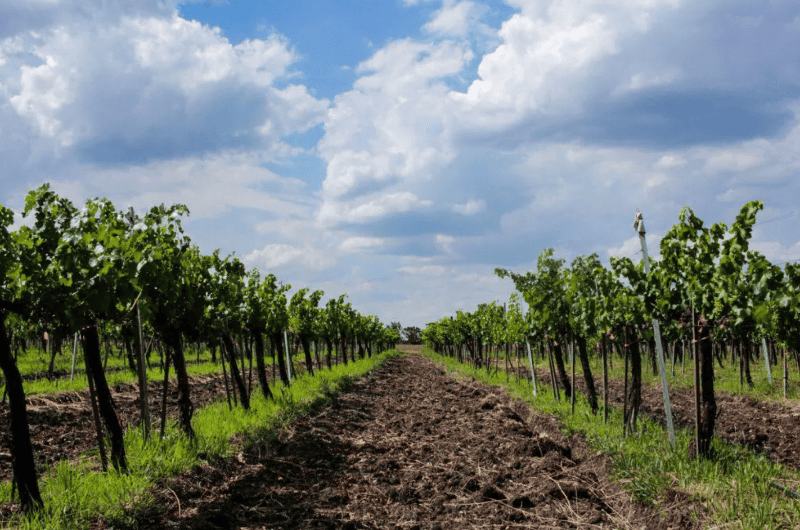 Suppose you are looking for a wine experience that's both delightful and sustainable. In that case, Dos Buhos is one of the area's only organic wineries and its owners have a mission to consider the local ecology in everything they do. All of the vineyard's wines are made with spontaneous fermentation and they have several exciting collaborations with other local producers in the works. The vineyard is also stepping up its cuisine. It now offers a gourmet menu that is seasonally centered and focused on local ingredients. They also have a sweeping hacienda-style tasting room and grounds that are a popular location for spring weddings. 
Lydia Carey is a freelance writer and translator based out of Mexico City. She has been published widely both online and in print, writing about Mexico for over a decade. She lives a double life as a local tour guide and is the author of Mexico City Streets: La Roma. Follow her urban adventures on Instagram and see more of her work at www.mexicocitystreets.com.