Just the other day another expat friend told me how much she hates papaya; "the taste, the smell, everything," she said. Like many others, she'll never be able to enjoy the taste or even aroma of papaya, and there's an actual biological reason for this visceral response.
Turns out that some people are more sensitive to certain enzymes that occur naturally in papayas. Glucosidases (the same chemical that's in mustard) can smell terribly unpleasant to some folks—like dirty socks, they say. Papayas also contain papain, an enzyme that breaks down proteins, and that can smell bad too (it's also why papaya is a good meat tenderizer). And finally, papaya contains high levels of B-vitamins, sometimes associated with strong odors as well.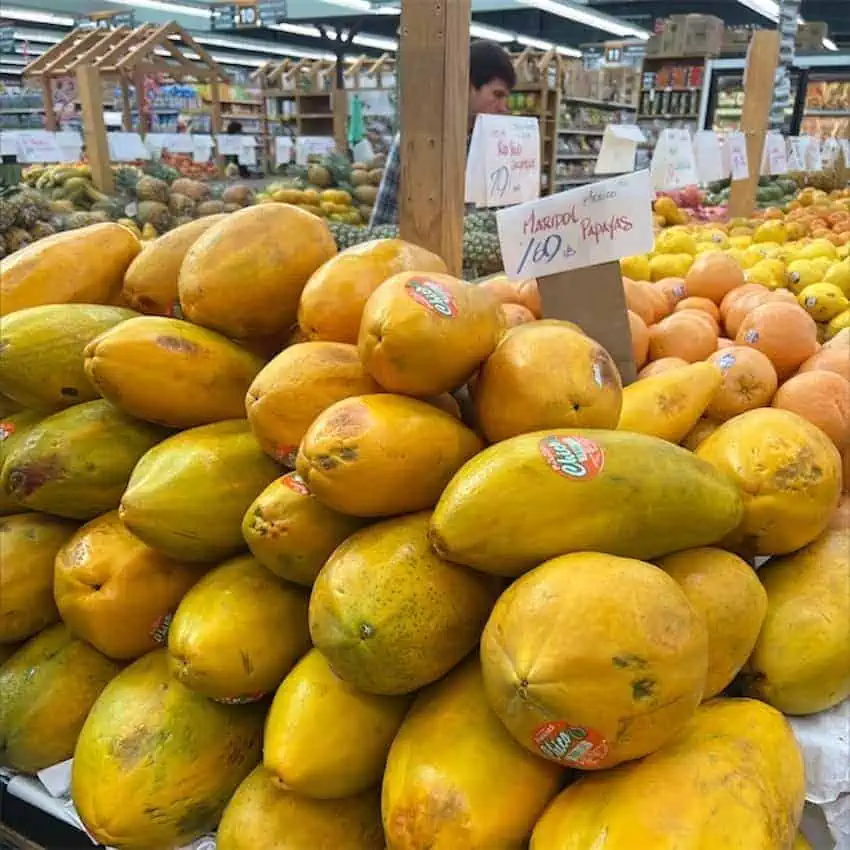 I count myself as fortunate that this is not the case for me. 
A good way to think of this often unfairly maligned fruit is that it has a different personality in its native Mexico, where it can grow and thrive naturally in a sun-drenched climate that brings out its best qualities. Commercially grown papayas are a different thing altogether and have often been sprayed with chemicals and hormones to delay ripening as they're shipped from faraway places. (Again, like tomatoes.) These affect flavor as well. Just like you wouldn't judge tomatoes by one plastic-y, flavorless Roma tomato purchased in a grocery store, far from the field where it grew and ripened naturally in the sunshine, you can't fairly evaluate papayas by what you find in the U.S. or big-box stores.  
Start at your local mercado and look for different shaped papayas. Some will be more round or eggplant shaped, others long and thin; some will have flesh that's soft coral in color while others are almost red. You'll discover that some have seeds while others do not. The textures also vary, from a soft, melt-in-your-mouth sweetness to a more firm, juicy mouthfeel. Some smell like vanilla; others have a more floral or melon scent – there's some aroma from the whole fruit, but once it's cut you'll get its true character. Ask where the papayas are from and do your own side-by-side taste tests with fruits grown in different parts of Mexico. Vendors are usually happy to explain what they know and may even have more than one variety. See if you can find locally grown papayas, maybe from a neighborhood tienda or even a neighbor with a tree who might share if you ask nicely. 
Papaya trees grow easily, bearing many fruits that project almost straight out from the trunk after first appearing from small, pretty flowers under the crown of leafy branches. They do need a male and female tree to pollinate, and only the females bear fruit, although they will both flower. In most parts of Mexico papayas grow prolifically, all year round, and are fun to have at home either in the ground or in a big pot on a balcony or patio.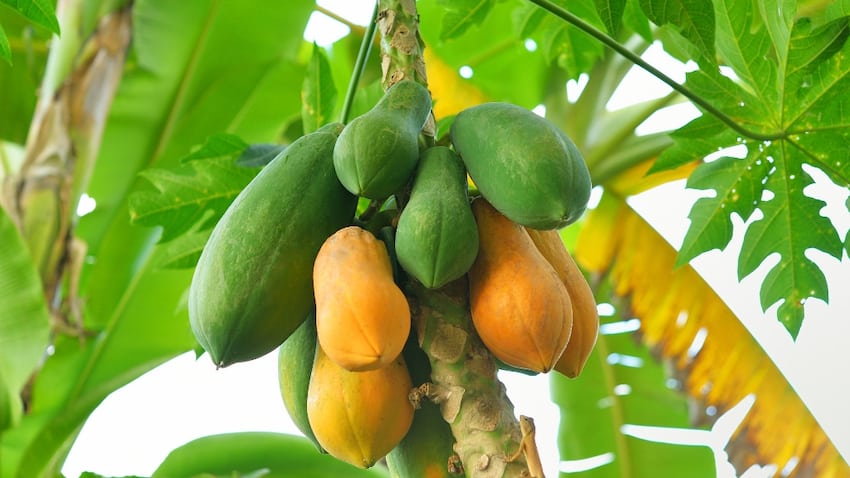 The other tip you need to know to get the most out of your papaya experience is how that they need to be very, very ripe before you eat them. Those unblemished, golden fruits wrapped in paper in the grocery stores? Blah. Also, resist the urge to buy an already cut papaya.
You want a papaya so ripe it almost looks rotten, with dark spots on the darkened orange skin. It shouldn't be mushy but should look really ripe—overripe, in fact. Ask the vendor to show you one that's ready for eating, then either buy that one or let a less-ripe one sit on the counter at home until it looks like what they showed you. Be patient and you will be rewarded.  
Papaya Lassi
2 cups chopped very ripe papaya 

½ cup ice

1 cup plain yogurt

1 Tbsp. sugar, or to taste

Pinch of ground cardamom or cinnamon

Pinch of coarse salt
Combine all ingredients in a blender; process until smooth. Serve immediately.
Roasted Papaya with Brown Sugar
Serve as a side dish like baked sweet potatoes or squash, or as a dessert with a scoop of whipped cream or vanilla yogurt.
2-3 Tbsp. brown sugar or grated

piloncillo

¼ tsp. ground ginger or 2 tsp. grated fresh ginger

2 medium papayas, halved lengthwise and seeded

1 lime, cut into 4 wedges
Preheat oven to 450F (230C). Mix sugar and ginger in small bowl. Arrange papaya halves, cut sides up, in baking dish. Sprinkle with sugar mixture. Bake, brushing edges 2-3 times with sugar mixture as it melts (it will collect in the well of the fruit) until mixture is bubbling and papaya edges begin to darken, about 40 minutes. Serve with lime wedges.
Papaya & Blueberry Salad with Ginger-Lime Dressing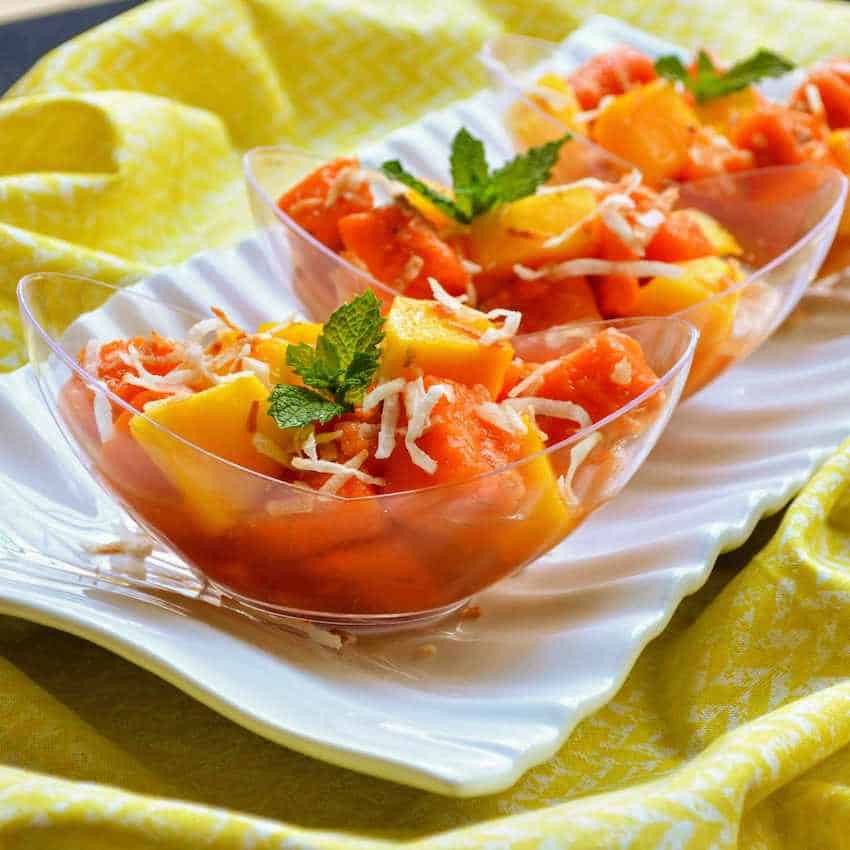 3 Tbsp. fresh lime juice

1 Tbsp. honey or maple syrup

2 Tbsp. minced crystallized ginger or grated fresh ginger

2 very ripe papayas, peeled, seeded, and diced or scooped with a small melon baller

1 cup blueberries

1 Tbsp. julienned fresh mint leaves, plus sprigs for garnish
Mix lime juice, honey/maple syrup and ginger in a large bowl. Add fruit and mint and toss. Serve garnished with mint sprigs.
Avocado-Papaya Salsa
2 medium avocados, pitted and diced

2 cups diced ripe papaya 

1 apple, jícama or Asian pear, peeled if desired, cored and diced

¼ cup fresh lime juice

1 serrano chile, seeded and minced

¼ cup chopped cilantro

2 Tbsp. chopped fresh mint

½ small red onion, minced 

Salt to taste
Combine avocado and papaya in medium bowl. Add remaining ingredients and toss. Season to taste with salt. Best eaten shortly after assembling.
Green Papaya Salad (Thai Som Tum)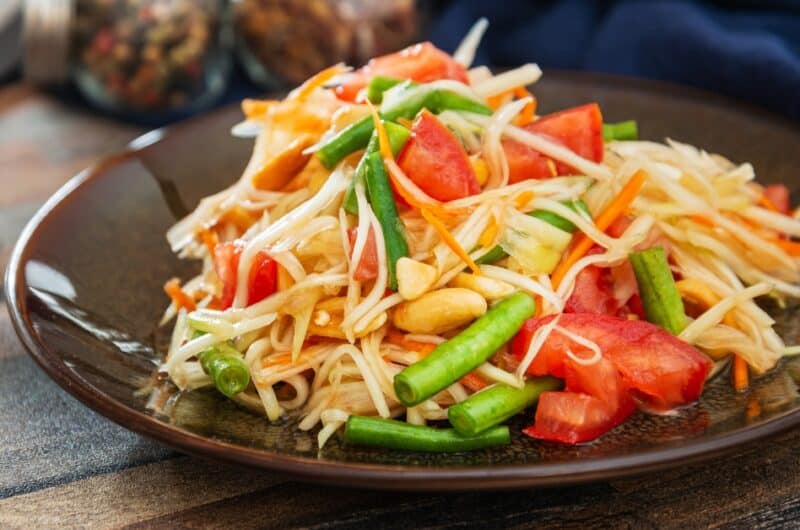 2 cloves garlic, peeled

¼ tsp. salt

1 Tbsp. dry-roasted salted peanuts, more for garnish

2 serrano chilies, sliced

½ tsp. sugar

2 Tbsp. fresh lime juice

1-2 Tbsp. fish sauce, to taste

2 plum tomatoes, coarsely chopped

½ lb. long beans or string beans, cut into 1½-inch lengths (optional)

1 medium green (unripe) papaya 

Optional: 1 Tbsp. dried shrimp, lettuce for serving 
In blender or with a mortar and pestle, blend or pound garlic, salt, peanuts, chilies, sugar and shrimp (if using) into a paste. Transfer to large bowl. Mix in lime juice and fish sauce. Lightly crush tomatoes and beans (if using), then add to bowl and mix.
Peel and coarsely grate papaya, discarding seeds and inner membrane, to yield 4-6 cups of papaya. Add papaya to bowl; lightly toss. Taste for seasoning. If desired, line serving bowl or individual plates with lettuce leaves. Sprinkle with peanuts and serve.
Janet Blaser is the author of the best-selling book, Why We Left: An Anthology of American Women Expats, featured on CNBC and MarketWatch. She has lived in Mexico since 2006. You can find her on Facebook.