The 22nd "Festival Internacional del Chile en Nogada" in San Nicolás de los Ranchos will be held for two more weekends in August.
The small pueblo is located about 25 miles from the city of Puebla and, because the road to get there is a one-lane road passing through several towns, it'll take about an hour to arrive. But it's definitely worth the trip.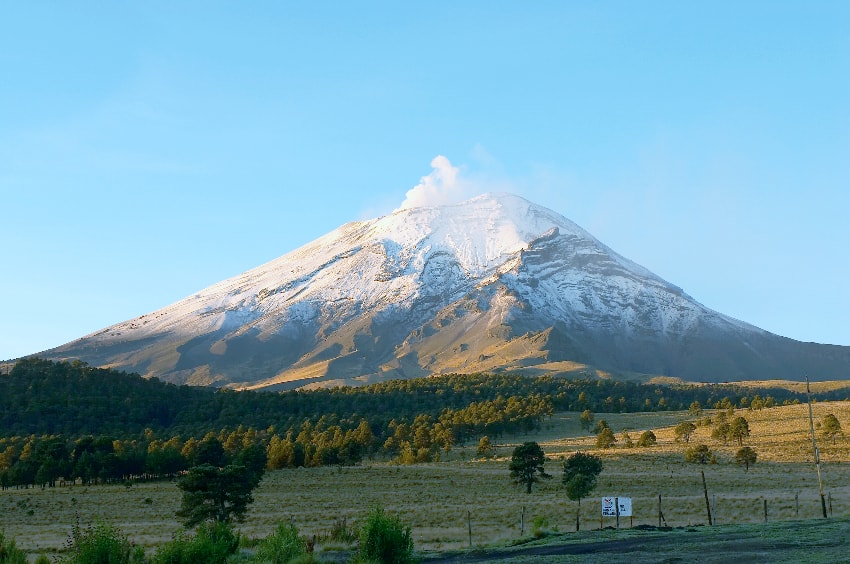 Chile en nogada is the iconic Pueblan dish. A poblano chile is stuffed with different fruits, nuts and usually, beef, pork or both. It's then covered with nogada – a walnut sauce– before pomegranate seeds are tossed on top, along with a sprig of parsley, bathing the dish in the colors of the Mexican flag. 
"The idea for the fair is to showcase what we have in this region," said Gumaro Sandre Popoca, Municipal President of San Nicolás de los Ranchos. "We have had this event for 22 years but in the beginning, it was a local event. A year ago, we started advertising more to let others know what products we have here. There is no other fair like it in all of Mexico."
Esperanza Ochoa Apantenco, the owner of the local Tía Pera café, has been coming to the festival since its first year. She stood in front of her stand, tempting passersby with a taste of her chile en nogada.
"Everyone has their special touch, their own recipe," she said. "Mine is from my abuela. All of the ingredients in our chile en nogada are from this region."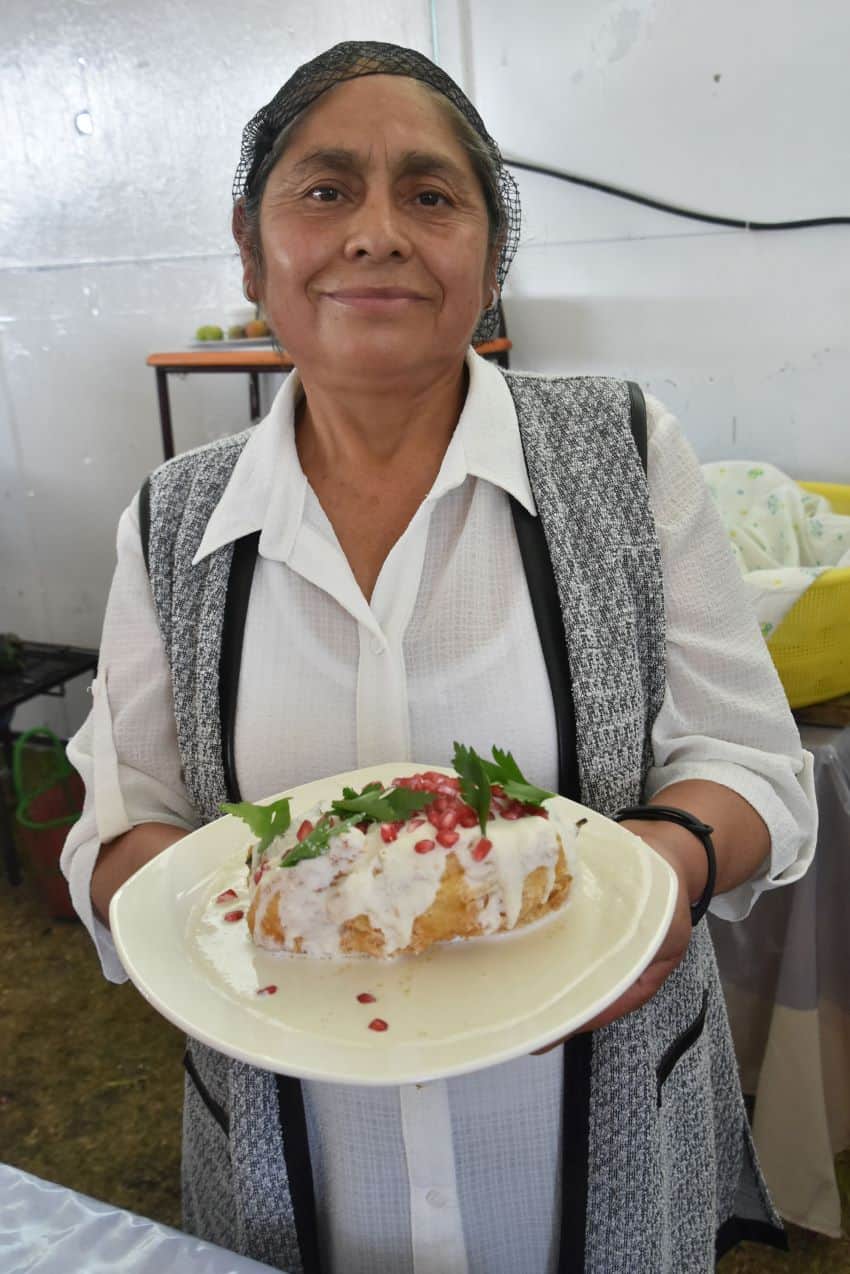 Although virtually all cooks add some type of meat to their chile en nogada, Ochoa said the dish was originally vegetarian – good news for us, since Martha and I are vegetarians, but her dish still contained meat. 
It looked like we wouldn't be able to eat any of the chiles on offer, until we spied a "Chile Vegano" sign at nearby El Riconcito. "I got the idea because I know there are many vegetarians and vegans now," said owner Guadalupe Rincón Amozoqueño.
She uses almond milk for the sauce. We'd already eaten a large quesadilla but we had to try hers. We're glad we did because it was delicious.
There are stands serving quesadillas, gorditas and other traditional Mexican foods too – and plenty of places to grab snacks, cookies made from corn, and ice cream, including helado de nogada –walnut ice cream with pomegranate seeds and parsley, like its savory chile cousin. Efrain Huilotl Gallegos was selling his vinos artesanales, fruit wines that proved popular with festival goers.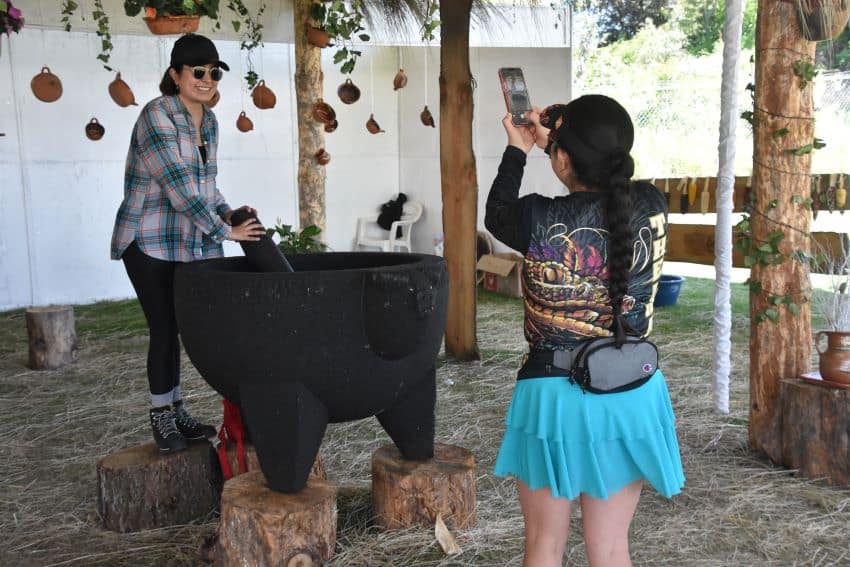 The world's largest molcajete (the traditional mortar and pestle), made by Don Antonio Tlapanco Sánchez in 2009, is on display at the fair. It's 1 meter (3.28 feet) in diameter, 80 cms high (a little over 2.5 feet high) and weighs 500 kilograms (1,100 pounds). Having your photo taken with it appeared to be a must. 
There's music – everything from mariachi to symphonic – kids rides, dances, live performances by Grupo Moros and others.
On Aug. 20, the festival is scheduled to make the world's largest chile en nogada, measuring 6 meters in length (almost 20 feet) and weighing 50 kg (1,100 pounds). It will be bathed in 900 liters of sauce, and stuffed with 600 kg of meat. Slices will be sold and the proceeds donated to local children with disabilities.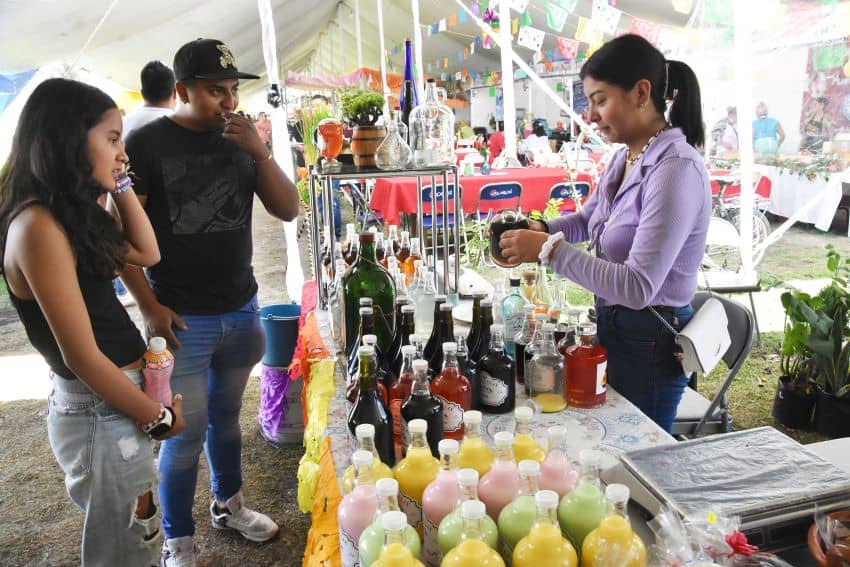 At this time of year, chiles en nogada is available in what feels like almost every restaurant across Mexico. But when Sandre, the town's mayor, was asked where the best could be found, he didn't hesitate. "San Nicolás," he said. "Por supuesto."
The festival is open August 19, 20, 26 and 27, from 11 a.m. to 8 p.m. Entry is free of charge.
Joseph Sorrentino, a writer, photographer and author of the book San Gregorio Atlapulco: Cosmvisiones and of Stinky Island Tales: Some Stories from an Italian-American Childhood, is a regular contributor to Mexico News Daily. More examples of his photographs and links to other articles may be found at www.sorrentinophotography.com He currently lives in Chipilo, Puebla.