What makes a great breakfast burrito?
Three things are crucial: the ingredients, how you fill it and the wrapping/rolling. Until a chef friend broke it down for me, though — with a live demonstration — I didn't fully understand the subtle details involved in each of these steps.
The best burritos have six categories of ingredients; protein, carbs, something crunchy, something creamy, some cheese and element(s) of spiciness. Without any one of those, your burrito will fall a little flat.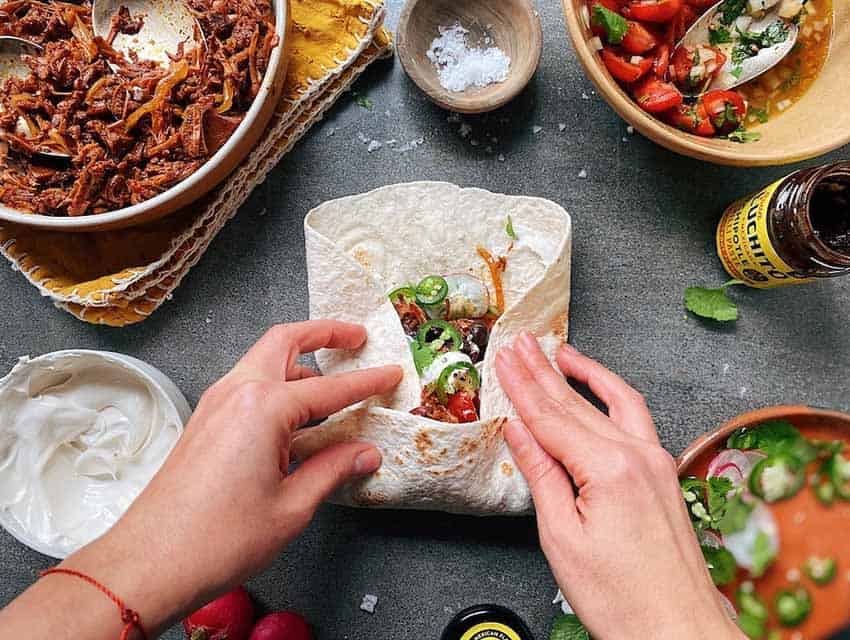 For a breakfast burrito, the main protein is usually scrambled eggs. Herein lies the first challenge: how to make them firm but not dry, soft but not wet?
I use a technique for soft scrambled eggs (sometimes called French scrambled eggs) where instead of "scrambling" the whisked eggs energetically in the pan, you gently fold them over themselves, almost like cooking an omelet without any filling.
I let them cook longer than I would for plain scrambled eggs, so they get a little dry and any trace of shine or moistness is gone, and then I slide them out of the pan. In my perfect world, a heated tortilla is ready and waiting, along with an array of other ingredients.
Other proteins, like bacon, chorizo or other types of sausage, leftover chicken, stir-fried tofu or tempeh, can all be part of a delicious breakfast burrito. Cook the meat first before you add it and be sure it's cut or shredded into manageable (i.e., smaller than bite-size) pieces. You want whatever you use to merge into the larger sum of all the ingredients and not distract from the principle of some-of-everything-in-every-bite.
Next up are carbs. Yes, the flour tortilla is one, but you want something more, something filling and comforting in the way only carbs can be. Sautéed potatoes, beans or rice will do the trick. Just remember when cooking any of these — especially potatoes — that you don't want to use much oil nor do you need potatoes to actually be crispy.
For the potatoes, cube and then rinse until the water runs clear. Allow them to air-dry or pat them dry. Next, parboil them until just fork-tender, and then sauté them in a nonstick skillet with a tiny bit of oil. Salt a little and set aside.
Any kind of beans — black, pinto, my favorite peruanas — are perfect in a breakfast burrito, whether whole (entero) or refried (refritos). Have them heated up and at the ready.
One of the things that makes breakfast burritos so wonderful is how they include so many delicious elements. You want something creamy and rich like sour cream, crema or guacamole; something crunchy (but not watery) like shredded iceberg lettuce or cabbage; and a meltable cheese, usually cheddar, asadero, Chihuahua or Jack.
To balance this, we need some spice. Choose your salsa: verde, ranchero, pico de gallo, whatever. Like it even hotter? Add some roasted poblano strips, chipotles in adobo sauce or marinated jalapenos.
Gather all these things — your mise en place, as the French say — and get ready to roll.
Now, for the all-important tortilla. You want a big, 10-inch or larger flour tortilla. Heat the tortilla a little first on both sides before filling just enough to make it supple and rollable. The toasting will also give it a bit more flavor.
A dry comal, cast-iron pan or nonstick skillet will work. This should be the last thing you do once all the fillings are ready.
When rolling your burrito, resist the urge to overstuff. (That's a hard one, I know.) Spread layers of the fillings on top of each other in a line just off-center of the flat tortilla, closer to you, starting with the eggs. Your goal is to arrange all of your ingredients so you get a little of everything in each bite.
Put the cheese on top of the eggs so it has the chance to melt from the heat of both the eggs and the griddle once the burrito has been rolled. Layer on potatoes, beans, lettuce or cabbage, crema and a little salsa. Then, fold the sides of the tortilla in toward the center to close in all the gooey goodness — watch this video to see exactly how — and then roll up the whole thing as tightly as you can, continuing to tuck the side flaps in snugly as you roll.
Next, you want to heat the whole thing on a lightly oiled griddle, turning slowly to make a crispy brown crust all the way around.
The final, and maybe most important, step is to wrap the burrito in foil. In the words of my chef friend: "Wrapping in foil does more than contain the burrito, it also helps equalize the heat and softens the tortilla a little bit."
Then either cut in half, at an angle with a sharp knife, or serve whole, letting each person unwrap their burrito as they go.
"Burrito" literally means "little donkey: but what that has to do with this culinary item is a tale with many endings. The first mention of burritos as we know them was in the "Dictionary of Mexicanisms" from 1895, which claims they were first seen in the states of Guerrero and Guanajuato.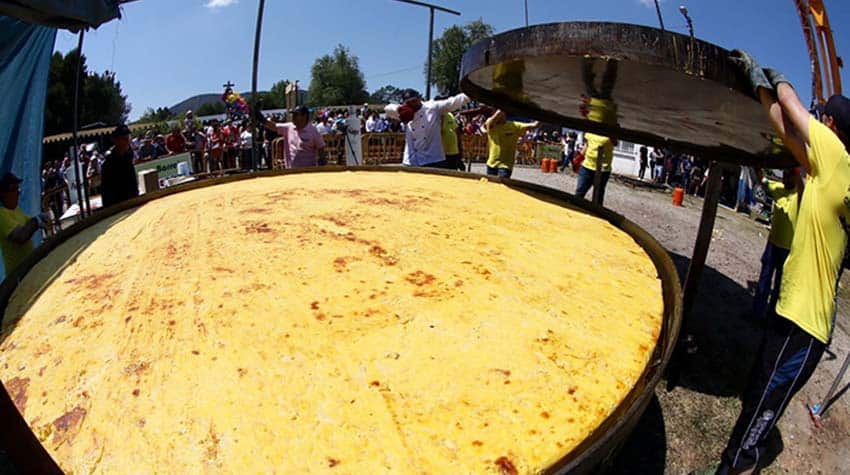 The stuffed, rolled tortilla supposedly resembled bedrolls packed on the backs of donkeys. Another story attributes the burrito's invention to a Chihuahua man named Juan Méndez, who rolled supplies for his food cart in large flour tortillas to keep them warm.
Whatever the case — although mothers all over Mexico would logically have wrapped ingredients in tortillas for quick, easy eating — burritos didn't appear in the United States until the 1930s. Breakfast versions didn't really appear until the '70s.
In 2010, the current Guinness record holder for the World's Largest Burrito — at 5,799 kg (12,785 lbs) was created in La Paz, Baja California, by members of CANIRAC, Mexico's national chamber of restaurants.
About 3,000 volunteers from 54 restaurants worked to create the monstrous burrito, made from a single gigantic tortilla that weighed more than 2 tons and needed a customized machine to roll out. It took almost 10 hours to cover the 2.4 km. of tortilla with a simple traditional filling of the region (fish, onion, refried beans and chiles).
FYI, National Burrito Day is celebrated each year on the first Thursday of April. Mark your calendar for April 6 and start practicing your perfect burrito now.
Janet Blaser is the author of the best-selling book, Why We Left: An Anthology of American Women Expats, featured on CNBC and MarketWatch. She has lived in Mexico since 2006. You can find her on Facebook.