I'd probably been in Mazatlán less than a month and was reveling in the discovery of all my new hometown had to offer. At that time, there were a few small grocery stores scattered in the Centro Historico — bigger than the little tiendas but smaller than a big chain store. 
I stopped in at one, looking for unsweetened yogurt, at that time almost impossible to find. Lo and behold, there in the refrigerated dairy section was a big container of what I thought was plain yogurt. 
The next morning, I made myself a bowl of granola, fruit and the yogurt; hmmm, I thought, this is very rich! It must be made with cream-top milk. (Hah!) I think I ate it two more times before I thought to ask a neighbor, who laughed and said it was crema — like American sour cream. 
Since then, I've eaten and figured out how to use rich, decadent crema in all sorts of dishes: as the finishing touch to chilaquiles, quesadillas, tacos, enchiladas and soups; as a cooling addition to spicy soups or nachos; slathered over papas locas; and as an essential ingredient in the classic pastel de atun dish and poblano cream sauce. 
Is crema the same as sour cream or crème fraiche? Not quite. They're made differently, the fat content and acidity are not the same, and the taste and texture are different too. 
First, we have to understand the two types of sour cream (literally "soured cream"): "regular" sour cream — which uses vinegar to sour it and will have been pasteurized, thereby killing any beneficial probiotic bacteria — and cultured sour cream, which contains live cultures that sour and thicken the cream. (One more reason to read labels carefully!) 
Often the cultured type will cost more, and sometimes commercial sour cream will have live cultures added after pasteurization. French crème fraiche is cultured cream, from a specific bacterial culture, and has a much higher fat content. More reasons to read those labels carefully! 
Back to Mexican crema. As an example, the Alpura brand crema contains five kinds of stabilizers plus assorted other flavorings and additives and no live cultures. (Oops!) Did it taste good? Umm, yes. 
Crema is traditionally made with heavy cream, a little salt and cultured sour cream or buttermilk to turn it, with a bit of lime juice added for flavor. I've included a recipe below, but I've never found buttermilk here, and the only heavy cream I can find is full of additives to make it whip, which probably affects its ability to culture properly. Probably just easier to buy it! 
Homemade Crema 
1 cup sour cream, cultured if available, or buttermilk

1 cup heavy cream

1 tsp. salt

1 Tbsp. freshly squeezed lime juice
Whisk sour cream/buttermilk and heavy cream in a bowl. Cover bowl; allow to sit overnight in a warm place (like the top of your refrigerator). Once thickened, stir in salt and lime juice and refrigerate.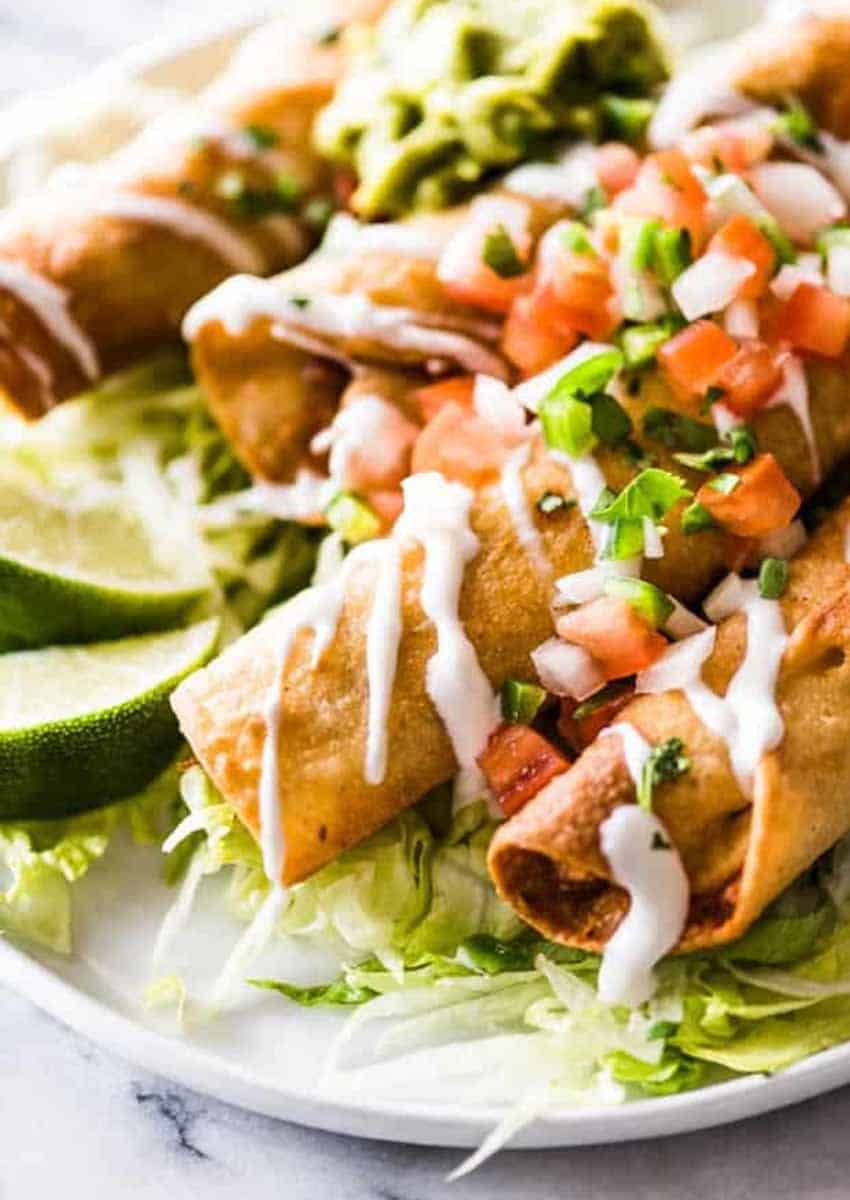 Quesadilla Fritas with Pickled Jalapeños, Cilantro and Chipotle Crema
1 canned chipotle pepper, plus 1 Tbsp. adobo sauce

½ cup

crema

Two (8-inch) flour tortillas

4 ox. (¼ lb.) grated Jack, Cheddar, or Oaxacan cheese

2-3 pickled jalapeños, minced

3 Tbsp. chopped cilantro 

3 Tbsp. vegetable oil

Salt

Optional

: shredded chicken or cooked steak, cooked mushrooms or beans, or other fillings as desired
Process crema, chipotle and adobo sauce, jalapeños and 1 Tbsp. cilantro in blender or food processor. Add salt to taste.
Spread half of cheese over one half of each tortilla, leaving a small border around edge. Add any optional fillings. Fold tortilla firmly in half, enclosing cheese. 
Heat oil in 10-inch nonstick skillet over medium heat until shimmering. Carefully add both folded tortillas and cook, shaking pan gently until first side is golden brown and puffed, 1–2 minutes. Carefully flip tortillas, sprinkle with salt, and cook on second side until golden brown and puffed. Transfer to paper-towel-lined plate. Cut each into four pieces, drizzle with chipotle crema, garnish with cilantro, and serve.
Green Goddess Dressing
¾ cup

crema

¼ cup chopped parsley 

¼ cup chopped basil or cilantro leaves

3 Tbsp. freshly squeezed lemon juice, plus more as needed

2 Tbsp. extra-virgin olive oil, plus more as needed

2 scallions or 1 small onion

1 avocado

½ jalapeño, seeded and diced

1 garlic clove

Salt and pepper
Place crema, herbs, lemon juice, oil, scallions, avocado, jalapeño and garlic in food processor or blender. Process until smooth. Taste and season with salt, pepper and more lemon juice as needed.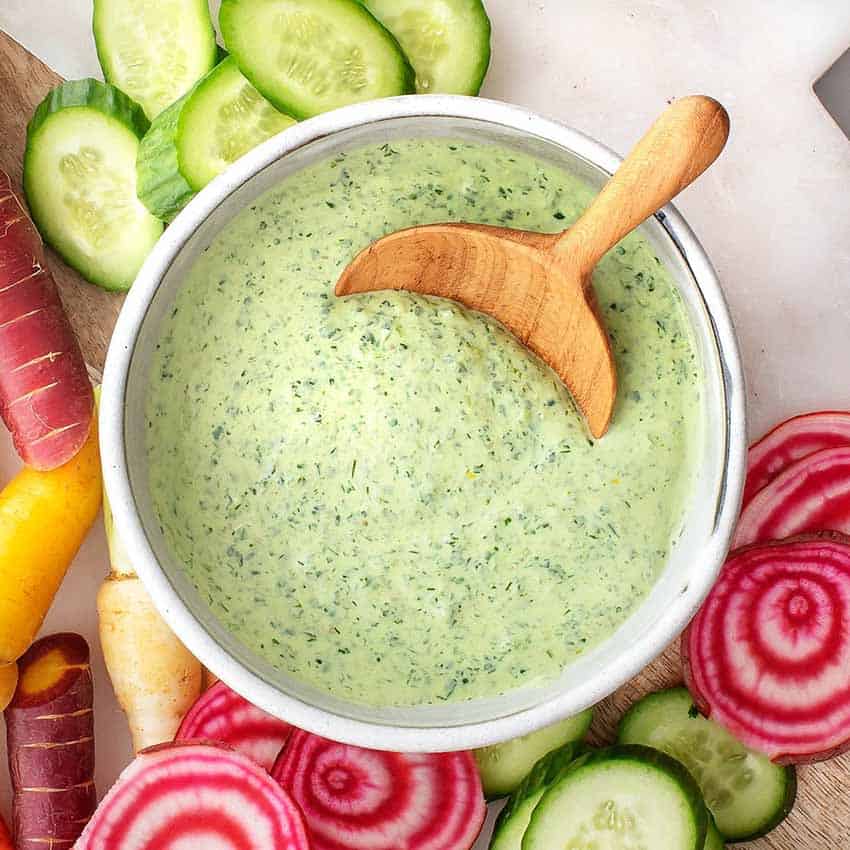 Steak, Avocado and Spicy Crema Sandwiches
2-3 Tbsp. olive oil

1½ lbs. hanger or skirt steak 

Salt and pepper

8 slices rustic bread

2 ripe avocados

½ cup chopped fresh cilantro 

2 tablespoons fresh lime juice 

1 small onion, chopped

2 tsp. minced fresh garlic  

¼ cup

crema 

1 tablespoon (or more to taste) hot sauce
Cook steak as desired; cut into ½-inch thick slices. Set aside. 
Coarsely mash avocados in large bowl. Add cilantro, lime juice, onion and garlic. Season with salt and pepper. In separate bowl, mix crema and hot sauce.
Brush one side of each bread slice with oil. In a hot nonstick skillet, cast-iron pan or on a grill, cook each side over medium heat until golden and toasted. Set aside.
Coat 4 bread slices with avocado spread. Top with steak. Coat remaining bread with crema; press down onto sandwich. Serve immediately.
Burned Scallion Crema
1 bunch green scallions, trimmed and cut into large pieces

1 jalapeño pepper

1 cup

crema

½ cup mayonnaise

¾ tsp. salt, or to taste

2-4 limes
Cook scallions and jalapeño in a large dry sauté pan over high heat, tossing occasionally, until both are blackened at the edges, 10–12 minutes.
Blitz scallions, jalapeño and juice of 2 limes in a food processor; add crema and mayonnaise, and process until smooth and flecked with blackened bits. Season to taste with salt. Add more lime juice to make the mixture thinner, if desired. 
Use as a dip, on tacos or quesadillas, or with roast chicken, veggies or fish.
Janet Blaser is the author of the best-selling book, Why We Left: An Anthology of American Women Expats, featured on CNBC and MarketWatch. She has lived in Mexico since 2006. You can find her on Facebook.