Perhaps one of the best places I've ever found in Mexico to relax got its start 20 years ago with an invitation to breakfast.
One day in the early 2000s, Raul Velasco invited his good friend Luis Oscoy to have breakfast in Tepoztlan, Morelos. Before dining, however, Raul insisted on showing Oscoy around a tiny town next door, brimming with tropical plants and sweeping views of the mountains.
The town was quiet, except for birds chirping and an occasional dog barking in the distance. It seemed the perfect spot for the two men, both deeply entrenched in spiritual practices, to meditate. Oscoy had been meditating since he was just 5 years old and felt an instantaneous connection to the land.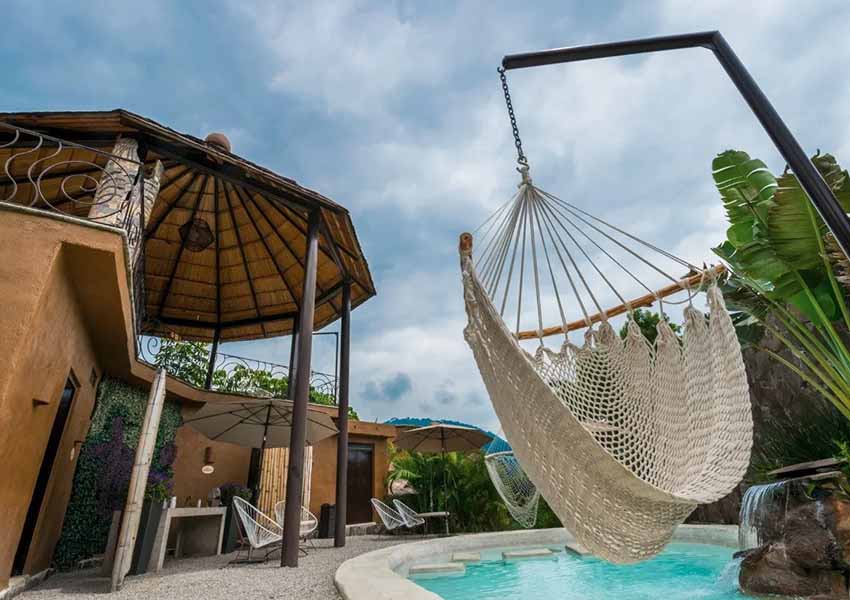 After a lengthy meditation session, as the men drove a narrow, unpaved road toward Tepoztlan, Oscoy caught sight of a worn piece of paper attached to a tree. Scribbled in childlike handwriting were the words se vende (for sale) and a phone number. Upon arrival at the restaurant, made the call. 
The rest, as they say, is history: Oscoy would go on to build Hostal de la Luz, a meditation and yoga retreat center located in the still-tiny town of Amatlán, Morelos (population: 1,312).
This town is said to be the birthplace of the pre-Hispanic god Quetzalcoatl. The landscape is still breathtaking, and the weather is temperate-to-warm all year. But its key attraction is Amatlán's palpable energy, influencing droves of visitors each year to seek out its spiritual wonders.
Oscoy's original intention was to build a simple ashram with 2 bare-bones dorms amid what is said to be one of the strongest energy centers on earth. A full-time plastic surgeon in Mexico City, Oscoy ventured to Amatlán on the weekends to lead New Age workshops in his newly minted ashram.
As more and more students came, more and more rooms had to be built to accommodate them. Oscoy soon realized that he needed to expand.
Thanks to several investors, what started as a small school quickly developed into a boutique hotel. He began traveling extensively to deepen his spiritual knowledge, taking regular trips to India, Tibet, parts of the Amazon and Native American reservations, immersing himself in master teachings.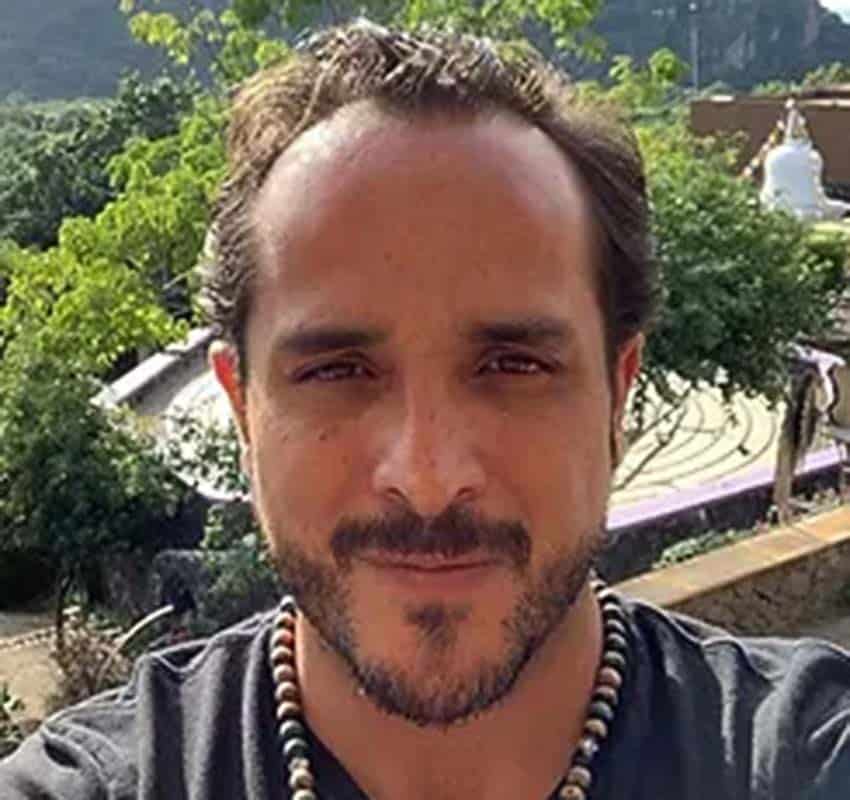 He desperately wanted a reliable, trustworthy partner to assist with the expansion and so he asked his son, Luis Ortiz, if he'd be interested in the project.
"In the beginning, it was a complete mission impossible," Ortiz laughs.
A trained lawyer and dedicated meditator himself since the age of 10, Ortiz quit law to study tourism when his father proposed this hotel partnership of sorts.
"Imagine, a plastic surgeon and a lawyer trying to run a hotel! There was a point where I almost quit." 
But business was exploding, and the father-son duo were determined to find their way. Oscoy was put in charge of the creative, holistic side so Ortiz could organize the business and operations elements. 
And thus, the small, modest ashram with two basic dorms has now become a luxury boutique hotel with 41 rooms, a holistic spa, a yoga studio, two temazcals and the only Chartres-style labyrinth in town. It has a human-sized healing gamma chamber and one of the biggest stupas (a Buddhist shrine) in the country.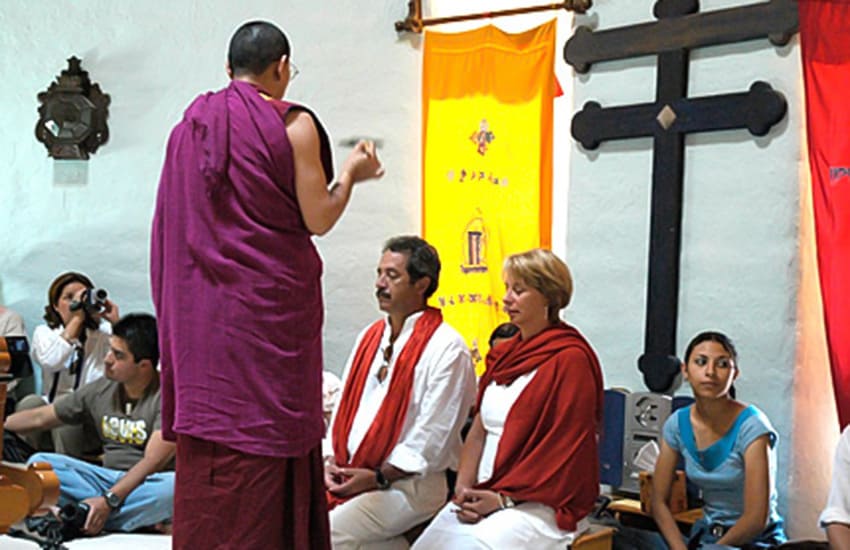 Does it all sound woo-woo? Well, each experience is vetted and approved by an in-house think tank of Western-trained medical doctors, Silicon Valley entrepreneurs and NASA employees to ensure some grounding in scientific research.
Needless to say, this hotel is unique. There are no sharp edges anywhere. Each brick used in its construction must measure 11×11 cm. About 90% of its staff are local to Amatlán, giving the experience a comfortable, familial feel.
The sacred, feng shui-inspired philosophy behind Hostal de la Luz is precisely what led the Dalai Lama himself to name it a World Peace Place in 2006. 
There are so many curious healing modalities here that one could feasibly stay on the property for days and never feel the urge to leave. 
Which is why I often find myself here. I love to escape the hustle and bustle of Mexico City in exchange for clear, starry nights and birdsong at sunrise.
Hostal de la Luz is a place where I recharge with morning yoga, an afternoon temazcal and an evening glass of wine with sweeping views of the mountains.
I'm guaranteed to return to the city feeling more creative and energized. If you're looking for a nature break, consider gifting yourself a little getaway at Hostal de la Luz.
Bethany Platanella is a travel and lifestyle writer based in Mexico City. With her company, Active Escapes International, she plans and leads private and small-group active retreats. She loves Mexico's local markets, Mexican slang, practicing yoga and fresh tortillas.  Sign up for her (almost) weekly love letters or follow her Instagram account, @a.e.i.wellness.