Tofu has come far since it made its slow white way into the kitchens of the Western world.
While tofu is a mainstay in Chinese, Japanese and other Asian cooking, it wasn't really until the 1960s that it was embraced in America, when the hippie counterculture adopted it as a "nonviolent" protein source.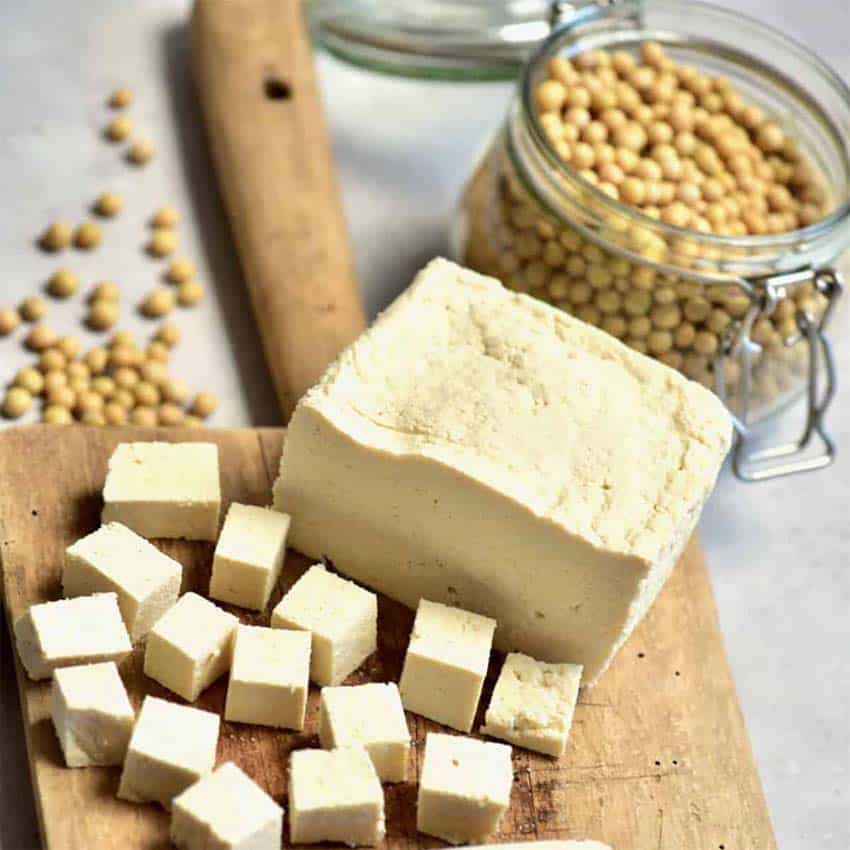 The stigma of tofu is pretty much gone now, especially as the medical reasons for a "plant-based diet" have piled up. It's a great source of protein, relatively inexpensive and incredibly versatile in the kitchen.
Tofu — which is soybean curd — works equally well in savory or sweet recipes and the bland, white block-in-a-box is only one of its many forms, all of which have different textures, subtle flavor differences and uses. My first experience eating homemade soft tofu was mind-blowing; I had no idea how fresh it could taste, nor how melt-in-your-mouth soft and creamy it would be. 
That said, in Mazatlán at least, that kind of fresh tofu is not to be found, nor is unadulterated soy milk or raw soybeans to make it myself. The best I can find are the packages, either in aseptic boxes or in refrigerated plastic containers with water. Both those varieties work OK for most recipes but are nothing like tofu that's freshly made. Should you ever get the chance to eat that, grab it and rejoice!
One of the most basic tofu-cooking skills is how to make it crispy. The secret is that it needs to be as dry as possible before you start cooking with it. Pouring boiling water over the tofu before pressing and cooking helps to get the water out. Coating the tofu before sautéing with a thin layer of cornstarch also helps it cook up crispy.
Place whole or cut blocks of tofu in a single layer in a colander or strainer and pour boiling water over them. Let drain, then carefully place tofu on a cutting board or plate between paper towels. Press down firmly with your hand to get rid of the excess moisture. (Unless, of course, you have a tofu press.) You may need to change the paper towels once or twice. Pat the tofu dry; cut into the desired size. Let air-dry for 30 minutes to 4 hours. 
Chocolate Tofu Pudding Pie
This can also be made as pudding in small individual ramekins. Feel free to use a pre-made crust.
To make the crust:
10-12 whole graham crackers 

3 Tbsp. sugar

4 Tbsp. melted coconut oil

1 Tbsp. plain soy or almond milk
To make the filling:
¾ cup sugar

¾ cup water

1 lb. silken tofu (1 lb. = 454 grams / 1 box = 349 grams)

8 oz. high-quality dark chocolate or chips (at least 60 % cacao), melted

1 tsp. vanilla 

⅛ tsp. salt

Optional

: 1½ tsp. cinnamon

Garnish

: chocolate shavings, whipped cream 
Preheat oven to 350 F (177 C). Lightly spray a 9-inch pie plate or 4–5 ramekins with nonstick cooking spray.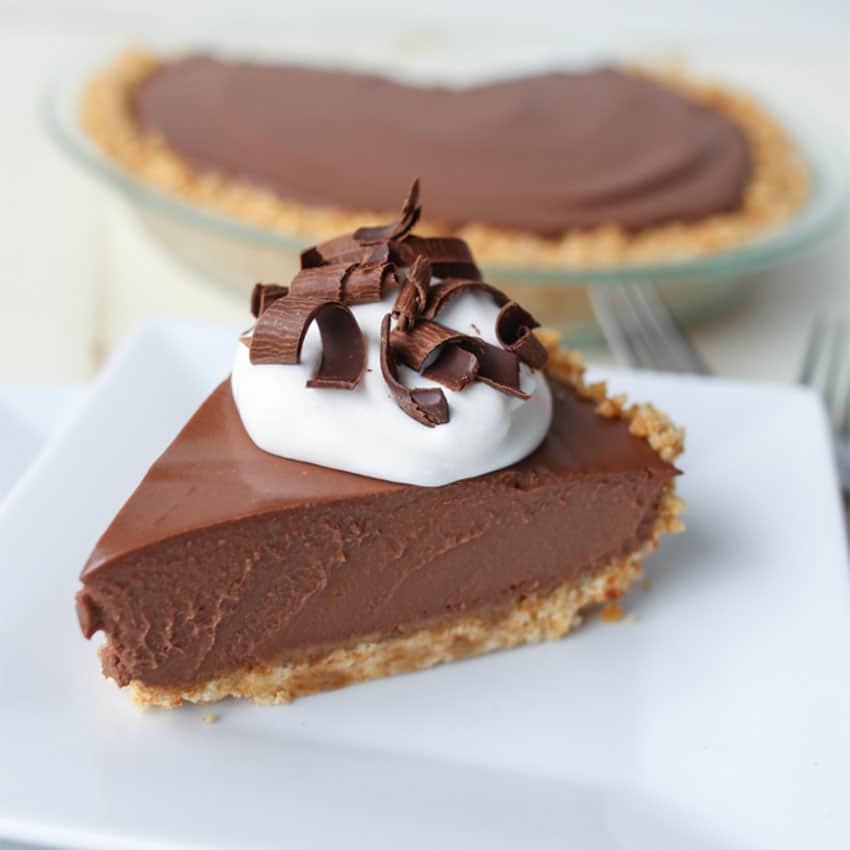 In food processor or blender, process graham crackers till finely ground to make about 1¼ cups crumbs. Add sugar and salt, drizzle in coconut oil and soy/almond milk, and pulse until mixture begins to clump together. Dump crumbs into pie plate. Using your fingers, press into the sides first, working down to the bottom. Bake 8–10 minutes until firm and slightly golden. Set aside to cool.
In small pot, combine sugar with ¾ cup water; bring to boil and cook until sugar dissolves, stirring occasionally. Cool slightly. Purée tofu, sugar syrup, melted chocolate, vanilla, salt and cinnamon, if using, in food processor or blender until smooth. Pour into cooled crust or ramekins; press plastic wrap directly onto top of pudding. Chill until firm, at least 4 hours and up to overnight. Garnish with chocolate shavings and whipped cream and serve.
Super-Delicious Crispy Fried Tofu Sandwich
1 (14-oz.) package extra-firm tofu, drained

1½ cups pickle juice

1 Tbsp. hot sauce (like Sriracha)

1 Tbsp. Dijon mustard

1 tsp. red-pepper flakes

2 Tbsp. neutral oil

½ cup Dijon mustard

2 cups all-purpose flour

½ tsp. baking powder

1 tsp. smoked paprika

½ tsp. EACH onion powder, garlic powder and cayenne

1 tsp. salt, plus more as needed

1 tsp. black pepper

Neutral oil for frying

For assembly

:

6 soft rolls, mayonnaise and hot sauce, shredded green cabbage, dill pickles
Press and dry tofu as explained above. In large bowl, combine pickle juice, hot sauce, mustard and red pepper flakes.
Heat oil in a large nonstick or cast-iron skillet over high heat until shimmering. Sear tofu to form a golden-brown crust, 4–5 minutes per side. Immediately drop hot tofu into pickle juice mixture. Refrigerate and marinate at least a few hours or overnight.
When ready to fry the tofu, mix mustard with ¼ cup water in a medium shallow bowl until consistency of heavy cream; set aside. In large shallow bowl, whisk flour, baking powder, spices, salt and pepper.
In Dutch oven or sturdy pot, heat 2 inches of oil over medium heat. Set a wire rack on top of a baking sheet. Remove tofu from brine; pat dry. Dip tofu in mustard mixture, turning until coated all over, then the flour mixture; dip it again in the mustard then flour, until twice coated. When the oil temperature reaches 350 F, carefully place the battered tofu into the hot oil and fry, flipping as needed, until golden brown, about 5 minutes. (Don't crowd the oil or temperature will lower and tofu won't cook quickly enough.) Transfer fried tofu to wire rack; sprinkle with a little salt.
To assemble the sandwiches for serving: toast the buns, then spread them generously with mayo and dot with hot sauce, if desired. Top with fried tofu, cabbage and pickles. Eat immediately.
Makes 6 sandwiches.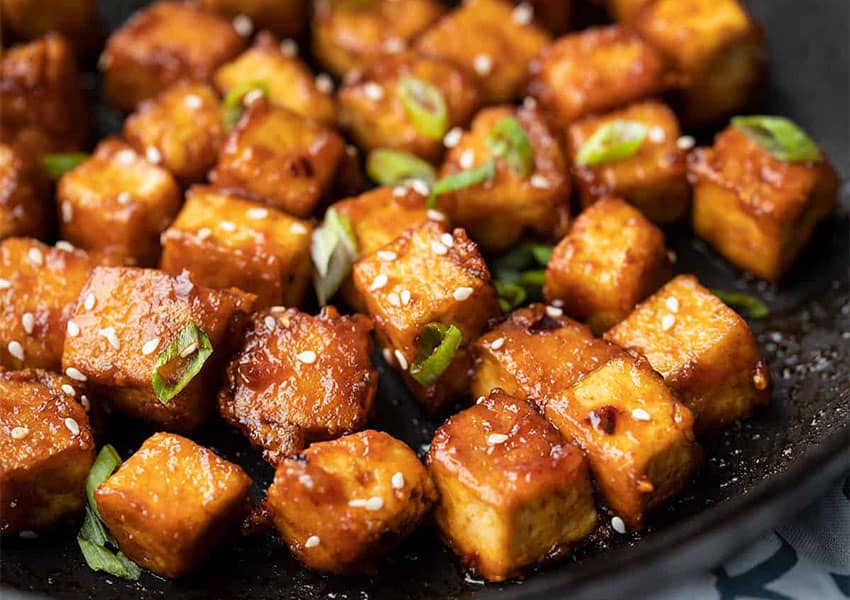 Honey-Sriracha Bites
Serve with rice, in a stir-fry or as part of an Asian-inspired filling for tacos, burritos or quesadillas.
14 oz. extra firm tofu 

2 Tbsp. sriracha 

2 Tbsp. honey 

2 tsp. soy sauce, divided 

¼ tsp. crushed red pepper 

2 Tbsp. cooking oil 

1 Tbsp. cornstarch 

2 green onions, sliced 
Drain and press tofu as described above. 
In small bowl, combine sriracha, honey, 1 tsp. soy sauce and red pepper. Set aside.
Cut pressed tofu into ½-inch cubes; pat dry. Whisk oil and 1 tsp. soy sauce in large bowl. Gently stir in cubed tofu until well coated. Gently stir 1 tsp. cornstarch into tofu. Repeat until all the cornstarch has been added.
In a nonstick skillet, set over medium heat, cook tofu about 10 minutes, stirring occasionally, until brown and crispy on all sides. Pour sauce over the tofu; stir and cook for 1–2 more minutes, until glaze is thick and sticky. 
Janet Blaser is the author of the best-selling book, Why We Left: An Anthology of American Women Expats, featured on CNBC and MarketWatch. She has lived in Mexico since 2006. You can find her on Facebook.