You can certainly find ethnic (non-Mexican) restaurants in Mexico City, but it is not accurate to compare them with the food scenes of places like New York, Sydney or London. 
Mexico's relationship with immigration and new foods is different. Perhaps the story of U.S.-style barbecue can shed some light on this.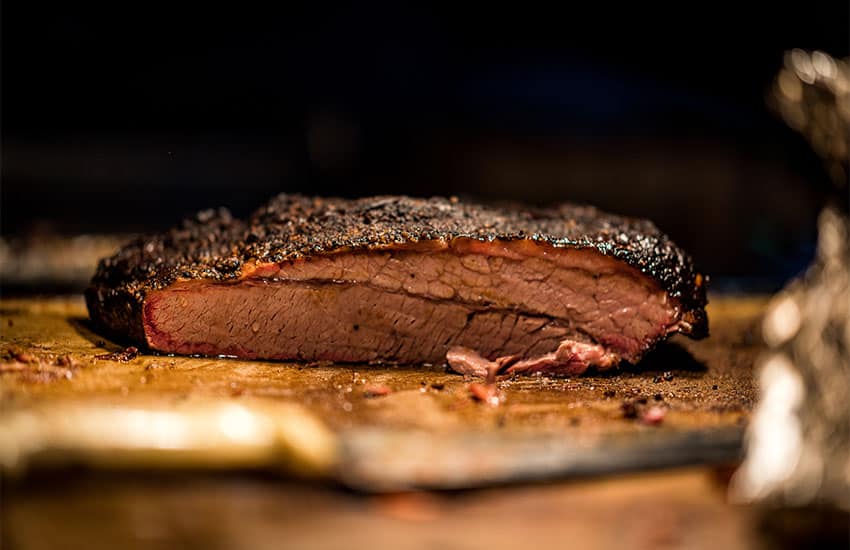 Its adoption should be a no-brainer. Robb Walsh, author on various books about Texas cuisine, notes that "Barbecue has always rambled back and forth across the Rio Grande with little regard for borders." 
Even the English word "barbecue" is related to the Spanish barbacoa.
Interestingly, the most active scene right now for barbecue is not in northern Mexico but rather Mexico City. 
Although there were earlier introductions, Mexico City's barbecue story really begins in 2013, with the opening of Pinche Gringo BBQ (PGBBQ), started by Dan Defossey and Roberto Luna as a couple of food trucks parked in the remains of a building in Colonia Navarte. 
Neither of them had experience in barbecue, nor did they do any serious marketing studies.
"For the first month that we started, I was literally standing on the corner, offering brisket samples to people that were walking down the street," Defossey says. 
However, the name was controversial, and the ensuing fight with city authorities gained the new business promotion, drawing crowds. 
Since then, the business has grown into a more upscale dining experience in two locations. 
PGBBQ's success quickly led to competitors, the largest of which is Porco Rosso, founded in 2015 by chef Bobby Graig and the Rigoletti Group. 
Porco Rosso's barbecue style is based on that of Kansas City. Today, it has six locations in Mexico City, with also one each in Puebla and in Pachuca. 
Despite its humble origins, barbecue is not poor man's food in Mexico City. Heavy on expensive pork and beef, sandwiches start at 200 pesos and full meals at 300. But most important is the recreation of a U.S. dining experience. 
Defossy describes going to PGBBQ "… like you're stepping into Texas or Tennessee…"  with rustic brick walls and wood furniture — absolute musts in all Mexico City barbecue joints.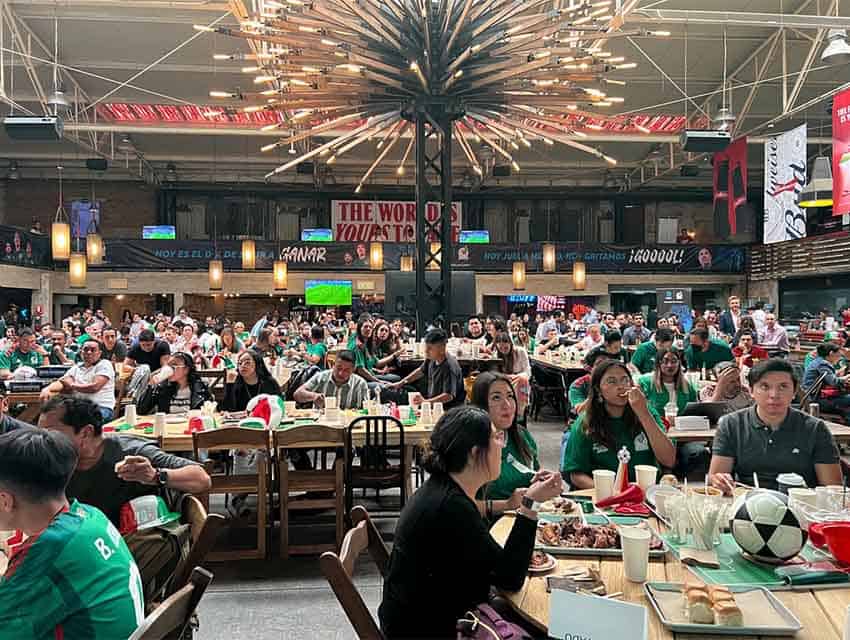 Ribs are the main (and most expensive) attraction, followed by brisket. Traditional sides are usually available, including sweet corn, mac and cheese and pinto beans with U.S. beers and even root beer and cream soda (still rare in Mexico City). 
Most barbecue restaurants host specials for U.S. holidays such as Thanksgiving, Fourth of July and the biggest, Super Bowl Sunday. Defossey is particularly proud of his Thanksgiving menu, noting that he can offer  "…Mexicans who would never be able in their life … to experience a real Thanksgiving…" 
Interestingly, most barbecue restaurant customers are not Americans or even foreigners but upper-class Mexicans who have either experienced it north of the border or have seen it in the media.
Defossy estimates that 60%–70% of his customers are Mexican, and the restaurant Smokes BBQ House in Mexico City's Del Valle neighborhood — a strip of Insurgentes Avenue that's known for its upscale and chain restaurants — estimates that Mexicans make up a whopping 95% of their clientele. This is true even for Super Bowl Sunday.
Pinche Gringo and Porco Rosso remain the favorites. Smaller joints have opened since then, but not all have made it. Almost all are located in upper-class neighborhoods.
Smokes owner Jorge Carlos' connection to barbecue comes through his work with American football, and he uses this sport's popularity with the same Mexican demographic to attract customers through specials related to U.S. football games (like playoffs) and football-themed decorations. 
Barbecue's popularity has led other restaurants like Galo Cervecero — a sports bar in the Condesa neighborhood — to put sandwiches and ribs on their menus. Some have opened restaurants outside of the upper-class neighborhoods but have a tougher time, both because of cost and because most ethnic food/new tastes find more acceptance among Mexicans with international experience.
Also, the foreigners who might appreciate the cuisine don't know how to find them.
For example, foreign resident Peter Boone Schwethelm calls Tini's BBQ restaurant "f*cking legit" south Texas style, but since they are located in Naucalpan, Mexico state, foreigners do not go there. 
A little more central is La Obrera Grill, located just south of Mexico City's historic center. It is run by a local Mexican family with long grilling experience who actually learned about U.S. barbecue from other restaurants in the city. 
Some restaurants make it by offering a wide menu only tangentially related to barbecue. Ahumados Pelican  is located in the gentrifying Santa María la Ribera neighborhood, but it offers Korean barbecue and more. 
Even those who have success as a U.S. barbecue joint need to walk a fine line between authenticity and innovation because of the market they serve. U.S. smokers are proudly on display. Pinche Gringo's location in Polanco features large windows onto the area where the cooking is done.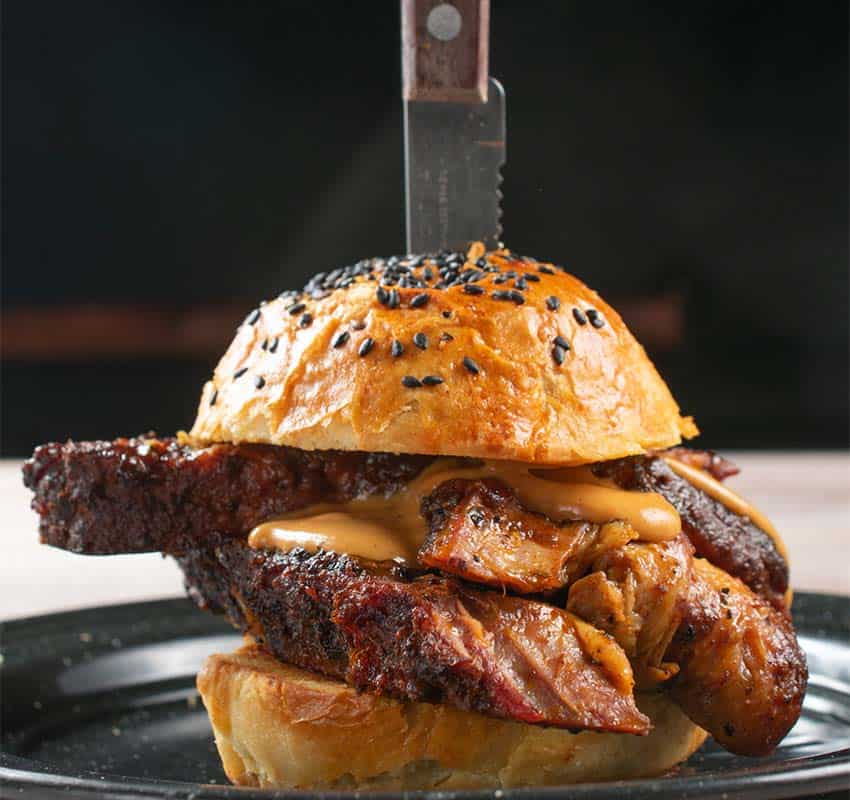 But there is pressure to make changes. 
"While there are places in Texas that have been making their barbecue exactly the same way for 80 years … the market here is different," Carlos says. "[We] don't understand barbecue the same way. I get requests to add things to the menu or to make new versions of our staples, often adding condiments like sauces, although they are not used widely in authentic Texas barbecue." 
Porco Rosso has played extensively with its menu, even introducing a vegan burger in 2021. 
This may not be absolutely inauthentic. 
"… Texas barbecue may be catching on in [Mexico City], the hot new trend in Houston is Tex-Mex barbecue with fusion dishes like brisket tacos…" 
However, those looking for exactly what they could get in the States may be disappointed. Ethnic restaurants here in Mexico City mostly cater to a certain socioeconomic demographic rather than to recent immigrants and a culture accustomed to new flavors. This is true even for U.S. cuisine, despite the fact that plenty of Americans live here.
Leigh Thelmadatter arrived in Mexico over 20 years ago and fell in love with the land and the culture in particular its handcrafts and art. She is the author of Mexican Cartonería: Paper, Paste and Fiesta (Schiffer 2019). Her culture column appears regularly on Mexico News Daily.