This past September saw the runway debut of CDMX-born fashion brand, Tanamachi. Hosted by the Echo Experimental Museum in the Colonia Cuauhtémoc of Mexico City, around 200 people attended the avant-garde event produced by the cultural agency Momo Room. 
The long-awaited show lasted around twenty minutes, featuring fifteen models wearing 30 different looks; each one dressed from head to toe in makeup, jewelry, clothing, and allure.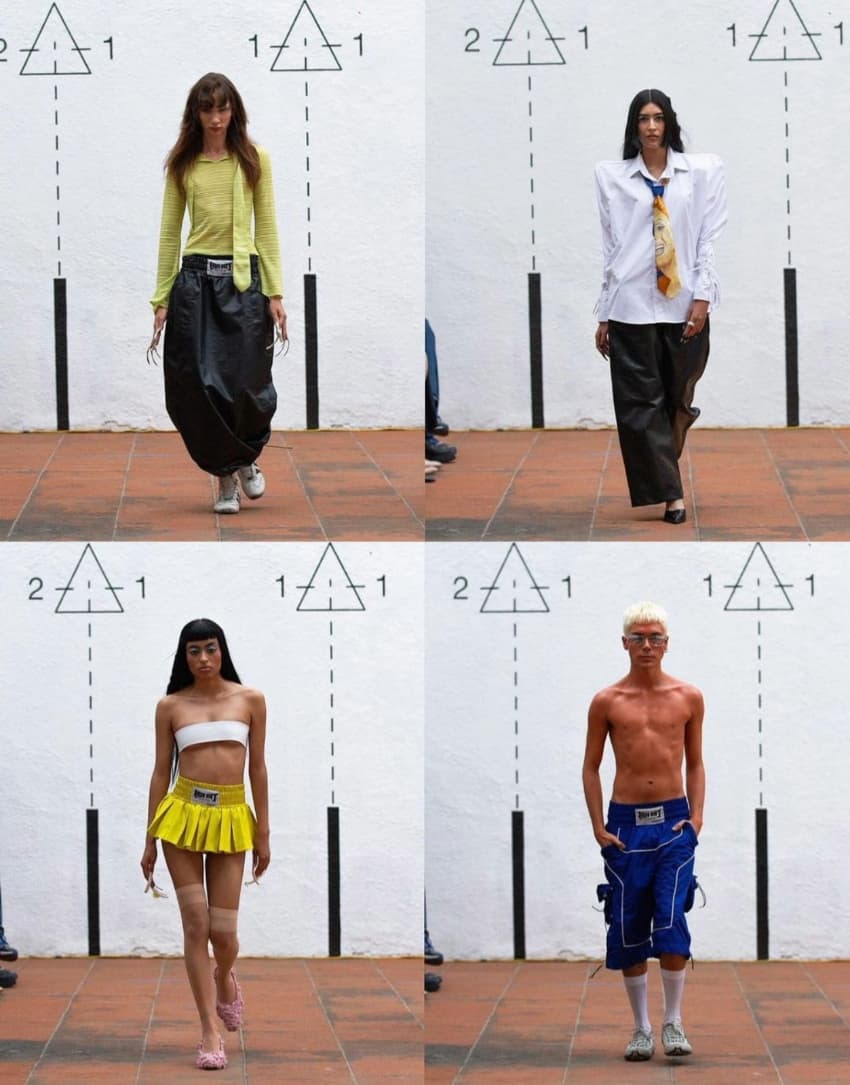 Most of the pieces were created from scratch specifically for the show and were brought to life by the models with a fierce and magnetic intentionality. Dresses, shorts, pants, shoes, skirts, tops, coats, boots – all were curated to the viewer's pleasure, and in a wide variety of colors and fabrics. 
The History of Tanamachi
September's show represented a new beginning for Tanamachi founders Toshiharu Tanamachi and Mauricio López. In an interview with Mexico News Daily after the show, Tanamachi and López brought some contextual light to the catwalk. 
The brand started its journey in 2018 when Creative Director Toshiharu Tanamachi felt tired of the monotony in men's clothing. "Traditional men's clothing has been basically the same for three hundred years: a suit coat and pants. (…) There are a thousand variations of a suit coat and pants, but they are still the same pieces from three hundred years ago," said Toshiharu. His idea is that clothing has no gender, and at the end of the day, clothes are clothes, worn by whoever wants to wear them. 
In the beginning, Toshiharu was more fixated on men's suits, only working on tailored suits and doing general tailoring services. He would add interesting and different touches to his pieces and used only fabric remnants that he found in downtown Mexico City. "Sometimes we found ten meters of one fabric, sometimes twenty," he said, meaning that sometimes, Toshiharu had to use more than one fabric on a piece depending on how many scraps he had. 
When the pandemic slowed down the world of fashion and the demand for tailored suits, Toshiharu met Mauricio López, who joined the brand as Production Director and, as Toshiharu puts it, did a 180° flip on his business vision. Together, the two realized that if they incorporated ready-to-wear pieces into their tailor-made business model, they would have better access to the fashion market and would be able to explore and create more. 
"The vision for Tanamachi has always been good, before and after my involvement. … It has always been a very elegant [style of] tailoring that converges with functionality… [and] modern aesthetics," said Mauricio. 
Now, the team makes tailored pieces, like the ones presented at the fashion show, as well as ready-to-wear items. They are also putting a deeper focus on daily wear, as opposed to pieces that will be worn once a year at an elegant event and suspended in time inside a closet for the rest of the year.
"We also want to make clothes that are functional, that tell a story but that you can also use every day," Toshiharu said. "We are believers that clothes go further and deeper than something you simply put on. [Clothing] is a way of communicating and can do everything from transmitting emotions to reflecting societal problems of a particular moment in time."
Backstage: The Fashion Show Story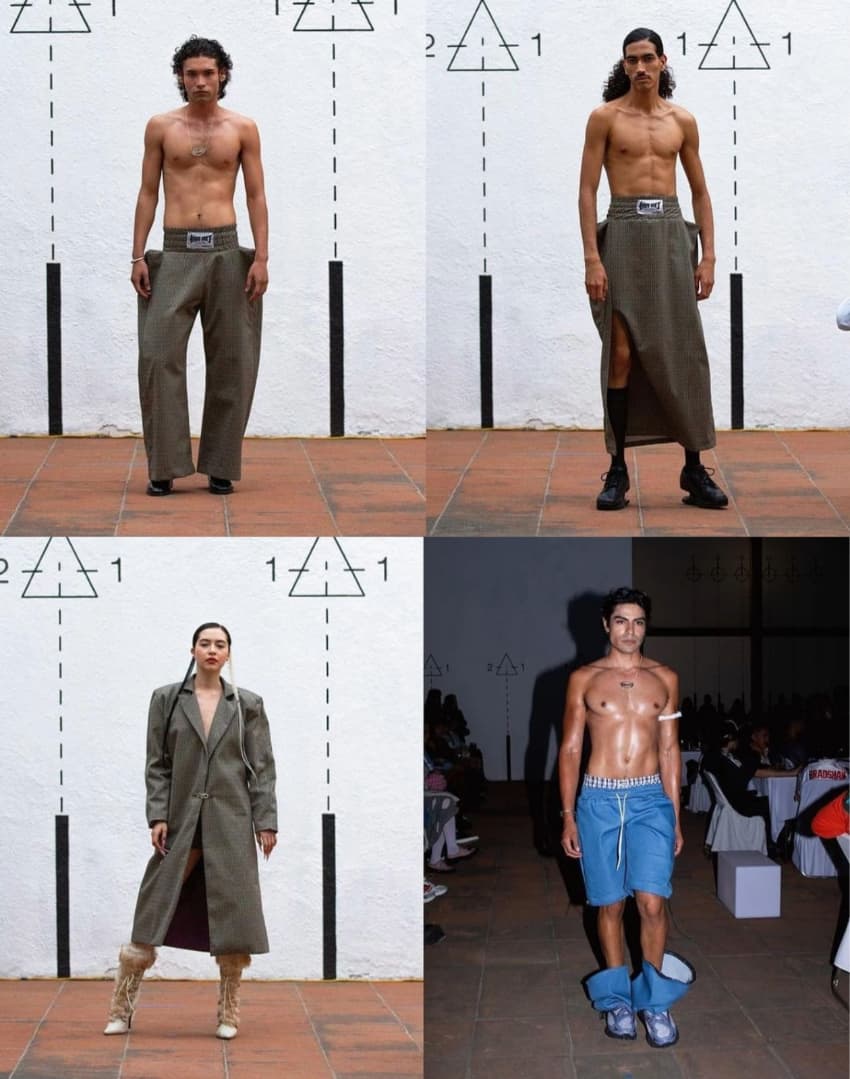 What story were Tanamachi's clothes conveying at the fashion show? Put simply, the story of who they are: two gay men living in Mexico City, capital of a cosmopolitan country that has it all, despite remaining largely conservative. 
Their inspiration comes first and foremost from the city, which is, according to Toshiharu and Mauricio, "an oasis of openness." "We don't get inspired by, I don't know, French rococo in the sixteenth century," said Toshiharu, jokingly. "We try to find inspiration in what is real, what surrounds us." 
Not that it's wrong to look far for inspiration. But at Tanamachi, the creators cherish the rawness of the reality they live in, for good or bad. "That's what we try to talk about," Toshiharu continued, "the vices and virtues of Mexico City today."
In our interview, Toshiharu and Mauricio shared insight on the research they did before their most recent show. In the 1950s, Mexican-German artist Mathias Goeritz designed the space that now harbors the "Echo Museum," creating it to be a platform for art without precedent in the Mexican and international context. The space has served many purposes, functioning as a nightclub, a site for political get-togethers, an experimental museum, and a restaurant.
As they continued their research, Toshiharu and Mauricio found that Goeritz and the architect Luis Barragán had a secret relationship. The restaurant at the Echo is where they would hang out, a place considered a hub for the queer community in the 50's.
"We found a quote from Diego Rivera, where he says in a derogatory way: 'The Echo is just a space for the capital's homosexuals to parade the runway.' And we were like, wow! That's literally what we are going to do," they recounted excitedly. 
Tanamachi chose to illuminate the rooms of the Echo with a touch of its former glory, setting the former scene of the once highly-coveted gay restaurant. 
Throughout the space, they placed multiple rectangular tables, set to look like they had been dined at: sets of plates, glasses of wine and whiskey with lipstick smears, ashtrays with fake cigarette butts, and cloth napkins embroidered with Tanamachi's slogan: "Appearances are worth more than virtues (Más valen las apariencias que las virtudes)." The runway surrounded these tables, giving the lucky guests sitting at them a close-up look at the models. 
Accessibility
Since the Echo Experimental Museum is owned by The National Autonomous University of Mexico (UNAM), the show was free and open to the public.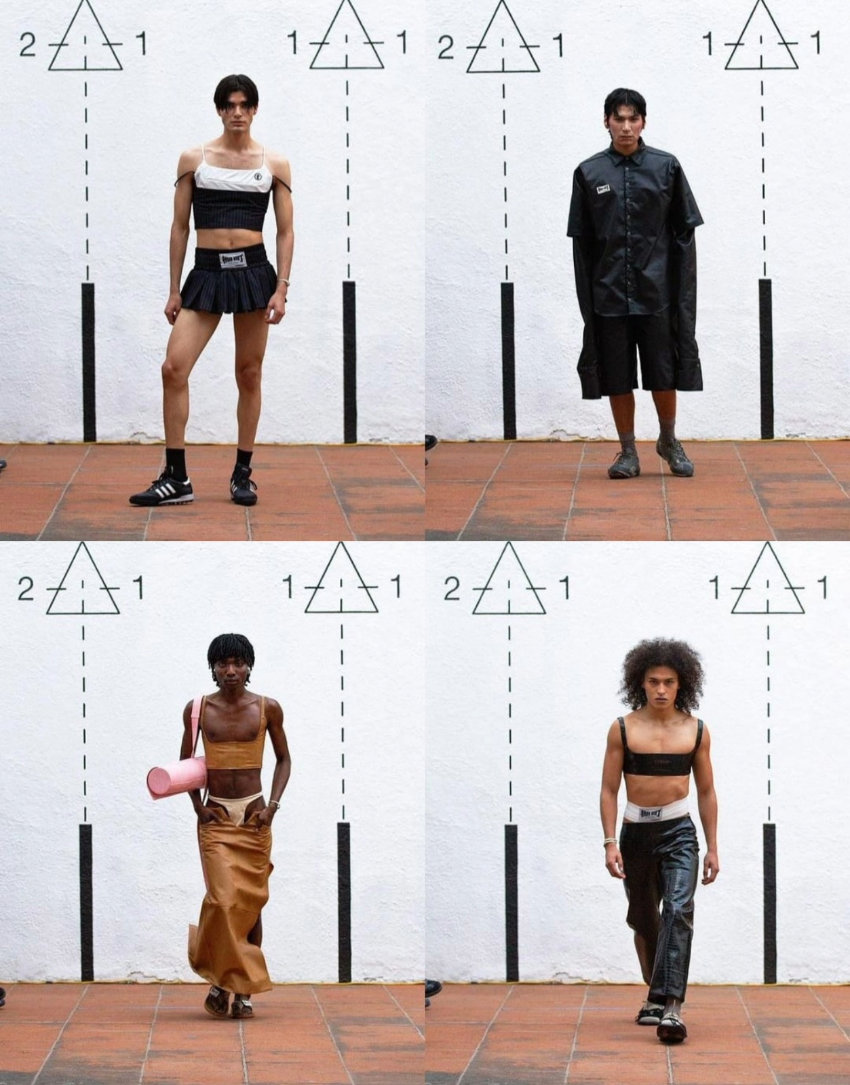 One of Tanamachi's values is making fashion more accessible. They opened registration more than a week before the event, hoping to give anyone interested a chance to attend. "We want to break the stigma, the structure, the elitism and classism that exists in the fashion world. We never wanted to do a runway where we'd only invite the influencers and the somethings-or-others," said Mauricio. 
Next to granting access to the public, Toshiharu and Mauricio prioritize accessibility in two other areas. First, in their disregard for gender – Tanamachi clothes don't have one. They are for whoever wants to wear them, no matter their gender identity.
Second, the brand offers accessibility in the functionality and durability of their clothing. "You can buy a pair of pants for 3,000 pesos. But for example, our pantashort can be a perfect pair of pants, and a perfect pair of shorts at the same time. Or it can be a hybrid. You can style it based on your creativity," explained Mauricio. 
Thanks to that versatility, the lifespan of a Tanamachi piece of clothing is longer than that of any other piece in your closet. Additionally, the high-quality materials they use make that same piece of clothing more durable.
Appearances are worth more than virtues
"Appearances are worth more than virtues" is what Mauricio and Toshiharu suggest in their fall-winter 2023 collection. "Sometimes, if you dress well, whatever your sense of elegance may be, and whatever your sense of quality, you feel better. Your day changes, the way you face your daily responsibilities changes," Mauricio explains.
The pair is looking to restore the romance and fantasy that once surrounded not only clothing but the clothing industry in Mexico. "A little of what we want to do and we're finding it difficult, is to professionalize fashion as an industry [in Mexico]. For it to be taken seriously. So that we can create not only a 'cool brand in La Roma,' but a formal company that can generate jobs," Toshiharu explained. 
"We want to give dignity to the industry," added Mauricio. "Believe it or not, this industry gave us many jobs for a long time. … Now it is somewhat punished. [In the past,] it went really well for us, then really bad, and when it went really bad, the dignity of sewing, designing, creating, was completely lost." 
Among their hopes and dreams for the future is their commitment to remain in Mexico City. The world has its eyes on the city, where there is a constant influx of interested and excited people arriving. "It is a big moment for queer culture and culture in general," says Toshiharu. 
Similarly to the '50s, when Barragán and Goeritz found themselves succeeding the likes of Frida Kahlo, Diego Rivera and David Alfaro Siqueiros, Tanamachi finds itself at the crossroads of the past, present and future of fashion – ready for what's to come. 
__
To explore and purchase Tanamachi's creations, visit:
www.tanamachi.shop

-, worldwide shipping

Instagram, @tanamachi__, where you can reach Tanamachi by DM 

physical stores: 

ppaayyss, Juárez, CDMX

Stendhal, Polanco, CDMX

Rumor, Condesa, CDMX

Totem, (formerly in LA) New York, NY