Central Mexico has a lot going on right now. There is business boom in Querétaro. San Miguel de Allende is experiencing a culinary awakening. And the entire region is part of a wine renaissance.
The last 13 years or so have seen vineyard after vineyard pop up in what is commonly called Mexico's breadbasket, El Bajío.
Incorporating parts of Guanajuato, Querétaro, Jalisco, Zacatecas, San Luis Potosí and Aguascalientes, the region actually has a long history of winemaking. Guanajuato state is reported to have been the first place in the Americas were wine grapes were grown, particularly encouraged by priest, winemaker and revolutionary Miguel Hidalgo.
One of the very reasons that Mexican independence fighters were so up in arms (high taxes and various commercial prohibitions by the Spanish crown in regards to Mexico and Mexican criollos) was related to the country's nascent wine industry at the time. Hidalgo did not like to be told what to do with his wine.
But after independence it wasn't really until 2005 that this microclimate in the center of the country, unique in its capacity for nuanced wine making, once again saw grape vines buried in its semi-desert soils. Pioneers of that movement were Juan Manchón and Ricardo Vega of the brand Cuna de Tierra; since their success, dozens have followed.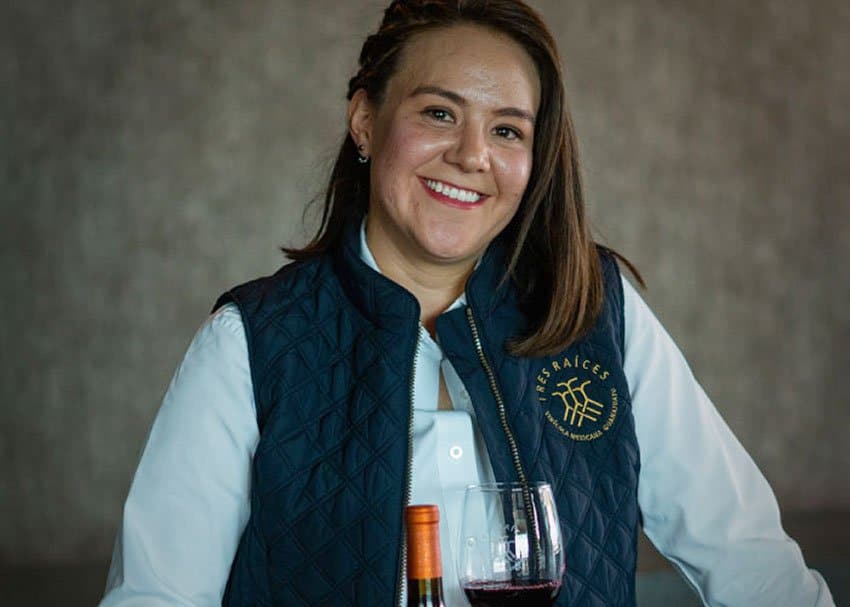 San Miguel would seem ripe to become the next mini-Napa Valley. With lots of money flowing into what was once a quaint Mexican backwater, the town has exploded with gourmet restaurants, high-end boutique hotels and a mix of culture and art that attracts a substantial expat population and streams of national tourists.
Just outside of town several of the region's winemakers have decided to set up shop. One of them is the Tres Raíces project, opened this past August on the road between Dolores Hidalgo and San Miguel. As you approach the turnoff in the road, there is just a simple sign, almost hidden, that says Tres Raíces.
Springing from the middle of agricultural fields, a long stone fence is punctuated with massive iron doors, already starting to display a little desert rust, which makes them all the more charming. Entering the vineyard there are grape vines to every side of you and a grand stone step entrance that leads you into the main building and restaurant.
The vibe is Argentina hacienda — leather couches, massive carved wooden doors, fireplaces, and a state-of-the-art fermenting room that is part of the public tour available to visitors. There is also an outdoor terrace, a wine-tasting bar, a grand meeting room and a private drinking den built for the project's partners (three businessmen from Tamaulipas).
Tres Raíces has been producing wine with Chihuahua grapes for the past three years while watching its own 23 hectares blossom into fully grown vines. The master of the wine cellar is 29-year-old Alejandra Cordero, a passionate winemaker who is already revealing shades of a future master.
Cordero comes from Chihuahua and has logged in a lot of years working in wineries despite her age. She studied biochemical engineering and while she has a scientist's precision in her calculations, she's also aware of the sensorial subtleties that go into every drop of wine she makes.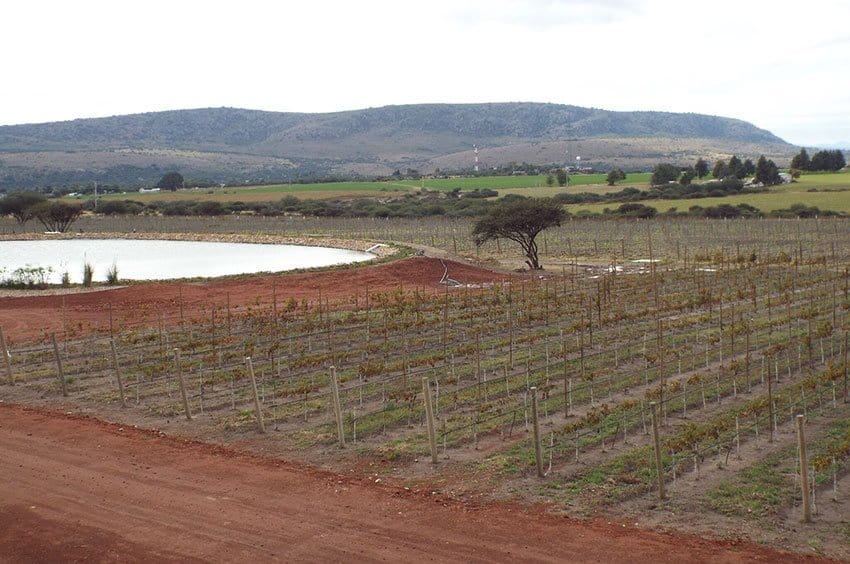 "Every glass of wine is a moment that you are sharing with someone. It's an entire year, maybe several years, of life distilled down to a single sip," she says dreamily.
At the moment Tres Raíces is offering a merlot (with a hint of pepper and black current), a cabernet sauvignon (smooth and elegant with a touch of oak), a rosé (made with syrah grapes, fruity and light), a syrah (intensely aromatic, great for seafood), and a sauvignon blanc (buttery and dense). Their wines are only for sale at the winery and make a tempting reason to visit.
[wpgmza id="116″]
The vineyard's international cuisine restaurant (with great views of the vineyard) is open to the public from Thursday to Sunday, but yet to come is the boutique hotel that will be hosted on Tres Raíces' grounds, in the middle of the vineyard and with a orientation that will catch the early-morning fog as it drapes over nearby hills and the Guanajuato sunset.
The hotel will consist of seven king-sized singles, four queen doubles and a master suite with two bedrooms and space for six. Also under construction is a small spa where you can get a wine-based beauty treatments, all the rage right now.
While you may think another fancy winery with another another boutique hotel is no big deal, we beg you to give it a second glance. Try the wines before making up your mind. With Cordero at the helm this vineyard is guaranteed to glitter beyond the crystal stemware and morning dew on the vines.
Lydia Carey is a freelance writer based in Mexico City.