How many Mexican states have you been to? Five? 10? 15?
Two long-term Mexico residents originally from the United States have checked off all 32 federal entities – not in a lifetime of travel, but during a single 10,415-kilometer-long road trip they completed earlier this year.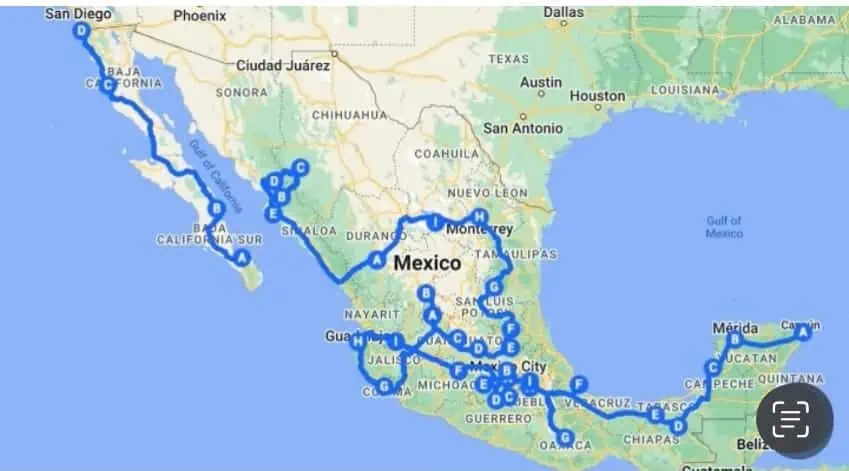 Beginning in Mexico's "far east" and finishing in the country's northwest corner, Todd Nevins and Tom Williams traversed Mexico in just 38 days, spending at least one night in each state and the capital during an adventure they dubbed Mexplore32: The Ultimate Road Trip Across Mexico.
The ancient Maya city of Palenque in Chiapas, a pulque hacienda in Tlaxcala, Edward James' surreal sculpture gardens in San Luis Potosí, the Tamaulipas pueblo mágico of Tula and the beach town of Sayulita in Nayarit are just some of the places the pair visited during five and a half weeks of fun.
As they traveled, Nevins and Williams posted snippets of their experience to Instagram and TikTok, giving followers a virtual seat in their vehicle as they explored each and every state that together make up the country officially known as the Estados Unidos Mexicanos, or United Mexican States.
I recently caught up with them via email to find out a bit more about their trip.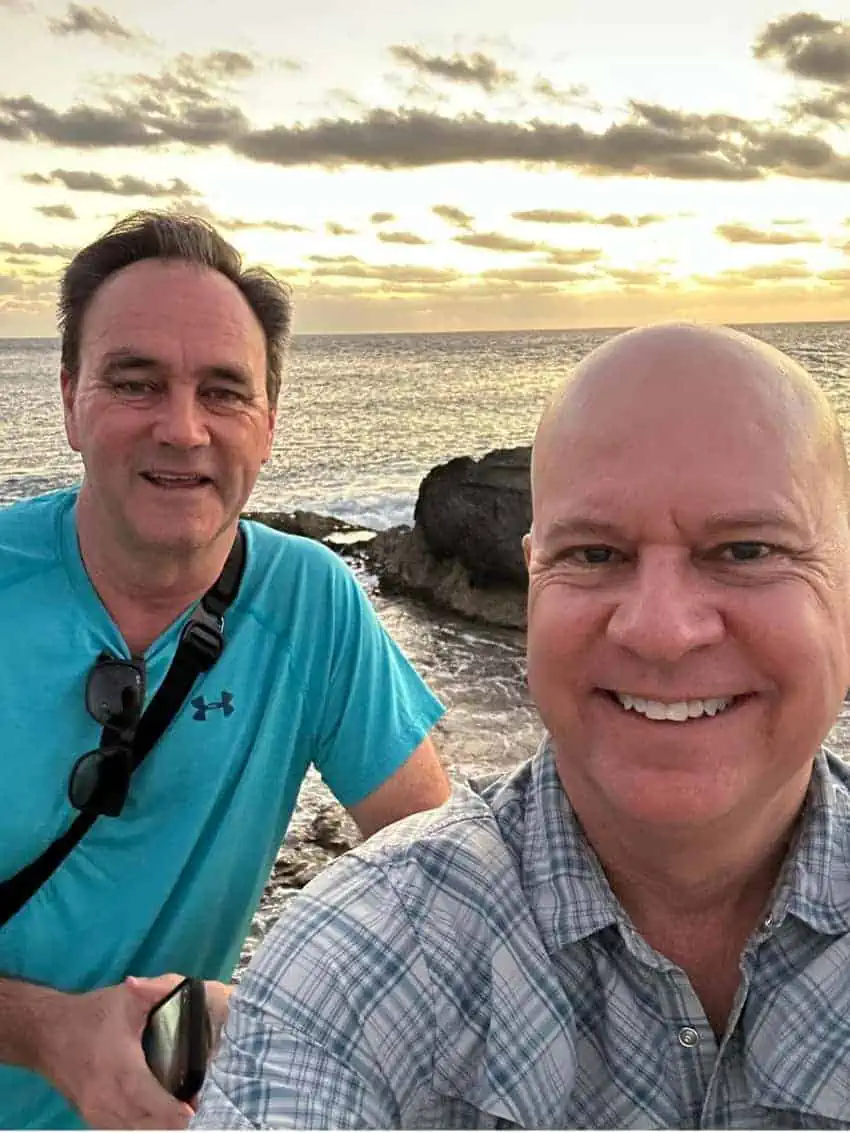 Peter Davies:
Hi Todd and Tom, thanks for speaking to Mexico News Daily. Can you tell us a little bit about yourselves and the inspiration for your road trip to all 32 federal entities (31 states and Mexico City) of Mexico?
Todd Nevins:
I live in Mexico City with my wife and our dog Santo. We previously lived in Mérida for five years and have lived in Mexico for over 10.  I run a Google Ads marketing agency, which luckily can be run from anywhere, including the front seat of Tom's SUV for 38 straight days.
For me, the inspiration for the trip started with Tom saying during COVID lockdown, "I have an idea for a trip and you are the only one dumb enough to do it with me."
I was immediately in – then asked where we were going.
Tom Williams:
I live in Mérida with my wife Julissa and our two dogs Luz and Sombra. I'm co-owner of a small hotel in Mérida, Hotel Luz en Yucatán, which I bought with a friend in 2006. I was a tour manager in North America for 16 years – the first six years leading adventure camping tours, which is where my love of road trips began.
I have always liked big trips and part of the fun is the planning and research that goes into them. I recently did one of my biggest, "50 adventures for my 50th birthday," in which we visited over 20 countries and all seven continents over six months to celebrate my 50th!
My inspiration for Mexplore32 came during the pandemic, sitting on the couch thinking, 'Hmm.. Isla Mujeres is the furthest east in Mexico, where is the furthest west? Tijuana!'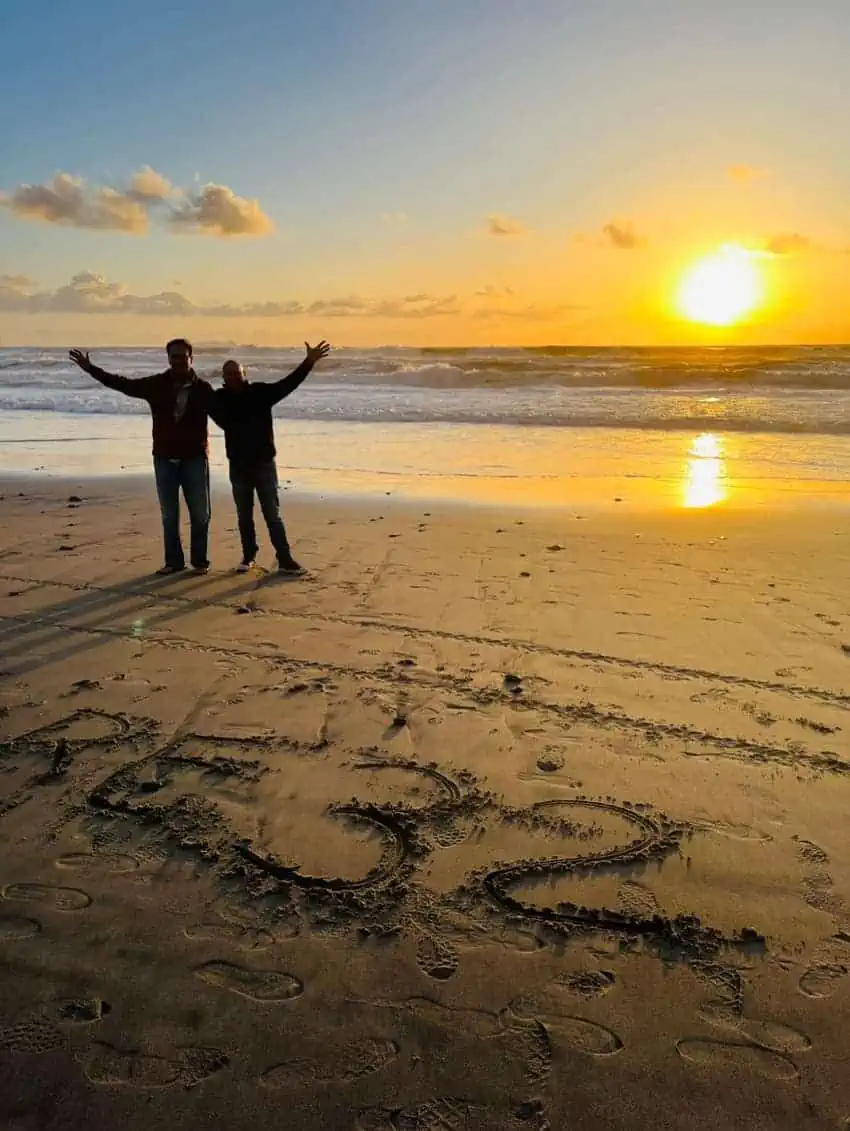 That led to: 'it would be fun to road trip from sunrise to sunset and why not visit all 32 states on the way!'
The idea was one day in each state, but we finally added a few extra days to make sure we didn't miss out seeing the sights in Baja California and the Copper Canyon.
PD:
You started your trip in Mexico's easternmost state, Quintana Roo, and finished in Tijuana, in the country's northwest. What was the route you took between those points and how did you decide it?
TW:
Once the concept of going from sunrise to sunset and visiting all 32 states was born it became an exercise in planning a route that made it to each state with time to visit things along the way and enjoy the typical local food and drinks of each one.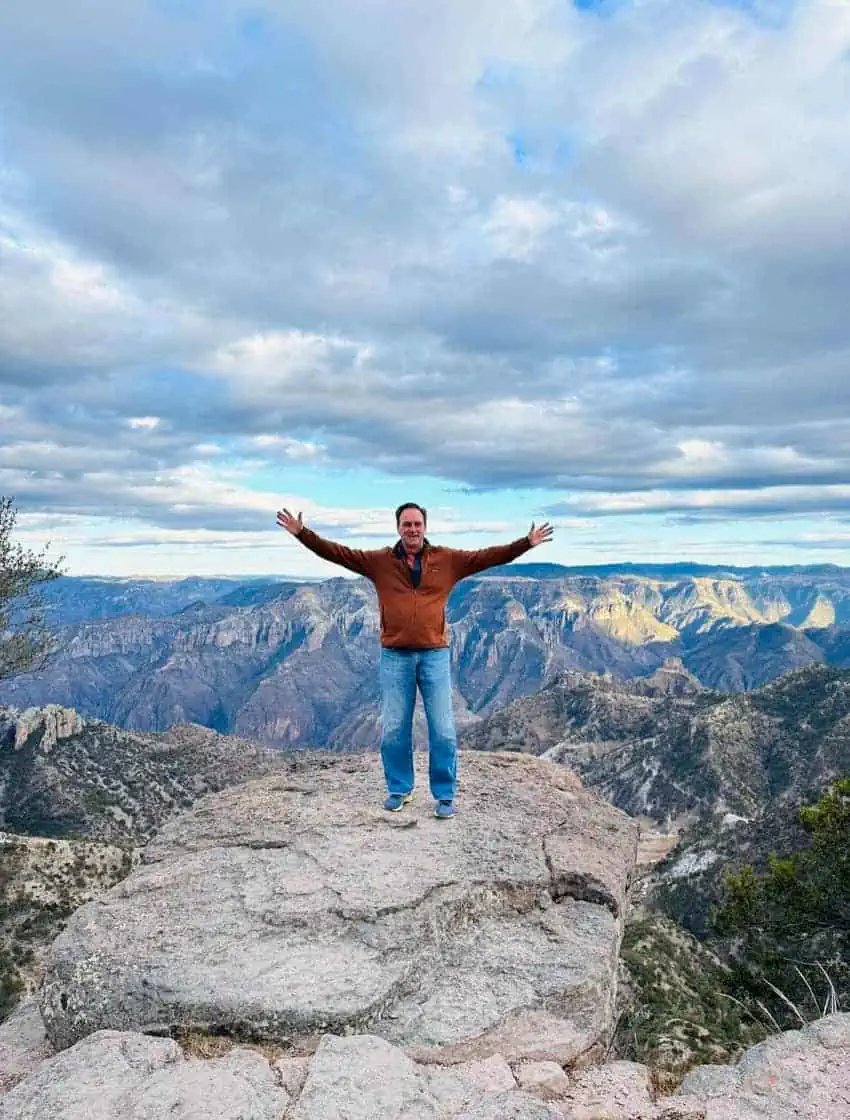 After 16 years of leading and planning tours, this is a part I really enjoy. It was a matter of using Google maps and a notepad and writing out itineraries, researching what to do in each place and fine tuning as you go.
It also takes a lot of research to figure out the timing: When is the train running? Ferry?  Lucha Libre days? Is that cantina open on a Monday?
PD:
There was obviously a lot of driving involved, but you also took the time to experience something unique in each of the states you visited.
What were some of the highlights and/or most memorable experiences of your trip?
TN:
There WAS a lot of driving and Tom drove all 6,471 miles! One of my trip missions was to show people that Mexico isn't just beaches and all-inclusive resorts so we published a video each day on our Instagram channel to showcase each state and the highlights of the trip.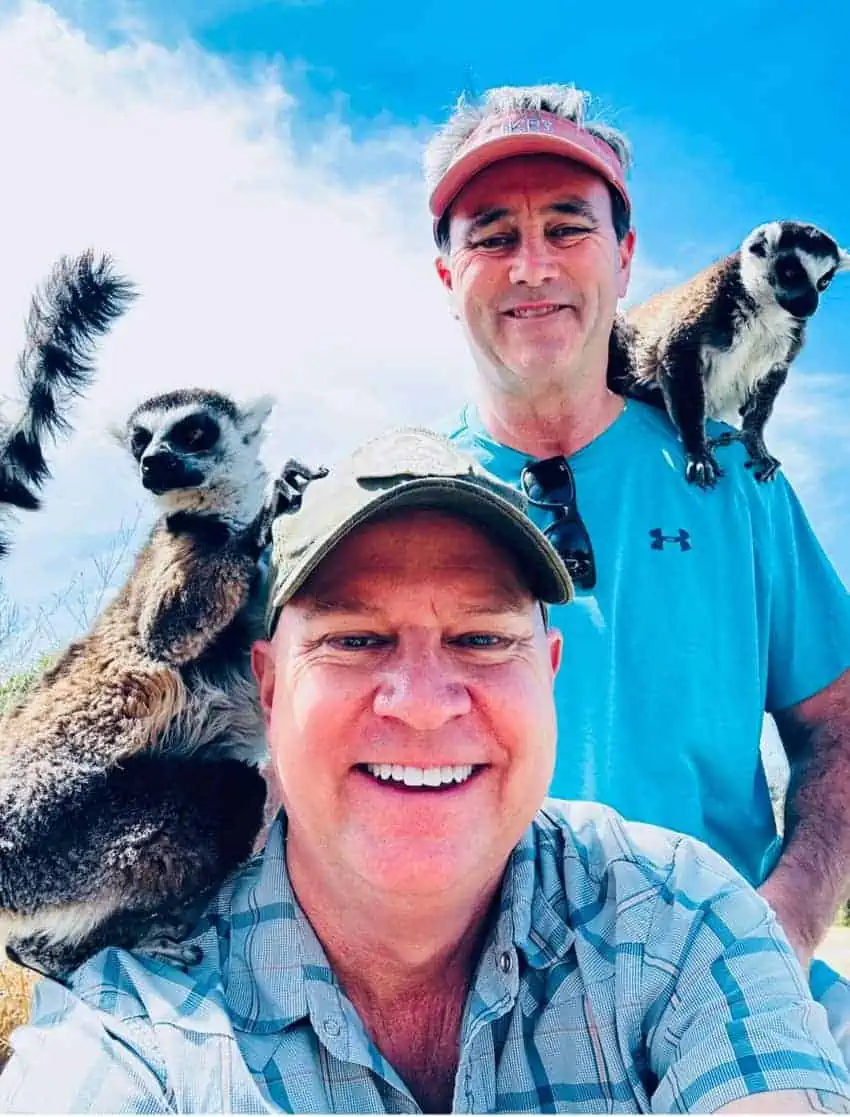 The video of the 5 Most Unforgettable Experiences in Mexico show a few of our favorites.
Africam Safari, Puebla City, Puebla – yes, there is an African safari in Mexico and it happens to be in one of our favorite cities.
El Chepe Train, Copper Canyon, Chihuahua – the canyon was picturesque and well worth the effort to get there.
Gray Whales, Puerto Chale, Baja California Sur – we caught the tail end of their migration and jumped in a 20-foot boat to see 50-foot whales.
Tamul Waterfalls, San Luis Potosí – by far the toughest spot to reach, but after a pothole filled, bumpy 2 hour drive and another 30 minute hike we reached these 300-foot beasts.
Monarch Butterfly Sanctuary "El Rosario", Michoacán – these beauties nest in the mountains from November to March and we were surrounded by them fluttering around us.
TW:
Some of the best experiences were meeting all the different people along the way and enjoying the typical food and drink from each state – spending the afternoon drinking with new friends in a cantina in Taxco, learning the process of making pulque in Tlaxcala, a late night tlayuda after an evening of mezcal tasting [in Oaxaca], getting the cemita girls in the market in Cholula to follow us on Instagram!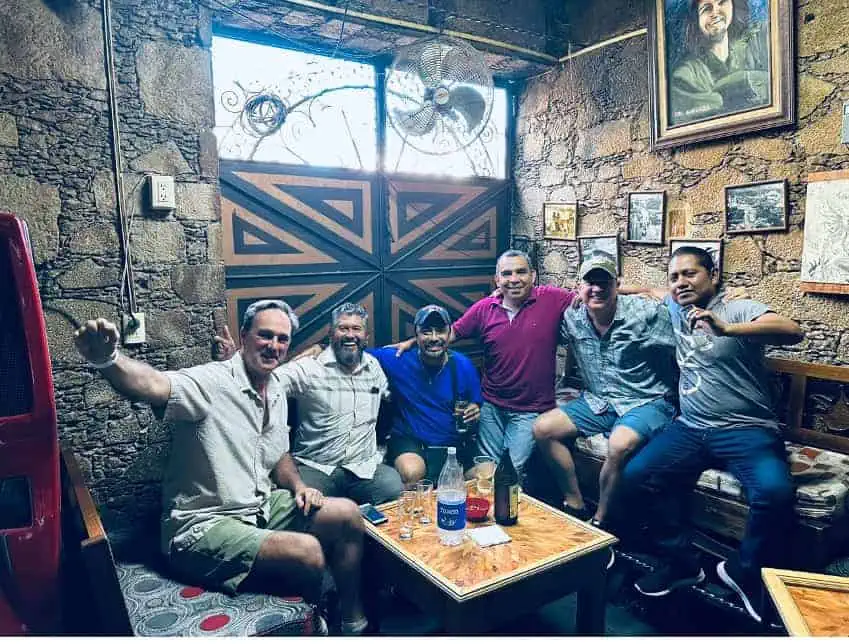 You can plan the trip, but you can't plan the people you meet along the way.
PD:
I saw on Instagram that you were stranded for a period in the Barranca del Cobre (Copper Canyon) area of Chihuahua after leaving your vehicle in Sinaloa to travel on the El Chepe train.
What happened? And can you tell us about some of the other challenges you faced?
TW:
We weren't actually "stranded" in the Copper Canyon – the train got canceled and we couldn't take the chance of it not running the next day. We had to make it back to get the car to catch the Baja Ferry on time, so we quickly improvised.
TN:
Of all the planned stops, I was most excited to see Copper Canyon, however…
We left the SUV in El Fuerte, Sinaloa, and hopped on the El Chepe train. We took it 6 hours up into the canyon and planned on staying two nights in Divisadero, which gave us one full day to take the second longest zip line in the world across the canyon, do some hiking and enjoy the views. The weather had different plans.
The first night and morning were great, but then the rain and clouds blew in, halting our adventures. The next morning we planned on taking the train back to El Fuerte to get our car, but we were told that a rock slide over the tracks happened overnight and the train was cancelled, possibly for a few days.
We had a lot of intricate travel plans ahead in the next two to three days and this was a massive problem.
The closest city was Chihuahua, Chihuahua – a seven-hour bus ride away in the wrong direction, but at least it had an airport which gave us options. This is when a stranger overheard our conversation and offered to drive us directly to the Chihuahua airport. Getting there in his car would only take four hours, which bought us the time we needed.
We took a flight from Chihuahua to Guadalajara, stayed at an airport hotel, caught a 6 a.m. flight to Los Mochis, took a cab two hours to the SUV in El Fuerte and then drove three hours to Topolobampo to catch the ferry just in time.
This experience encapsulated the entire trip. When we were in a bind, a stranger appeared to help us on our way. It happened multiple times and continued to prove the point that "strangers are just friends that you haven't met yet."
TW:
Todd also likes to say that we "ran out of gas" in Baja, but technically we were just on empty and when we pulled into the Pemex, it was abandoned. Luckily a nice person was selling expensive gas nearby! ¡No hay problema!
Overall, road tripping is a lot easier than the old days with a Guía Roji (Mexico Road Atlas) in hand, and gas stations few and far in between. Driving during the day and utilizing toll roads and Google maps makes it faster and safer, but maybe a little less adventurous.
PD:
You're both long-term Mexico residents. In what ways did the trip broaden your knowledge and understanding of your adopted country?
TN:
The people that we met along the way made an unforgettable impact. Once they got over the disbelief that two guys from the U.S. were undertaking such a road trip, they were proud to show us their city, graciously shared the food and drinks that their area was known for and gave us insider tips on the coolest sights around.
Also, I can now put the Mexico puzzle map of the states together in under three minutes!
TW:
It confirmed my love of a country I have lived in for 16 years and have been visiting since my first international trip after high school almost 40 years ago!
It was a great way to share our experiences and showcase the real Mexico. We were able to meet and talk with so many amazing people, visit new places, try new food and drinks and realize we have just scratched the surface of this culturally rich and diverse country.
PD:
What advice would you give to someone thinking of undertaking a similar trip through Mexico? And, finally, do you have any plans for any other ambitious travel or projects?
TW:
My advice for someone looking to take a similar trip or any trip in Mexico is: Do it.
If you haven't had some experience in Mexico you might want to start on a shorter road trip around southern Baja or the Yucatán Peninsula or stay in a resort area like the Mayan Riviera or Puerto Vallarta and rent a car to do a few day trips and work your way up to an epic road trip someday.
The next trip for Mexplore32 is a more in-depth exploration of the Yucatán Peninsula, a two-week road trip starting in Mérida at my hotel, Luz en Yucatán and visiting beaches, Mayan ruins, colonial cities, haciendas and cenotes, and highlighting the amazing Yucatecan cuisine.
Also, we have another Mexplore32 in mind, visiting all 32 states again, but completely different places! Mexplore32 "Off the beaten path!" Stay tuned.
TN:
Thank you, Mexico. You are beautiful.
Check out the Mexplore32 Instagram and TikTok accounts to see more photos and videos from The Ultimate Road Trip Across Mexico.   
This interview is the third in a series called "The Saturday Six": six-question interviews published in Saturday editions of Mexico News Daily. Read the first two interviews in the series here and here.