It was a simple project, I thought: renovating a cat-scratching post made by a handy friend some years ago. My two cats had made much use of it, and the hemp rope needed to be replaced. An easy Saturday project, I thought. 
Ever the optimist, I headed off to what I think of as my neighborhood hardware store. I've since learned that this kind of shop is actually called a tlapalería; more about that later.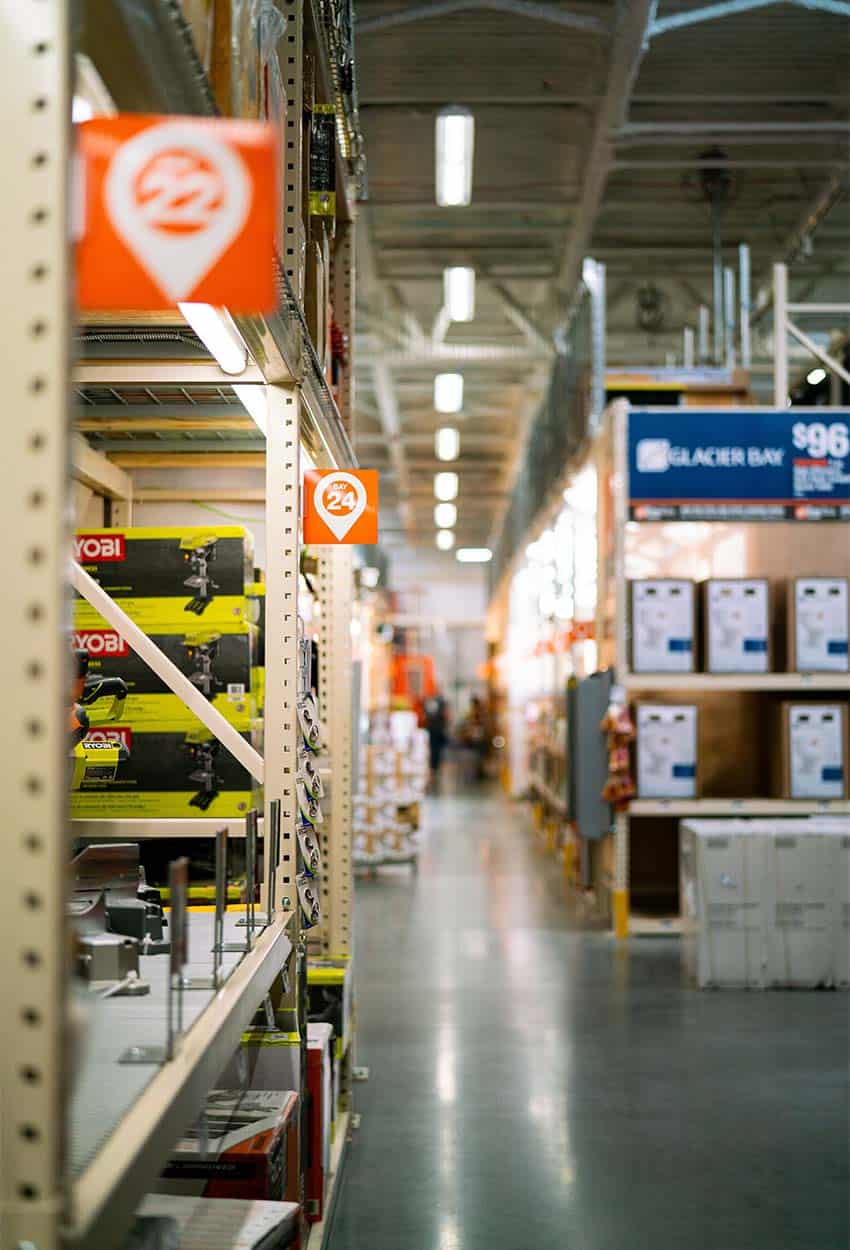 Sure enough, in the back of the store were spools of different thicknesses of hemp rope. A salesman had spotted me as soon as I walked in and followed me to what is probably an unlikely area of the store for a gringa to be by herself. I confidently pointed to the rope I wanted and told him — also confidently — diez metros, or 10 meters. 
Well.
Little did I know that hemp rope is sold by weight, not length, weighed on an old-fashioned scale hanging from the ceiling. 
So, how much did I need? One of those funny foreigner-local exchanges ensued, with lots of hand gestures, laughing and shrugging of our respective shoulders. We eventually figured it out, and while I've forgotten what the final weight was of my 10 meters of ½-inch thick hemp rope, I wouldn't be surprised if, when I go back next year to replace the rope again, the same employee is still working there and remembers how much I bought.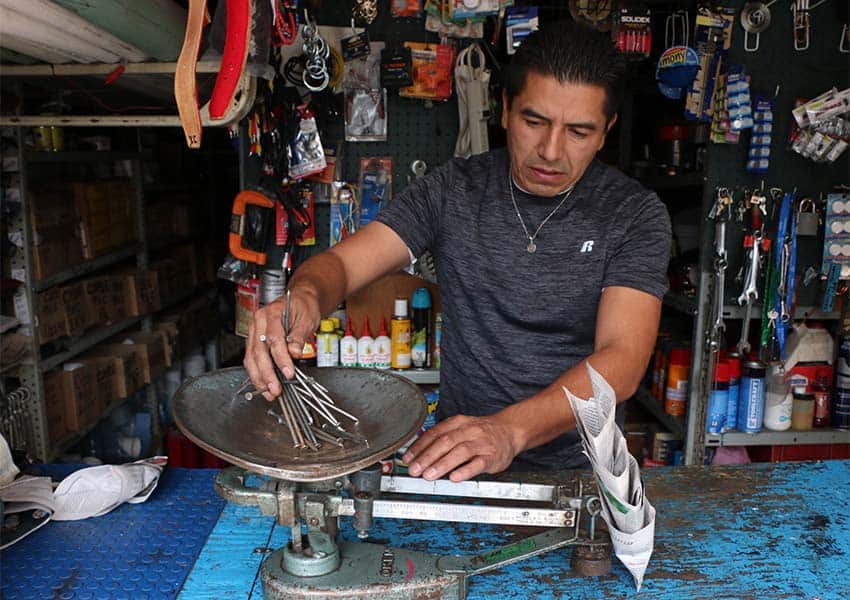 The tlapalería is different from a regular ferretería — which is a much more basic hardware store and which carries many items for home repair, electrical and plumbing supplies and assorted other DIY accoutrement. It's also different from Home Depot, which we're all thankful for but — let's face it — has a limited selection and often jacked-up prices. 
In Mexico, a tlapalería offers a smorgasbord of household, hardware and other items, often sold in bulk, that branch off into numerous, seemingly unrelated  directions.
The word tlapalería comes from the indigenous Nahuatl language, still spoken widely in Mexico today. While tlapali, the root of the word,  means "colors" or "tints" — and one can indeed find paintbrushes and tarps at a tlapalería, though not usually the paint itself — the tlapalería, in the words of writer José Moreno Villa, is "not a clearly defined establishment," more of a store or a bazaar "dedicated to all those coarse and obscure things necessary in homes."
And so, like a bazaar or indoor tianguis, you kind of never know what you'll find, but you'll develop a sixth sense that there's a good chance that what you're looking for is in this kind of store — somewhere.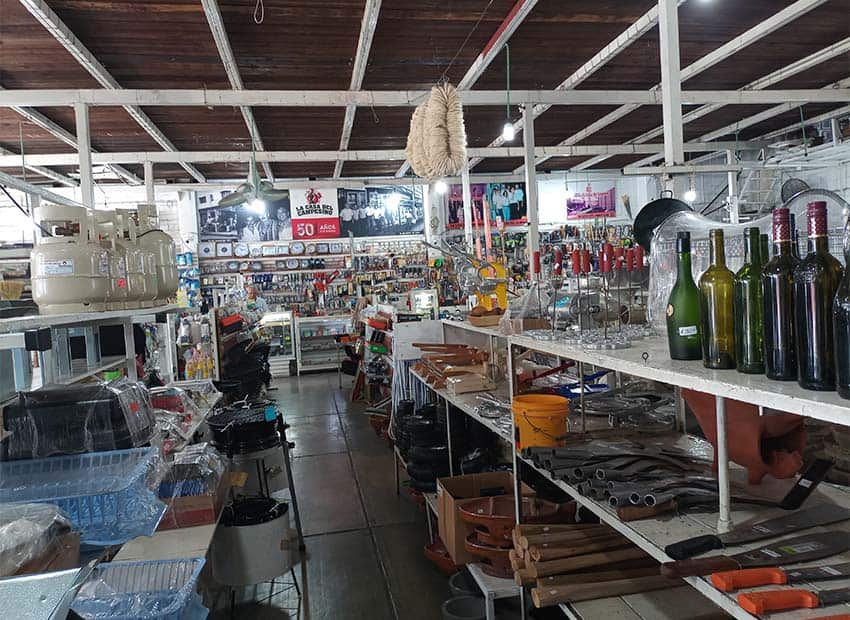 My favorite tlapalería here in Mazatlán is La Casa del Campesino, in a busy section of the city's historic center. It's a fairly big store whose aisles are crammed with a huge assortment of stuff. 
Its sections may have started out organized, but after more than 40 years, divisions have become a little murky. So you'll find things like a shelf of children's drums under small bins of hooks and fasteners, with cheese graters hanging between the two and hummingbird feeders suspended above.
Here are some of the items I saw on a recent visit: machetes, dart boards, burlap bags, nails and screws by the ounce. Brooms, mops, (both in adult and children's sizes), scrub brushes, specialty and common cleaning soaps, pastes and scrubs. Those weird wood folding cots. Shovels, rakes, garden sprayers, watering cans and fertilizer. Chain by the meter in many sizes, mouse traps, wire, loofahs, traditional tortilla baskets and wooden and metal tortilla presses. 
Molcajetes — traditional volcanic stone mortar and pestles —  are across the aisle from the birdcages. Why? Who knows! There are so many sizes and gorgeous birdcage styles, I seriously think about getting a couple of parakeets or canaries every time I'm there. Plus there's everything you need to keep your budgies happy: nesting boxes, toys, feeding dishes. It's a one-stop shop if you have a bird or are thinking about getting one.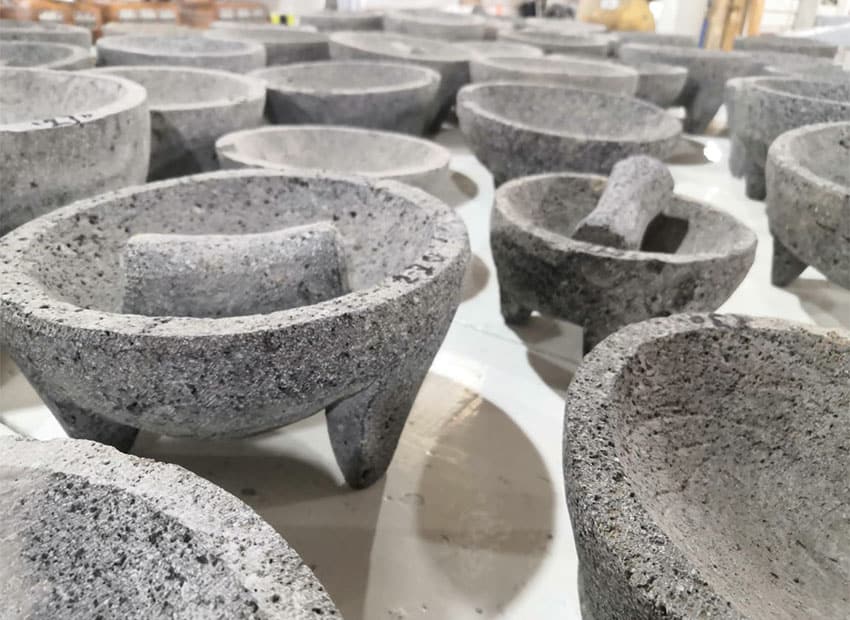 The wall behind the counter is — depending on your point of view — an exercise in chaos or a handyman's dream: extension cords, flashlights, locks, zip ties in a myriad of colors and sizes. All kinds of tape, magnifying glasses, work gloves, fish hooks. Need a bell? This is your place: hand-held or wall-mounted, in various sizes. 
I know that pretty much whatever I need in terms of household tinkering I can find at La Casa del Campesino. Although you may not see the word tlapalería on the sign outside the store, or anywhere, in fact, if it looks like a duck and quacks like a duck, you'll know you're in one. 
Janet Blaser is the author of the best-selling book, Why We Left: An Anthology of American Women Expats, featured on CNBC and MarketWatch. She has lived in Mexico since 2006. You can find her on Facebook.