A couple of weeks ago, The Captured Woman (TCTW) and I were headed a few hours away to Costco in Culiacán to worship at the altar of perpetual consumption. On the way, we decided to take a side trip.
We have heard about it for years and felt it was finally time to visit the Jardines de Humaya, also known as "the narco cemetery."
With 83% of the population Catholic, graveyards in Mexico are an important part of the culture. Mix in an ample dose of indigenous superstitions passed down through many generations and the legacy of dead family members takes on a life of its own.
Here in Mexico, the Day of the Dead is far more revered than Christmas — as more personal on many levels. From midnight of November 1 to midnight of November 2, many families will travel to where their loved one is interred or entombed, then break out the lawn chairs and have a picnic.
Sometimes they will even get a band to come in and make a great deal of noise at the party.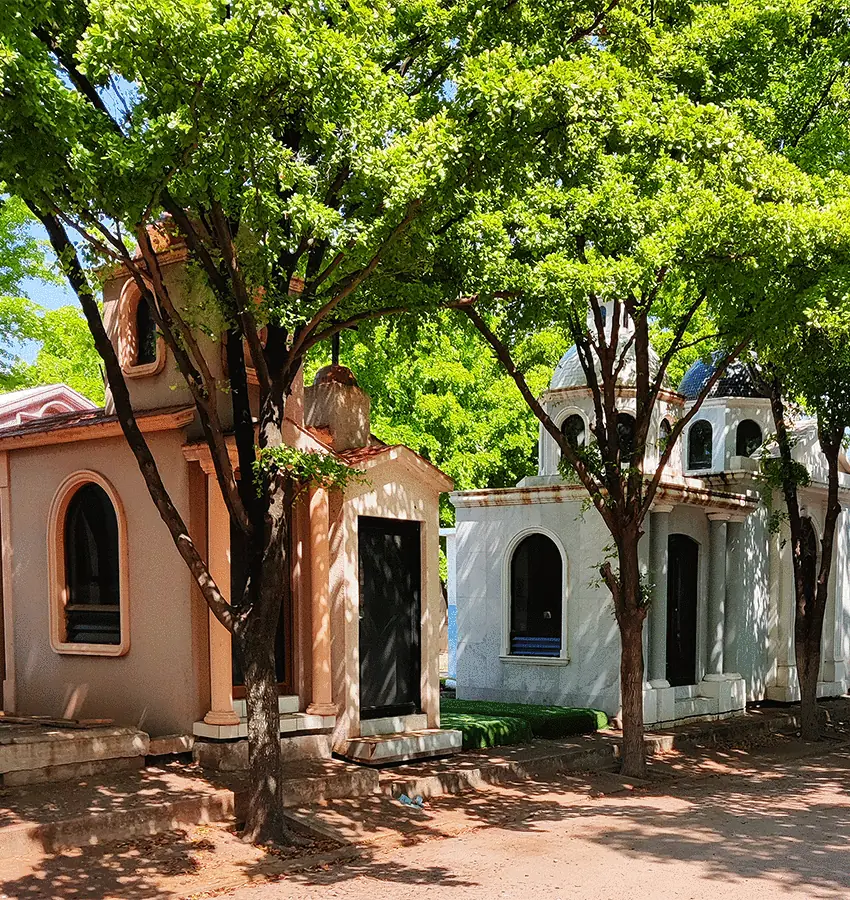 With very few cremations happening among the pious population and a 500-year history of excessive bloodshed, cemeteries in Mexico are as numerous as Oxxo stores.
I have never turned down the opportunity to stroll through a cemetery and read the headstones or the bronzed plaques — the older the better. I have to admit that until now, my Mexican cemetery experience has been limited to villages and small towns.
The various ones I have visited have all had homemade mausoleums, mostly brick and mortar and all painted with bright colors. They look like tiny houses or churches for Lilliputians.
Culiacán is best known for being the home of the Sinaloa Cartel and, of course, the famed El Chapo. So perhaps it's no surprise that Culiacán's memorial park for the nefarious and seriously wealthy has taken this quaint custom of making personalized mausoleums at graveyards and aggrandized it significantly.
As TCTW and the friends with whom we undertook the trip followed along the path set out by Google Maps, we knew we were getting closer when we passed a taquería named El Cartel.
When we arrived at the cemetery, a security guard opened one of the two large ornamental iron gates to let us in. As we passed, he took a picture of our car and then our license plate. I was suddenly glad we have Sinaloa plates.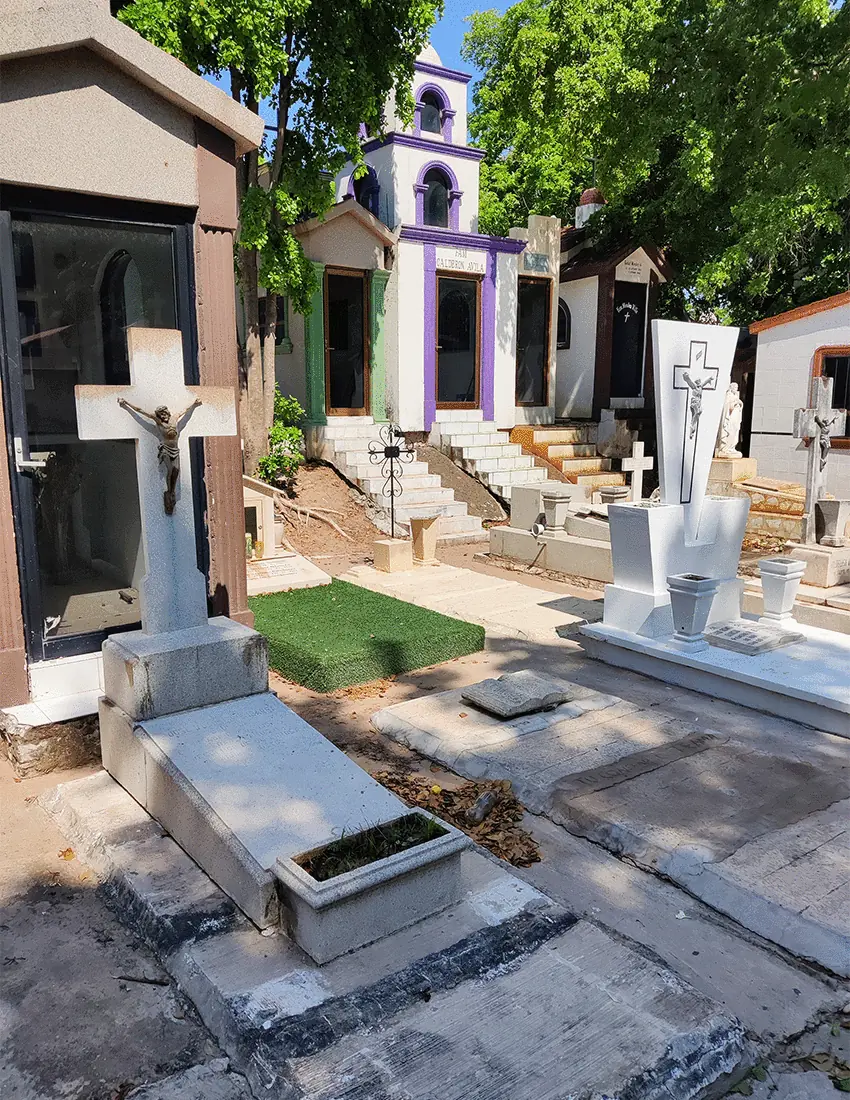 As we rolled down a slight incline, I found a place to park in the shade of a large huanacaxtle tree. The place had the appearance of a shady park surrounded by an upper-end Mexican neighborhood. Were we looking at mausoleums or mansions?
We started at the mid-level narco necropolis, where some of the graves were a simple concrete slab with a plaque. Others were enclosed two-story structures. Each plot was about 1 ¼ meters wide and about two meters long with a 30-centimeter space between each repository.
Many of these mausoleums occupied more than one plot.
As we moved further into this marbled home of the dead, the architecture became more elaborate and included full electricity, air conditioning, bathrooms, living rooms — or dead rooms in this case — and even a few satellite dishes. Many places had security bars across the doors and windows, and a few were without any form of security other than the family names: Guzmán, Beltrán, Fuentes, Leyva, and Félix were all represented in multiple locations.
Even the former leader of the Juárez Cartel chose to be buried in Sinaloa among many of his past compatriots. The three-story resting place of Amado Fuentes — known in his heyday as Lord of the Skies for his fleet of planes he used to transport drugs — has a chapel on the main floor that can hold 40 people. The purported price of this ostentatious pile of marble is over US $400,000.
Of course, ensconced in the most overwhelmingly extravagant tomb are the remains of Arturo Guzmán Loera (El Pollo), brother of the former leader of the Sinaloa Cartel, Joaquín Guzmán Loera, better known as El Chapo. Rumor has it that the cost of this final resting place was over US $1 million.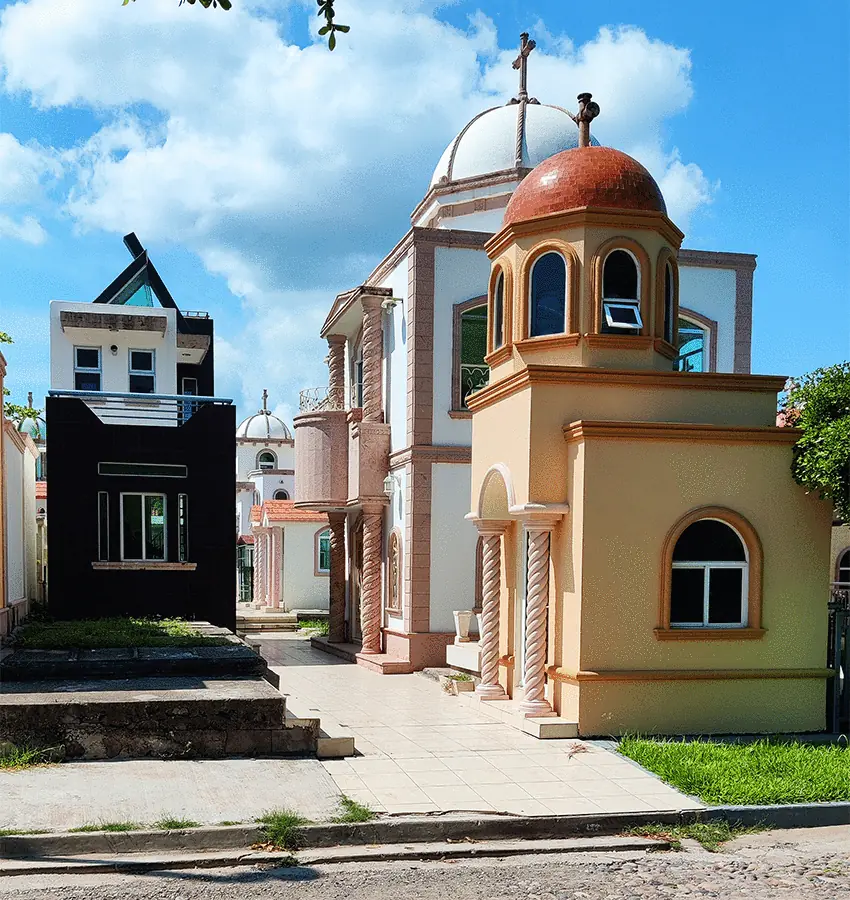 I have since learned that there are a couple of specialty builders in Culiacán who only do elaborate tombs. They are not cheap.
The single plots with only a simple structure often have a printed banner displaying a picture of the deceased and his favorite things. These are usually men in their middle 20s with new cars, four-wheelers and diamond-clad women surrounding their smiling visages.
These are young men who did not die of natural causes — unless acute and instantaneous lead poisoning could be considered natural.
Jardines de Humaya is the final resting place for many who have lived a short and violent life embroiled in one of the top three industries in México. Here, the term rest in peace takes on a meaning far more profound than your average Mexican marble orchard.
• For readers who would like to learn more about this dark side of Mexico, I recommend the book Narcoland by Anabel Hernández, along with Down by the River, by Charles Bowden.
The writer describes himself as a very middle-aged man who lives full-time in Mazatlán with a captured tourist woman and the ghost of a half-wild dog. He can be reached at [email protected].