Hacienda Viva Margarita, an honest-to-goodness Mexican restaurant, has recently opened in Chipilo. Now, I'm imagining that most people reading this are thinking, "So what?" because Chipilo's located in Puebla which, as everyone knows, is in Mexico, and a Mexican restaurant opening there shouldn't be all that surprising.
But Chipilo's a pueblo settled by Italians back in 1882, and its cuisine is heavily influenced by that. Sure, the pueblo has its share of fondas (small Mexican eateries) and taquerías (informal taco joints) serving up typical Mexican staples like quesadillas, tortas, and gorditas, but the town's restaurants are all Italian, where much of the food combines traditional Italian dishes with Mexican flavors.
Hacienda Viva Margarita's bringing something different to the area.
The restaurant opened in mid-July and is located on Highway 190 on the outskirts of Chipilo.
"We liked the location," said Juvenal Martínez who, in addition to being one of three owners, sometimes fills in as chef.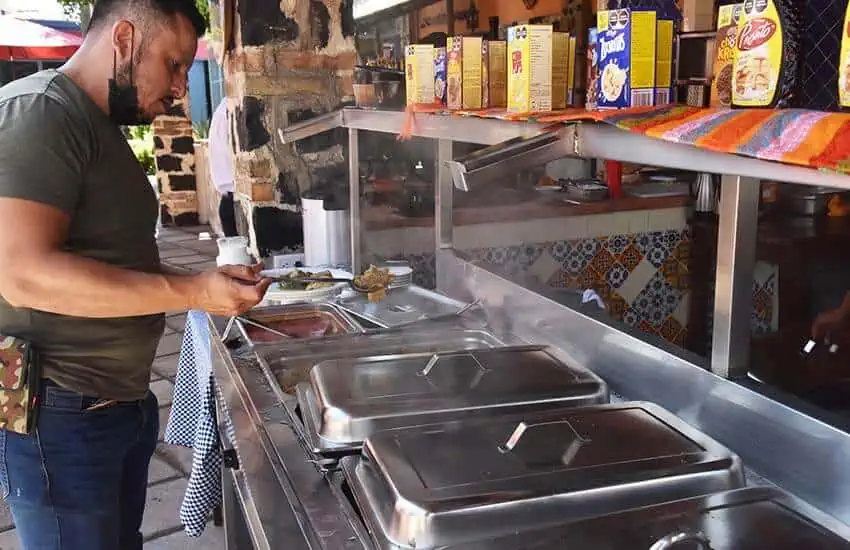 Martínez was born and raised in Atlixco, a city about a 30-minute ride from Chipilo. He studied at the Instituto Culinario in Puebla before moving to New York, where he lived for 18 years working as a chef in Mexican restaurants. He moved back to Mexico in 2018 because he hadn't seen his parents in years.
When he and his partners learned about a former restaurant building that had been abandoned for a couple of years, they decided that it was a good area for a restaurant, "good for a big project."
And a big project it is.
The restaurant has two floors, with outdoor seating on the first and patio seating on the second. A small gallery occupies a front room on the first floor.
In addition to the restaurant, there's a salón for events; an 18-room boutique hotel is also currently under construction. And tucked into a corner is a small mezcalería, where some special mezcal is made (more about this later).
Although certainly Mexican, Hacienda Viva Margarita isn't your typical Mexican restaurant.
"The idea for the type of food is Fernando's, another owner," explained Martínez. "He lived in Arizona for some years, and Arizona, as you know, was originally part of Mexico. The food there is a mix of what's found in the United States — specifically in Arizona — and Mexico. The food in Arizona, it is different from Mexican, but it is still Mexican."
The partners opened five Hacienda Viva Margarita restaurants in New Jersey. The menu and the cuisine that they developed there is what they've brought to Mexico.
The restaurant's offerings and flavors are quite different from what can be found in most Mexican restaurants.
"The difference here is that we use local produce," said chef Marco Antonio Gayetano Fernández. "It is very fresh. The basics are Mexican, but we use different herbs — for example, pipicha, which is very aromatic and not typically used. We use chile guajillo in about 80% of the food we make."
They give the food a sweet, smoky flavor.
Another big difference is the number of vegetarian dishes offered.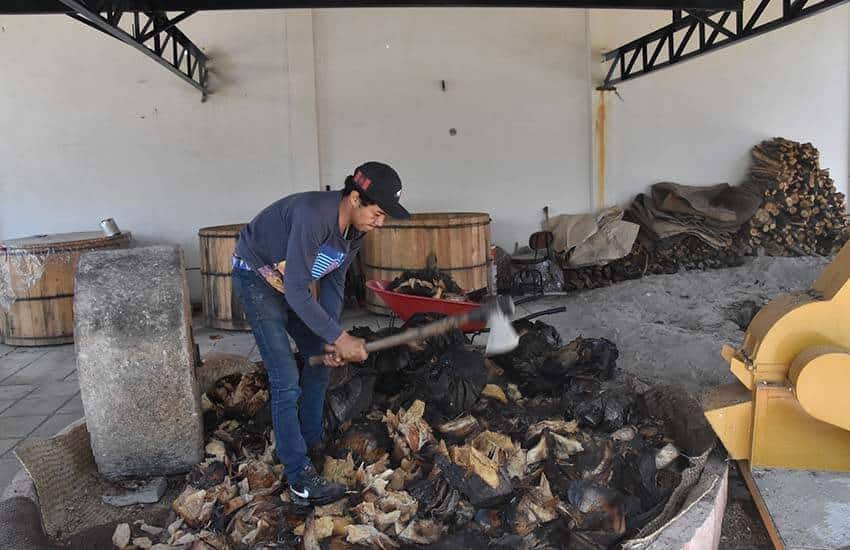 "In 2021, people are taking better care of their health," said Martínez. "More people are avoiding meat. We have a vegetarian chorizo that is made with soy. We have tacos made with tofu."
There are four vegetarian burritos on the menu. "The burritos are filled with beans and rice," said Gayetano, "and we heat them with steam, to make them softer. We serve them with artisanal crema."
Martha Cabrera had dinner in the restaurant right after it opened, and she was suitably impressed.
"I tried the burrito," she said, noting several differences from other Mexican restaurants. "The burritos are very large, and are enough for two meals. I never ate a burrito with rice and beans inside, and I liked that."
"The flavors are different, not traditional but very good," she added.
Being a vegetarian, she was surprised at the menu. "In most Mexican restaurants, there are usually no vegetarian options, but here there are several." In addition to the burritos, there are also vegetarian enchiladas, tostadas, alambres and what they call chimichingadas.
Now, about that mezcalaría and the special mezcal produced there.
It produces about 900 liters of mezcal a month from January through the end of August. In addition to a typical, mezcal blanco (white mezcal), they make mezcal negro (black mezcal), something that's very rare.
"I learned how to make mezcal from my father, who learned from my grandfather," said Martínez, himself a master mezcal maker. "It goes back 50, 60, 70 years. My father learned how to make mezcal negro from friends who are also maestros mezcaleros. They taught him, and he taught me. Only two, maybe three, people know how to make mezcal negro."
Martínez buys piñas — the agave hearts used to make mezcal — from a small pueblo close to the border with Oaxaca. He only uses piñas from the papolometl agave, which is considered to be the best for making mezcal.
The agave hearts are first cooked for several days using heated volcanic rocks. They're then chopped up and mixed with water in large tubs, where they're left for about a week to allow fermentation to happen. The resulting liquid is then distilled twice.
This is the way artisanal mezcal is usually made. What's unusual is what Martínez does to make black mezcal.
"When we cook the piñas, we have a tub to collect … the juice that drips from the outside of the piña," Martínez explained. "This is like honey. It is very sweet. Two liters of that liquid, called agave negro, is then mixed with 10 liters of mezcal to make mezcal negro."
The result is a mezcal that is surprisingly sweet and much smoother than typical mezcal.
The grounds upon which the restaurant is located are fairly large and a nice place to stroll, especially after a large meal. The hotel is expected to open in September and might be a good place to crash after sampling a little too much mezcal negro.
People living in Cholula will be happy to know that another Hacienda Viva Margarita will open there, near the pyramid, in September.
• The restaurant is open from 1:00 to 10:00 Monday through Friday and 9:00 to midnight Saturday and Sunday. A brunch is served from 9:00 to 2:00 Saturdays and Sundays. Hacienda Viva Margarita is located at Carretera Federal Atlixco #104, Km. 14.5, Chipilo, Puebla. Phone number: 222 283 0788.
Joseph Sorrentino, a writer, photographer and author of the book San Gregorio Atlapulco: Cosmvisiones and of Stinky Island Tales: Some Stories from an Italian-American Childhood, is a regular contributor to Mexico News Daily. More examples of his photographs and links to other articles may be found at www.sorrentinophotography.com  He currently lives in Chipilo, Puebla.