Have you ever had smoked marlin (marlin ahumado)? It's been so much a part of "my Mexican experience" here in Mazatlán that I forget it's not as common outside Sinaloa, where it's recognized as a specialty.
One can easily surmise that's because Mazatlán is such a big, thriving commercial and recreational fishing port, and has been for decades. Plus, marlin grow to be really big fish: the average size is about 11 feet, with weights of 200–400 pounds. What to do with all that marlin? Smoking it certainly makes sense.
Personally, I find fresh marlin a little too oily, but smoked it's absolutely delicious. More firm than smoked salmon, it has a texture almost like chicken. And the smoked flavor lends itself to any number of dishes — let your imagination take the lead! My favorite fishmonger here sells smoked marlin with no added coloring, which I prefer; commonly, a bit of red dye is brushed onto the outside of the fish to give it a brighter, more attractive color. It's not harmful and doesn't change the flavor, so not to worry if that's all you can find. Some vendors will claim the red color comes from the smoking process; you'll have to be the judge.
An easy way to try smoked marlin is to sauté it with scrambled eggs, along with a little onion, bell or poblano pepper and tomato. That's a very common breakfast here in Mazatlán. You can also make a sort of tuna salad with it, using the ingredients you regularly do but substituting smoked marlin for canned tuna. Add it to a quiche or frittata, use as a filling for fried or baked empanadas or serve it sliced with cheese and crackers, as a happy hour appetizer. Or try one of the recipes below.
Those of you not in Mazatlán may need to look in the refrigerated section at the grocery store, where you'll find it in shrink-wrapped packages.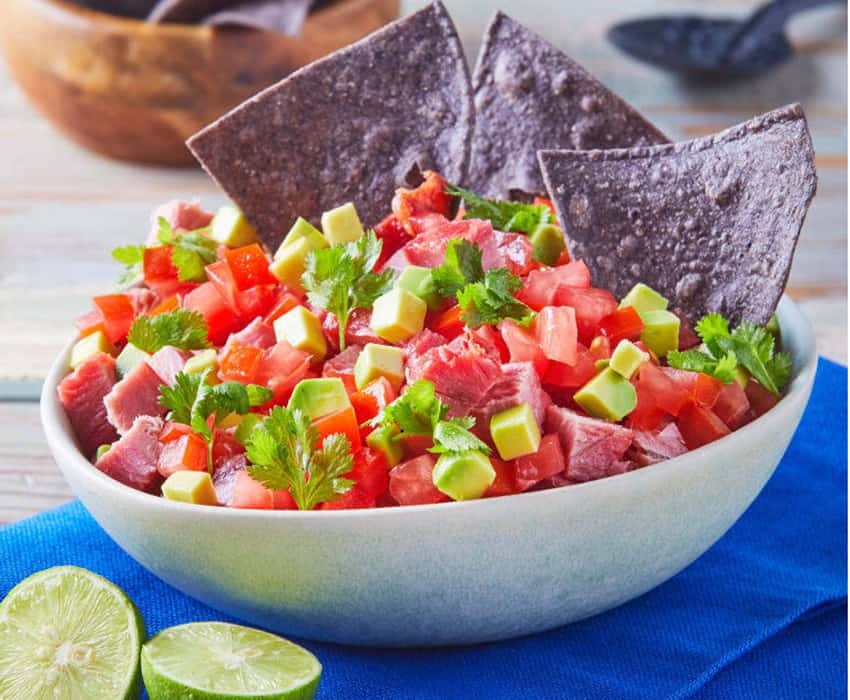 Marlin Paté
½ kg. smoked marlin or tuna
2-3 oz. cream cheese, at room temperature
2-4 Tbsp. mayonnaise
1 Tbsp. Dijon mustard
¼ cup chopped red onion
2 cloves garlic
1 tomato
1 jalapeño, seeded
Salt to taste
1 tsp. Worcestershire sauce
Juice of 1 lime
Blend all ingredients in food processor or blender until smooth. Adjust seasonings and amount of cream cheese. Cover and chill for at least 4 hours. Serve with crackers or chips.
Salsa de Marlin Ahumado
½ -1 jalapeño, seeded and minced
¼ cup chopped onion, in tiny cubes
1 clove garlic, minced
Salt and pepper
1 Tbsp. olive oil
1 tomato
1-2 Tbsp. fresh lime juice
1 cup smoked marlin, cut into tiny cubes
1 avocado
Fresh coriander, minced
Cube tomato and avocado. Mix all ingredients together; serve with tortilla chips.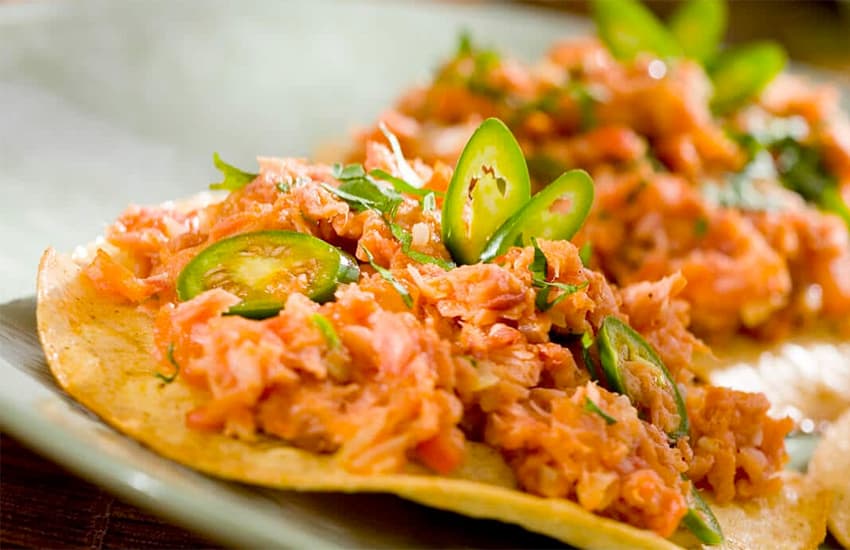 Smoked Marlin Tacos
2 garlic cloves
½ large white onion, finely chopped
2 Tbsp. olive oil
1 cup of tomato, chopped
2 cups smoked marlin, crumbled
1 Tbsp. ground cumin
1 Tbsp. dried oregano
½-1 jalapeño, minced
20 taco tortillas (small)
1 cup prepared pico de gallo
1 avocado, chopped into small cubes
Sauté garlic and onion in oil. When they begin to brown, add tomato, jalapeño and marlin, then salt, pepper, cumin and oregano. Continue cooking for a few minutes. Heat tortillas. Mix pico de gallo with avocado. Fill tacos with marlin mixture, top with salsa and serve.
Marlin Estofado Estilo Mazatlán
1½ cups (about ¾ kg.) smoked marlin
1 cup chopped carrot
1 cup chopped celery
1 cup chopped green beans
2 cups tomato puree
1½-2 liters water
¼ cup canned sliced jalapeño peppers.
¼ cup vinegar from the can of jalapeños
¼ cup green olives, chopped (optional)
2-3 bay leaves
2 tsp. oregano
3 Tbsp. olive oil
¼-½ white onion, minced
2-3 cloves garlic finely minced
Garnish: fresh lime, minced cilantro, minced onion
Cut carrots, celery, marlin into tiny cubes. Cut beans into tiny pieces. In a pot of boiling water, parboil veggies separately (using a slotted spoon to remove them from water) until crisp-cooked; set aside.
In a blender or food processor, mix tomato puree, 1 liter of water, oregano and bay leaves. Heat olive oil in a big soup pot; sauté onion and garlic, then add tomato mixture and remaining water. Bring to a boil, lower heat and then stir in veggies and marlin, adding more water if needed. Add salt and pepper to taste. Pour in jalapeños and vinegar liquid from the can. Add olives if using. Bring to a boil, simmer 20 minutes and serve topped with garnishes and with warm corn tortillas.
Have you ever tried this alternative to salmon and tuna? What did you think? What recipes have you tried?
Janet Blaser is the author of the best-selling book, Why We Left: An Anthology of American Women Expats, featured on CNBC and MarketWatch. She has lived in Mexico since 2006.