President López Obrador rode the Maya Train while it completed test runs over the weekend, proclaiming afterward that "very soon, many Mexicans and foreigners will be able to enjoy and share this experience."
The controversial and technically challenging project remains unfinished, but the four sections running from Palenque to Campeche are on track to be finished in time for a December 2023 inauguration. All seven sections  of the train are expected to be operational by September 2024 — shortly before the next presidential administration begins on Oct. 1.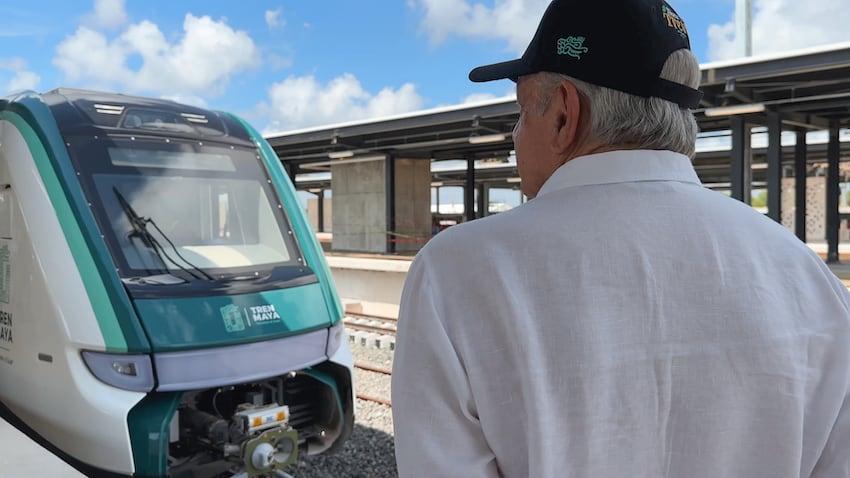 López Obrador was in high spirits during and after the test runs, which spanned several sections of the 1,525 km (947 miles) of tracks through the southeastern states of Quintana Roo, Yucatán, Chiapas, Tabasco and Campeche.
The passenger train will serve tourists seeking out the ancient and natural wonders of the Yucatán peninsula, as well as locals who travel between cities for leisure or to commute to work.
"Not to brag, but nowhere in the world are so many good elements combined: nature, humanism, beauty and mysticism. Or to put it another way: beaches, archaeological areas, tropical jungles, native animals, rich food and exceptional people," the president said in a three-minute video that he released on social media.
On Friday, AMLO traveled from the city of Campeche to Teya station in Mérida, Yucatán. On Saturday, the president took the Maya Train to the archaeological area of Chichen Itzá and then to Tulum, where he supervised the construction of the new Tulum airport, which will have its own Maya Train station. He concluded his tour on Sunday by riding the rails to Cancún.
Like many travelers, AMLO was accompanied by family — his wife, Beatriz Gutiérrez Müller, and son, Andrés Manuel López Beltrán — and friends including 83-year-old tycoon Carlos Slim, real estate magnate Daniel Chávez and Defense Minister Luis Cresencio Sandoval. Many other businesspeople, federal and local government officials and heads of ministries were on board for various segments, as well.
However, also like many travelers, AMLO and his guests did have to endure a delay. On Saturday, the train made an unexpected stop of more than one hour in the area of Yaxcabá, near Chichén Itzá. Though there was no official reason given for the stop, soldiers told reporters  they were giving "maintenance to the carriage."
In a media session afterward, AMLO reminded everyone that the train, which will charge higher ticket prices to international tourists, is still in its testing phase. "It is not clear for those who do not want to see that clearly," he said. "They were doing a technical review."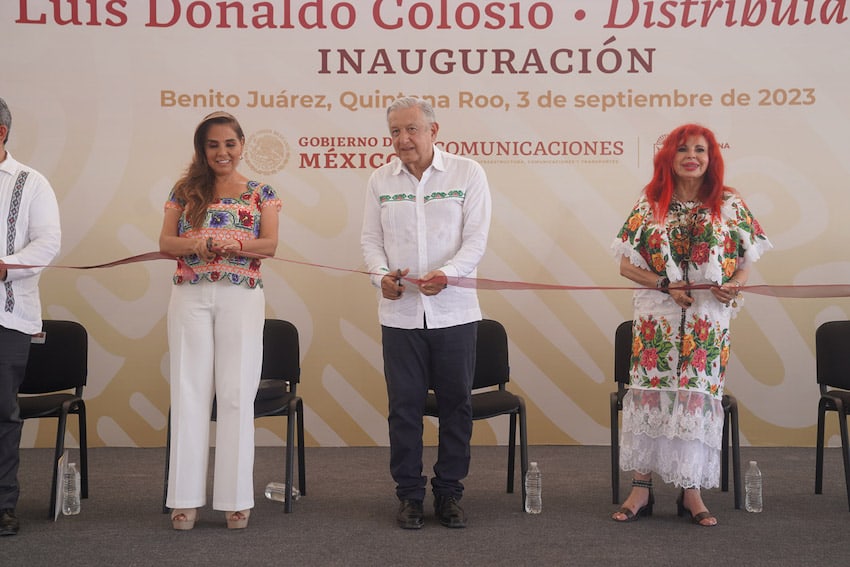 Overall, he assured listeners that the test runs went "very well" and that the prospects for the project are "very good." Although the Maya Train will open to the public in about two months, it will be operating within an  inaugural "test window" through next September to guarantee its proper functioning.
"We are applying ourselves day and night, Saturday, Sunday, 24/7, all with the support of many public servants," he said.
With reports from El Financiero, La Jornada and Aristegui Noticias