The governments of Mexico and Canada announced the creation of a joint "action plan" following a meeting between President López Obrador and Canadian Prime Minister Justin Trudeau in Mexico City on Wednesday.
The bilateral talks came after the trilateral North American Leaders' Summit on Tuesday and López Obrador's bilateral meeting with United States President Joe Biden on Monday.
In a joint statement, the Mexican and Canadian governments said that López Obrador and Trudeau "have committed themselves to renew a relationship that draws on the diverse strengths of all citizens, putting their well-being and interests at the centre of our bilateral cooperation."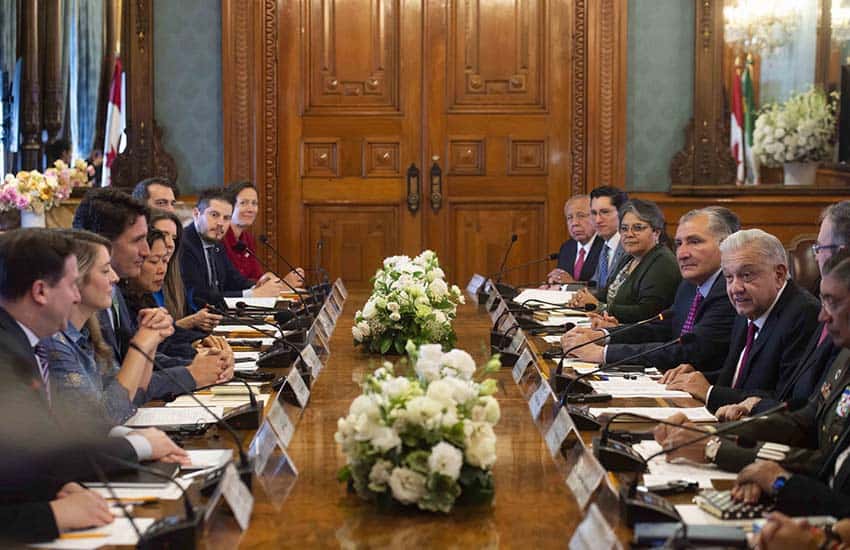 Their commitment "recognizes a shared vision to build more prosperous, sustainable, safe, and equitable societies for all as well as to contribute to the integrity and competitiveness of the North American region," the statement said.
"The creation of the Canada-Mexico Action Plan establishes a strengthened partnership built on 9 pillars that outlines our citizens' priorities and the initiatives that will advance them."
The plan focuses on reconciliation with Indigenous peoples; gender equality and women's empowerment; trade and investment; anti-racism; youth engagement; peace and security; tourism, migration and human mobility; environment and climate change; and cooperation in the face of future health crises.
The joint statement didn't mention the ongoing dispute between Mexico and Canada (and the United States) over Mexico's nationalistic energy policies, but López Obrador acknowledged that he had spoken to Trudeau about the issue, which the countries are seeking to resolve through dialogue.
"We've addressed economic issues related to investment of Canadian companies in Mexico, mining companies, important companies like TransCanada, which is investing to build a gas pipeline in the Gulf of Mexico. … We've also spoken about companies that are operating in the energy sector," he said during public remarks at the bilateral meeting.
"We're seeking to resolve problems, differences that naturally arise when dealing with these economic and trade relations. … Obviously there are some issues to deal with. I made the commitment to Prime Minister Trudeau to meet with [Canadian] companies that might have outstanding issues [or] disagree with the posture of our government. We are always open to dialogue," López Obrador said.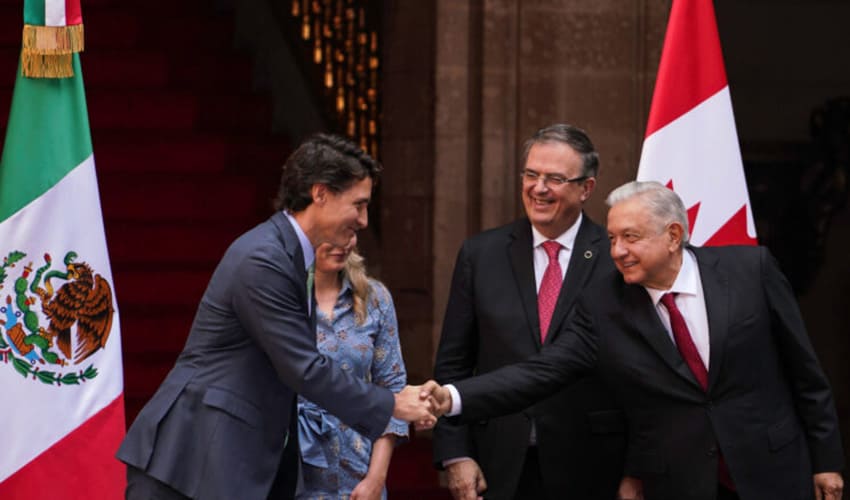 Trudeau subsequently told reporters that AMLO "was very open to meeting with different businesses, to working with our ministers and our civil servants to make sure the [energy] issues are resolved."
In his public remarks, López Obrador also noted that he had spoken to the leader of Canada about a program in that country that has allowed Mexicans to work there while on temporary visas. AMLO said Tuesday that the program had benefited over 25,000 Mexicans.
Among the initiatives and commitments outlined in the statement on the Canada-Mexico Action Plan was a memorandum of understanding to modernize cooperation on indigenous issues.
The statement detailed a range of other bilateral commitments and initiatives, including that:
López Obrador and Trudeau are looking to organize a joint high-level summit on Reconciliation with Indigenous Peoples.
Canada and Mexico will continue to champion gender equality, and women and girls' empowerment in regional and international forums.
Canada and Mexico maintain their commitment to work on inclusive trade and investment in building a sustainable economic recovery that places people, creation of good middle-class jobs, and well-being and quality of life of citizens at the center.
The two leaders will use the FIFA World Cup in 2026 as a key opportunity to support FIFA's efforts to uphold human rights.
Canada agreed to provide technical assistance to help build Mexico's forensics capacity. (The Mexican government conceded in late 2021 that the country was facing a "forensic crisis." )
Both countries will work together to strengthen asylum and protection systems in Central America and Mexico.
Canada and Mexico will advance nature-based solutions to address climate change.
López Obrador said Wednesday that the Mexico-Canada relationship had been further strengthened as a result of the bilateral meeting.
"We're neighbors, friends and we're working together. And you will always be welcome in Mexico," he told a delegation led by the Canadian prime minister.
For his part, Trudeau described Canada and Mexico as "progressive countries that put … equality, justice, opportunity for all, jobs for the middle class, and for people working hard to join it, protection of the environment, support for indigenous peoples, at the center of our vision for each of our countries."
The meeting between the Mexican and Canadian leaders brought to an end three days of bilateral and trilateral talks in Mexico City. The next North American Leaders Summit – colloquially referred to as the "Three Amigos" summit – will be held in Canada in 2024.
Mexico News Daily