The army will spend almost 22 million pesos (about US $1.1 million) for a statue at the entrance of Mexico City's new airport (AIFA)
The 10-meter, 200-tonne cast bronze figure of revolutionary general Felipe Ángeles, for whom the airport has been named, will stand on a traffic circle connecting roads leading to the passenger terminal.
It will be crafted by sculptor Edysa Ponzanelli, who has a track record of creating government sponsored sculptures, such as singer Juan Gabriel in Acapulco and ex-president Miguel Alemán in the president's causeway at the former presidential residence Los Pinos.
The contract for the sculpture states a completion date of March 9, 2022, shortly before the planned inauguration of the AIFA on March 21.
The contract also stipulates that the sculpture will have a guarantee of five years during which any unreasonable damages must be repaired. Ponzanelli must also carry out a first maintenance at no cost in 2022, including structural analysis, and an inspection of rust and deterioration. The artist will also provide training to clean its surface.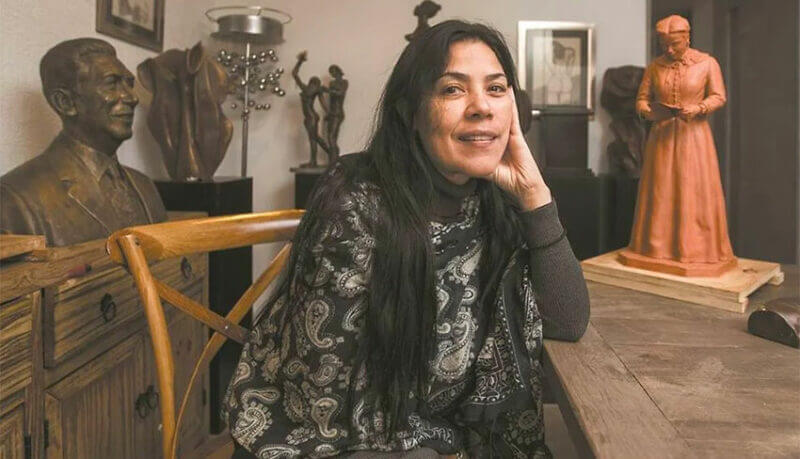 The AIFA, which is being built by the army at the Santa Lucía Air Force Base, will have an initial capacity of 20 million passengers annually but it could eventually handle up to 80 million. In addition to the airport, the army is also building a maintenance base, a hotel and a terminal for travelers on private jets as well as rail and highway links to the facility. The Finance Ministry has estimated the total cost at about 85 billion pesos (about US $4.27 billion).
The airport is located around 45 kilometers north of downtown Mexico City, and was confirmed to be more than two thirds complete at the president's news conference last week. It is part of a plan to reduce pressure on Mexico City Airport, which was used by 50.3 million passengers in 2019, making it Latin America's busiest. The federal government is also upgrading AICM and the airport in Toluca, the state of México.
The airport projects are a replacement for the canceled, partially built Texcoco airport, which was destined to serve the capital. The president scrapped construction in 2018 on the grounds that the project was corrupt, too expensive, not needed, and being built on land that was sinking.
Meanwhile, another artistic endeavor for the AIFA — the airport's logo — was widely panned when it was released in April. The logo featured the somewhat obscured letters AIFA, an airplane, a runway, a control tower and even a mammoth in recognition of the large number of mammoth bones that have been found on the site. Their discovery also led to the decision to build a mammoth museum at the new airport.
With reports from El Universal