Andrés Manuel López Obrador on Tuesday completed his 50th month as president, a position he unsuccessfully attempted to attain at the 2006 and 2012 elections.
AMLO now has just 20 months left to continue carrying out what he calls the "fourth transformation" of Mexico, as his successor will take office on Oct. 1, 2024.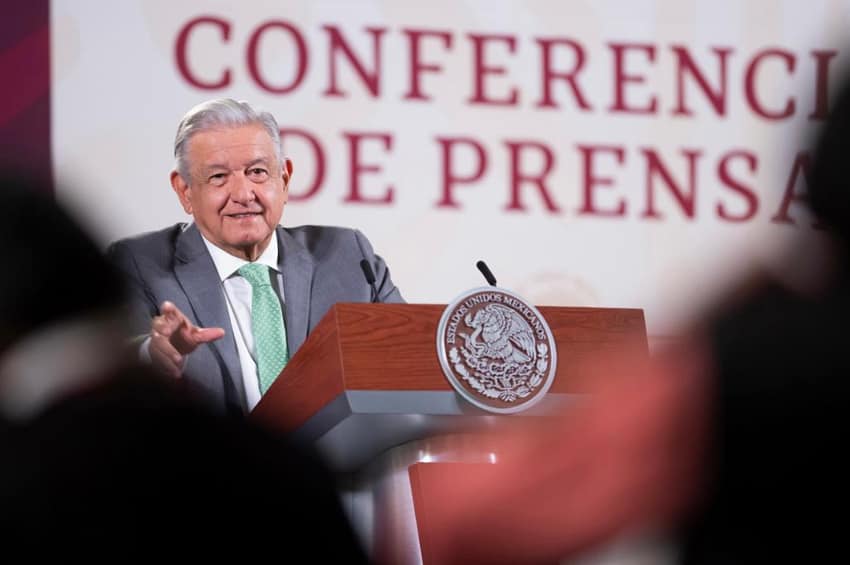 Monday
Yucatán Governor Mauricio Vila – a possible opposition candidate at the 2024 presidential election – joined López Obrador at his first press conference of the week, during which the government provided an update on construction of the Calkiní-Izamal section of the Maya Train railroad.
"In Yucatán we've supported the Maya Train project from the beginning because without a doubt … it will allow us to bring [to the state] a portion of the millions of tourists who today arrive in Cancún and the Riviera Maya," said the National Action Party governor.
"Without a doubt it will generate economic development and employment for us," added the 42-year-old former mayor of Mérida.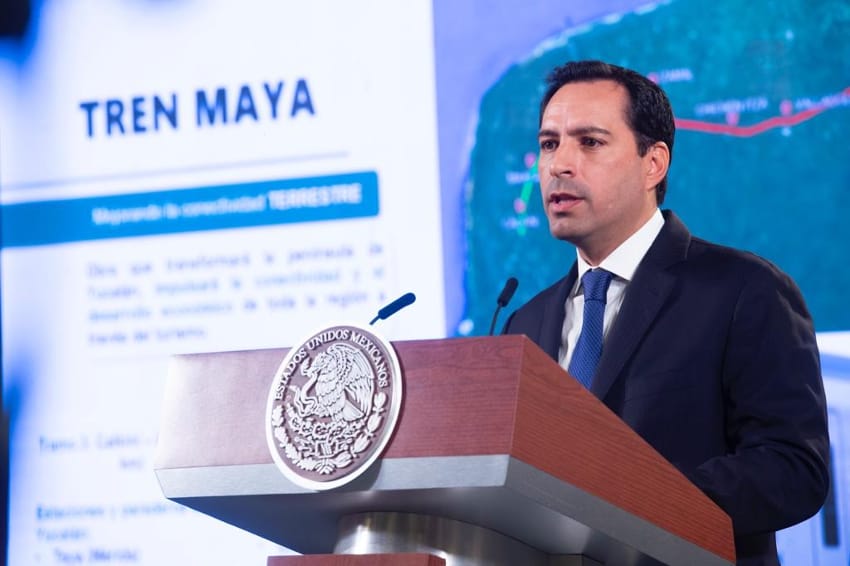 In response to a reporter's question, López Obrador said that Felipe Calderón – who recently took up residence in Spain – is not under criminal investigation in Mexico, a situation that contrasts with that of the former president's ex-security minister, Genaro García Luna, who is currently on trial in the United States on charges he took bribes from the Sinaloa Cartel.
The president also noted that while a majority of participants in a 2021 referendum voted in favor of investigating Mexico's five most recent presidents for crimes they might have committed in office, turnout was below the level required to make the vote binding.
"On several occasions I've expresses that revenge is not my strong suit … We're not persecuting anyone," AMLO added.
The Tabasco-born leader later took aim at National Electoral Institute (INE) president Lorenzo Córdova, who recently criticized the government's controversial electoral reform.
"From my point of view he's a public servant without principles, without ideals, a fraud," López Obrador said.
"… I really regret it, because I knew his father [academic and politician Arnaldo Córdova], we were friends, colleagues," he said.
"… Since long ago, the INE has been taken over by conservatives, the conservative bloc. We won [in 2018] despite them."
In contrast with his remarks about the INE chief, AMLO spoke with significant affection about former U.S. president Donald Trump.
"I hold President Trump in high esteem because he was respectful with us, the [bilateral] relation was good," he said toward the end of his Monday mañanera.
"With President Trump I believe I had just one very productive meeting in Washington and we spoke by telephone 11 or 12 times. … They were very important calls, respectful calls for the good of two peoples and two countries. I even described those calls in my latest book," López Obrador said in reference to his 2021 tome, titled A la mitad del camino.
Tuesday 
In a health update, the government's pandemic point man declared that the sixth wave of COVID infections was receding.
"We reached the peak at the end of the year and from the first week of January a process of descent began," said Deputy Health Minister Hugo López-Gatell.
The first question López Obrador took was on the formation of a new group called Colectivo por México, which says it is seeking to "change the [political] course" of the country.
"They have the right to demonstrate, to form a group, but they're against us and the transformation of the country that we're carrying out with millions of Mexicans," AMLO said of the collective, whose members include former health minister Julio Frenk and ex-Supreme Court justice José Ramón Cossio.
"They have the complete right to express themselves. … We're obliged to guarantee the right to dissent. That's what I can say."
The president described veteran leftist Cuauhtémoc Cárdenas as an adversary due to his involvement in the group, which is abbreviated as Mexicolectivo.
"I hold him in high esteem, I respect him, I consider him a forerunner to this movement, but we're living a time of definitions and this … [path] is very narrow, … it's about being with the people or with the oligarchy," he said.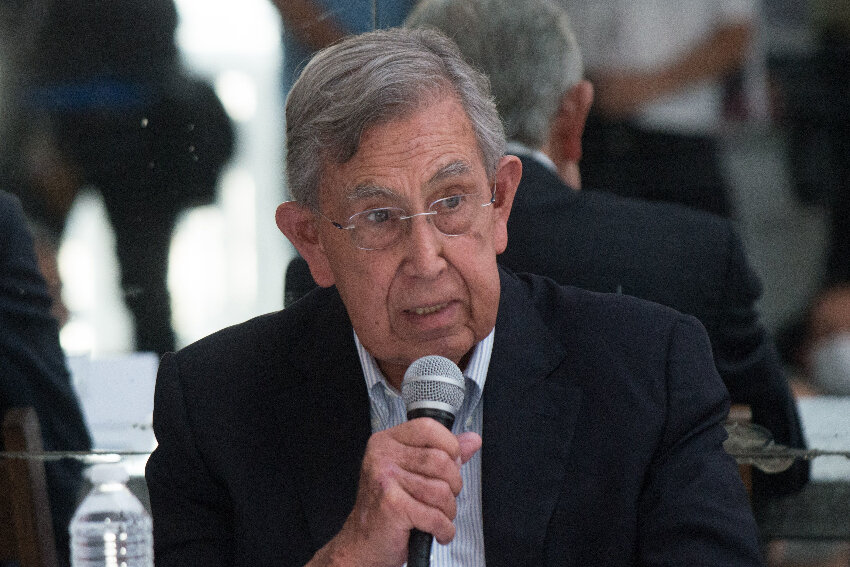 Cárdenas – son of ex-president Lázaro Cárdenas, a former presidential candidate and co-founder of the Democratic Revolution Party – subsequently announced that he had taken the decision to cease collaborating with the collective.
Near the end of his presser, AMLO asked Mexican Social Security Institute chief Zoé Robledo to respond to a question about the 2009 fire at a daycare center in Hermosillo, Sonora, that claimed the lives of 49 children.
Some people found criminally responsible for the deaths have been sentenced to lengthy jail terms, but Robledo assured reporters that the federal government is still fighting for justice.
"From the beginning of the government of Andrés Manuel López Obrador – including in June 2019 when 10 years passed since this tragic fire, this crime – a criterion to attend to matters that have to do with justice has been maintained," he said.
Wednesday
AMLO opened his third mañanera of the week with a broad attack on the media, one of his favorite punching bags.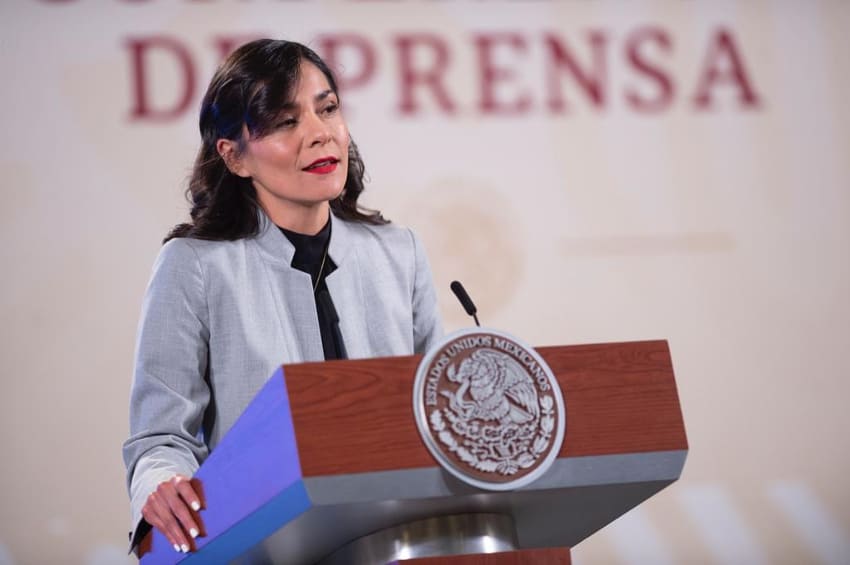 Many media organizations have decided to conduct a "dirty war" against us rather than publish "objective, professional, analytical, critical journalism with arguments," he said.
They "attack and defame, with honorable exceptions of course, but those honorable exceptions are the exception not the rule," the president charged during an introduction to the controversial "Who's who in the lies of the week" segment.
López Obrador later turned his attention to drug smuggling through the Mexico City International Airport during past governments.
"A lot of you know how they got drugs through the airport. There was once even a shootout there. … The Mexico City airport was left without surveillance in order to get drugs through. It was managed by the Federal Police, which the conservatives defend so much," he said.
Moving on to another matter, the acronym-nicknamed president welcomed Cuauhtémoc Cárdenas' announcement of his decision to dissociate himself from Mexicolectivo.
"I was very pleased about the engineer's letter," AMLO said, acknowledging the 88-year-old's civil engineering degree.
"I didn't know but he had already informed the group [of his decision]," he said before confirming he had a good relationship with the veteran politician despite labeling him an adversary the previous day.
López Obrador later declared that Energy Minister Rocío Nahle – a Zacatecas native – could run for governor of Veracruz next year despite not being born in the state, and despite the Supreme Court's ruling this week against a provision of a recent state law that allowed the parents of children born in the Gulf coast state to seek the position.
He said the minister qualifies as a candidate because she has been a Veracruz resident for more than five years – another still-standing provision of the so-called "Ley Nahle," or Nahle Law.
"Rocío was already a federal deputy, a senator for Veracruz. [She was a] federal deputy for the district of Coatzacoalcos, … she's a Veracruz senator on leave because she's helping us in the Energy Ministry and in the construction and rehabilitation of the refineries," López Obrador said.
Nahle confirmed on Twitter that she met the five-year residency requirement, even though she has lived in Mexico City in recent years.
Thursday 
"Good morning. Ánimo, ánimo," AMLO began, exhorting reporters to liven up for another early-morning press conference.
"We're going to inform based on what you ask because there's nothing to present today," he said.
One reporter queried the president about the Federal Auditor's Office detection of "irregularities" totaling over 830 million pesos during Delfina Gómez's 2021-22 tenure as education minister.
"When the Federal Auditor's Office conducts an investigation … irregularities aren't acts of corruption in the majority of cases," López Obrador replied.
"… As the maestra [teacher] Delfina is a pre-candidate or candidate [for governor] in México state they'll be questioning her … [but] Delfina is an honest woman who has my complete confidence. She's a woman who is incapable of stealing a centavo, nothing like the old-time politicians," AMLO said.
Probed as to whether the money in question was "fairly channelled" to public education, he responded that it "surely" was before asserting that "there's no problem at all."
The president later offered his support for another politician – Nuevo León Governor Samuel García, a young and ambitious Citizens Movement party leader who is under pressure from the opposition over budgetary issues in the northern border state.
"We have a very good relationship with the Governor Samuel García, … we support the governor of Nuevo León because a lawsuit to strip his immunity has been presented, they want to remove him from office because his budget wasn't approved," López Obrador said.
"… He doesn't have a majority in Congress and his adversaries came to an agreement and they wanted to impose a budget … and force him to allocate funds to public, supposedly autonomous companies run by the parties that are obstructing the governor," he said.
In response to another question, the sexagenarian leader expressed confidence that the reforms his government has enacted will be long-lasting.
"Why will I be relaxed when my term ends? … Firstly because important changes are being carried out and it will be very difficult to reverse them. For example, how could they eliminate the pension for seniors? It won't be easy if it's in the constitution," AMLO said.
"No matter who's president, [the old-age pension] is a right. … Do you think that people will easily accept the pension being taken from them? No, touch wood, not even the conservatives could do it if they return."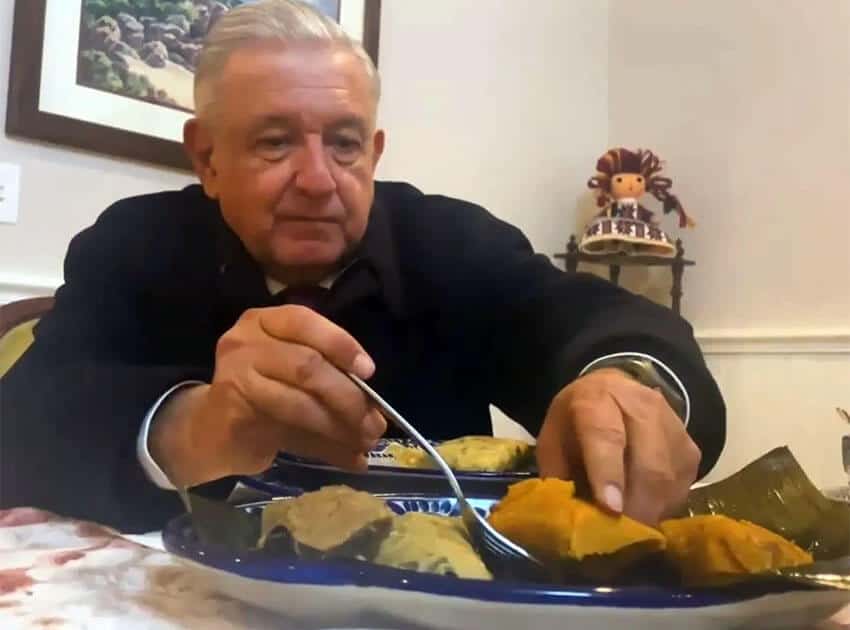 At the closure of his presser, López Obrador noted that, in keeping with a Candlemas tradition, he would be eating tamales – specifically Michoacán-style ones known as corundas – for breakfast.
"One day I'll buy [tamales] out of my salary and I'll invite you to have breakfast and talk," he told reporters.
"Really – we'll talk, we'll spend more time together. Thank you very much to all of you for being here."
Friday 
While responding to a question about unions' compliance with USMCA trade pact obligations, AMLO spotted an opportunity to offer a lesson about the true meaning of the word democracy.
"Oligarchs … have a very peculiar way of thinking about democracy," he opined.
"For them democracy is always having minorities in charge, … that's the democracy they like, one of privileges," López Obrador said.
"But democracy is power of the people, for the people and with the people. Democracy is people. Demos, I repeat, means people. Kratos means power. Democracy is the power of the people, oligarchy is the power of the minority."
A YouTuber subsequently took the microphone and asked the president about the involvement of the National Electoral Institute (INE) in the process to elect the queen of the 2023 Fería Nacional de San Marcos, a huge fair held annually in Aguascalientes.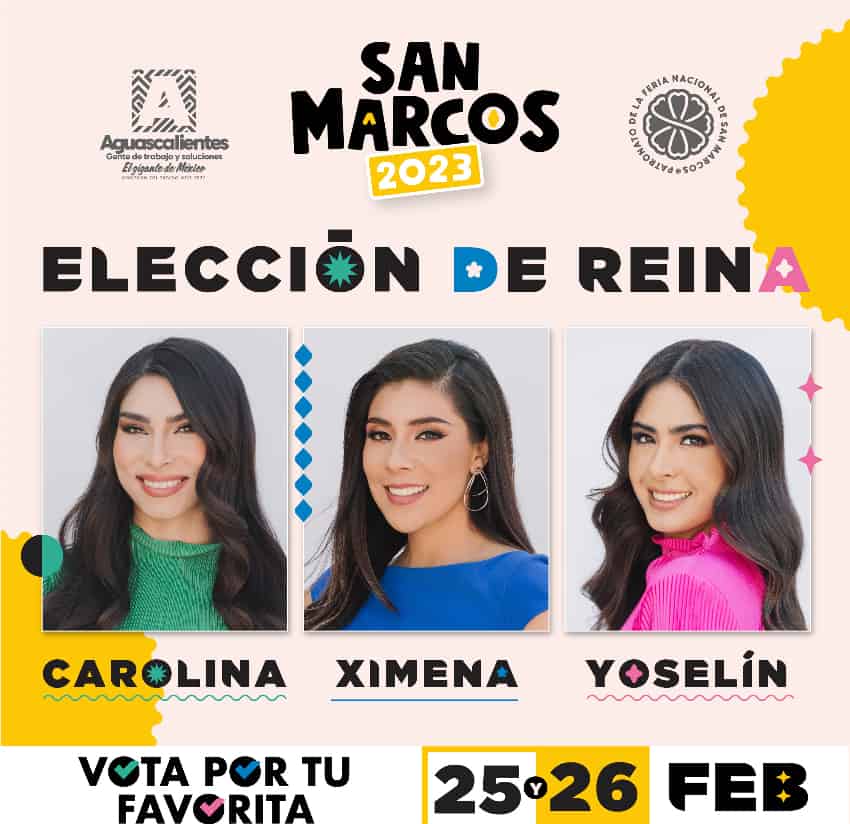 The INE will facilitate electronic voting, Dany Santoyo noted before suggesting that the institute should instead focus on "more important issues" such as holding a citizens' consultation to canvass opinions on the privatization of water services in Aguascalientes in the early 1990s.
"They could do both consultations," AMLO said, acknowledging that the election of the fair reina is a "tradition."
The INE should conduct that vote and one on the water issue at the same time, he said.
"That would be the best thing. … There are people who like [the fair queen contest], they enjoy it, that's their right, it's a very important fair. … It's [also] very important to review water service contracts because they are abused – it's the privatization policy [that is to blame]," López Obrador said.
The president later defended his decree suspending cargo airline operations at the Mexico City International Airport and asserted that the Felipe Ángeles International Airport has the facilities required to accommodate air freight carriers.
He also said the government is "making progress" in the project to create a state-owned, army-run commercial airline, which will operate under the dormant Mexican brand.
"We're just looking after some legal matters … and then we're going to have this airline," AMLO declared.
Mexico News Daily