Residents of a city in the Tierra Caliente region, ravaged for months by a cartel turf war, prayed for peace alongside church leaders on Monday.
The group held a Mass next to a highway in Coalcomán, Michoacán, where a cartel has cut off access. The faithful numbered around 100 in a photo published by the newspaper El Universal.
Hundreds of families, at least 3,000 people, have fled Coalcomán in the last 11 days, forced out by violence and its related afflictions: shortages of electricity, food, water, and phone and internet services.
The city is only about 50 kilometers (126 kilometers by road) from Aguililla, the center of a violent turf war between the Jalisco New Generation Cartel (CJNG) and the Cárteles Unidos.
Residents, municipal authorities and church leaders have complained that although state and federal security barracks are present in the area, local people have not been afforded any protection.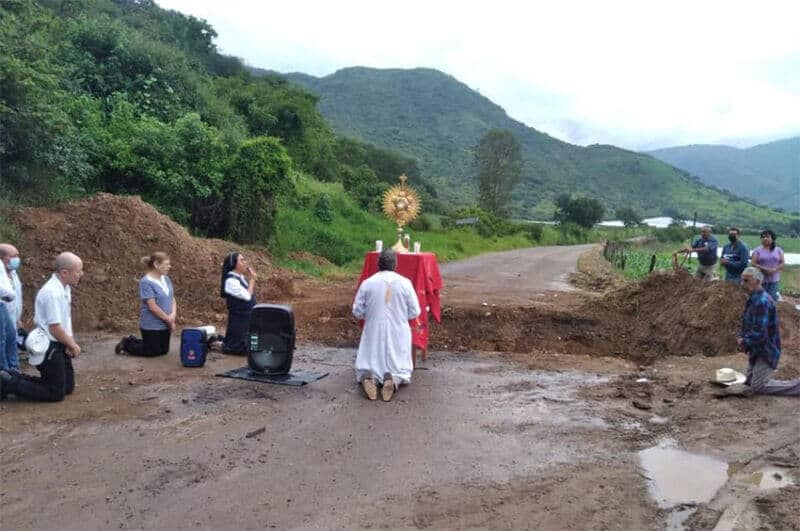 Priest José Luis Martínez Chávez, who led the prayers, explained his motivation in video uploaded to Facebook: "We wanted these antagonistic groups, powerful groups … to know that we are praying for peace and that we are not afraid … we want to collapse the walls of hatred they have created, to create fraternity. Where they have opened ditches, we want to build bridges, where they have sown hatred we want to sow peace," he said.
One resident revealed the undignified way residents had been treated. "We had to leave … by motorcycle because the roads were being cut off. [The criminals] took us and left us without any clothes," she said.
She explained that 10 members of her family were forced to abandon their homes when armed men arrived, and had no time to gather important documents. She said they thought they would be killed and their houses burned.
A mother detailed her family's rushed escape. "I was afraid we wouldn't get out, as we were in the middle of the shootout … that was my worst fear, that we wouldn't be able to get out of there alive … We took the risk to leave in the van. We had to leave everything. We got away in just what we were wearing and fast, because we were afraid that we'd get hit by a bullet," she said.
Governor Silvano Aureoles downplayed the violence in the area: "There are exchanges of gunfire from one hill to another, but obviously, the people who live in the communities there are afraid," he said.
With reports from El Universal and Infobae