The ruling Morena party has selected Claudia Sheinbaum Pardo as its candidate for the 2024 presidential election, putting the former Mexico City mayor in a strong position to become Mexico's first female president.
Sheinbaum, a protégé and close ally of President López Obrador, defeated five men who were also seeking the Morena nomination, attracting average support of 39.4% across five polls conducted by the ruling party itself and four private polling companies.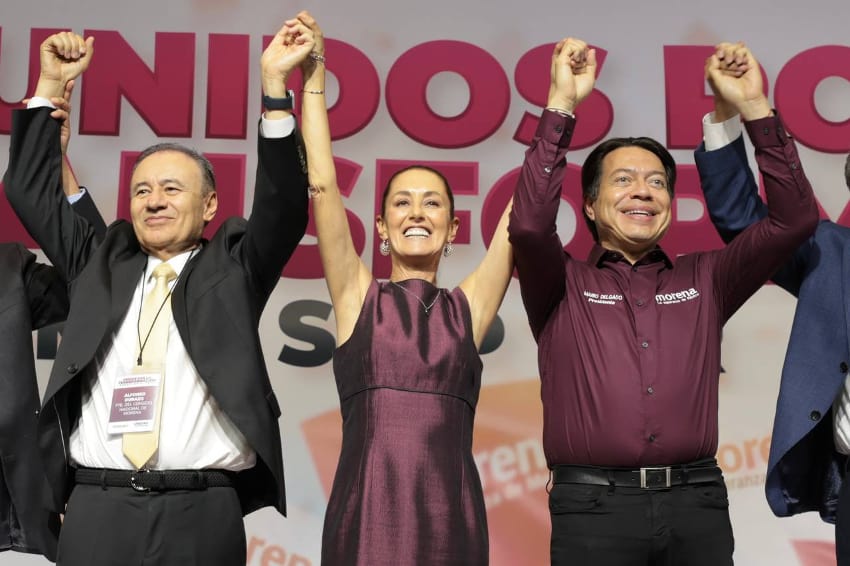 She will represent Morena (officially the National Regeneration Movement) and its allies, the Labor Party (PT) and the Ecological Green Party of Mexico (PVEM), at the June 2, 2024 election, at which another woman – Senator Xóchitl Gálvez – will also be aiming to make history in a country known for its macho culture.
Gálvez, an indigenous Otomí woman from Hidalgo, won the nomination for the Broad Front for Mexico (FAM) opposition bloc, made up of the National Action Party, the Institutional Revolutionary Party and the Democratic Revolution Party.
It will be the first time that two women backed by Mexico's major political parties will face off at a presidential election. The results of recent polls suggest that Sheinbaum, who was born in Mexico City to Jewish parents, will prevail.
The ex-mayor, a 61-year-old physicist and environmental scientist who was a member of the Intergovernmental Panel on Climate Change that won the Nobel Peace Prize in 2007, beat her closest rival in the Morena contest, former foreign affairs minister Marcelo Ebrard, by almost 14 points. Ebrard cried foul before the result was announced Wednesday night, asserting that the polling process "must be redone" due to alleged irregularities.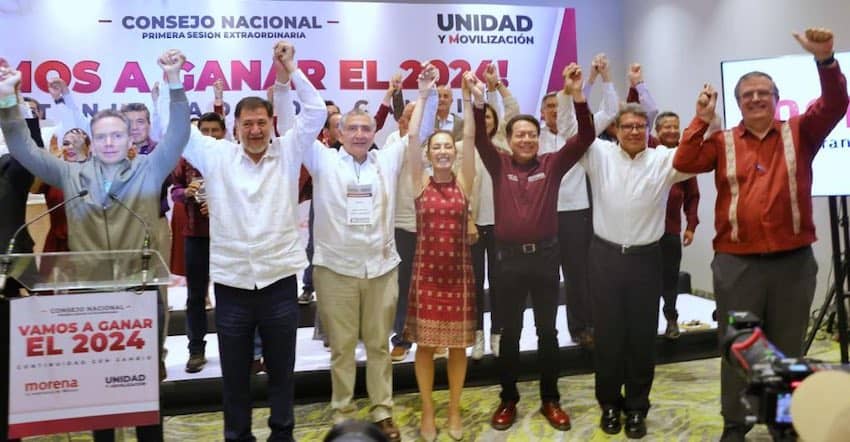 The other four aspirants – former interior minister Adán Augusto López Hernández, ex-PT lawmaker Gerardo Fernández Noroña, ex-PVEM governor of Chiapas Manuel Velasco and former Morena senator Ricardo Monreal – claimed positions third to sixth, respectively, but all were about 30 points or more behind Sheinbaum.
Sonora Governor Alfonso Durazo, president of Morena's national board, announced Sheinbaum's "indisputable" victory at an event at the World Trade Center in Mexico City attended by five of the six aspirants, with Ebrard the only one absent. Durazo on Wednesday defended the legitimacy of Morena's selection process and dismissed the ex-foreign minister's concerns.
To avoid violating electoral rules regarding when presidential hopefuls can officially be designated as candidates, Sheinbaum will initially be known as the "coordinator of the committees for the defense of the fourth transformation."
The fourth transformation, or 4T, is the nickname of the political project led by López Obrador and supported by Morena, which the president founded. AMLO, as the president is best known, claims that the "transformation" of Mexico carried out by his government is as significant as events such as independence from Spain in the early 19th century and the Mexican Revolution 100 years later.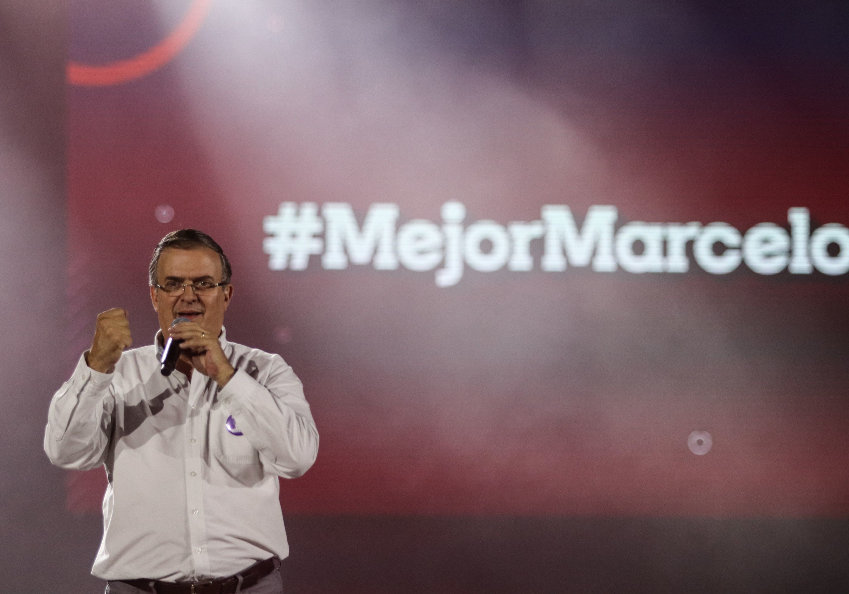 Sheinbaum, flanked by López Hernández and party president Mario Delgado as they raised their arms in victory at the World Trade Center event, declared that Morena – easily Mexico's most dominant political force – "will win in 2024," asserting that the party will prevail in federal congressional elections as well as state gubernatorial ones.
"And there will be a female president of the republic and she will be of the fourth transformation," she said before a boisterous crowd of Morenistas, as Morena members and supporters are known.
Sheinbaum will be seeking to capitalize on the strong support López Obrador has enjoyed throughout his presidency even as violence remained a major problem and Mexico endured a particularly difficult pandemic, both in terms of lives lost and the impact on the economy during the first year of the COVID-19 crisis. She has been a faithful supporter of the president, and has avoided making public criticisms of him, even though her views on some matters, such as the importance of transitioning to the use of renewable energy and pandemic management, differ from those of the president.
AMLO won a landslide victory in the 2018 presidential election, attracting 53% of the vote in a contest between four candidates.
Almost nine months before polling day, the 2024 race is shaping up as a significantly closer contest, with one recent poll showing that Sheinbaum had an advantage of just eight points over Gálvez, a company owner and senator whose profile has risen exponentially since she announced her attention to seek the presidency just a couple of months ago.
Ebrard, who appears almost certain to leave Morena's ranks, could try to revive his stifled presidential ambitions by running as an independent candidate, or possibly as a representative of the Citizens Movement (MC) party, whose leader has pledged to field an MC candidate rather than backing Gálvez and the FAM, as other party figures have advocated. His participation in the contest could potentially affect the support of both Sheinbaum and Gálvez.
The ex-foreign minister – who claimed that Sheinbaum received preferential treatment during the Morena selection process – is set to announce his future plans at an event with supporters on Monday.
In her victory speech, Sheinbaum didn't mention Ebrard by name, but suggested he was welcome to remain in Morena and support her in her quest to become Mexico's next president.
"Unity is fundamental. The doors will always be open and will never close. Democracy won today, the people of Mexico decided," she said.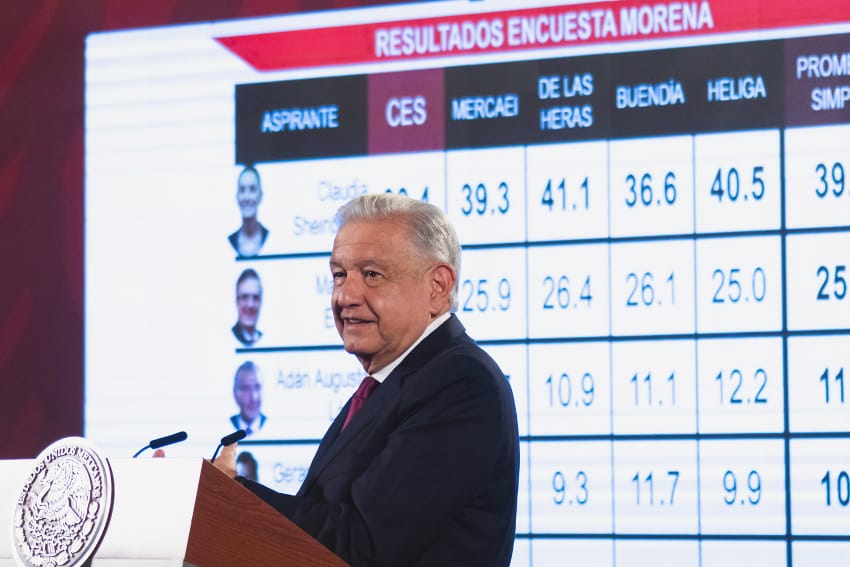 "We need everyone … and there's not a minute to lose," added the new Morena standard-bearer, who in fewer than 300 days could be Mexico's first female president-elect.
López Obrador, who on Thursday is set to hand over a "baton of command" to the new leader of the 4T, expressed his satisfaction with Sheinbaum's victory at his morning press conference.
"She's an honest woman, with principles and ideals, and she's very prepared," he said.
AMLO added that Sheinbaum has the experience required to lead the nation as she has held important positions before.
Prior to serving as Mexico City mayor, Sheinbaum led the government of the Mexico City borough of Tlalpan between 2015 and 2017, and was environment minister when López Obrador was mayor of the capital in the early 2000s.
With reports from El País