After delivering an address in Querétaro on Sunday to mark the 106th anniversary of the promulgation of the Constitution of Mexico, President López Obrador returned to Mexico City to start another working week.
The cataclysmic Turkey-Syria earthquake, the ongoing criminal trial of former security minister Genaro García Luna and alleged media misrepresentation of the National Guard's security work in the Mexico City Metro were among the issues addressed by the president and his colleagues at this week's morning press conferences, or mañaneras.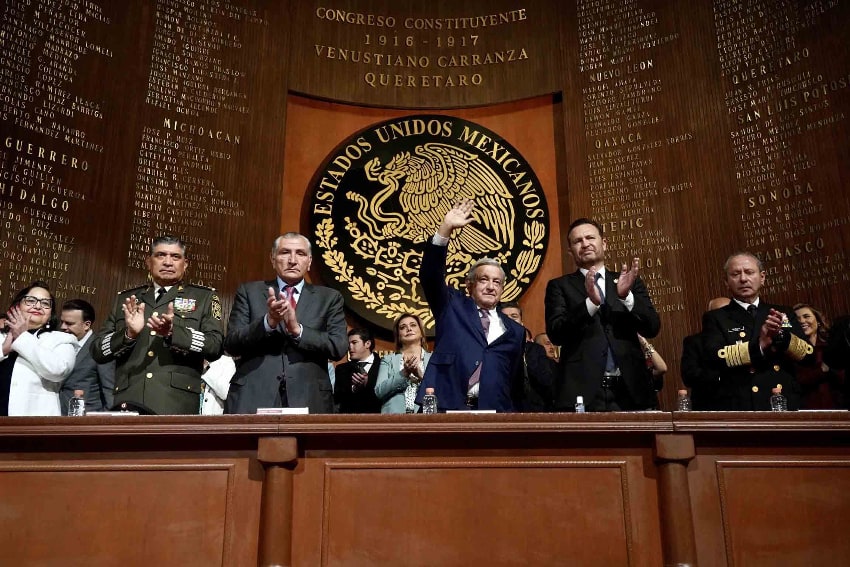 Monday
Responding to the first question of his presser, AMLO asserted that Mexican airline employees won't be adversely affected by his proposal to allow foreign airlines to fly domestic routes in Mexico, a plan opposed by the sector.
"They won't have any problem – they won't be displaced nor will they have fewer work opportunities," the president said. "We are looking for balance and for the measures taken to benefit passengers … and workers."
López Obrador later reiterated that lithium deposits in Mexico belong to the nation and can't be privatized. However, "specialized" private companies could be contracted to extract the metal, he said.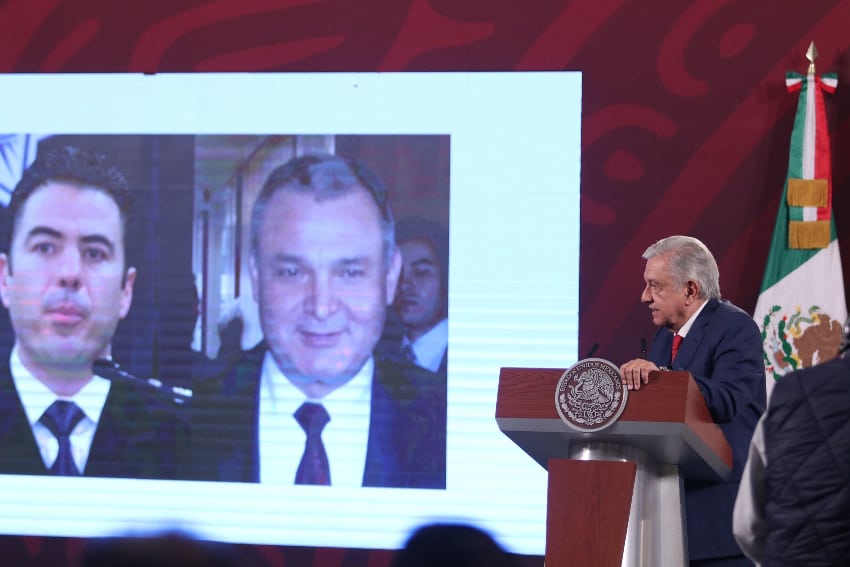 Turning to the criminal trial in the United States of former security minister Genaro García Luna, the 69-year-old Tabasco-born "tropical messiah" declared that "regardless of evidence and responsibility … what's being ventilated" in court "speaks of a political decomposition" in Mexico before he took office – "a conspiracy between authorities and crime."
Under his rule, López Obrador said in response to a subsequent question, the government is implementing a model of governance that "we've christened Mexican humanism."
"… There were people who said we weren't going to be able to transform [Mexico] via peaceful means and those who thought [our government] was going to be more of the same," he said.
"Now they're surprised because a profound transformation is taking place."
Toward the end of his mañanera, AMLO acknowledged the controversial phenomenon of young United States citizens coming to Mexico City to work remotely.
"We can't close the border to those who want to come and work in our country. [That they want to come here] is recognition that Mexico City is one of the most important and safest cities in the world, that the capital of our republic is very beautiful," he said.
"So a lot [of young people from the U.S.] have chosen to come here, but as they earn in dollars it turns out that prices are increasing in restaurants, I'm referring to Mexico City restaurants in [the neighborhoods of] Roma, Condesa. Prices are going up, it's the same thing in the case of rents for apartments."
Tuesday 
In a security report at the beginning of the press conference, Navy Minister José Rafael Ojeda reported on recent drug seizures including those of 203 kilograms of cocaine in Tapachula, Chiapas, and 15 200-kilogram drums of fentanyl precursor chemicals in Manzanillo, Colima.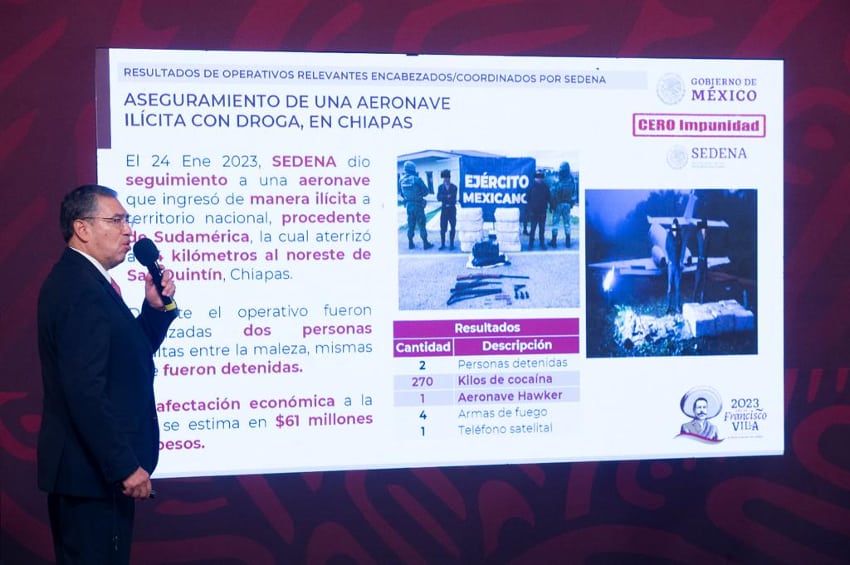 National Defense Minister Luis Cresencio Sandoval informed that the National Guard is currently made up of just over 128,000 troops and that an additional 13,000 were expected to be recruited in 2023.
He also noted that a Mexican team of rescue personnel had been dispatched to Turkey to assist the response to Monday's devastating earthquake.
López Obrador returned to center stage to duel with reporters and in response to one question defended his decree suspending the operation of cargo airlines at the Mexico City International Airport.
"If the city airport moved 200,000 tonnes [of cargo] last year, the Felipe Ángeles airport [AIFA] has capacity for 400,000 tonnes, double [the amount]. But [AIFA] has other advantages. For starters it has rail tracks," he said.
AMLO later noted that the federal government is "reviewing" the canceled Mexico City-Queretáro train link and aired a claim that it was scrapped due to opposition from the United States government.
"Do you remember that a Chinese company was going to build that railroad with a Mexican company? There's a whole story about that. … There was a businessman who was very close to the government … and along with other businessmen they joined up with a Chinese company and got the contract to build the railroad," he said.
"… According to the Chinese ambassador at the time, a very good person, … the agreement was done but it seems there was opposition from the United States government and because of that the Mexican officials reversed the agreement, which very much annoyed … the Chinese government," López Obrador said.
Among other remarks, the president said that BMW's investment in San Luis Potosí was "very important" and declared that Mexicans Against Corruption and Impunity – a non-government organization that has exposed alleged corruption in the current government – has no "moral authority."
He also said that the government would launch a new campaign to "inhibit the consumption of drugs, especially fentanyl."
The "fentanyl situation" is "very serious, especially in the United States," López Obrador said.
"Fortunately it's not the same in our country. We have protection. With all respect, our cultures, our traditions protect us a lot. … A bastion that protects us is the family…"
Wednesday 
Foreign Affairs Minister Marcelo Ebrard announced that a team of Mexican rescue workers had arrived in the Turkish city of Adana to assist the response to Monday's catastrophic earthquake.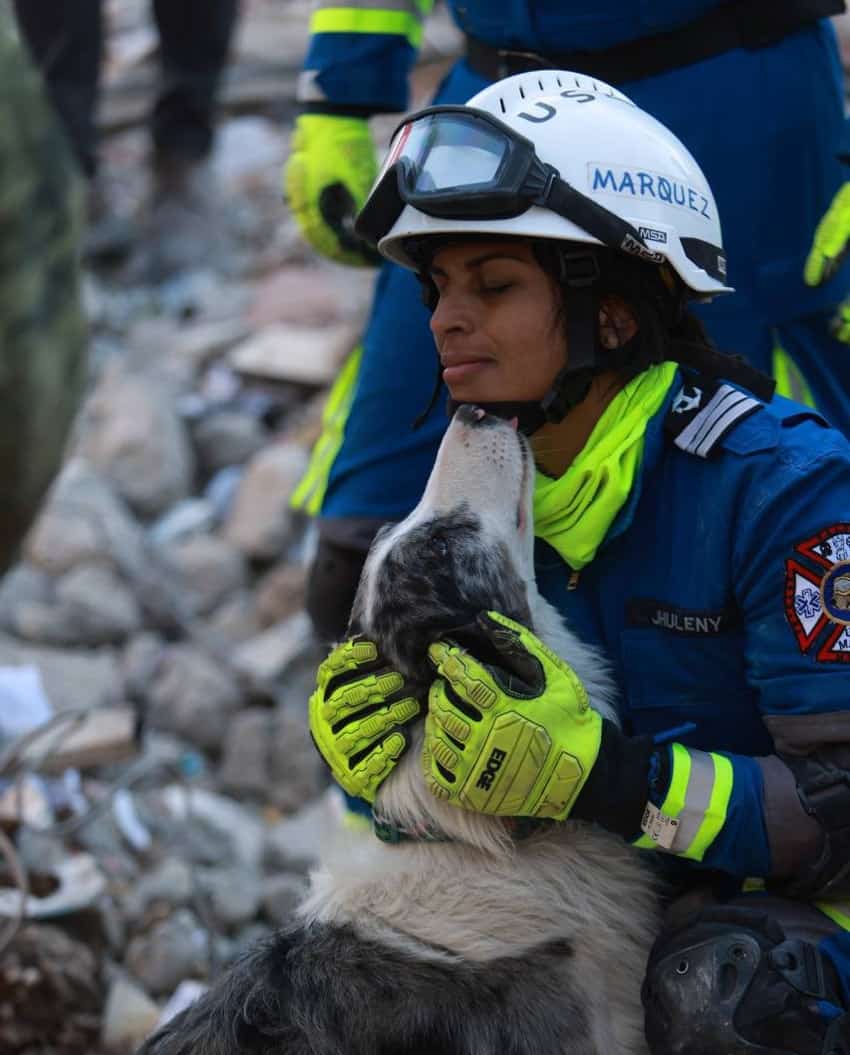 Another group of specialized rescue workers known as Los Topos (The Moles) for their honed burrowing skills was also headed to Turkey, he said.
Ebrard also noted that a second group of Mexican firefighters had touched down in Chile to assist the fight against wildfires in that country.
"Chile is fighting fires on a grand scale. Human lives, homes and thousands of hectares [of forest] have been lost and that's why the support of Mexico has been welcomed," he said.
Press monitor Ana Elizabeth García later took to the stage and asserted that the National Guard has been maligned by the media since it assumed responsibility for security in the Mexico City metro.
"Fake news, lies and constant attacks have been disseminated, this is a true disinformation campaign," she said.
García said that a photo of National Guard troops carrying a person in a wheelchair down stairs in the Metro had been "taken out of context" by the Twitter account of a little-known news organization, which claimed the person was being arrested for sabotage.
"This is a falsification and an invention," she said.
Back at the helm of his presser, AMLO launched a familiar attack on previous governments.
"For 36 years they dedicated themselves to reforming the constitution to hand over banks, public companies, mines, oil, the electricity industry, ports, airports, railroads, jails and [Mexican] Social Security [Institute] daycare centers to private interests. They dedicated themselves to increasing taxes on the people … and not taxing the tycoons at the same time," the president said.
He was later asked whether claims made by former Nayarit attorney general Edgar Veytia at the U.S. trial of former security minister Genaro García Luna were credible.
Veytia on Tuesday asserted that former president Felipe Calderón ordered ex-governor of Nayarit Ney González to support convicted drug trafficker Joaquín "El Chapo" Guzmán.
"I believe there are things that cannot be hidden," López Obrador began.
"… In matters that have to do with crimes or criminality it's advisable to follow the trail of money to arrive at the truth," he continued before being pushed to comment more specifically on the accusation leveled against Calderón.
"That has to be proven – whether he knew about and was a beneficiary of the illegal deals that led García Luna to accumulate a lot of money. We're going to wait, I don't want to get ahead of things," López Obrador said.
He added that he had no knowledge of any investigation that had identified an "abnormal pattern" in the income of Calderón, who served as president between 2006 and 2012.
Thursday 
After reports on Mexico's assistance to the earthquake response in Turkey and Syria and firefighting efforts in Chile, officials provided updates on a range of housing initiatives.
Almost 49,000 credits were granted to government workers via the Fovissste housing fund in 2022, said official César Buenrostro Moreno. Between 59,000 and 70,000 Fovissste credits were expected to be granted this year, he added.
The head of the government's Financial Intelligence Unit (UIF) later appeared and proceeded to level damning accusations against García Luna.
"During the time that Genaro García Luna served as public security minister … and after that, he wove a web of corruption … for his own benefit and that of his close associates," Pablo Gómez said.
He said that a family conglomerate operating "under the auspices of García Luna" obtained 30 contracts with various public security bodies in Mexico and used them to embezzle public resources totaling hundreds of millions of dollars.
Gómez noted that the federal government has filed a lawsuit in Florida in an attempt to recover the ex-security minister's assets in the United States that were "purchased with resources extracted from the Mexican treasury."
"The civil process is independent from the criminal trial to which García Luna is subject in Brooklyn, New York," he said.
With the UIF chief giving an address that lasted more than an hour, there was no time for López Obrador to take questions from reporters. However, the president offered closing remarks during which he declared that the press conference – despite his limited speaking time – had been "very interesting."
"… We have a lot of issues [to report on] and we still have a lot of days of press conferences," added AMLO, who presided over his 1,000 mañanera last December.
Friday 
AMLO declared that he was happy to be in the Jalisco municipality of Zapopan for his final press conference of the week before ceding the lectern to Governor Enrique Alfaro.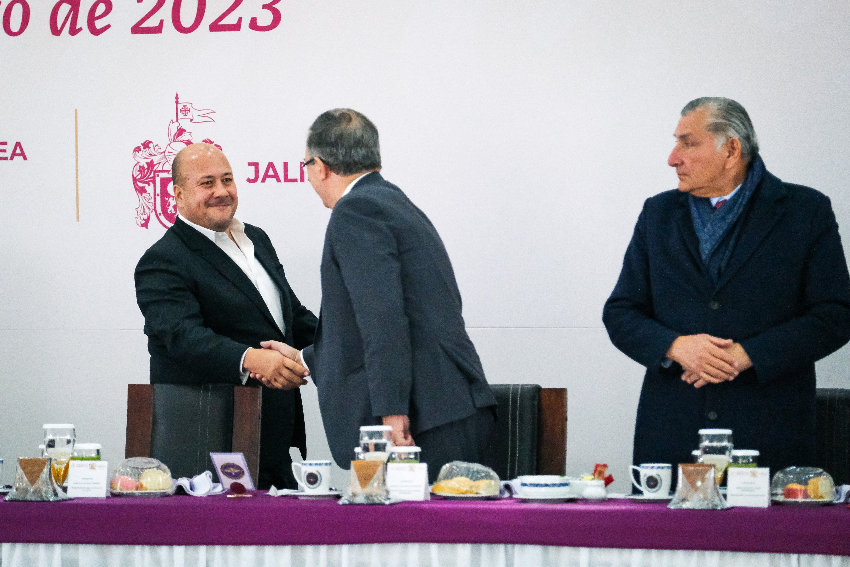 In 2022, "Jalisco managed to consolidate the downward trend in the incidence of crime," Alfaro trumpeted. "Our state today, when we talk about total crime incidence, … is below the national average."
National Defense Minister Luis Cresencio Sandoval later reported that Jalisco has been the sixth most violent state in terms of the total number of homicides since the current government took office in late 2018. In terms of homicides per 100,000 people in the four-year period to the end of December, Jalisco was the 11th most violent state, he added.
Data presented by the army chief showed that Guanajuato, Baja California and México state have seen the most murders since López Obrador was sworn in as president, while Colima, Baja California and Chihuahua have the highest per-capita homicide rates.
Sandoval also reported that Mexican rescue personnel and their dogs have saved three lives in Turkey and recovered 11 bodies from the earthquake rubble.
"This personnel has also provided medical consultations," the minister added.
Back at the lectern, López Obrador offered details about his upcoming meeting with the Cuban president.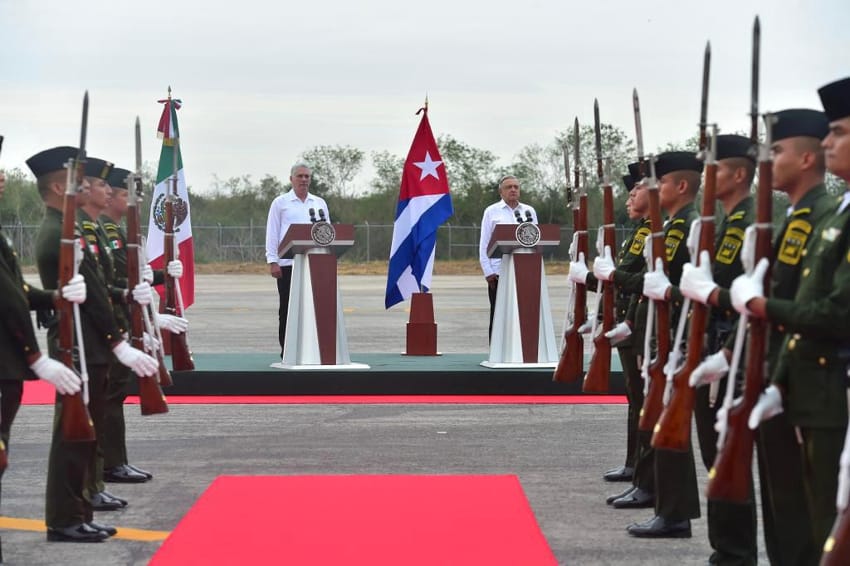 "We're going to have a meeting tomorrow, Saturday. The President [Miguel] Díaz-Canel arrives in the morning, we're going to welcome him in Campeche and we're going to visit the Edzná archeological zone in Campeche. We're also going to supervise … the construction of the Maya Train," he said.
AMLO added that he would discuss health with his Cuban counterpart "because there are Cuban doctors in Campeche and other parts of the country – more than 500 general doctors and specialists."
"We're going to thank him for the support … the fraternal government of Cuba is providing," he said.
The president was later asked about inflation – 7.91% on an annual basis in January – and the central bank's decision to lift its benchmark interest rate to a record high of 11%.
"We're not going to stop fighting the inflation problem, it concerns us and it keeps us occupied but it's not a cause for alarm. The [monetary] policy of the Bank of México is autonomous, they decide to raise rates and we respect its point of view," he said.
López Obrador added that he would like the central bank to not just worry about combating inflation but stimulating economic growth as well. After offering that advice, AMLO stressed that his government would nevertheless continue to be "very respectful of the autonomy of the Bank of México."
Mexico News Daily